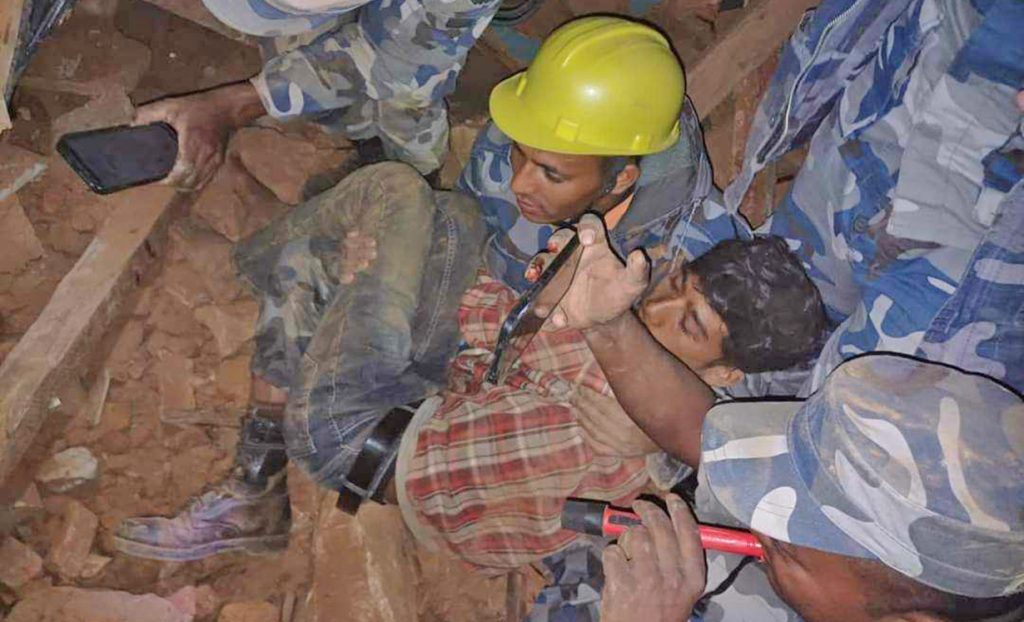 Jajarkot lay in deep slumber on Friday night. Prakash Shah, 49, of Upper Thaple, Bheri municipality was fast asleep when the temple bell near their house began to ring, breaking the stillness of the night. Narintha Kumari Shah (51), who was sleeping on the floor, woke up to the sound of the bell ringing continuously.
As she rose, a sudden realisation dawned upon her. Tremors flowed through her body, mirroring the shaking of her home. It was an earthquake. With a sense of urgency, she hurriedly sought refuge, but tragically, her home crumbled around her.
Outside, the scene was even more dire. Most homes outside had been destroyed. People were screaming. People were dying.
Inside the house had collapsed. Prakash's wife was under the rubble protecting her children. She waves her hands towards the on-rushing rescuers and is taken out alive. Prakash's niece is also rescued from under rubble but it takes over two hours. But there were multiple casualties in the house including their brother-in-law and the deputy mayor of Nalgad municipality, Sarita Singh. Both were crushed by the debris.
Prakash, with an injured hand, watched as his wife was rushed to Nepalgunj for urgent medical attention. Narintha, her eyes brimming with tears, whispered, "Now, we rely on God's grace."
Nature's wrath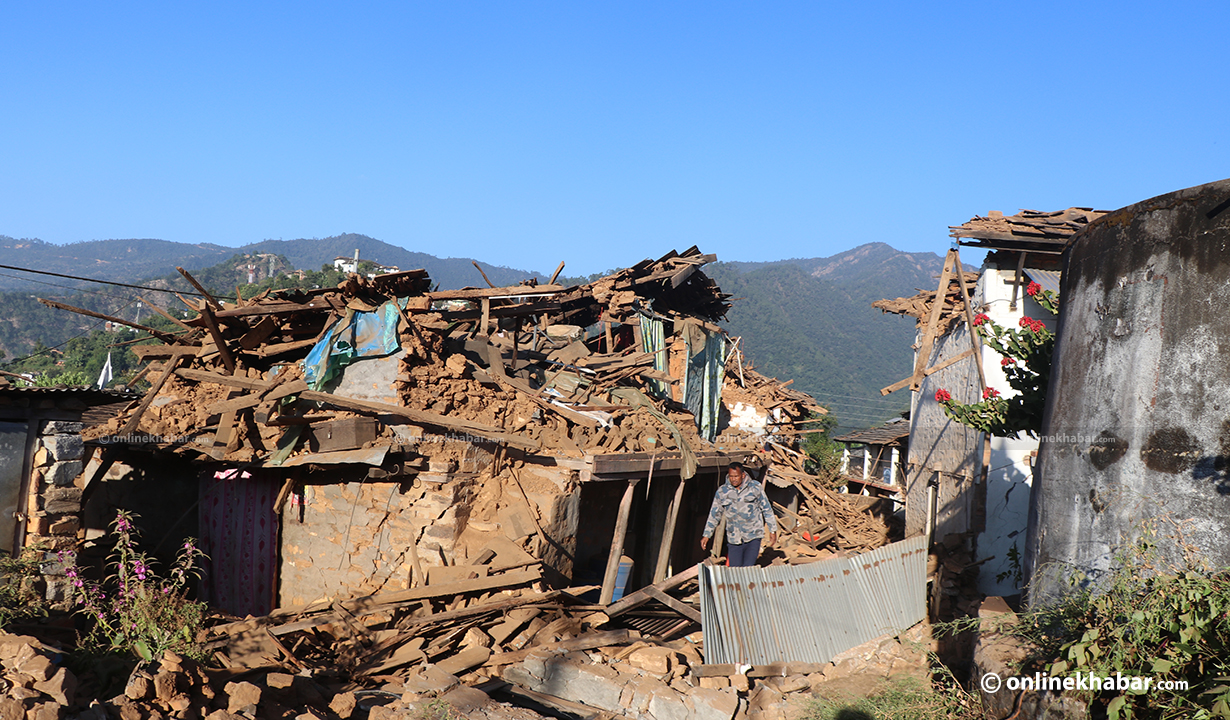 The District Administration Office in Jajarkot has confirmed that the 6.4 magnitude earthquake has claimed over 150 lives in the district. According to reports, 42 deaths have been reported in Bheri Municipality, 55 in Nalgad Municipality, seven in Kushe Rural Municipality, and one in Chedagad Municipality. Additionally, in Rukum West, 38 people have been declared dead, with numerous others injured in both areas as a result of the earthquake.
Chief District Officer Hari Prasad Pant has indicated that Aathbiskot Municipality, Sanibheri Rural Municipality, and Chaurjahari Municipality have experienced the most significant impact from the earthquake with 10 people dying in Sanibheri and 42 dying in Aathbiskot.
Approximately 450 security personnel have been deployed in the affected areas to enhance the effectiveness of search, relief, and rescue efforts," said Pant. "According to the information we have received, there are no ongoing search and rescue efforts required at this time."
According to the National Earthquake Monitoring and Research Center, the earthquake occurred at 11.47 pm, with its epicentre in Barekot Rural Municipality of Jajarkot. According to locals, a significant number of individuals were unable to evacuate in time due to the destruction of their homes caused by the midnight earthquake.
"We didn't realise it was an earthquake as we were in deep sleep," says 26-year-old Meena Khatri Wali of Upper Thaple. "When we woke up, it felt like the sky was falling."
Wali's sister-in-law was rushed to the hospital at night. She, on the other hand, is taking refuge with her neighbours after the house she had rented was reduced to rubble.
"I still cannot believe how fast things happened. I'm still scared," she says.
Madhu Sudan Sharma, 62, of Upper Thaple does not know how he survived. All he remembers is waking up in between the rubble and being rescued by people.
"It felt like a crash. I feel god did not want me to die," he says.
Assistant Chief District Officer of Jajarkot, Harish Chandra Sharma, has reported that a majority of the traditional houses in the Khalanga have been severely damaged. Since Friday midnight, all four security agencies, along with residents, have been actively engaged in rescue operations in the headquarters vicinity. Those injured have been transported to the District Hospital in Khalanga for medical attention some have even been taken to Kathmandu for treatment.
Chaos in hospitals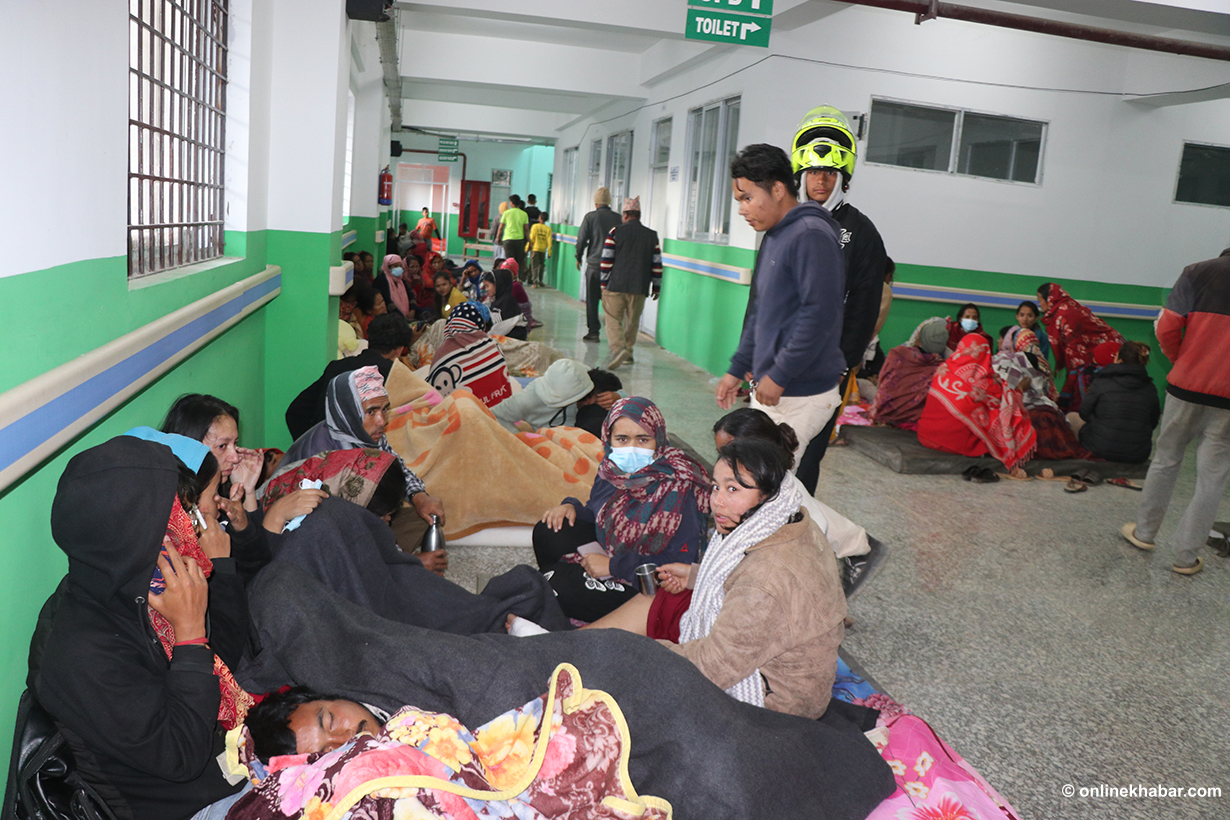 By Saturday morning, Jajarkot District Hospital was full of wounded. The patients who came from the headquarters and nearby areas were taken to the hospital by family members and security agencies. Some parents arrived at the hospital carrying the lifeless bodies of their children, who tragically lost their lives in the earthquake.
According to the in-charge, Pratishka Bharti, the hospital was unable to provide treatment initially. However, by Saturday afternoon, the injured were directed to seek medical attention in Surkhet and Nepalgunj, which streamlined the process and provided better care.
Dr Sushil Pokharel from the District Hospital in Rukum West reported that they have provided treatment to 250 injured individuals. Seven of them have been transferred to Kathmandu for further care, while 25 have been referred to Surkhet. Additionally, four people are currently receiving treatment at the district hospital, and the remaining patients have been discharged after receiving medical attention.
Former Director Badri Chapagain provided an update, stating that 31 individuals are currently receiving treatment at Bheri Hospital in Nepalgunj. Unfortunately, one person among those transported to Nepalgunj for treatment passed away on the way.
"Among the 32 individuals being treated, 30 are in critical condition, while the others are in stable condition. They have suffered injuries ranging from broken limbs to other types of trauma," says Chapagain.
Proactive Prime Minister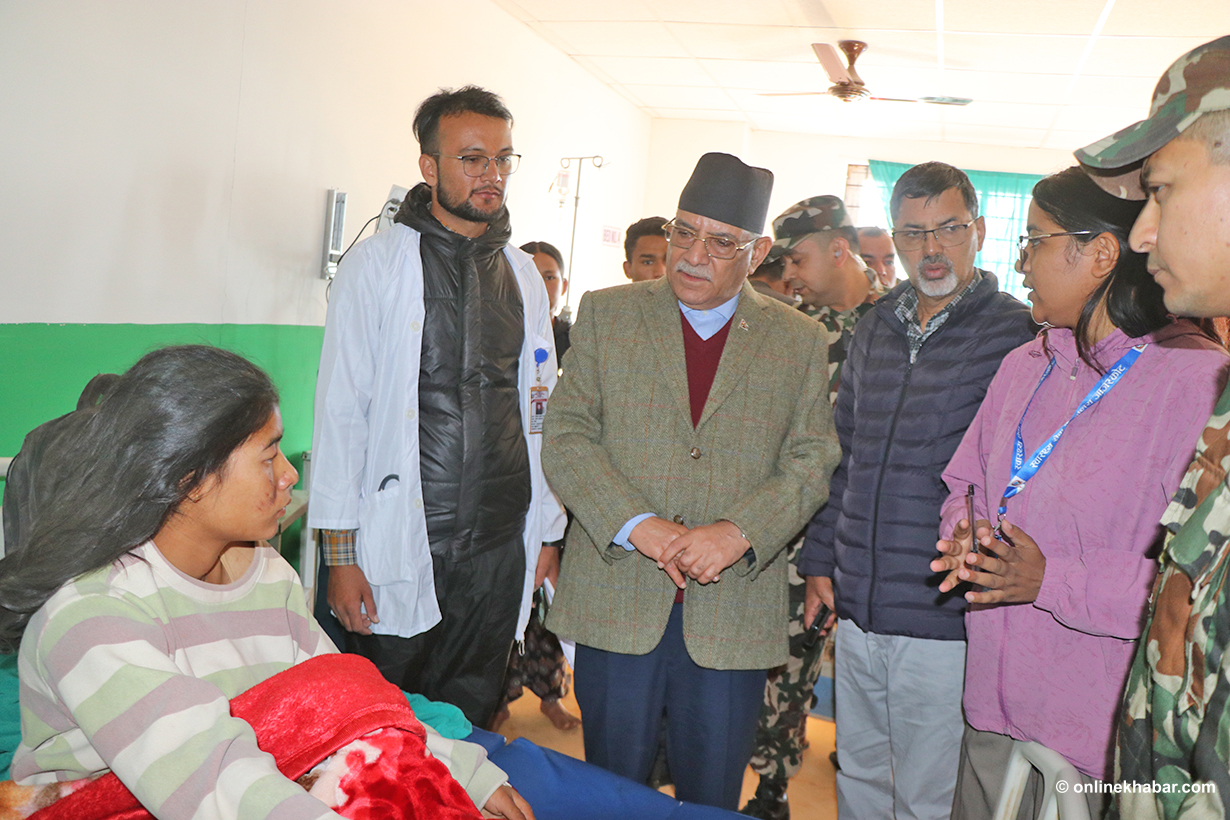 Prime Minister Pushpa Kamal Dahal arrived in the earthquake-affected area early Saturday morning. Dahal, who was previously elected as a lawmaker from Jajarkot, was accompanied by Energy Minister Shakti Bahadur Basnet and other leaders. They visited the Jajarkot hospital and met with the patients.
The government promised to leave no stone unturned in rescue and treatment. The helicopter, which flew Dahal to the area, airlifted seven injured individuals from Nalgad to Surkhet as part of the extensive response.
Then, Dahal went to Rukum West, where he visited patients in Chaurjahari, Sanibheri, and the District Hospital in Salle. He also went to Athabiskot Municipality-9, the area most affected by the earthquake, and met with the victims in Radi Bazar.
After arriving in Nepalgunj with two injured people, Dahal left the Nepal Army helicopter in the area and flew back on a regular flight. Before his departure, while addressing media representatives at Nepalgunj Airport, he conveyed that the death toll had risen to approximately 150, with hundreds sustaining injuries and thousands of homes being damaged.
"We have done what we could today. We will ensure these people are helped further. We will send aid from Sunday," he said.
A team of dedicated health workers has arrived in the earthquake-affected area. Additionally, the Lumbini state government has dispatched its team, and Karnali Province has sent multiple teams to assist. Political leaders and party members are actively involved in both rescue and relief efforts.
On Saturday, a meeting headed by Deputy Prime Minister and Home Minister Narayan Kaji Shrestha decided to dispatch food supplies and temporary housing materials to the affected districts for immediate relief efforts.
Furthermore, it was agreed to coordinate rescue operations and the distribution of relief supplies through a unified system under the District Disaster Management Committee. Additionally, a sum of Rs 50 million each was allocated to the disaster management funds of both districts.