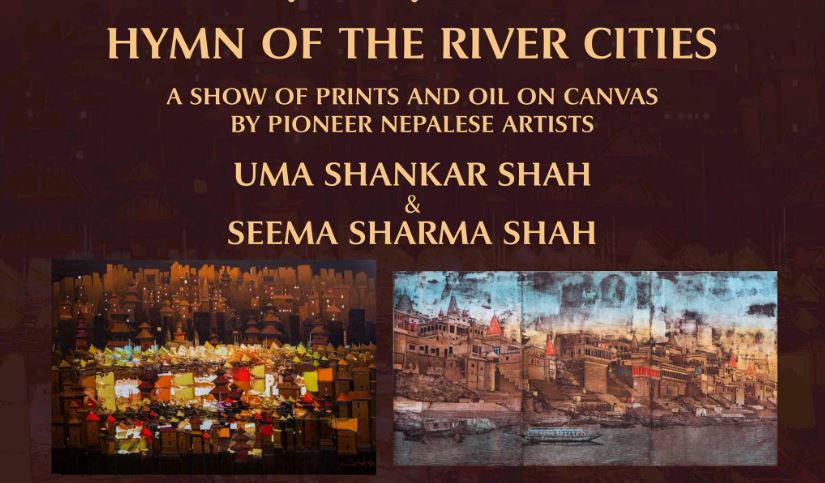 Kathmandu, September 21
Veteran artists Uma Shankar Shah and Seema Sharma Shah's joint art exhibition, Hymn of the River Cities, is going to begin on September 26 at Jehangir Art Gallery in Mumbai, India.
The exhibition showcases prints and paintings using oil on canvas.
In Uma Shankar Shah's paintings using oil on canvas, gods and goddesses, rituals and temples are recurring themes. The works incorporate the temples of historical and cultural importance that are spread across the valley. The most famous temples that can be seen in the work are Pashupatinath temple, Swayambhunath stupa, Boudhanath stupa, Taleju Bhawani, Kasthamandap, Hiranyavarna Mahavihar, and Nyatapola.
Similarly, small chaityas are also seen among the temples. The restless pace of modern life in the fast-changing city of Kathmandu is a subject that the artist enjoys capturing in his canvases and prints.
Meanwhile, in Seema Sharma Shah's print works, viewers can see the images of ancient Nepali and Indian sculpture and iconography, cultural rituals, and Hindu and Buddhist mythologies. In this exhibition, she showcases her recent work on the city of Banaras, a city she was raised in and remembers fondly from her home in Kathmandu.
Her prints showcase a rich play of intricate and diverse shapes, and forms, her works are equally enriched by the well-matched juxtaposition of colours, which is a tremendous achievement in zinc printmaking. She has pioneered this innovative multi-coloured print-making technique known as viscosity printmaking, which incorporates the principles of both relief printmaking and intaglio.
The exhibition by Uma Shankar Shah and Seema Sharma Shah continues till October 2.