This Saturday (December 18) morning, vibrant five-colour prayer flags that surrounded the Bouddha Stupa fell down one by one. Simultaneously, long white prayer flags were put up, causing a lot of confusion among the onlookers. Confused, Priya Shrestha took out her phone and started taking pictures of the change, and so did the many people who were walking around the monument.
Addressing the confused crowd, Ang Dolma Sherpa informed it was done to make the revered religious site eco-friendly and introduce sustainability in Buddhism and people's actions.
"The flags that we all know and used are made up of nylon or synthetic fabric. These flags are burned and they then harm our environment, leaving a lot of carbon footprint," says Sherpa, the brain behind this initiative, "We are always talking about climate change; there is much awareness regarding it; but, now is the time to shift from synthetic prayer flags to biodegradable ones."
She insists this is not a new trend, rather it will take devotees back to their roots.
Reviving the culture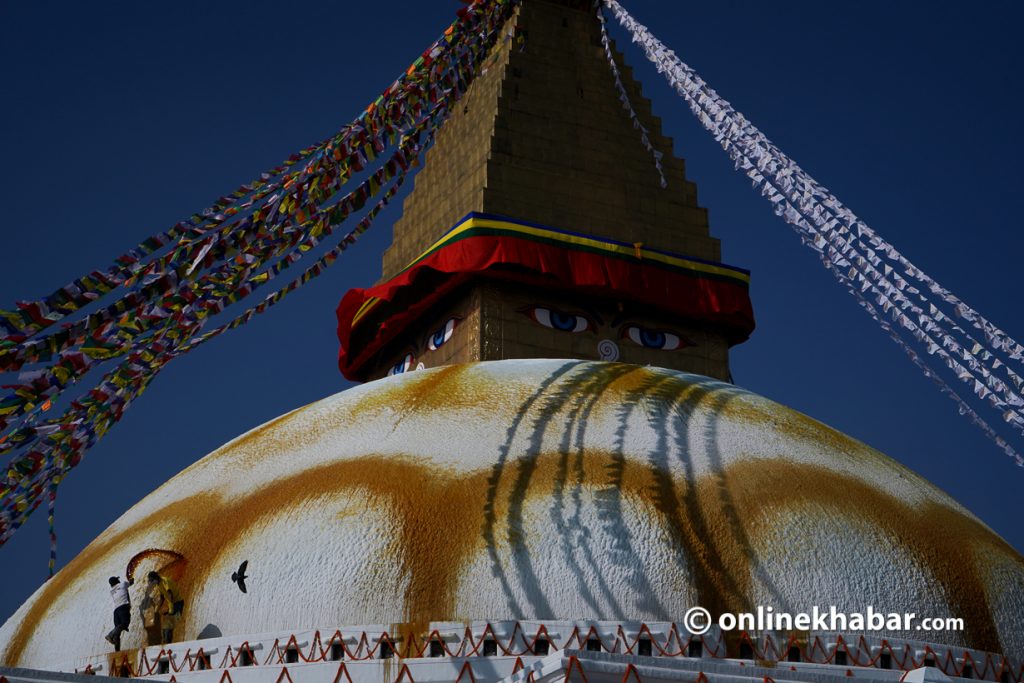 As a millennial, Shrestha (27) had always known the prayer flags to be multi-colour and vibrant. And like her, many people, who reached Boudhha to witness the change fell under the same umbrella, were asking why the colours suddenly faded away around.
But, Ang Dolma Sherpa sheds light on a much older practice. First of all, she explains, white was the original way. "Actually, if we go back time, the prayer flags (lungtas or lungtars) were first made from paper with organic colour/ink. Then, we used cotton fabrics," Sherpa says, "As per Buddhist teaching, prayers flags are meant to fulfil one's wishes and then mix into the air. It is only recently that people used nylon ones as they are cheap and easily available."
Second, she says, though the colours do add vibrance, keeping it white is the right way. "Many suggested to me that I should use natural dye. But, natural dyes are costly. And though I could use it, it means the cost for the end-users increase too. And it seemed unfair. I wanted the price to keep minimum," she says.
Sherpa further explains, "We are talking about climate change and sustainability. So using cotton does that to an extent, but we are thinking about not just the economic aspect as well. An individual might purchase the prayer flags once, out of supporting the local initiative or concerned about the climate even. But, if the product is costly, it does not encourage them to purchase again and change their behaviour." she adds,
She wants to further push the sustainability angle by replacing other things people use. "For a long time, as observed, I feel that humans are prone to littering, be it on the streets or Mt Everest. We might not be able to change the very behaviour, but we can replace the things they throw away at least. So, practically even when they litter, these biodegradable materials can at least be collected and disposed of organically without leaving any carbon footprint."
Why Bouddha?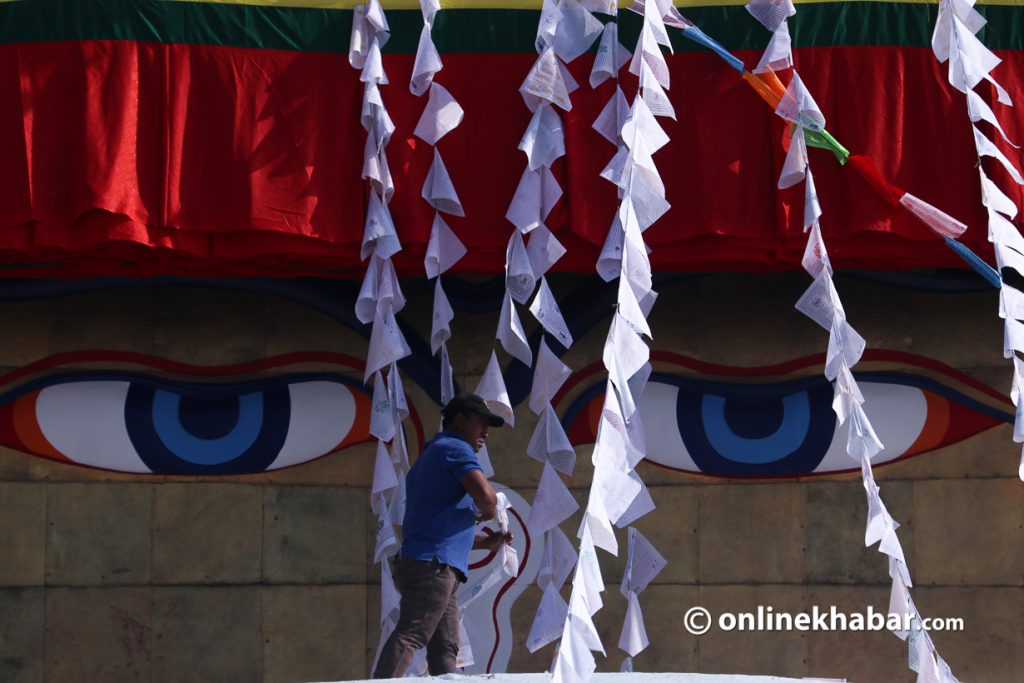 As a Buddhist, Ang Dolma Sherpa relates a lot with Bouddha and she believes so does the majority of the Buddhist community and the mountaineering community. "So, for everyone, Bouddha is a must-visit destination. Being a UNESCO World Heritage site, Bouddha felt like the perfect way to start."
While the whole world was in lockdown in early 2020, Ang Dolma Sherpa along with her partner Shreesma Shakya was working with the women making the prayer flags and preparing for this event. Following her pursuit, many from the Buddhist community have sponsored the event and supported and encouraged her work.
The Saturday event, she believes, went successfully. Some notable figures that have supported the initiative include Nepal's first woman international mountain guide Dawa Yangzum Sherpa, Bouddha Area Development Committee's Chairman Chandra Man Lama, Honorary Consul to Nepal and sustainable tourism and conservation specialist Lisa Choegyal and UNESCO Country Representative to Nepal Micheal Croft.
The stakeholders express their great support of the new idea and believe that it is time for the Buddhist communities to take a much-needed step and work for the planet and reduce the carbon footprint from an individual side.
Hope for the green future
But, this is not Ang Dolma Sherpa's first time. Before Bouddha, she had delivered her cotton prayer flags to redecorate other sites as well. She is the founder of Utpala Crafts, a Kathmandu-based community enterprise that makes and sell biodegradable prayer flags. Sherpa, who is also the Idea Studio 4 'Greenovation' award, with her idea, is hopeful to see a green future: a future when people know and show that their religion and culture can be green and sustainable too.
"I was very anxious and worried about people getting offended and hurting their religious sentiment. But, now, that the prayer flags are up, I am ready to get the backlash too, if any, and stand for the values that I have learned from Buddhism and my family," she affirms.
However, with Bouddha, she also hopes to make a longer impression on people. "Here, the prayer flags are replaced once a year only. So when people want to put up flags, they can do it with the same without comprising their religious sentiment. In fact, it is as per the religious practices, with the same mantra printed on them in five colours."
Monasteries in Nepal use approximately 2.5 million prayer flags in a year and Ang Dolma Sherpa says it is a big business to tap into. "I do not stress people buy from me. Anyone can do it, it is rather easy to make and even without the margin, there is a business prospect. I wish people just to be mindful of what they consume and think about the future."
In 2011, during the cremation of her father, she saw a pile of synthetic khaadas and prayer flags being burned, and for her, the need for alternatives was clear. She adds, "Burning the cotton prayer flags might also release carbon in the air. But, if we take them off and bury them, they decompose in about five to six months, leaving nothing behind."
"Last year, we had a time when the air quality dropped and burned our eyes. I just hope we do not reach a point in time when we have to keep our eyes shut, thanks to all the pollution that we are causing," Ang Dolma Sherpa hopes.