"I was unaware of the fact that we can make different crafts from bamboo, not only doko and namlo (traditional vessels made up of bamboo)," says Deeprose Gurung, an art student and one of the participants of the workshop, which was a part of Living with Arts in Nepal, an international group show.
The collaborative artworks Living with Arts in Nepal by Nepali and Bangladeshi artists are on display from June 7 to 9 at Taragaon Museum, Bouddha.
The gallery's ground floor features paintings, digital art, prints and installation by nine artists from Nepal and Bangladesh — Krishna Gopal Shrestha, Prithvi Shrestha, Samjhana Rajbhandari, Saurganga Darshandhari, Sushma Rajbhandari, S.H. Juise, Fareha Zeba, Nisar Hossain and Azyz Sharafy.
Then, the first floor of the gallery features installations created in collaboration with the students. The students created different aesthetically pleasing crafts using bamboo sticks and colourful papers for Living Arts in Nepal exhibition.
Moreover, this combination of artists and their artworks has showcased diversity in the exhibition.
In the exhibition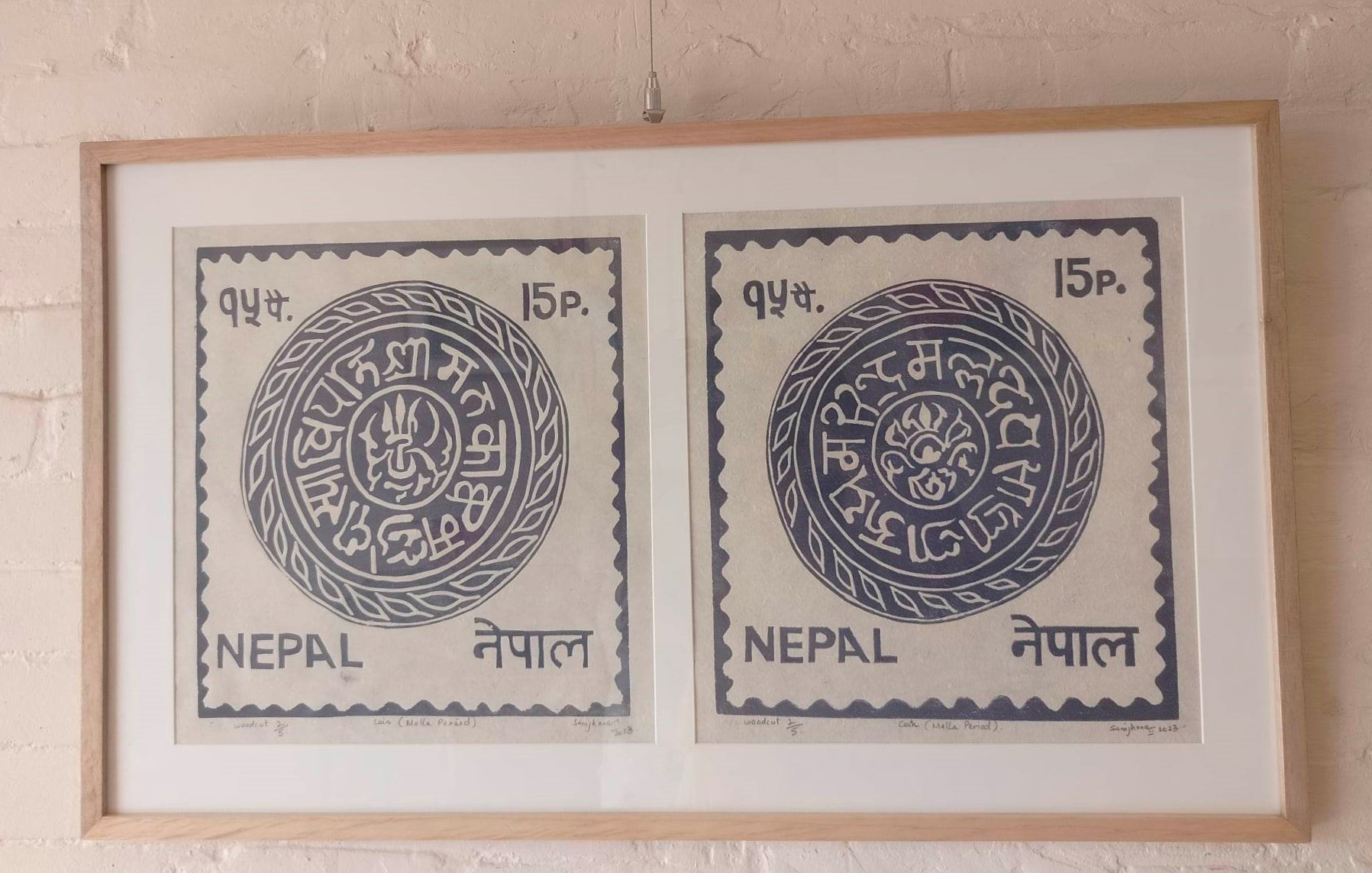 Living with Arts is creating a platform with the idea to collaborate with artists from the subcontinent. The current exhibition is its third project, where it has already conducted art shows in Bangladesh and India.
Using Nepali fonts, US-based Bangladeshi artist, Azyz Sharafy created a 3D artwork titled Falling House in vibrant colours such as red, green, orange and blue. He has created a house structure using Nepali words like Aama, Sathiharu, Kaka, Bahini and more where the words are literally falling apart.
Then he has also showcased prints using digital media (3D scan) on a flex. Meanwhile, another Bangladeshi artist who says she is in love with Nepal and has a dream to spend her retirement life in Nepal showcased her installation.
Artist Fareha Zeba used paper, and things from her garden and assembled them on a horizontal stick with the help of strings. And symbolising the earthquake that took place in 2015 in Nepal, she has torn the papers.
These papers have drawings of Nepali architecture, which she says are her favourite places in Nepal. Then to save Nepal from such disasters in future, she has also drawn the figures of Lord Shiva and Lord Buddha for protection.
Moreover, Nepali artists' paintings and prints explore the religious, emotional and cultural aspects of Nepal, which are showcased in realistic, abstract and surrealistic forms having different characteristics giving off feelings of being Nepali, which is modern yet Nepali in the exhibition Living with Arts in Nepal.
Diversity under one roof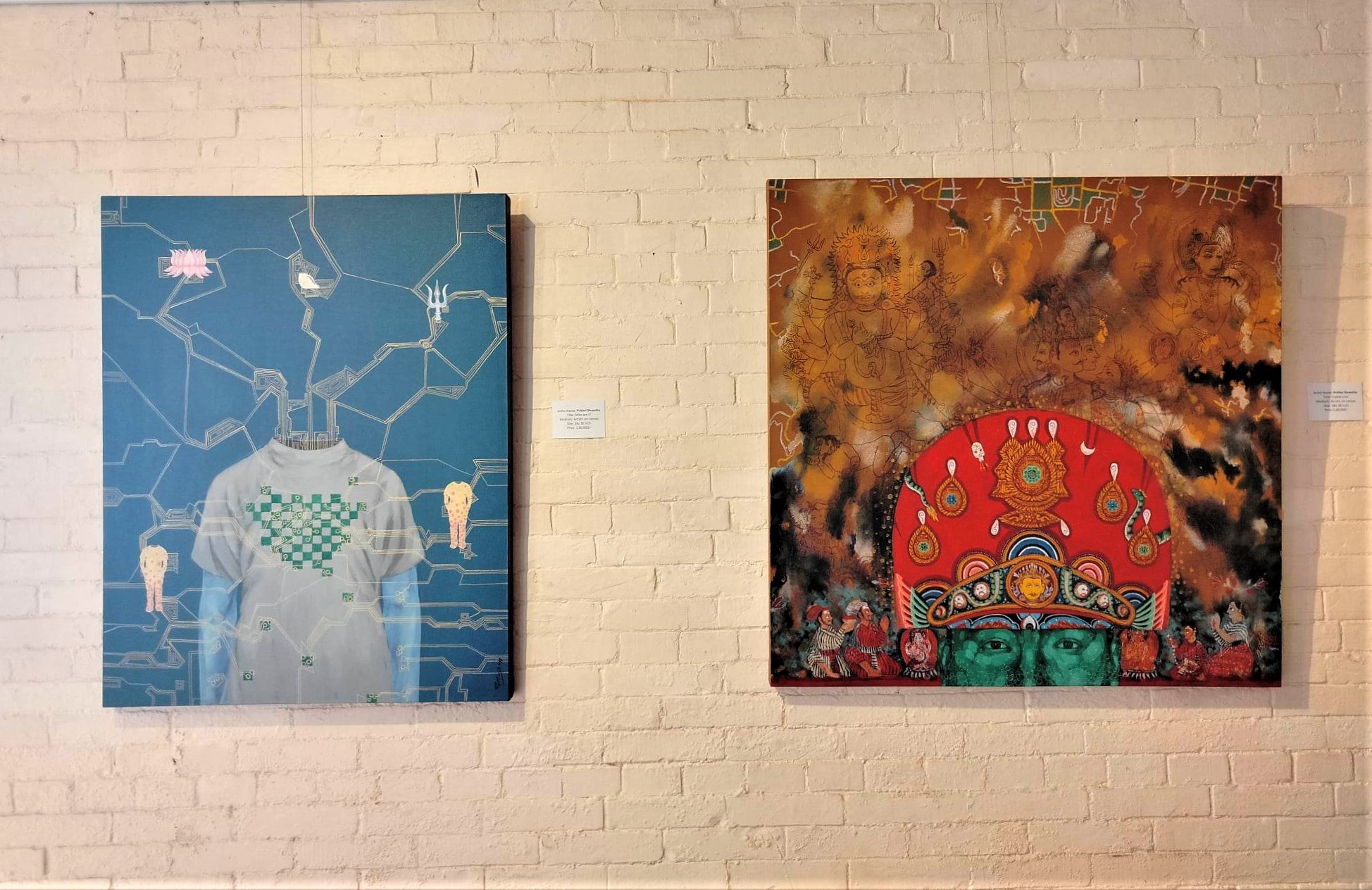 The exhibition, Living with Arts in Nepal helps to understand the difference between Bangladeshi artworks and Nepali artworks along with the similarities of the artists around the world. The techniques that are used by Bangladeshi artists are unique such as 3D scans along with digital art.
Each one of them has their individuality. Moreover, the exhibition also consists of interactive installation art that anyone interested can work on it at the exhibition Living with Arts in Nepal.
According to Zeba, artworks on display can provoke one's thought process and artworks on display are so powerful. "Nepal and Bangladesh are not far away and we should make this kind of exchange programme," Zeba says, "It will help a lot of artists from both countries to understand the diversity."