During the third year of engineering school, an intelligent friend of mine decided to drop out. What he sought for was advice and encouragement as he braved out to explore the world but found none. Instead, all he got from his friends and families were discouragement, "you will regret", "you are a fool". The friend told me he would like to meet Ujwal Thapa, who was my uncle and someone he idolised in building a successful IT startup and then hopping to politics to spark a change.
A dinner was arranged. I remember my friend's hesitation as he told Ujwal "I — I… I have decided to drop out and start a venture instead". I remember Ujwal's face, no iota of expression, for I was looking at how he would react. I do not remember the exact conversation but I do remember my friend, with ease, overtly talking about his struggles with studies and frustration in this country. Ujwal's encouragement was a stepping stone: Go for it, there is nothing to worry about, try to do something that will make you money, even while you are asleep. Period. No exorbitant motivational speech included.
The friend came out of the room, content and jovial, as he advanced: "the first person to not judge me based on my decision."
(The friend now has a very successful and popular IT venture based in Pokhara. I don't know if he credits any of this to Ujwal's talk that day, but I know it helped him a lot. The day Ujwal passed away, he wrote to me, "Momentary, Ujjwal dai was the light that I saw on the other end of the tunnel".)
And, that was the man I know Ujwal Thapa as.
Ever approving of unconventional ideas
Ever encouraging to bring out the leadership in you, especially, entrepreneurial leadership
Somehow, charismatic (even though he did not pretend to be so)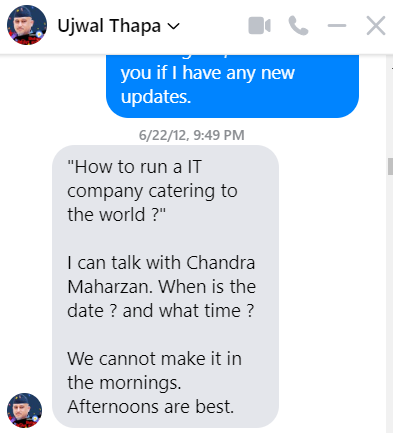 Whilst still a student, we invited Ujwal as a guest speaker. He gave his talk on "How to run an IT company catering to the world ?". He talked of his journey of starting as a one-man army to a 35-staffed one, amid constant power cuts, next to impossible to work with internet and civil war going on. He ended with "Here to tell you, you can do it too. In fact, a great time to start- you are a student with nothing to lose. Start now" and followed the legal and administrative tips.
(In the third year of university, I and my friends started a venture from a dormroom. His words were my encouragement as I set off for my entrepreneurial journey.)
He would always tell me not to be yet another pampered college graduate, who has had no real-world experience and hence an incompetent member of society and workforce. The screenshot below is a conversation between us, in which he is reminding me of this while we talked about my higher studies plan.

After I joined the university, he would keep reminding me of this with added piece of advice "don't worry about missing classes for any out of the classroom, real-world learning experiences. It will always be worth it." Very radical advice to a middle-class family college student of Nepal.
(I did go on to have two on-campus jobs, and one off-campus job, started a venture, and volunteered at different clubs while I was a student and missed lots of classes. I am sure, Ujwal's encouragement had a big role that pushed me towards those.)
The very first instance where I can remember being inspired by Ujwal's political movement was him announcing in his Facebook status in either 2010 or 2011 that some of them are going to defy a Nepal banda. He was asking others to join them on a motorcycle rally with banners of "Nepal Khulla Chha". The frustrated school student youth in me, frustrated with the constant banda situation in the country, was so happy to hear the very notion of "Nepal Khulla Chha". I was all pumped up to be a two-wheeler soldier to join them until my mom stopped me and said there was absolutely no way she would allow me to go (at least not until I have a driving licence). But, then the simple but daring notation of defying the banda made me start following and admiring his political stances and preach about it to all my friends. It made me volunteer in his campaign and participate in his activism protests. (Not devotedly but in some of them…)
He genuinely and persistently believed Nepal deserves better, Nepal can do better.
There will be tons of articles, tweets and Facebook status updates on how Ujwal inspired them for their politics, or how visionary of a leader he was and more. I have already read some by today evening, the evening of the day he passed away.
Let me be blunt honest though, I never felt he was a very charismatic outspoken leader. I was there at the inauguration of his first election campaign. His debuting political speech was two-minute-long with no much charisma or emotional fuel. Yet he never pretended to be one. He knew if he is to ever win an election, it would be because of his deeds not because of his big speeches. He believed he could promote charismatic leaders under his platform than himself being one. But, this ingenuity, personality and honest political agendas made him very likeable and attracted apolitical urban youth towards him.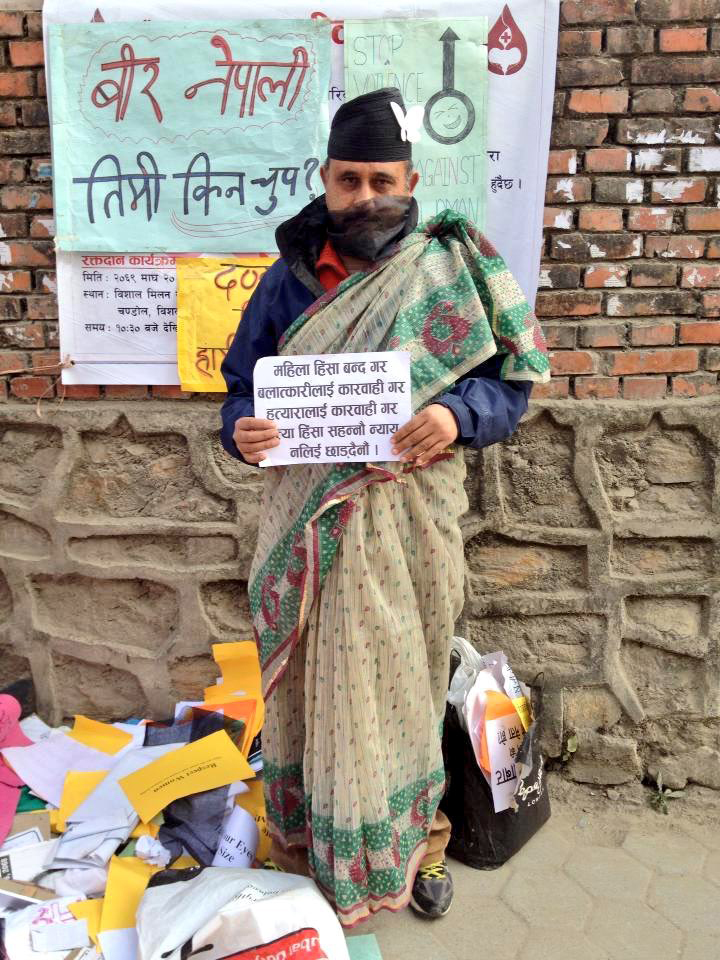 Here are some of the instances that I have witnessed.
A group of my apolitical friends who were on a day out in Kathmandu from Dhulikhel saw a protest under the Bibeksheel Nepali banner (political party co-founded by Ujwal). They cancelled the day out to stand in the protest.
An otherwise apolitical friend of mine rented out a bicycle just to join in a cycle rally for Ujwal's election campaign.
A day before the election, the first election Ujwal had contested, a news portal broke out fake news about Ujwal (and his panel). A group of my friends, who were in no way attached to his political campaign, got together for a DDoS attack to get the website down.
A friend and his girlfriend, who have no affiliation to Ujwal or his political party, donated to the fund collected for Ujwal's treatment. The donation campaign turned out to be the biggest crowd-funded campaign in 24 hours in Nepal for a person's treatment.
His family handed over the responsibility of his funeral service and ritual to his friends (the other family he had made) that were all connected to him because Ujwal had a huge impact and influence on their lives, who were there for him throughout his final days, managing everything for him and his family, despite the Covid-19 pandemic and lockdown situation.
No, he was not a very charismatic leader. Yet, somehow he was a very charismatic leader.
Ujwal was a person who was ALWAYS READY to challenge the social norms he deemed injustice and encouraged everyone else to challenge them. Even if it meant awkward dinners in the family gatherings. And, I idealised this trait of his. Somehow, he was charismatic.
Earlier today, in a ClubHouse room "Tribute to Ujwal Thapa", I heard someone say Ujwal Thapa was a personality of his own and if you want to know him, read his blog. His blog has documented him all. Even his blog's name, Why Nepal. When an average person starts a blog, the domain is their name. Who names their blog Why Nepal, except Ujwal?
So if you want to know this man, he has documented himself well in and now lives through his blogs, his YouTube channel, his Twitter, his Instagram, his Facebook, and of course, every one of us that he has influenced.
And, I wrote this article to reflect on it, whenever I am in need of inspiration from Ujwal Thapa — the phenomenal man I knew.
June 1, 2021