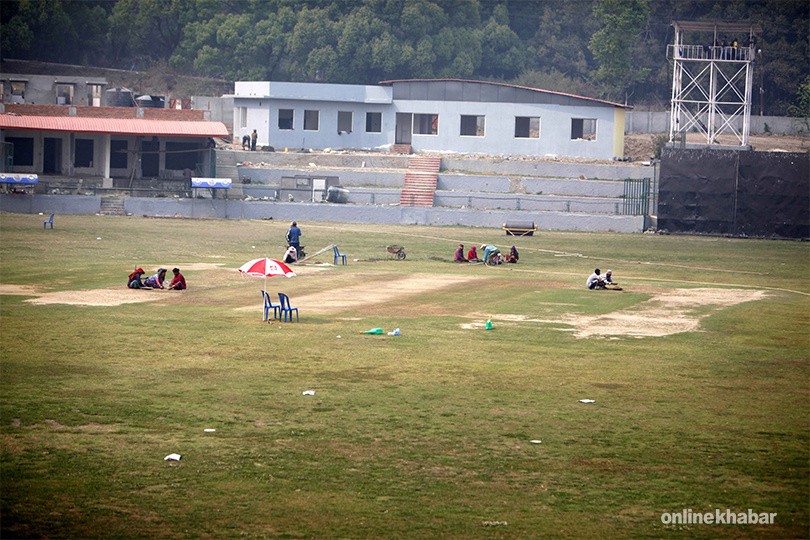 Nepal's senior cricket team is playing the fifth match (third round) of the ICC's World Cricket League Division I on Saturday. The match is going to be played at the TU cricket ground at Tribhuvan University, Kirtipur. The ground is the only one of international standard in Nepal.
1.
The cricket ground has a history of 20 years. In 1998, Nepal became an associate member of the International Cricket Council. The same year, Nepal's Cricket Association was awarded the right to host the ACC Trophy in Kathmandu. Two years earlier, CAN and Zee Sports, India had signed an agreement to develop the ground.
2.
The ground was initially meant for football. Between 1996-98 CAN reached an agreement with TU to lease out the ground for five years. Zee Sports then started working on the ground, and in 1998 the ground hosted the ACC Trophy.
3.
After the ACC trophy, Zee Sports bought broadcast rights for matches played at TU ground. It also said it was interested in building a stadium.
4.
The first official match played on the ground was between Japan and Hong Kong October 5, 1998. This was supposed to be the third match, but the PNG vs Bangladesh match (scheduled for October 2) and the Nepal Vs Thailand match (scheduled for October 3) had been abandoned due to bad weather.
5.
In 2001, Zee Sports organised the 'Legend Cup' in Kathmandu. Players such as Kapil Dev had come to town to play the match. But following the months after the match, Zee Sports stopped paying attention to Nepal, and later it entered into a merger with Ten Sports. In 2003, it received the right to broadcast the World Cup, and it lost interest in Nepal.
Although the stadium never came into being, CAN continued to extend the lease period. In 2010, CAN signed a 25-year deal with TU to allow the association to use the ground.
(Based on a conversation with former CAN president Binay Raj Pandey)