Kathmandu, January 22
With the government's decision to dissolve the House of Representatives, several groups have been organising different protest programmes across Nepal since the end of December 2020.
Friday marks another protest from Pushpa Kamal Dahal and Madhav Kumar Nepal-led group of the Nepal Communist Party that heavily affected traffic management in Kathmandu valley.
Police have closed a section of the  Ram Shah Path (from Maitighar to Singha Durbar) as protests are underway at Pradarshani Marga (Exhibition Road). As a result, many denizens are seen walking to their destination.
The major roads being shut has resulted in all the small alley and roads being affected too as police report traffic congestion everywhere around Kathmandu.
The police have shut roads as the protests are taking place in Bhadrakali, Purano Buspark and Pradarhsani Marga.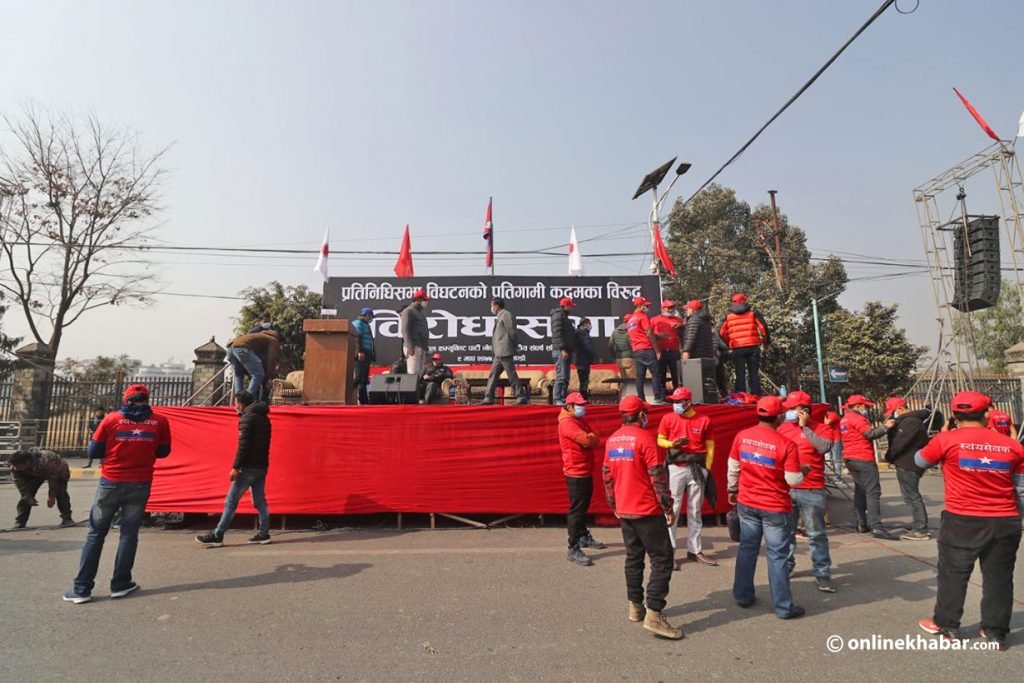 The faction's youth leader Ram Prasad Sapkota tells Onlinekhabar that the party cadres have built a stage near the Army Pavilion right at the end of the Pradarhsani Marga.
The party's previous protest, on December 27, 2020, had taken place at Pradarshini Marga only. But, this time, wanting to do a greater protest, the Dahal-Nepal faction has chosen a busy road to protest, affecting the traffic of Kathmandu in the process.
The Dahal-Nepal faction has arranged multiple protests across the valley which will end at Pradarshini Marg.
Roads around Maitighar, Charkhal, Dillibazar, Lainchaur, Tripureshwar, Kupandol, Pradarshini Marg, Trichandra College have been affected due to the protest.
The faction says around 100,000 people are attending the demonstration in Kathmandu today.