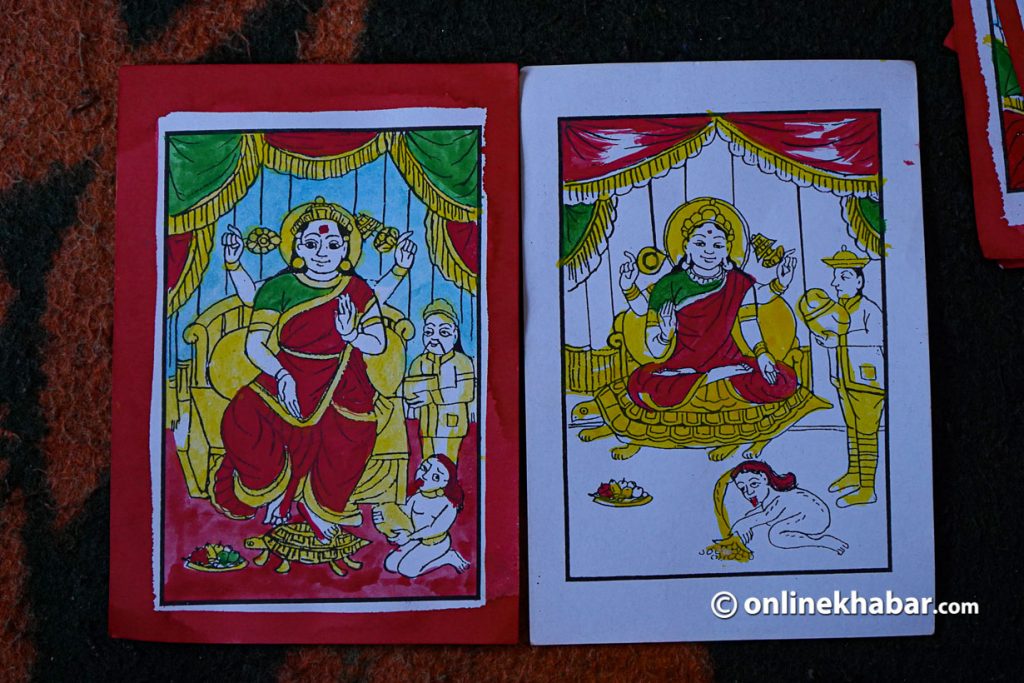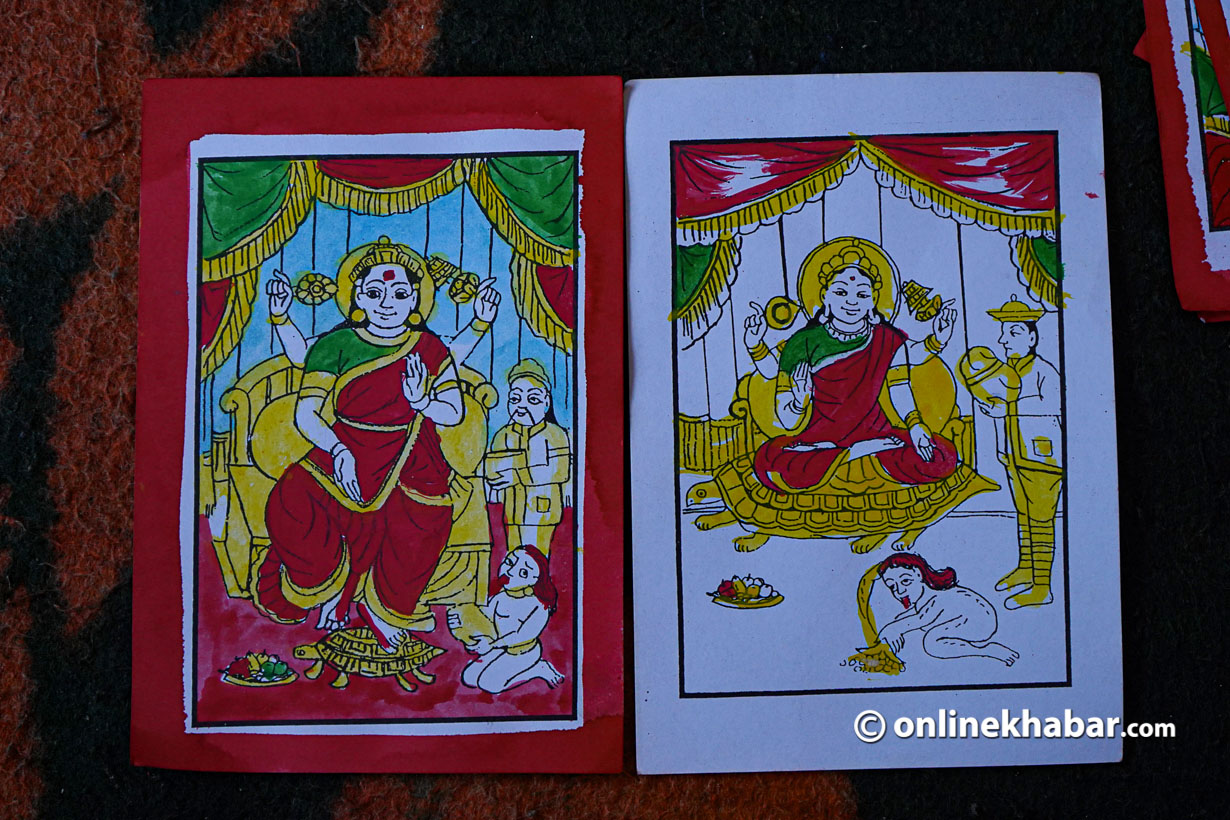 Dipping his brush in yellow paint, Dipesh Chitrakar starts outlining a mandala. He picks up green and colours Kuber's clothes in the background and red to colour the bright sari [of Goddess Laxmi]. He chooses colour after colour and brings a black-white print to life. At last, he outlines the whole picture in red and leaves it to dry.
Every October, Chitrakar repeats this process multiple times. What the 26-year-old is doing is making posters for Laxmi Puja.
As Tihar, the second biggest festival of Nepal, is here, people are now swarming towards the market to get items for five days of celebration. The third day of Tihar is Laxmi Puja, for which people buy colourful posters to get stuck to their safes and worship room to welcome Goddess Laxmi, the goddess of wealth and prosperity.
But, Dipesh does not sell his art in the market; it is for the family, friends, and close neighbours. It was only recently, after Covid, that he limited his production, but according to him, there was a decline even before that. 
Though there is not enough information within the Chitrakar community of Kathmandu valley on how the tradition of painting Laxmi pictures for Laxmi Puja became their responsibility, a few like Dipesh are shouldering the ancestral duty these days.
Changed times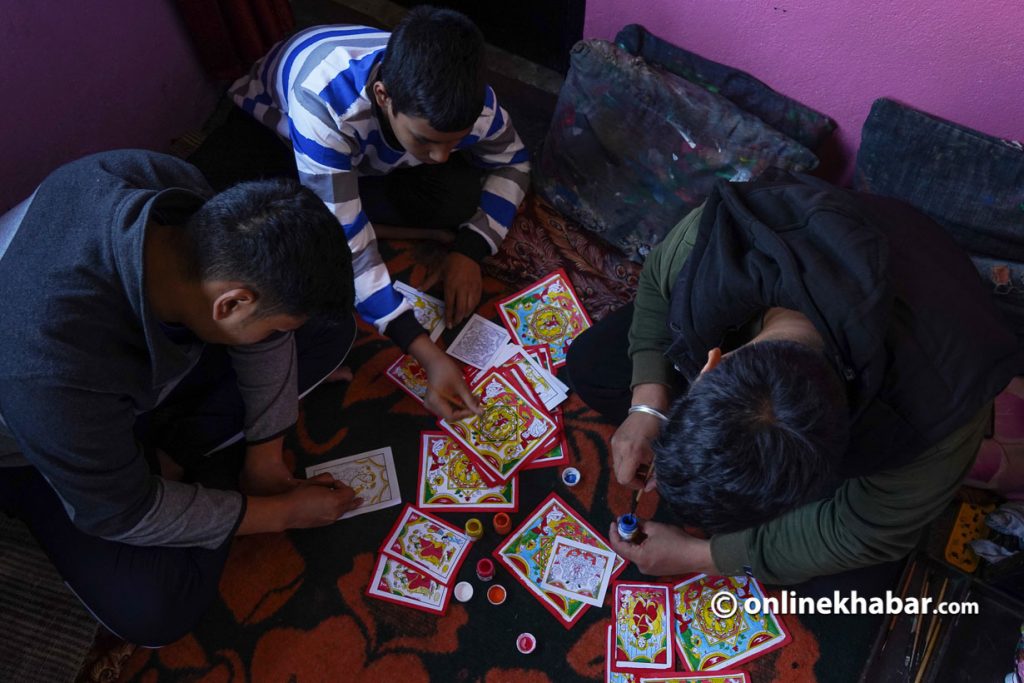 When he was about six years old, Dipesh Chitrakar used to tag along with his grandfather [Krishna Bahadur Chitrakar] to the market and sell the posters as the festival of Laxmi Puja approached closer. As a child, in equal excitement, he used to participate in the making of the posters too. 
"It was exciting to work with grandfather. He taught me how to colour, how to mix them, and where to colour. The first times were just me, as a child, putting some lines here and some dots there. But, that was still exciting."
Today, Dipesh is continuing the same with his younger brother, Dipen (17), and nephew Rijan (13) in a room in his house in Thasikhel of Lalitpur.
This year, the trio are making some 50 pieces of posters to give to their near and dear ones. But, there was a time when they used to make and sell about 1,000 pieces every year.
"After Dashain, the family would get together and we would colour the posters. Making about 50 to 100 a day, we would finish just before Tihar and go to Mangalbazaar to sell them," Dipesh shares.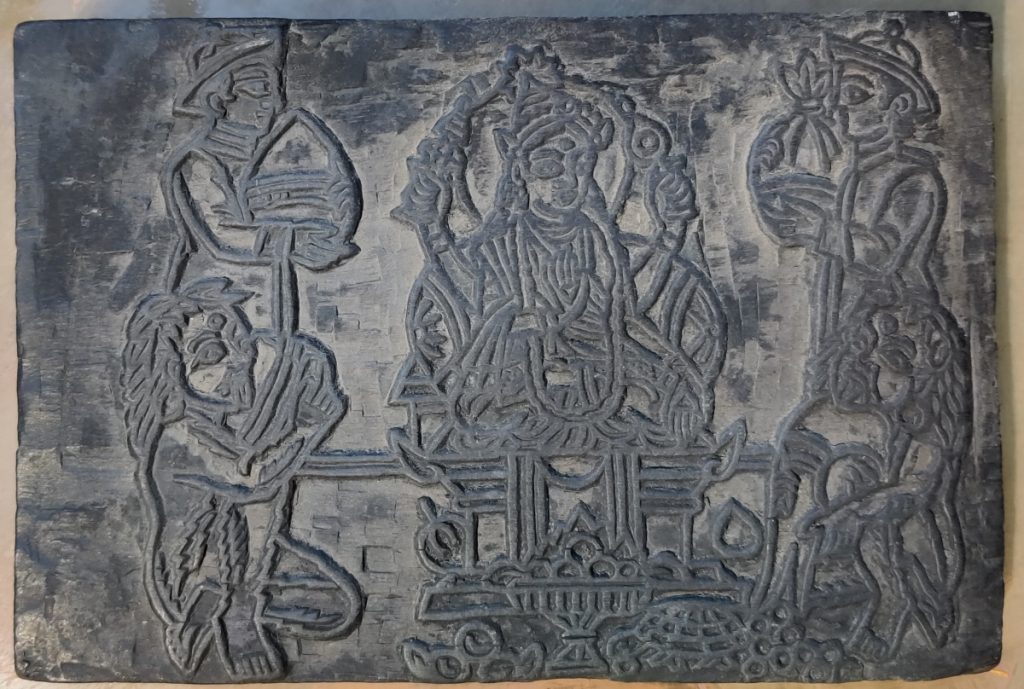 "We used a wooden block, where the design was carved into, called thaasa. It had Goddess Laxmi in the middle flanked by one or two image(s) of Kuber, the god of wealth, and Khyak (the protector of Laxmi) in the bottom. The goddess represented would hold Jal Nhyakan (a celebratory utensil carried by Newa women in traditional events, usually paired with Sinamu) and has alah (red colour painted on women's feet during celebratory events) on her feet indicating that her origins are from Nepal or Newa community. But, the evidence is still missing about its origins," recalls Ikhalakhu-based artist Sunil Chitrakar.
Explaining the technique, he says, "We used to block-print that design onto paper of different sizes. We would put four or five layers of wet cloth and with a help of a roller, we would spread a mixture of black paint that we made at home. Some took mohni (black residue collected from burning butter lamp smoke) or black colour powder and mixed that in boiling water and optional egg whites. To make it long-lasting, we mixed sares (a kind of mixture). Then put the paper over it for the imprint. We repeat the process for every piece and then colour each after it dried."
The market clash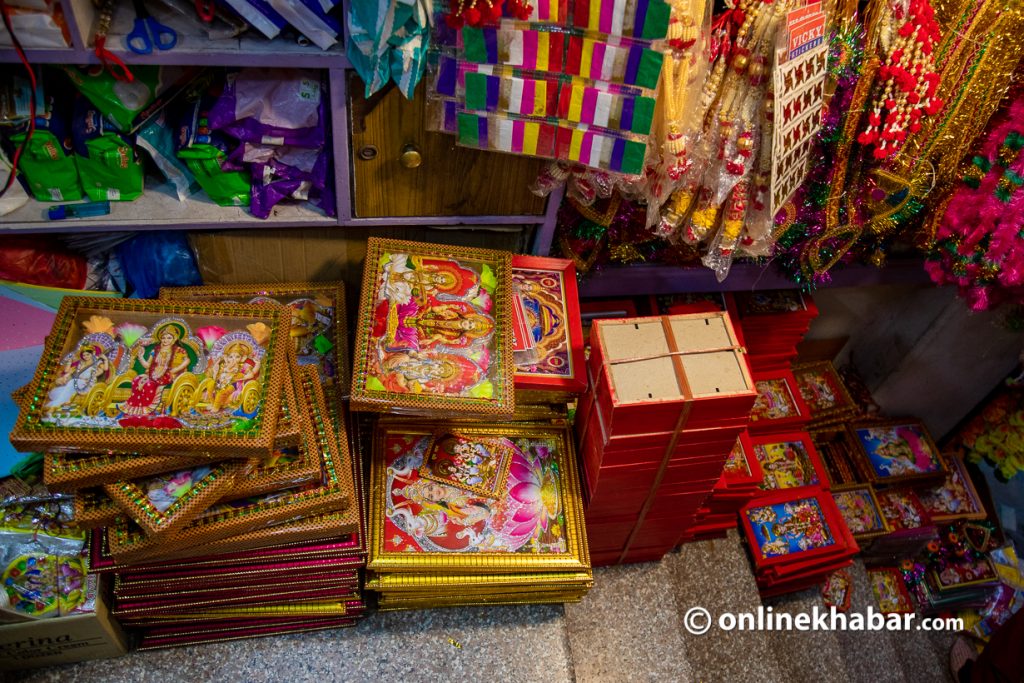 But, the 48-year-old Sunil Chitrakar, who has chosen art as his full-time profession, does not make any posters, not even for himself, these days. "It has been some 10 years since we stopped. Before the Indian posters' presence, the sale in Tihar was enough to finance the whole Tihar expenses and more. But, the market dropped for traditional posters and everyone got busy with their separate profession. So, if needed, I go to Mangalbazaar and get the hand-painted posters."
He adds, "Times have changed. Since some 10 to 15 years ago, there has been an influx of printed posters coming from India. They are mass-produced so are cheaper than our hand-painted posters. As people prefer to get them over our products, the market [of hand-printed Nepali posters] declined."
"Some people, mostly those from the Newa community, still prefer and look for traditional, hand-painted posters. A few more people who are now promoting Nepali and traditional art, are also buying this. But, others are more likely to buy the printed ones," says Dipesh.
The cost of printed Laxmi Puja posters ranges from Rs 10 to 25, depending on size, whereas, the hand-painted ones cost in ranges from Rs 25 to 50.
It is natural that when the market declines, people either change their profession or search for a new income source. The statement is applicable in this scenario as well, given that many Chitrakar families have changed their profession and today go to the market and buy the posters that they previously were busy making for Laxmi Puja.
Meanwhile, to avoid such a fate for his family too, Dipesh says, "If I do not continue this myself, my children, the future generation will not do it either. Who will they learn from?"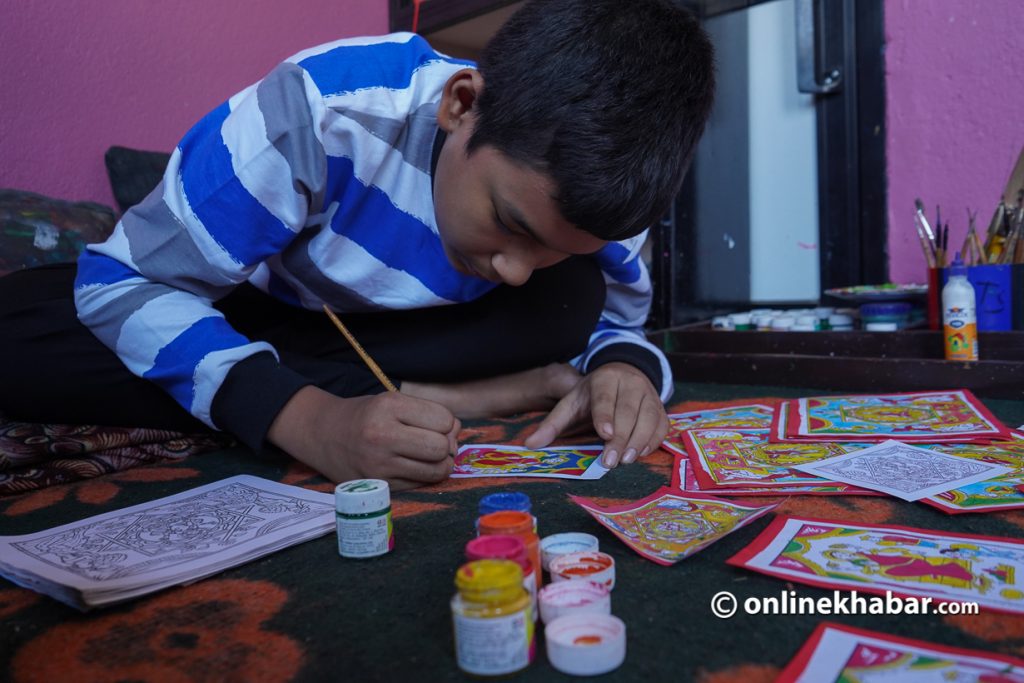 Realising this, Dipesh has been teaching his younger brother and his nephew, who joined the team as early as eight years old. Dipen says, "I always had an interest in colouring; starting early, learning from my brother and grandfather was insightful. I want to continue this as much as I can."
Addressing the struggle in the market, this young aspiring artist says, "A lot of hard work goes into this. But people do not understand that. They look for easy and cheaper versions like the printed ones that we see. However, this is our culture, and everyone should support this."
---
Originally published on November 1, 2021