Pramithus Khadka and Rohit Shakya along with Ritavrat Joshi and Gautam Tandukar are at Fuzz Studio preparing for Topi's first-ever gig. Despite them playing together for the first time, there is a certain tightness amongst them. Khadka and Shakya, who together make the Topi band, have been making music for over a decade. But, it is only now that they have met and have taken the chance to do their first show together at Beers N' Cheers.
"This has been a decade in the making as we've finally been able to bring Pramithus to Nepal (from the United States). Both of us are really excited about the show (scheduled for this Saturday, December 18)," says Shakya.
Old partners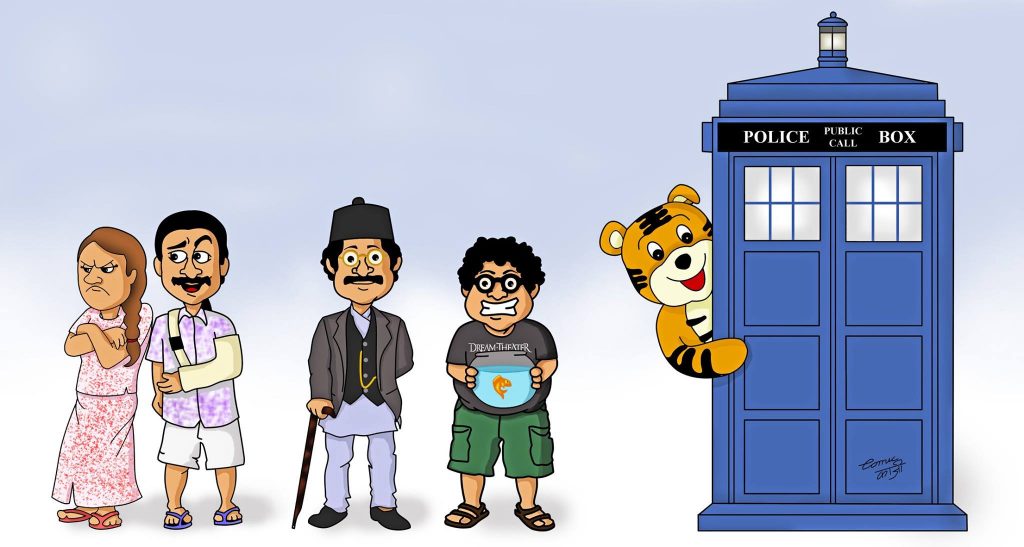 This show has been in the minds of the duo ever since they started their collaboration back in 2011. But, the two did know each other before. Khadka was learning music at Imam Bikram Shah's Nepal Music Center. He was learning DIY production and Shah told him about Shakya was also learning the art of music production.
"We started sharing samples and that is how we started out," says Khadka.
But it was not until Khadka, who lived in the US, sent Shakya his EP asking for suggestions that they really started to look at the possibility of collaboration as Topi.
"I knew that Pamithus was a hardcore metalhead. But, he sent me songs that were pop in nature. It surprised me because they were so good," says Shakya.
Shakya gave Khadka feedback over his songs and played with the idea of collaborating. This was 2011 when Shakya was studying music production in Thailand and had a lot of time to produce music and experiment. He asked for a sample from Khadka, who sent him a raw version of Thorai and after that, there was no looking back.
By 2013, they had an album ready. Khadka wrote songs and composed them and sent them to Shakya who then added music to the songs that already had a soul. The songs in the album are melancholic and relatable. For people living away from their families, it was a way to connect to them. While Topi had not released it on YouTube until recently, it did quite well on SoundCloud.
However, before they released the album, Topi also released a single from the album Thorai just around the time Shakya returned to Nepal from Thailand. The video was quite a hit in Nepal and abroad. During a time when YouTube was not as accessible as it is now, it did incredibly well.
Inevitable obstacles
But, then, things started to slow down. Khadka started to get busy with his life in the US as did Shakya. They could not perform the song and the album did not help either as their music did not reach as many people they would have liked.
"People did listen to our songs. I still have people coming up to me telling me that they listened to the entire album on SoundCloud. But, sadly, they didn't remember the band," adds Shakya.
The duo in Topi, however, kept in touch. Even though they were busy with their own things, they still had time to talk music. The synergy between the duo was too good to fade away.
"We both understand what the other is trying to do and give each other space," says Khadka.
Both say that they hardly disagreed over anything. Shakya rarely did anything with the guitar part Khadka sent while the latter gave the former full freedom to experiment.
"Thorai was more ballad-type while Eklai had a hit of modern rock element and Rang Haru had touches of Motown. Even though most of it was experimental, now that I look back it's come out quite good," says Shakya.
But, he says that he did face one challenge. Topi recorded the album and everything was ready. However, Khadka felt that he could still do better. He felt his vocals were not good enough and wanted to redo all the vocals.
"I'd be telling him this is good; your voice is good. But, he wouldn't listen and we did vocal parts all over again," says Shakya.
That is the reason why the vocals on the video of Thorai are different to the ones on the album, they say.
New music and new show
Now, together, Topi are working on new music. The duo started working on it during the Covid-19 lockdown and are quite positive about what is to come. They say that despite having a gap of a few years, things were as it was back in 2013.
"It was like nothing changed. We had the same synergy as we had back then. This project is personal to both of us and maybe that is why we get work done quite quickly," says Shakya.
Shakya also emphasises the need for deadlines. He says Topi could have done this anytime they wanted, but they set a deadline for everything and that is what he says young bands should learn.
"They also need to start making albums because it's important as you'll have a discography to show in the future. I know bands or single artists just want a single hit, but that's not what music is all about. We should play around with it and create things we like," he says.
That is what Topi are doing. After their show on Saturday, they plan to release new music. They say that new ones will be different because both have evolved as musicians.
"Lyrically and musically, it will be different than the first album but before we release that, we have a show to perform and we're very excited about it," says Khadka.
You can get your tickets for the Saturday show at Beers N Cheers or can scan this QR code on Fonepay or eSewa.