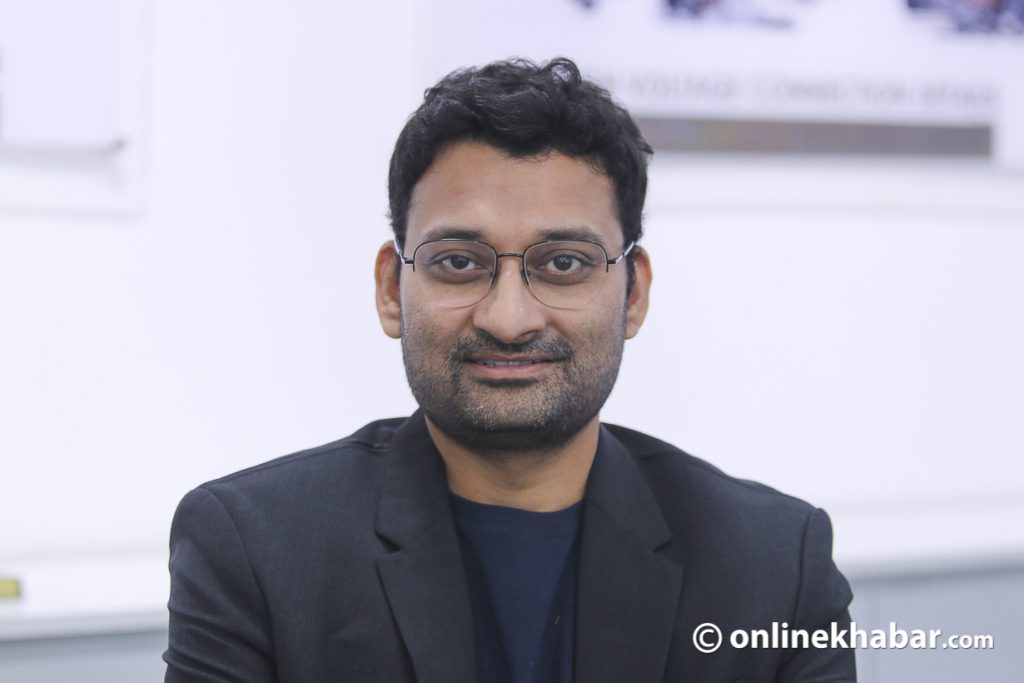 Ever since Sipradi Trading, the sole distributor of Tata Motors in Nepal, launched Tata Nexon EV in Nepal, it has been working towards building an EV ecosystem. To ensure that the consumers do not face issues, the company has set up over 100 charging centres across the country and has also built an app that facilitates locating EV charging stations in the Tata Power EV charging network, charging electric vehicles smoothly and making online payments for the charging sessions.
Now,  Sipradi Trading along with TATA Motors India has recently launched an EV learning centre at its Naikap office, through which it wants to develop the EV ecosystem even more by creating skilled workers and technicians that will be needed in the country in the coming future.
The EV Learning Center was jointly inaugurated by Rajan Babu Shrestha, CEO – of SIPRADI and Mayank Baldi, Head of Passenger Vehicles International Business, Tata Motors Limited. On the occasion, Onlinekhabar caught up with Mayank Baldi and spoke to him about the importance of such a learning centre, the EV market in Nepal, Tata Motors learning from the Nepal market and their future plans for Nepal.
Excerpts: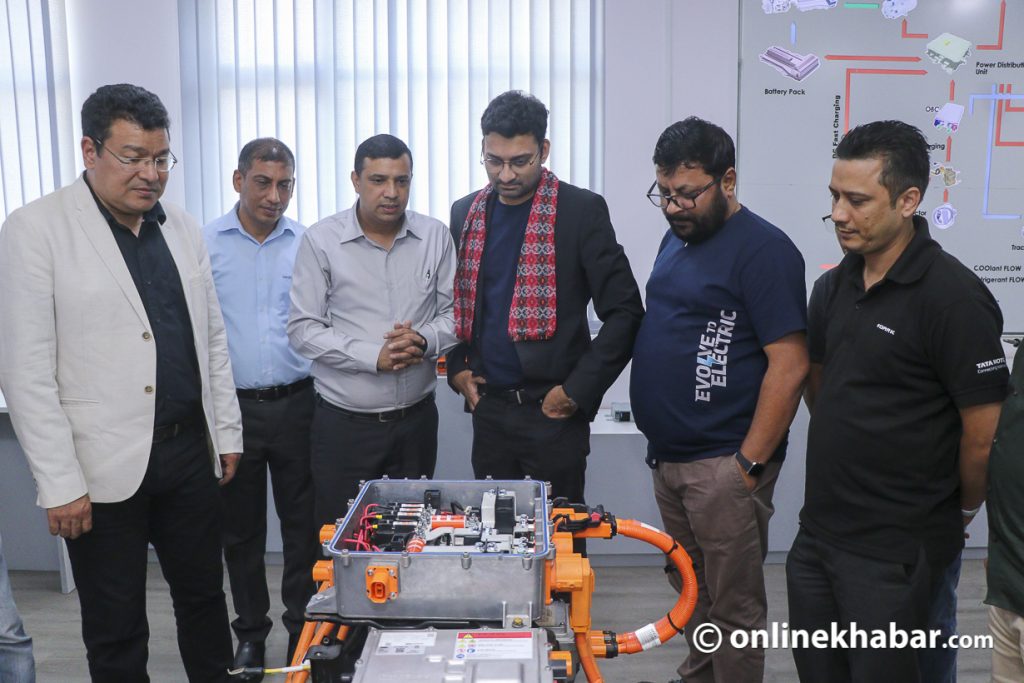 Tata Motors and Sipradi Trading have been doing a lot to build an EV ecosystem in Nepal. You've been setting up charging stations in different parts of the country and now you've officially launched an EV learning centre. Why do you think it's important to establish a centre like this?
One of the fundamental aspects of the EV ecosystem is developing skills, training and developing the human resource needed. Because this is a new technology, everybody is learning how to develop it. We've been looking at what has happened in Europe and Japan and how they are doing it and we are trying to set up something similar.
An Indian brand doing it in Nepal, I feel, is a big statement. Tata Motors wants a place where people can get in-depth knowledge about our cars. I'm not just talking about people in sales or distributors; we even want customers to come in and see what parts are in our cars and understand and learn about how this technology works. There are enthusiasts who want to know how the battery gets charged and other things about an EV.
So, through this state-of-the-art centre, we want to educate people about EVs. We don't just want technicians or sales teams here; we want to invite prospective customers and dealer partners to come and engage with the EV because this is the future. If you prepare for it now, you are sorted for the next decade. More products are going to come, technology is going to change and this centre will become a learning hub for all that.
When did Tata Motors and Sipradi Trading come up with the idea to start this EV learning centre?
The idea started nearly a year ago when we saw how the EV market was growing in Nepal. When we saw that, we wanted to give back to customers and invest in building the ecosystem. We wanted to do that because we know returns will come later if we built a strong foundation for EVs in the country.
So even before Tata Motors launched Nexon EV in Nepal, we had all the infrastructure enablers in place. We had service centres, a charging network and fast chargers already in place. We wanted to make sure that wherever a customer went they knew, they needed not to worry about issues with their EV.
This centre is another feather on Tata Motors' cap because, with a learning centre, all our people are much more skilled and confident. I'm sure they will handle an issue well and also train others if need be. We also want this learning centre to give training to others outside Nepal too. We could call our teams from other countries to come to Nepal and learn the workings of Tata Evs.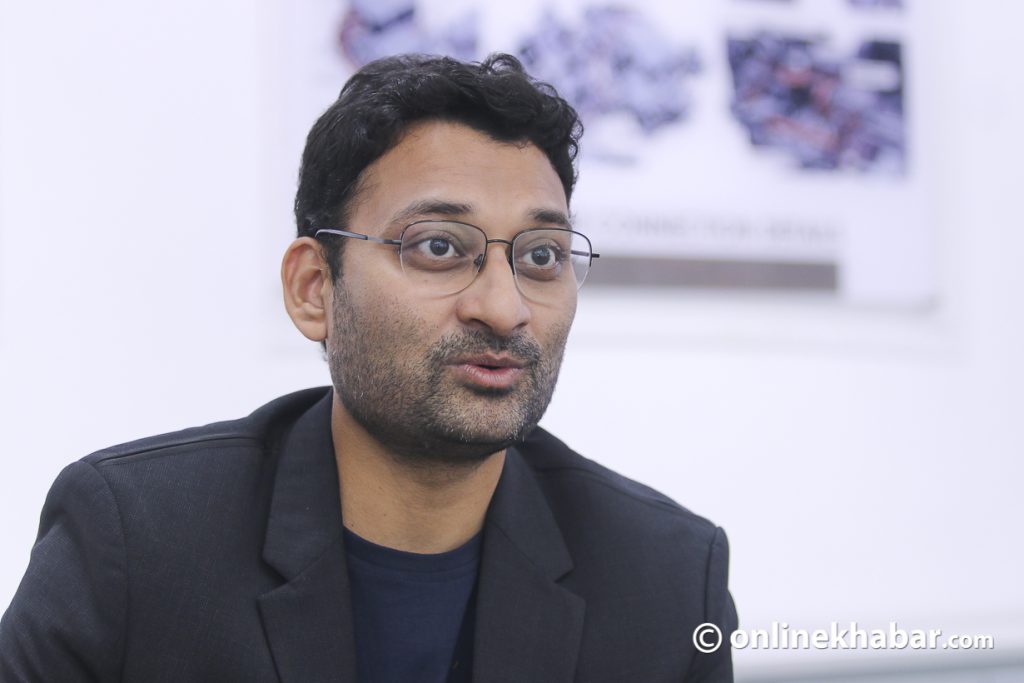 Are there other centres like this?
We believe this is the first in the sub-continent. I haven't seen one in India too. This is not just a learning centre, it's a view of the future on how the market is shaping up and what all enablers we need to put in place for the future.
So you want to create more skilled human resources for the future? Is there any number you're looking at?
Yes, that is one goal. Tata Motors wants to grow the EV team not just in terms of number but also in terms of developing skills and becoming more competent. We don't have a set number for now. We want to launch a certificate programme in the future and create specialists. We want specialists in batteries, motors and other aspects of the EV who can go to places around Nepal and solve people's issues.
We want to create a trainer programme and teach people on the job. We've displayed parts in the centre so that people can see them firsthand. This could have been done online, but we want a physical place for people to come and learn.
We want to create specialists so that we have all the answers right now so that in the future we can solve people's issues swiftly.
What other future plans does Tata Motors have for the Nepal market? What can the country expect?
We know that our customers are satisfied, and we know our numbers are going to grow. The last thing we want is customers queuing up for say a charging station or at the service centre. If we don't prepare for the future now, we will have issues.
For that, we've sown the seeds and know which places are the hotspots where customers will drive for a long distance away from cities and earmark these places to initiate new charging stations. We also have an EZ (Easy) Charge App which can book your slot in advance at the service centre and a fast charger. So we've thought about how to make things easier for people driving our vehicles. 
So this is our advantage and Tata Motors wants to continue building on it. We don't want to get complacent and that is what our strategy is for the long run.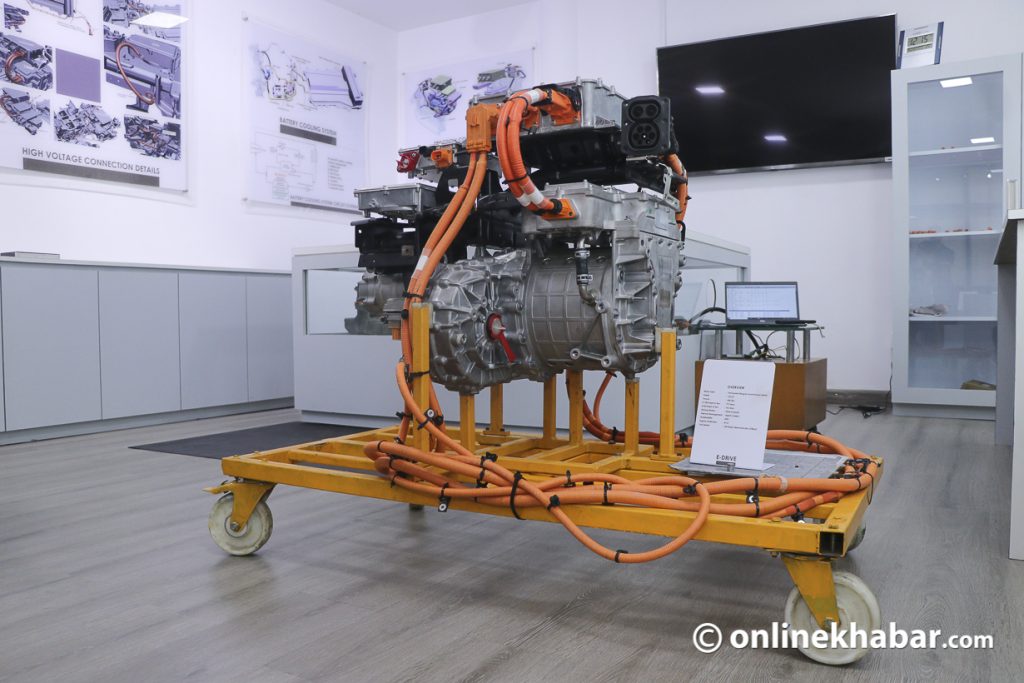 You've been operating for years now and have launched two EVs in the past year. What have you learnt about Nepal's market when it comes to EVs?
We've learnt a lot. The response when it comes to EVs has been tremendous. It's exceeded our imaginations. And, we continue to learn from this market. It's important for us in India to take notes from a market like Nepal and see what the demand is like and who are the customers buying EVs and how many of them are buying an EV for the first time. We are also keenly looking at the profile of the customers and the products that we should launch in this market.
So, for Tata Motors, strategies for Nepal and India go hand in hand. This learning centre is the output of that. Whatever we do in India comes here and our learnings here go back.
The charging app is a good example. This is great learning for us in India because we have developed the app in-house. You can pre-pay and book a spot at a charging station in advance. We've also been analysing data and creating strategies according to the data we have.
What I noticed when I went to NADA EV Expo this year was how knowledgeable the crowd here was when it comes to EVs. I was impressed by the questions they asked. They asked us about the connected application app and why we haven't launched it in Nepal. But, there is a plan we will launch it here too because the customer wants it here too.
Any plans on Tata Motors launching new cars, especially in the budget range?
I wouldn't say budget, but we do want to bring the right aspirational cars into Nepal. The market is changing, and we feel no one wants to associate themselves with a cheap car. We have been trying in India and want to do that in Nepal too. Our focus is on selling the vehicle on value and on brand and not on discount anymore.
We've not sold EVs at discounts and still, people are buying them so this is where we want to take the market.
When Tata Motors launched Nexon EV last year, did you think it would blow up the way it did?
We had an expectation, but, to be honest, we were a bit overwhelmed. We were short on supplies and we acknowledge the fact. That is why we want to help develop the market more and create more infrastructure because we see things are moving forward here. And, if our plans work here, we can even take them to other markets in Asia.
We've seen how the impression of the brand is changing because if someone wants to buy an EV today, Tata is the first choice and we want to leverage that.