The Tata Tiago EV is predicted to take the Nepali electric vehicle market by storm. Tata Motors Nepal say there have been over 500 bookings of the electric hatchback after the 2023 NADA Auto Show.
The Tiago EV is the electric version of the much popular Tata Tiago hatchback. The Tiago is famous for its small size, price and features in both Nepal and India. Like its petrol version, the Tiago EV has quickly gained a lot of attention for the various options it has and the price.
The electric hatchback was introduced in India on September 28, 2022, and a year later, it arrived in Nepal, where a handful of them are already visible on the roads.
Let us see what the electric hatchback offers.
Specifications of Tata Tiago EV
Dimensions
Length: 3,769mm
Width: 1,677 mm
Height: 1,536 mm
Wheelbase
2,400 mm
Ground clearance
166 mm
Boot Space without Parcel Shelf

240 litres
Variants
Mid-range
XE
XT

Long range
XT
XZ+
XZ+ Tech Lux
Motor type
Permanent Magnet Synchronous Motor (PMSN)
Electric Motor Power
Mid-range: 45 kW
Long-range: 49.01 kW
Electric Motor Torque
Mid-range: 110 Nm
Long-range: 114 Nm
Battery pack
Mid-range: 19.2 kWh
Long-range: 24 kWh
Range
Mid-range: 250 km
Long-range: 315 km
IP rating for motor and battery
IP67
Acceleration (0-60km/h)
Mid-range: 6.2 sec
Long-range: 5.7 sec
Transmission
All variants: Fully Automatic Drive
Charging
Using a 3.3 kW charger: 6.9 hours for Mid-range variants
8.7 hours for Long-range variants
Using a 7.7 kW charger: 2.6 hours for Mid-range variants
3.6 hours for Long-range variants
Brakes
All variants
Front: Disc
Rear: Drum
Suspension
All variants
Front: Independent Lower Wishbone McPherson Dual Path (Strut Type)
Rear: Rear Twist Beam With Coil Spring Mounted on Hydraulic Shock Absorbers
Tyre size
175/65 R14
Colours
Signature Teal Blue
Tropical Mist
Daytona Grey
Midnight Plum
Pristine White
Price
Mid-range
XE: Rs 21,99,000
XT: Rs 22,99,000

Long-range
XT: Rs 25,49,000
XZ+: Rs 26,99,000
XZ+ Tech LUX: Rs 27,99,000
Design
Exterior
The Tata Tiago shares the same design as its petrol brother, the Tata Tiago with some changes. Instead of a large grille for air intake, it has a closed honeycomb-designed grill which reduces the airflow inside the car for better performance and range. The headlights are projector LED with DRLs. The chrome finishes in the Tiago are now blue indicating it is an EV.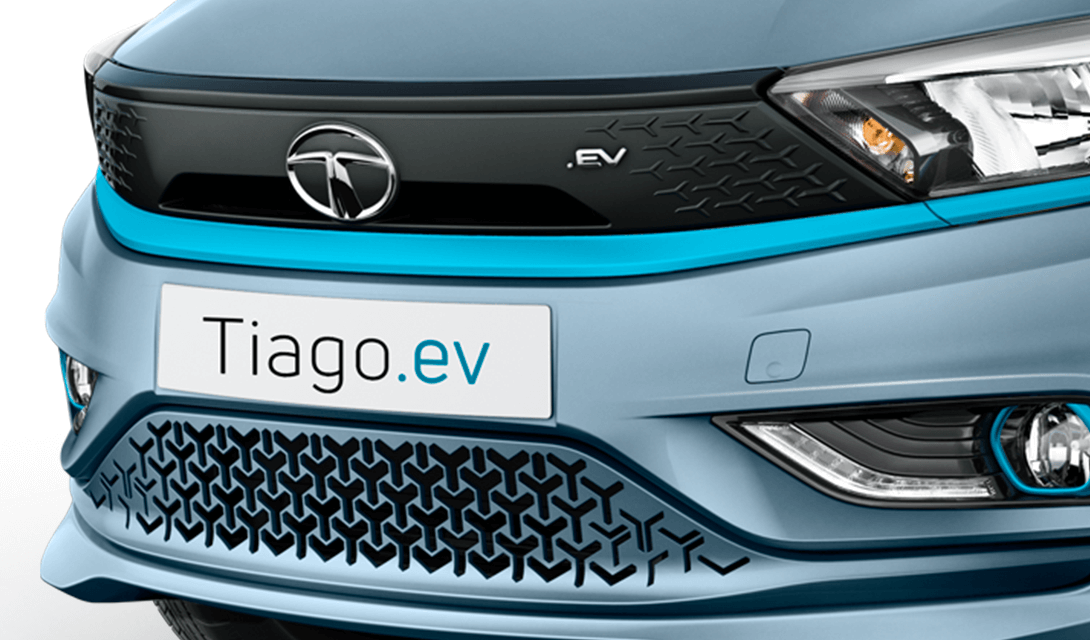 The side of the Tiago EV is streamlined with EV badging. It is equipped with tires sized at 175/65 R14 on both the front and the back. The EV has five variants and all differ in features both externally and internally. In the XE and XT models, there is a clean and cohesive design with body-coloured outer door handles, projector headlamps, DRLs, ORVMs with side indicators, full-wheel covers, and body-coloured bumpers, providing a sleek and modern look.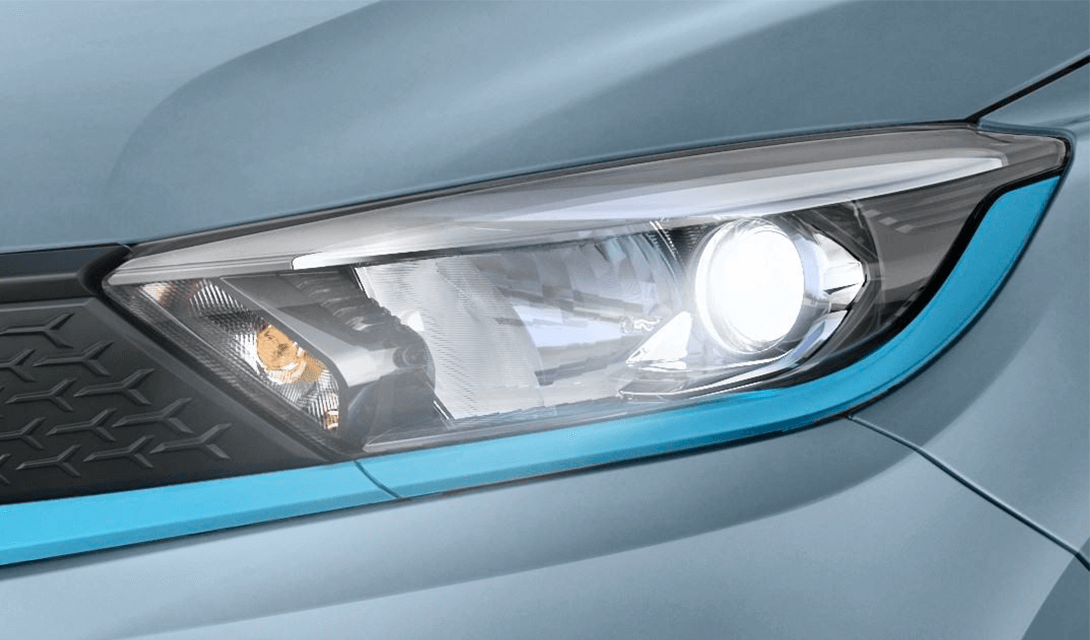 Stepping up to the XT LR, you get the addition of a contrasting black roof, elevating the aesthetic appeal. Moving further, the XZ+ LR and XZ+ Tech LUX LR variants introduce even more sophistication with enhancements like a piano black strip on the door handles, front fog lamps, fog bezel with piano black accents, and distinct EV accents on the Humanity Line. The XZ+ LR and XZ+ Tech LUX LR also boast a contrast black roof and some EV accents.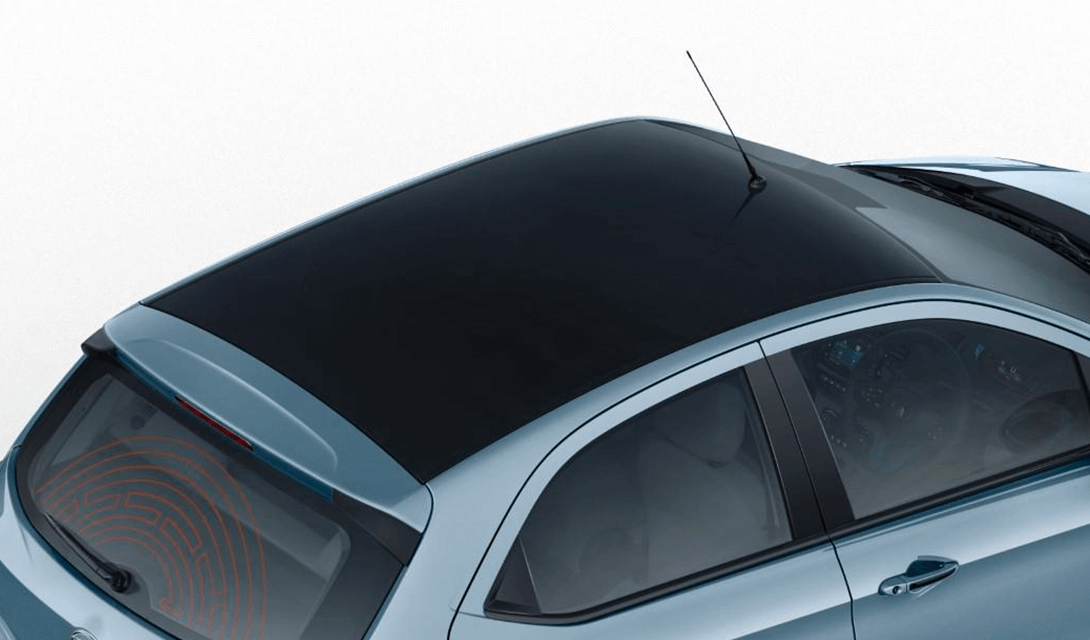 The Tata Tiago EV's rear is simple with a full-width LED tail lamp cluster and EV-specific reflectors for improved night visibility. A sporty touch is added with a black faux skid plate, while a redesigned rear bumper enhances aerodynamics and reduces drag through a prominent diffuser. It also has a rear camera and rear wiper for better visibility on what is going back.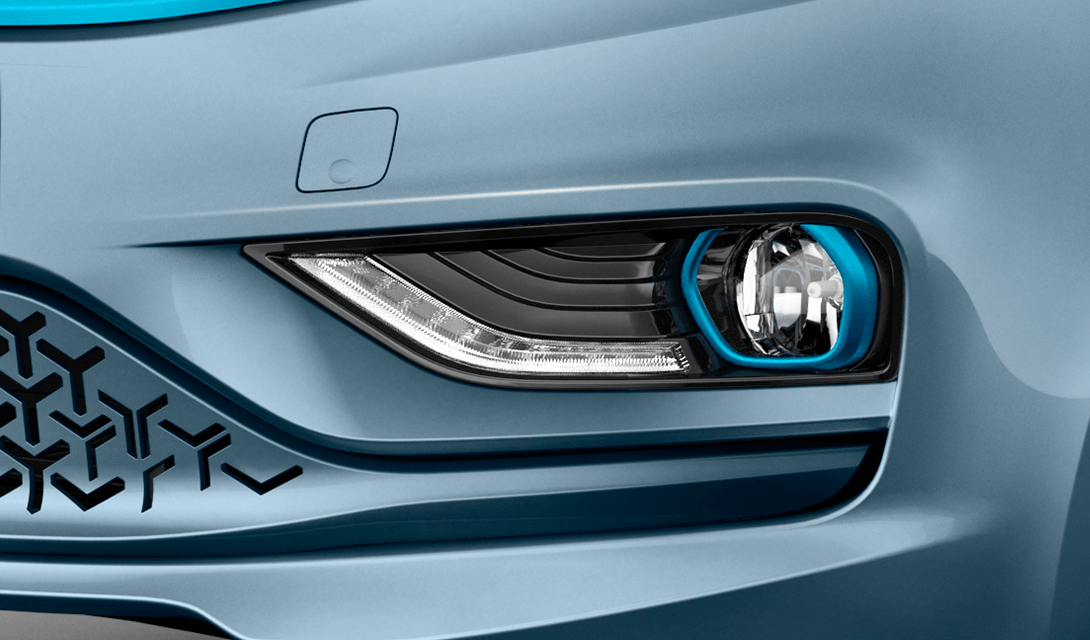 Interior
The interior of the Tata Tiago EV is modern. The front dash of the Tata Tiago EV features a 7-inch touchscreen infotainment system at the centre. Just above the infotainment system, there are two air vents and a climate control panel below the infotainment system, it also houses essential controls like power window switches, gear selectors, and hazard light switches. The 7-inch touchscreen infotainment system offers features like Android Auto, Apple CarPlay, Bluetooth connectivity, and a USB port. The climate control panel is easy to use for adjusting air conditioning settings. However, the base model XE does not get an infotainment system.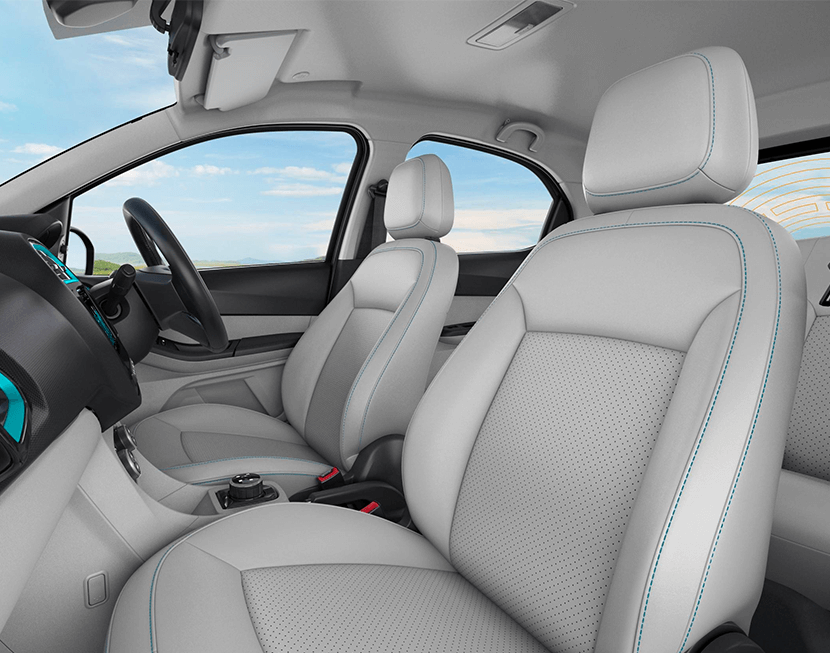 The seats in the Tiago EV are comfortable and supportive. The front seats are spacious, providing ample legroom and headroom. The back seats, though comfortable, might be a bit cramped for taller passengers. The seats are leather in the top model XZ+ Tech Lux whereas the other four get fabric-upholstered.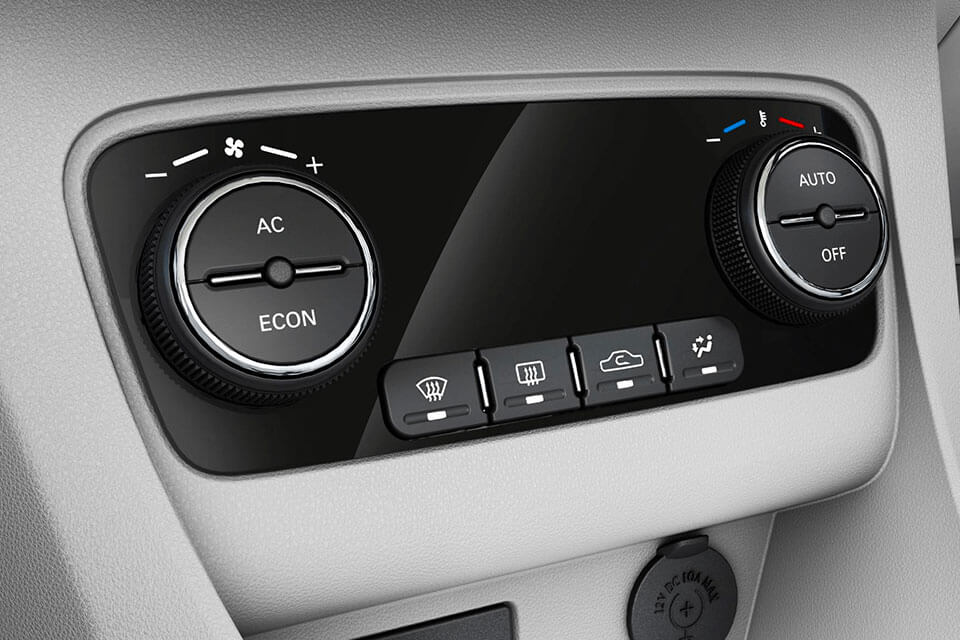 The driver's seat can be adjusted for height and tilt, while the passenger seat can be adjusted for position. The back seats can seat three people with some adjustment but can fit two adults with ease. The back seats can be folded down to increase boot space. The Tiago EV offers 242 litres of boot space, which is sufficient for most needs.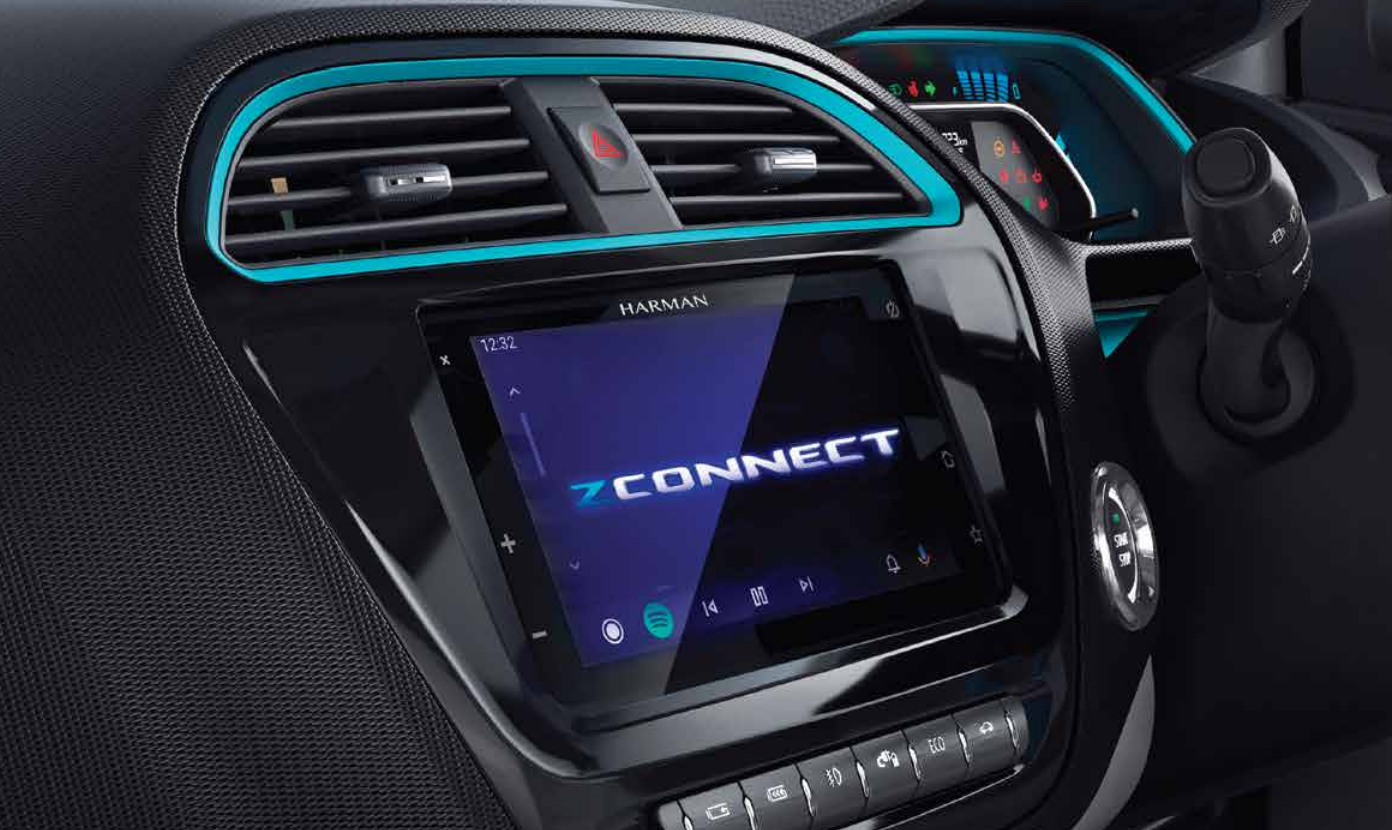 The steering wheel is wrapped in leather in the top variant. It has different buttons to control things like audio for music and sound, cruise control and call options. The digital instrument cluster is available in all the variants and displays information such as such as speedometer, tachometer, fuel gauge, and battery gauge. It is customisable, allowing the driver to choose the information they want to see.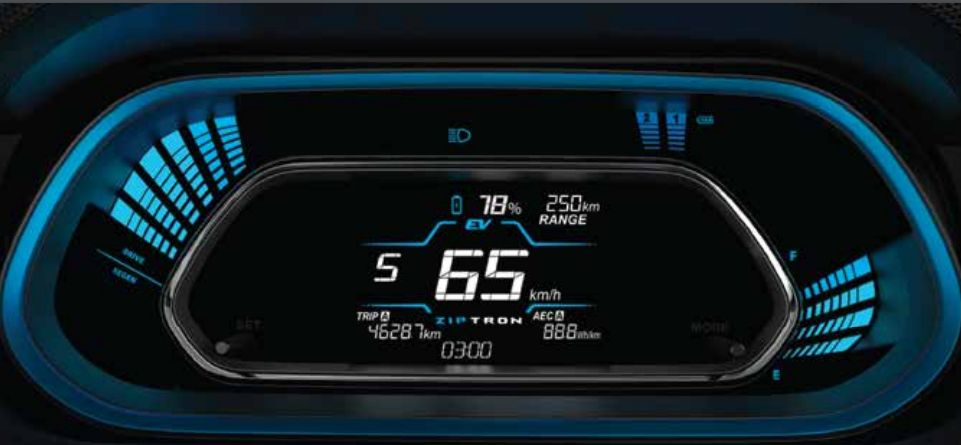 The centre console is simple with a small compartment and a gear know. The gear and mode switches in the Tata Tiago EV's centre console are user-friendly and well-designed. To choose a gear, you simply turn the easy-to-use rotary knob and select your driving mode; Eco or Sport.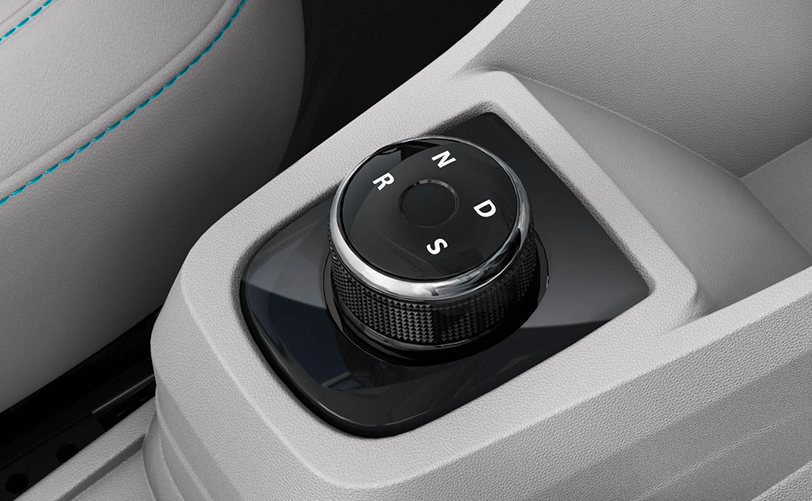 Performance
The Tata Tiago EV runs on an electric motor known as a Permanent Magnet Synchronous Motor (PMSN). This motor comes in two power options: 45 kW for mid-range and 49.01 kW for long-range, giving the car the ability to accelerate swiftly.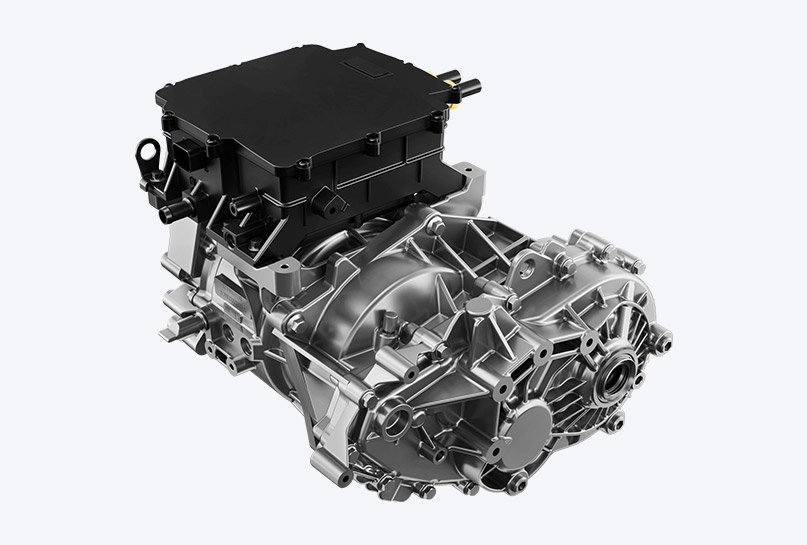 To power the electric motor, the Tiago EV uses a battery pack of 19.2 kWh for the mid-range and 24 kWh for the long-range. This enables the car to travel a good distance on a single charge – 250 km for mid-range and 315 km for long-range, providing an efficient ride.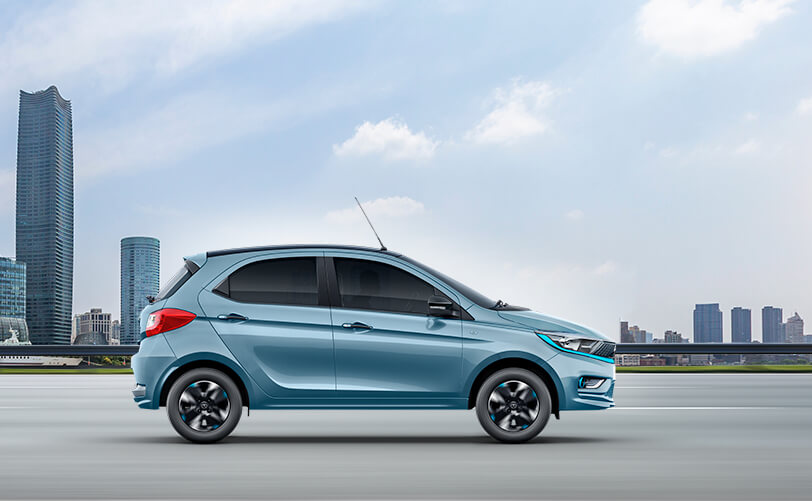 The Tiago EV comes with an IP67 rating for both its motor and battery, ensuring they are well-protected against dust and water. In terms of acceleration, the mid-range variant can accelerate from 0 to 60 km/h in 6.2 seconds, while the long-range variant in just 5.7 seconds.
Charging the Tiago EV is convenient. Using a 3.3 kW charger, it takes 6.9 hours for mid-range variants and 8.7 hours for long-range variants to fully charge. With a more powerful 7.7 kW charger, this time is significantly reduced to 2.6 hours for mid-range and 3.6 hours for long-range variants.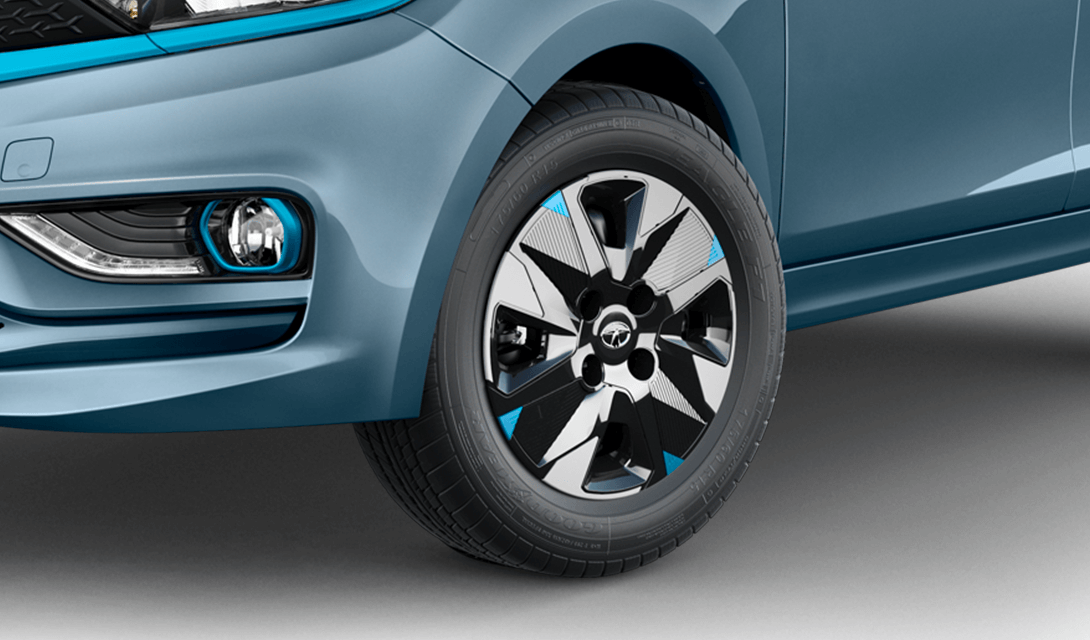 The brakes in all variants are equipped with front disc and rear drum brakes. The suspension in all variants for the front is an Independent Lower Wishbone McPherson Dual Path and the rear is a Rear Twist Beam With Coil Spring Mounted on Hydraulic Shock Absorbers.
Safety and features
The Tata Tiago EV prioritizes safety with a range of essential features. Inside, dual airbags are in place to protect both the driver and the passenger. Additionally, the Tiago EV is equipped with ABS and EBD, preventing wheel lockup. Hill Hold Assist ensures the vehicle remains stationary on an incline during the start, minimizing the risk of rolling backwards.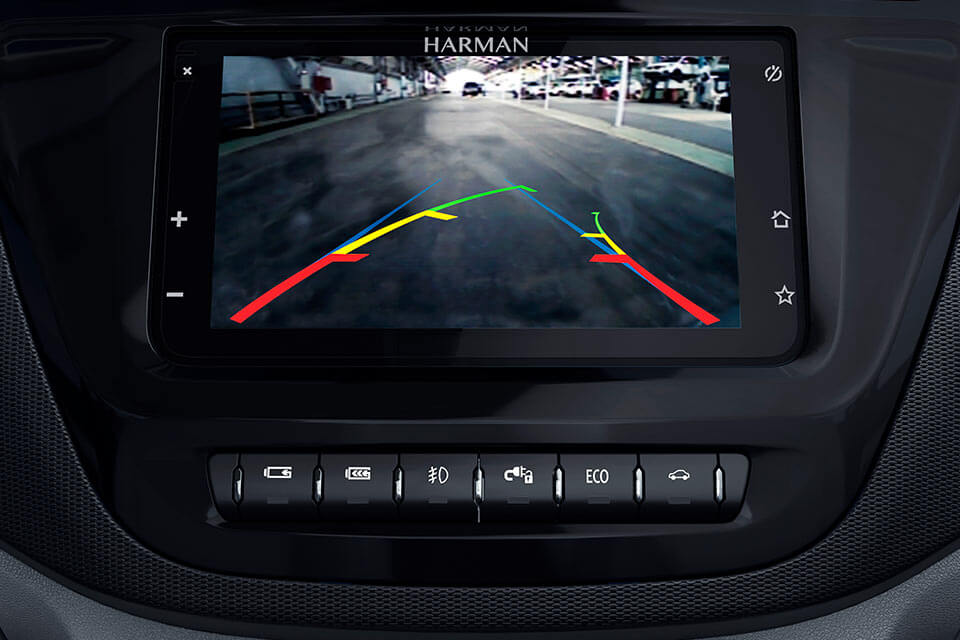 Furthermore, the inclusion of reverse parking sensors aids the driver in detecting obstacles when reversing. The Tiago EV also incorporates a speed alert system, reminding the driver to adhere to speed limits and a seatbelt reminder for all passengers.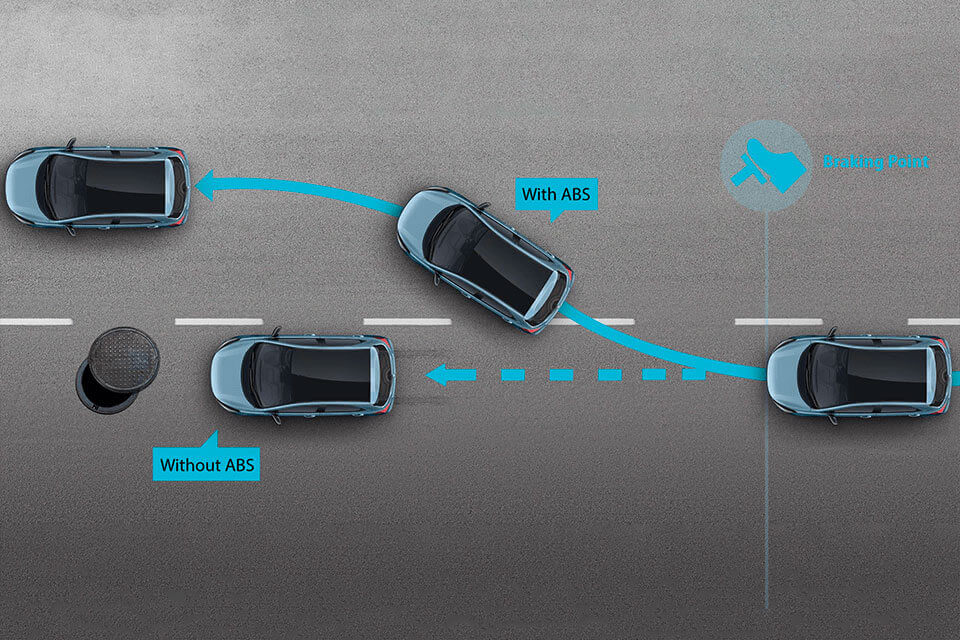 In addition to these safety features, the Tiago EV has other technical safety features such as an intelligent tire pressure monitoring system (iTPMS) that constantly monitors tire pressure. Child-safety rear door locks prevent unauthorised door opening from the inside.
It is equipped with Impact sensing and auto-door unlock, which automatically unlocks the doors to facilitate a swift exit in the event of a collision. Lastly, a puncture repair kit is included, offering a convenient solution to repair punctured tires without the need for a tire change, ensuring a smooth and safe journey. However, all the safety features might not be available in all the variants and differ accordingly.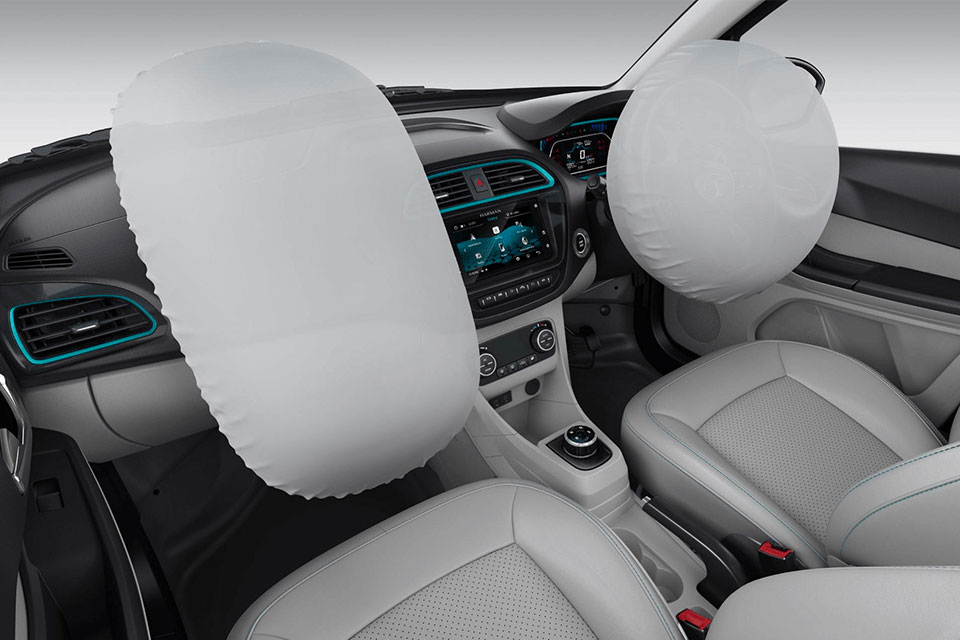 Some of the key features of the Tata Tiago EV are as follows:
Closed-off grille with tri-arrow pattern
Projector headlamps with blue LED DRLs
Fog lamps
EV-specific alloy wheels
Contrast black roof (optional)
7-inch touchscreen infotainment system with Android Auto and Apple CarPlay
Multi-utility steering wheel with cruise control buttons
Automatic climate control
Digital instrument cluster
Puncture repair kit
Dual airbags for driver and passenger
ABS with EBD
Hill Hold Assist
Reverse parking sensors
8-hour standard AC charging
50-minute fast DC charging
The Tata Tiago EV is available in five different colour options; Signature Teal Blue, Tropical Mist, Daytona Grey, Midnight Plum and Pristine White.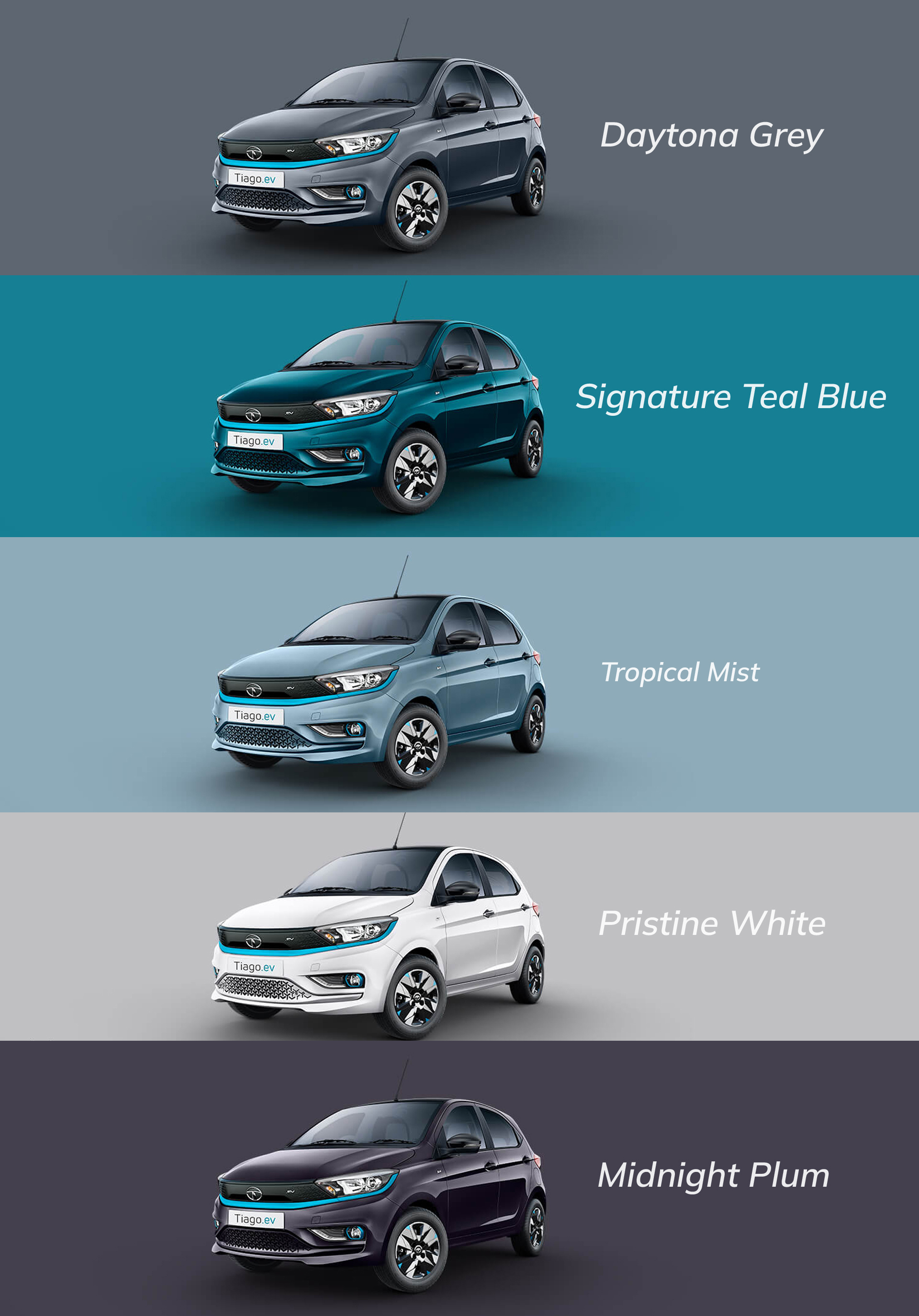 The Tata Tiago EV is priced at Rs 21,99,000 for the XE mid-range variant and Rs 22,99,000 for the XT mid-range variant, while the long-range options include the XT priced at Rs 25,49,000, the XZ+ at Rs 26,99,000, and the XZ+ Tech LUX at Rs 27,99,000 in Nepal.