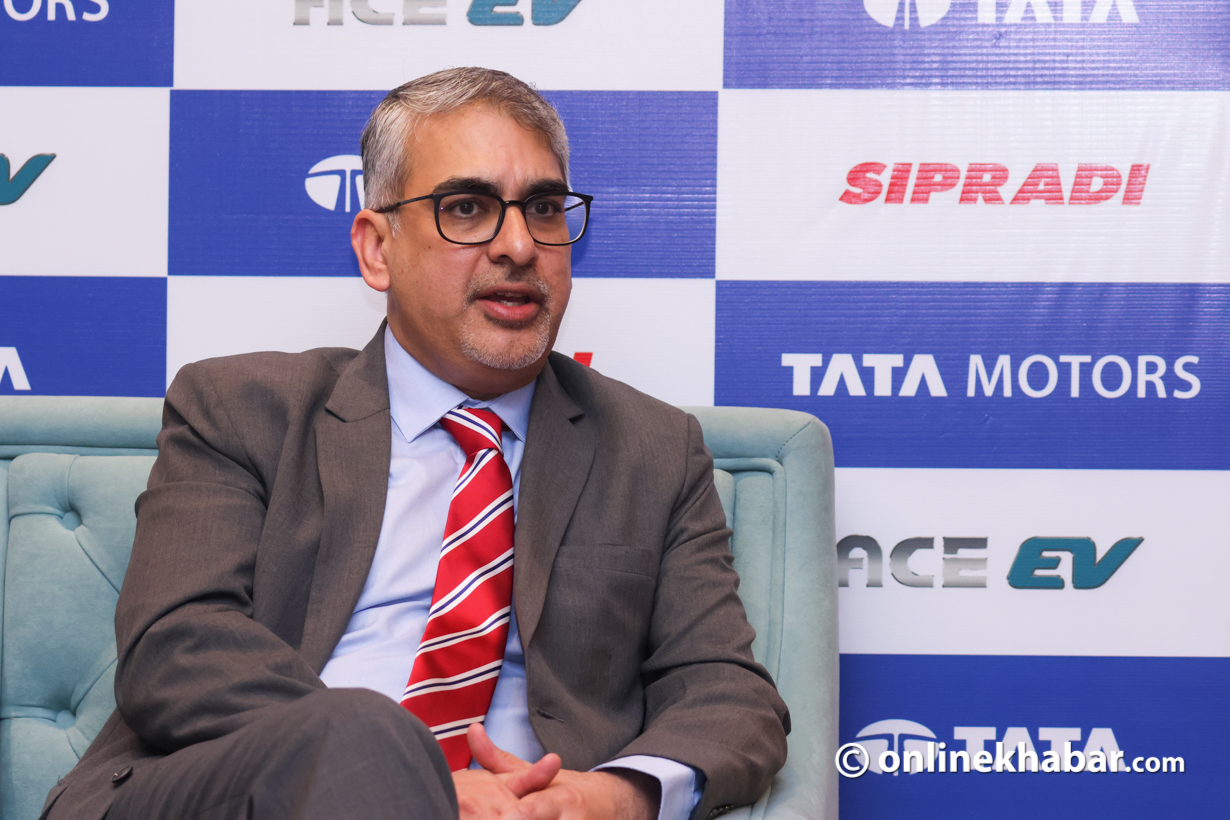 Ever since it started building vehicles, Tata Motors has always strived to ensure they constantly evolve. The recent launch of the Tata Ace EV is a testament to that.
The commercial EV was launched in Kathmandu on September 21 after six months of testing in Nepal. Tata Motors has been time and again stating that its goal with Tata Ace EV is to set a new standard for eco-friendly transportation in both customer and commercial segments.
The Tata Ace EV stands as a well-designed and engineered commercial vehicle tailored to cater to the needs of intra-city cargo transportation. Both Sipradi Trading and Tata Motors India are assured that this vehicle will provide significant advantages to all stakeholders dedicated to achieving a carbon-neutral future.
"This is a major milestone in Tata Motors' journey towards net zero," said Anurag Mehrotra, Head of International Businesses at Tata Motors' Commercial Vehicle Division during the launch event. "I am excited to see how Nepal could take advantage of EVs thanks to the clean energy the country produces through its hydropower projects."
Mehrotra has been a prominent figure in the vehicle industry for over a decade. Currently, overseeing Tata Motors' international business and strategy, Mehrotra is consistently focused on innovating new approaches to foster Tata Motors' sustained growth in the global market.
Onlinekhabar caught up with Mehrotra to speak to him about Tata Ace EV, the response in India and Nepal and how the ecosystem in Nepal will ensure this EV will be successful in Nepal.
Excerpts:
How long did it take to develop the Tata Ace EV? 
It took us approximately three years, following which we unveiled the vehicle in May 2022 in India. Since then, we conducted trials in India and proceeded with the commercial launch in January.
Following that, we started conducting trials in Nepal. I think we have been testing it out for over six months with the Sipradi team and with customers to see how the Ace EV will perform in Nepal.
These anchor customers gave us good feedback and seemed convinced about the product. They gave us valuable feedback including telling us how the operating economics was 40 per cent lower than diesel which made sure this product is not only sustainable but also commercially viable.
It was great that sustainability and commercial liability came together. When that happens, we as a company get the green light to launch the vehicle in markets like Nepal.
That means your customers are finding value in the Tata Ace EV.
Based on the trials in Nepal, yes they have. The tests were done across different terrains, across gradients, across different conditions. Following the tests, the customers told us the vehicle was ready for Nepal and that gave a huge boost.
How long was the R&D process to develop this vehicle?
As I mentioned above, it was three years. But unlike passenger vehicles where you do R&D and then you just launch it, commercial vehicles are different. There needs to be a lot of testing that needs to be done to ensure people are happy when we finally do a formal launch. This is important because a commercial vehicle is different. It has a different purpose so the R&D is a continuous process to ensure we deliver customer satisfaction.
How has the response been in India? Have people been open to transitioning to EVs?
The response has been great. Initially when we went in we assumed that the customers would be looking for sustainability as a big lever or commercial viability. What we have realised is the customers are now looking for both and that is fantastic.
There are three pillars on which we build the product – greener, safer and smarter. These are the three driving principles of the product. Greener simply because of the fact that it is electric and that means there is no tailpipe emission. And the plant where we build the Ace EV in Uttarakhand has a renewable energy strategy in place. So the values ecosystem becomes more lucrative in that sense. In the sense of green.
Safer, simply because it has all the new technology like the advanced battery management system and the liquid cooling battery system which makes sure that the EV will get you to tough places in remote conditions. It also has the IP67-rated drive terrain components which means any water ingress or anything around dust and stone or anything of that nature keeps the battery safe.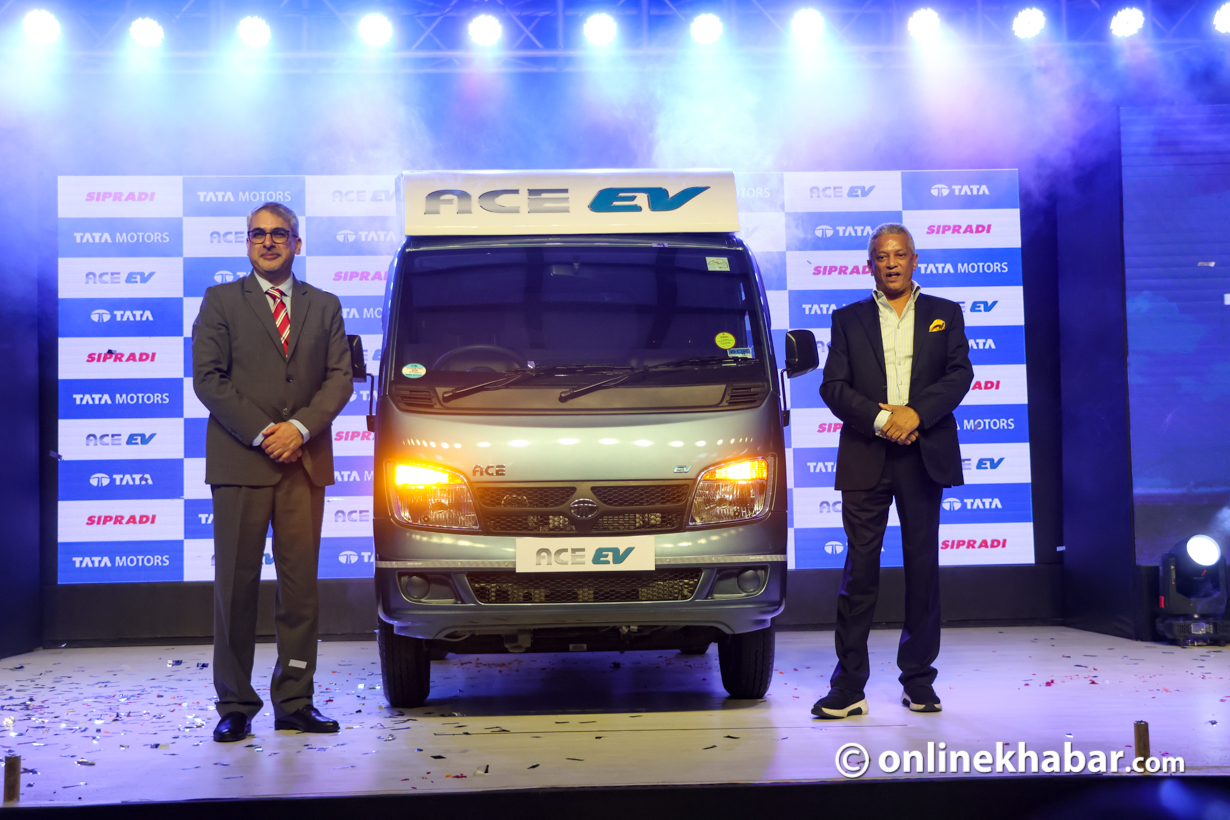 And finally, the pillar that I absolutely love is smarter because it has a range of 154 kilometres. It has got a six-year warranty on the battery or 160,000 kilometres. Tata Ace EV is also equipped with a telematics solution, enabling you to monitor its status and location at any time and from anywhere. This ensures that you can always keep your vehicle on the road, with guaranteed uptime and operational efficiency.
We are also offering a three-year free management solution. This means you do not have to worry about anything on maintenance. This gives people peace of mind for customers.
It has been getting good responses in India and the feedback in Nepal has been great. The low operating cost has meant the customers here are loving it.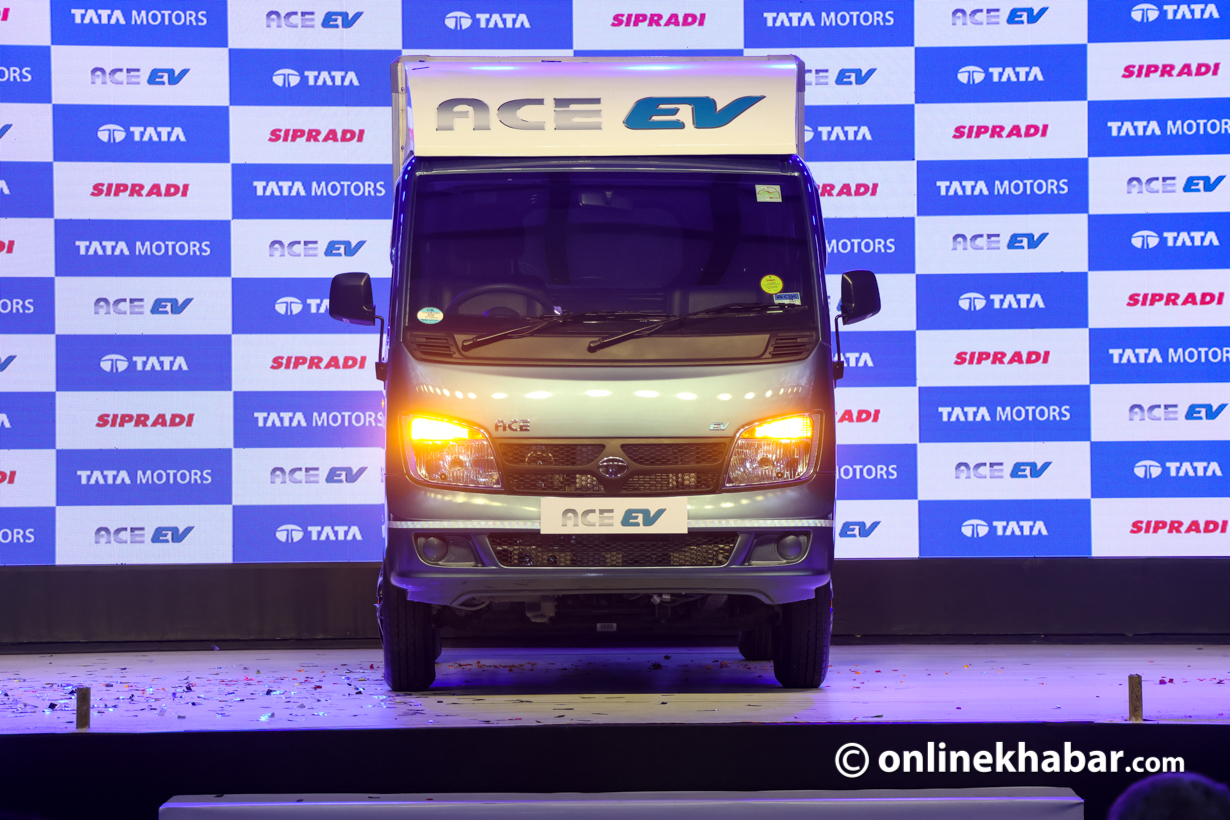 Did you face any challenges when launching the Tata Ace EV in India? How did that help you launch the vehicle in Nepal?
From the unveiling to the launch, a vehicle goes through many changes. When we were planning to launch the Tata Ace EV in Nepal, we quickly realised that the standard load body would not suffice. It was not as simple as just importing a product from India and expecting it to work seamlessly in Nepal.
We had to make changes to the vehicle to ensure it met the specific requirements of the Nepali market. Our initial trials involved working closely with Sipradi, followed by extensive feedback from long-standing customers who had been using our products.
They provided valuable insights on what needed to be modified and improved to make the vehicles more sustainable and economically feasible for them. A major takeaway was that the load body needed to be custom-tailored to suit Nepal's distinct needs, as emphasised by our customers. Taking this feedback to heart, we have now implemented this change, providing a specialised load body for our commercial vehicle customers.
How does it work? Can it be customised or are there specific models?
Indeed, while the load body can be tailored to specific requirements, the one currently provided with our vehicles has undergone validation and approval from the end users in Nepal.
These include prominent players in the e-commerce sector, internet service providers, courier companies, and fast-moving consumer goods (FMCG) businesses. Their feedback and endorsement have played a crucial role in finalising the load body configuration that we presently offer with our electric vehicles in Nepal.
Since this vehicle is mostly for intra-city last-mile delivery, they have given us a thumbs up that this model works. We also worked on the gradient to ensure the Tata Ace EV was good for the roads in Nepal.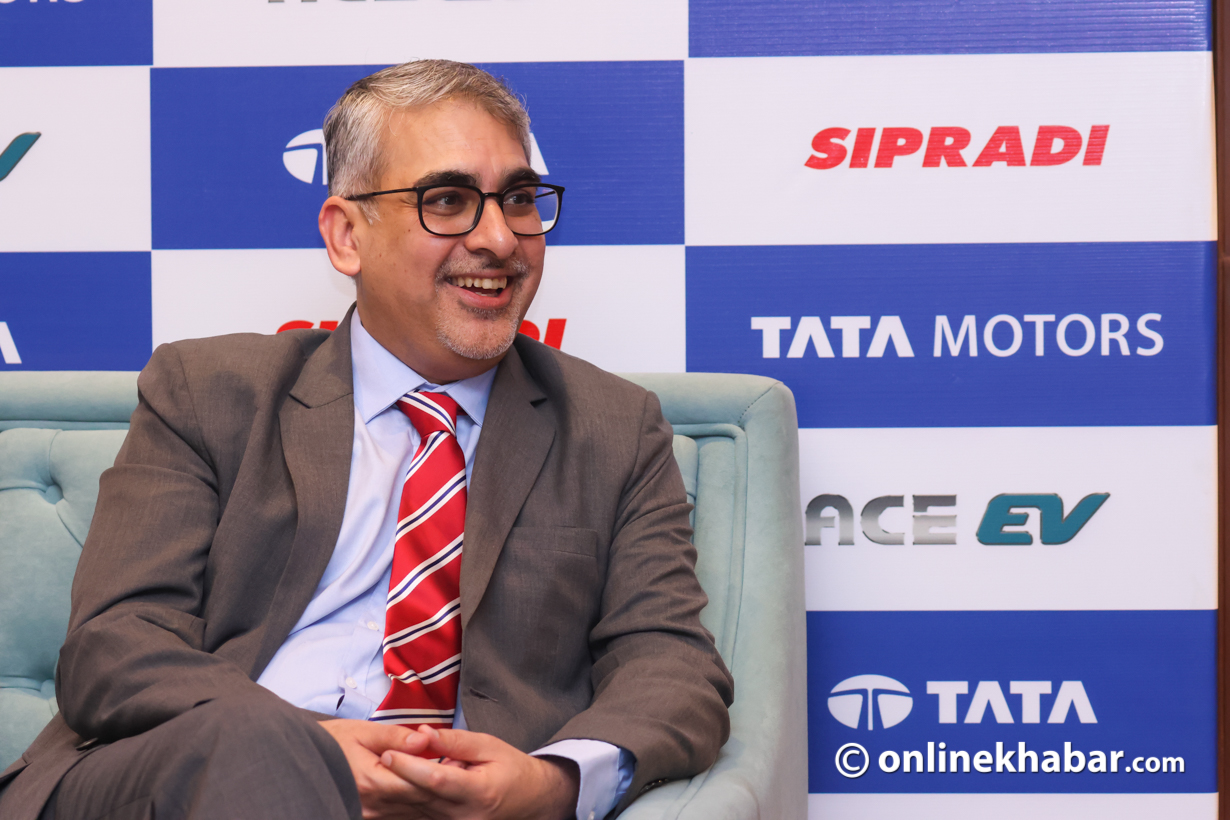 So it is powerful enough?
Certainly. We have tested it in various locations across the valley, including uphill journeys with nearly 1,000 kilograms of load, as well as challenging terrains. The Tata Ace EV has demonstrated impressive power and performance.
How do you think it will perform in Nepal?
It does not matter what I think. What matters is what my customers believe. They have tested it and given it a thumbs up. This is the biggest endorsement that we could get.
What about Nepal's current EV ecosystem? How does that work to promote commercial EVs like the Tata Ace EV?
The first concern is the charging infrastructure, which understandably causes some anxiety. However, what I appreciate about Nepal is that passenger vehicles have achieved an impressive 80 per cent penetration rate. This has alleviated people's concerns, and I find it to be considerably lower than in many other markets I have visited.
Secondly, we provide both slow and fast charging options, providing people with peace of mind. Thirdly, I mentioned the target users of these vehicles. The majority of these companies will use them during the day, allowing them to charge overnight since they are unlikely to cover more than 154 kilometres in a single day.
And finally, there's the peace of mind we provide through our exceptional after-sales service, which covers a period of three years. This gives people a strong sense of reassurance, knowing that if any issues arise, Tata (along with Sipradi) will be there to support them.