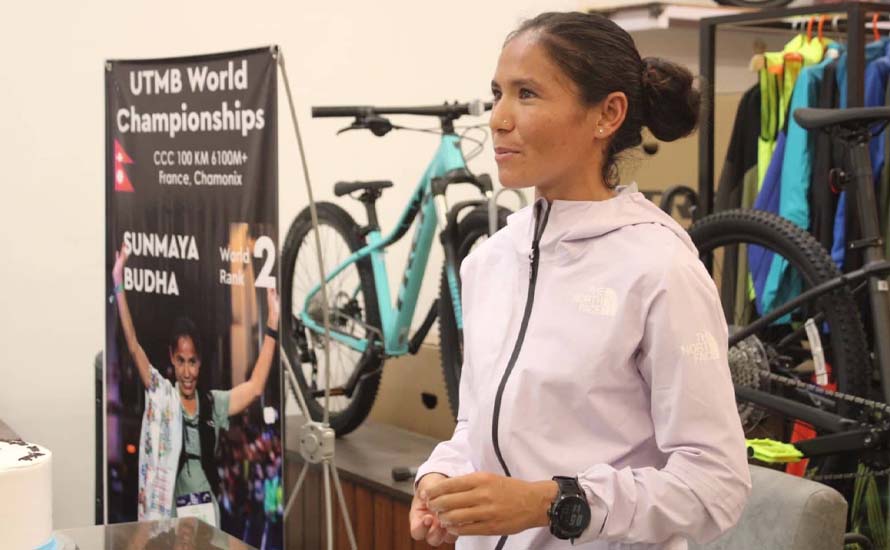 Kathmandu, September 4
Nepal trail runner Sunmaya Budha says she has a dream to be the world's number one runner.
Budha arrived in Kathmandu after completing the CCC UTMB Mont Blanc race in France on Thursday last week. Budha had finished the race in the second position after completing the 101-km race in 11 hours and 45 minutes, just five minutes behind the winner.
"But, now, I want to be the world's number one. For that, I need to work hard."
Yet, Budha says she had not dreamed of coming second. "I was committed to giving my best performance time-wise," she says, "But as I ran, I got more energy and motivation."
A native of Jumla in Karnali, Sunmaya Budha started running at a very early age. She first ran in school events. Then, she got the chance to run in the President Running Shield, a grassroots event for runners that takes place at all local units across Nepal. 
She was only 13 and performing well in this competition, she started to catch the eye of people around. One of them was Hari Bahadur Rokaya, former Olympian, long-distance runner and three-time Everest Marathon winner, who was also a coach at National Sports Council. He wanted Budha to join the running club.
Since then, she has never stopped. Read Sunmaya Budha's full story here.