Jeevan Lama was distraught when he was not able to complete the Annapurna 100 trail race. After running for around 60 kilometres, he quit as the sole in his shoe tore down. Tired and frustrated, he knew he could not carry on going forward.
The next morning when he saw everyone with a finisher's medal, it hurt him even more. He was disappointed in himself and promised himself that the next time, he would do better.
To prepare for the race, Jeevan Lama trained every day. He wanted to prove to himself that his decision to quit everything and focus on trail running was not a wrong decision. He focused on diet. He ate well. He slept well and there came the race day, he did what he could not do a year before and finished the 100-kilometre race.
"It was a happy moment. Finishing that race gave me the confidence that I could do this professionally and that my decision to leave behind everything was the right one. But, this is just the beginning because I have a long way to go," says the 33-year-old.
Recently, Jeevan Lama won gold in the 100-mile Manjushree Trail Race and is now preparing for the biggest race of his career. He and trail runner Rashila Tamang, are preparing to go race the Val D'Aran by UTMB. With this, he hopes that the sport gets more attention in the country and wishes that athletes like him and Tamang do not have to face problems due to the lack of sponsorships in the future.
"It's hard for a Nepali athlete to think about going to these races. I'm glad people are helping us, but if we want to really compete, we need sponsors who will support us throughout our journey," says Lama.
Avoiding the viciousness
For Jeevan Lama, it all started in 2018 when he quit his job in Dubai to return to Nepal. He had left Nepal to work abroad to escape drug addiction in 2012 when he went to Oman. After two years, he returned to Nepal where he got into the same circle again and fearing he would get back into drugs, he decided to leave for the UAE.
"Work was okay, but after a few years, it felt monotonous. There was no growth in what I was doing and was contemplating returning. Things also changed when my father died in 2018," says Lama.
Lama was not able to come to Nepal on time to perform the final rites of his father. He did manage to come, but by them, most of the rituals had been performed by his family members. He was sad. Emotions were running high. And to escape the frustration, he ran.
"Running had always helped me escape things. Whenever I was frustrated, I always ran. And as I was interested in the outdoors, whenever I came to Nepal during holidays, I ran around," says Lama.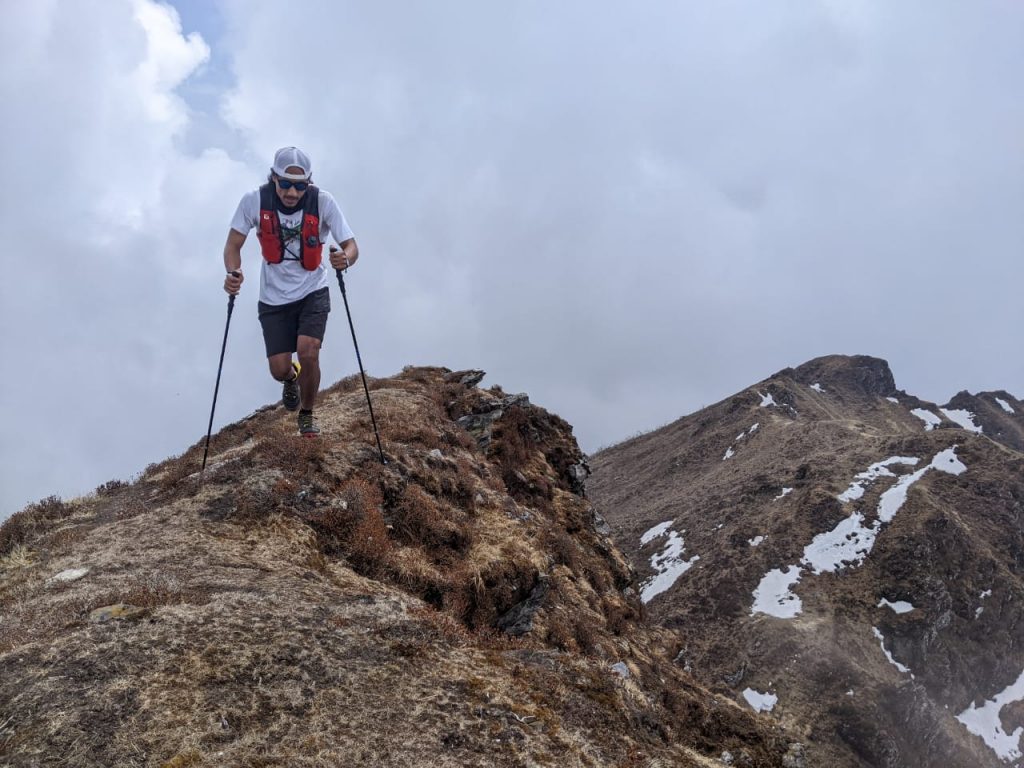 As Jeevan Lama did not know much about the scene, he started exploring. He ran trails and ran with anyone who was interested. He had come to Nepal to get into the outdoor scene and even obtained a trekking guide licence, but he never got there as he ran around whenever he got a chance.
"In 2018, I ran in the 60-kilometre Sindhupalchok International Trail Race. That gave me the confidence that I could do this," he says.
Struggling within self
But, Jeevan Lama performance in the 2018 Annapurna 100 created self-doubt. Lama knew if he had to make it, he had to work harder. Coming back from Pokhara, he then started to take part in the KTM Trail Series. He also started exploring photography.
That is when he met Jimmy Oostrum, a trail runner, who is helping him get to Val D'Aran.
"I met Jeevan during these KTM Trail Series races. He was curious and always looking to help conduct these races by marking trails and documenting it through photos and videos," says Oostrum. "He was really humble and always looking to learn. It was really nice to see someone who hadn't been running from a young age put in the effort he did to get better at it."
Despite him helping organise races, his goal remained the same. In 2019, Jeevan Lama returned to Annapurna to compete in the 100 km race. He came prepared this time, both mentally and physically.
But, he was defeated. Yet his intention was fulfilled. He wanted to finish, and he did, which was huge for his morale.
He even went to India to compete in trail races there to see where he stood in Asia. Even though he did not win, he still managed to test himself.
Recently, Jeevan Lama took part in the Manjushree Trail Race, Nepal's first 100-mile ultra-marathon along the ridge of the Kathmandu valley. This is also the only ITRA-certified 100-mile trail race in Nepal. Surprisingly, he won.
"I had always dreamt of running 100 miles and I did it. It felt great to have finished the race. Winning was the icing on the cake," says Lama.
The voyage to Val D'Aran
That was when Oostrum saw how much of an athlete he was.
"We knew he was interested to run, but he beat people who'd competed in UTMB races and won gold. That was surprising to us because we never saw him as a racer, but he proved to us he was one," says Oostrum.
Watching his dedication to the sport, Oostrum felt it was time Jeevan Lama raced on the big stage.
"His story is special. Running changed his life in many ways. He took himself from the darkness of drug addiction into light, which was very nice to see. And since both he and Rashila Tamang were helping us out do these weekend runs and raced without asking for anything in return, we felt we had to help them out and wanted to take them to compete in a major race which could make their careers and encourage more Nepali runners to pick up trail running," says Oostrum.
This is why Lama wants to run the Val D'Aran and make people who have trusted in him proud. He wants to make himself proud and with it spread the message that there is a way out of addiction.
"I talk about this openly because I want to be an example. I know there is a person suffering from addiction in almost every household and I hope that this shows people it's not the end of the world."
Jeevan Lama hopes that him doing well in the Val D'Aran will also send a positive message as more and more athletes will take part in trail races taking place in the country.
"I really want to do well and take part in the UTMB in Chamonix in France. This would be great for the scene in the country," says Lama.