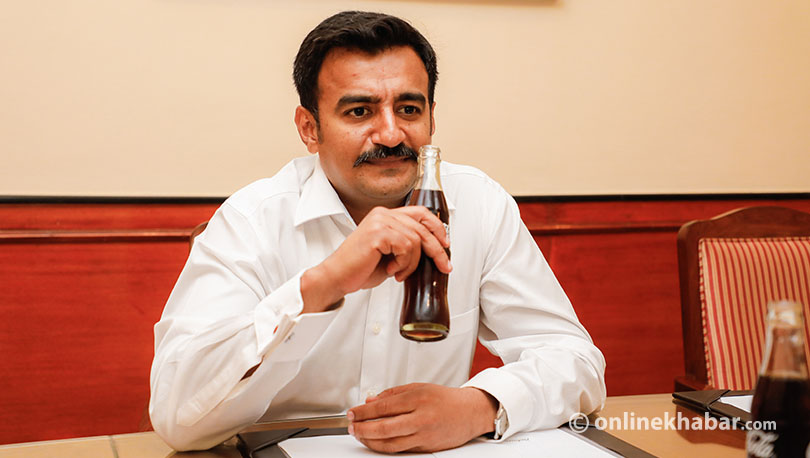 Ambuj Deo Singh is Coca-Cola Nepal's Country Director. He has 16 years of experience in general management, business operations, consumer marketing, sales and distribution, key accounts and team management. Singh has, in the past, worked as General Manager for Stills and New Beverages Category at Coca-Cola India held key positions for brands such as Kinley, Schweppes, Fuze Tea and Aquarius for India and South-west Asia. On the occasion of Coca-Cola's 132nd birthday, Singh spoke to OnlineKhabar about the brand's past, present and future.
Excerpts:
Coke is celebrating its 132nd birthday around the world. Could you share with us your thoughts on the brand's global legacy?
It's a huge occasion for us. At the same time, it's a huge responsibility for us to continue this legacy which started 132 years ago. That said, I think we are a company that is 132 years young and I feel we still have a long way to go. When we celebrate our anniversary every year, we promise ourselves that we have to do much better than what we have done so far, offer consumers more choices and be a part of their everyday lives as much as we can.
Although much has changed globally since Coke made its debut 132 years ago, the drink has remained almost the same. However, the brand remains relevant in almost all countries.
Yes, the content of the bottle, as well as the bottle itself and the logo have remained the same and is consistent across the world. Despite this, it has stayed relevant to every market and the country where it is consumed in. In Nepal's context also, the good thing is that like everywhere else, Coca-Cola is the most loved brand in the country. Coca-cola wouldn't have been here if it had not made itself relevant to the consumers locally.
I believe that if, as a company, we are unable to make this brand relevant to the consumers in Nepal, we will fail in our job. However, we have managed to do that so far– thanks to the people we've had over the years who have helped us. Talking to them (the consumers) in the language that they want us to speak has made it easier to be locally relevant and helped us understand the need of the consumer.
The recent campaign 'Coke Kham Russia Jam' is a good example as it relates to everyone here in Nepal. Along with that, to make Coke relevant in Nepal, we have associated it with momos–this is unique to Nepal. We also associate ourselves with the festival of Dashain, which celebrates relationships between the people.
That I think makes Coca-Cola one of the most active brands in the country as we've tried to adapt locally with our consumers.
As we all know, Coca-Cola is not the only drink that you sell in Nepal. Could you tell us what are the other brands the company is selling in Nepal?
Globally, we have brand offerings in almost every category. In Nepal, we have Coke–our flagship brand, we have Sprite which is as popular as Coke and we have Fanta which stands for fun and flavours. Along with that, we also have Kinley which we expanded in November last year. Kinley is our water brand. Then there's Minute Maid. We are always trying to offer consumers things that are trusted and have the quality stamp of Coca-Cola as a company.
Are you planning to launch any other brands in Nepal soon?
There will be new brands in the sparkling drink category and we are thinking of having more juice options. Gradually, we are also planning to make Kinley available across the country. Hopefully, we can launch a few more brands in the near future. Apart from that, we will also expand our coverage and increase our distribution base.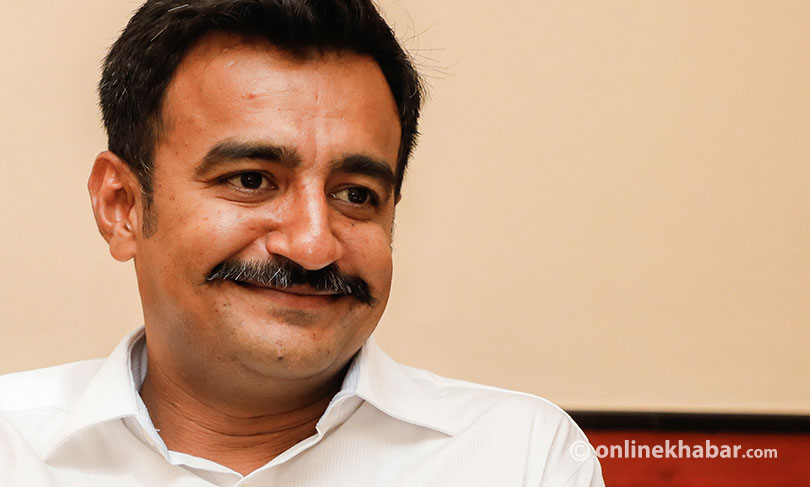 A few years ago, there was a report that said that the per capita consumption of Coke in Nepal was around nine bottles. Where does the figure stand now?
That was back then, now the per capita consumption is close to 20 which is really good when we compare it to other markets like India which is less than that. But there are many markets where the per capita consumption is 500 plus. So to achieve that, we have a long way to go. On an average, every consumer consumes around three litres of liquid every day–from breakfast to dinner. As a company, our objective is to have a product in the consumer's consideration set during the entire course of the day.
This means that we won't offer just one type of beverage, but will offer multiple beverages for different consumption needs. There could be a juice for breakfast, packaged tea for the morning or Coke during the afternoon. The beverage landscape in Nepal is yet to evolve.
Do you have any specific targets in terms of per capita consumption in the next 10 years?
I don't have a target per say, but from a business point of view, we have to increase our range so that the consumer considers my brand in most of those consumption occasions. For example, I have something goes well with food right now. Along with that, we have something that people like to drink when they're travelling. Similarly, we need to have something that people would like to drink after waking up in the morning.
The number can increase from 20 to a 100 but for us, that wouldn't be enough because even in the markets where we have reached 500, we still haven't managed to provide options on all consumption occasions.
We all know that Coke does not just make beverages in Nepal. There are other activities that it is actively engaged in. Could you give us a brief overview of these activities?
Yes, we are engaged in various activities and these activities are a part of our something close to the business model. Our belief is that the market we operate in should be sustainable and if it's not sustainable. The things we do is not part of 'CSR', but it is something which is part of our business philosophy. It is something we do but do not talk a lot about. If we do a good job in these activities, people will know. But we need to be true and honest to the objective that we have.
We do a lot of work around water because it is the biggest raw material we use. Many believe that there is no cost attached to water, but we believe that there has to be enough value attached to water. We might not be paying for water but we should invest enough in order to give back more than what we consume.
In Nepal, we also have other projects we are working on like the PET recycling. We raise awareness about PET recycling and make sure we reduce usage as much as we can. We also focus on energy consumption at our plants. Similarly, we have affluent treatment and rainwater harvesting facilities at our plant. We give back more water than we consume.
Why are campaigns like 'Coke kham Russia jam' necessary?
We do these kinds of activities every time. The World Cup happens every four years and we are always trying to do something or the other regarding this event. Last time we did a world cup trophy tour which was very well received. We could have taken more people but our association with the World Cup and FIFA is 40 years old which is why we are taking 40 people to Russia. They will be watching one match around mid and end of June and it should be a really interesting global experience I think. The momo campaign was a hit too as we got a very good response from our consumers where they were happy about how a global brand was promoting local cuisine. So I think doing these campaigns is important to move forward as a brand… cause it's tough to make someone love a brand but I'm glad people are appreciating our efforts.
Do you get awards for these campaigns? 
Well, the biggest award has been that it has been loved by all the consumers. Even a few days back people were asking me what have we planned for this Dashain. So they are already waiting for us which puts more pressure on us to deliver something which has been going for three years now.
How do you asses the magnitude of the success you've had with these campaigns? 
You go around and talk to people and ask them if they remember these campaigns and if they found it relevant. But it is very difficult to quantify because it is a feeling. We, of course, have our internal measures of preference and consumption and how it impacts the brand. Every year we try to come up with bigger campaigns so last year it was bigger than the year before and this year we are planning to do the same because as a market, Nepal is growing and with that our challenges are growing too.
Cricket is becoming a big sport in Nepal these days. Do you have any plans to associate the brand with the sport in Nepal?
We are planning to do things with cricket because it is very popular nowadays. Not just cricket, we are also doing something with music. We try and partner with all these passion that people have. For example, in December last year, we partnered with the Everest Premier League to see how cricket is evolving in Nepal. As and when there is something which involves passion and our brands can connect; we try and partner.