During a market monitoring in Salyantar the Dhading district, assistant chief district officer Gokarna Prasad Upadhyaya saw something that startled him. There was a bottle of cold beverage that looked like Coca-Cola. To make sure that it was Coca-Cola, he asked the shopkeeper for one. When he got the bottle in his hand, he was shocked as it was 'Cold Cola', a fake version of Coca-Cola that looked exactly like the international brand.
"This was shocking," he wrote on Facebook. "If you don't look at it properly, anyone can mistake it for Coca-Cola."
It was not just Coke. Other beverages also had their cheap lookalikes with almost similar names. Fanta had become Fantu and Funny, Sprite had become Sport and Strike while Mountain Dew had become Maintain Dew.
"These bottles have the same packaging, design, font and colour. What was shocking was these drinks were produced in Dhading itself," he writes.
A few days later on June 9, Prem Lal Maharjan, a consumer rights activist posted a similar photo. In the photo, he questioned why Bikaji's and Century's Bikaneri bhujia looked the same. He also posted how Century's Kurmure and Pepsi Co's Kurkure looked similar.
"If anything happens to anyone due to these 'fake' products, who will be responsible," he wrote on Facebook.
These two examples shed light on how poor consumer and industrial laws in the country have resulted in an increase of fake and substandard goods in the market. After these examples made the rounds on social media, people have also started to question if the everyday products that they use are fake like the bottle of Coca-Cola found in Dhading. Even officials involved in monitoring shops for these fake goods admit that fake goods are prevalent in Nepal. They say that everything from clothes to food has the tendency to be fake. This goes to show the risks consumers face while purchasing things in Nepal.
Fake liquor kills
In 2015, six men from Arnama rural municipality in Siraha died of alcohol poisoning. All six had slept after drinking alcohol available in the market. Before going to bed, they all had the same symptoms as they complained of nausea, headache and eye pain and all of them died around 10 hours after. According to the District Administration Office, around 30 people in the village have died due to alcohol poisoning. In 2012, eight men in the same villages had died after they showed similar symptoms following drinking. The BP Koirala Institute of Health Sciences, where these men were taken to for postmortem, had confirmed they died because of alcohol poisoning.
Incidents like these are quite common as fake alcohol is prevalent in a lot of areas across the country.
Madhav Ghimire from Kathmandu died after drinking fake alcohol in 2001. This death has even been recorded at the Forum for Protection of Consumer Rights-Nepal. The forum's president, right activist and lawyer Jyoti Baniya says a CPN-UML leader, Thakkar Prasad Sharma, had lost his eyesight after drinking fake alcohol in the early 2000s. After that, the forum had even filed a complaint against the shop which sold Sharma the Royal Stag whiskey leading to him being blind.
There have been a lot of complaints at the Department of Industry about these fake alcohols as a few Nepalis have been using the same name to sell these poorly made alcohols. According to the department, fake alcohols are sold under the brand names of Royal Stag, Blue Riband and Golden Oak.
These companies have been regularly asking the department to take action against people using their brand to sell substandard products. But even though the department says it is investigating, not much has been done.
"We're doing our best to find out where these items come from because this is a serious issue," says the department's undersecretary Dipak Ghimire.
Is that Coca-Cola?
Fake cold beverages produced in Kailali, Rupandehi and Jhapa are available all over Nepal. These products look exactly or similar to products like Coca-Cola, Fanta, Real Juice, Frooti and Slice, as people buy them unknowingly. According to the Department of Commerce, these items are mostly found in rural areas and border areas.
"At first glance, these look original," says Sagar Mishra, an official at the department. "One will only know that these are fake after they look at the labels. I think it's time we started to check the quality of these products as well."
This makes it clear that government bodies are not bothered about the health of Nepali citizens as it seems to have turned a blind eye to this recurring problem.
North Face from Nepalgunj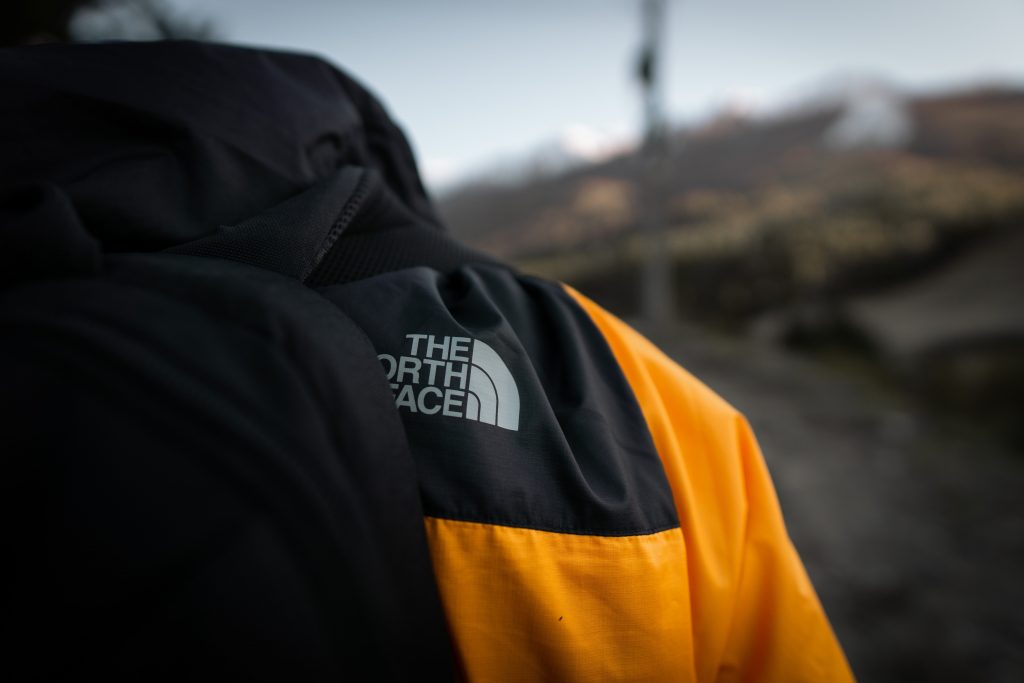 Counterfeiting is also quite prevalent when it comes to clothing. Brands like Adidas, Puma, Fila and North Face are available everywhere in the country. These brands have made a name for themselves in the international market due to their quality and durability. But, people in Nepal have been using logos of these brands on various clothes and selling them at stalls around bus parks to air-conditioned shops in shopping malls. As these brands have not filed a case against them, regulatory bodies have not done anything as these fake items continue to sell all over the country.
Rupesh Pandey, the president of RP Group, a wholesaler of various international brands, says that government bodies do not care about this issue. Pandey says people have been buying substandard products for the price of originals as the traders are coning them.
"Only a few people in Nepal know about these international brands and they buy them from specific shops. Others, based on the advertisements, go and purchase these branded items from anywhere they can. That is when these people are cheated as they are sold fake items," says Pandey.
On August 14, 2020, officials from the Department of Industries raided shops in Thamel that were selling fake North Face jackets and trousers. The raid was done after North Face filed a complaint at the department asking it to take action against shops selling jackets with their tag. Hundreds of kilos of clothes were confiscated by the department as it took action against The Mountain Wear, World Kalapathar Outdoor Collection and Galaxy Trekking Store. These stores were found to be selling fake North Face goods for original prices without seeking permission from the company.
Going for fake beauty
The demand for beauty products in Nepal is quite high. But, not all of these products are originals as people have been complaining about substandard beauty products being sold in the market.
In April, the Department of Industries and Nepal Police raided a warehouse in Kalanki suspected of selling fake and substandard goods. In the raid, the officials found out that the company was using the cover of branded creams to sell products that had harmful chemicals.
After the raid, one owner of the warehouse was arrested while the stores, production factory and warehouse were all sealed. The raid happened after Hindustan Unilever, Fair and Lovely's parent company, filed a complaint claiming that the Nepali company had stolen its intellectual property.
The action was also taken against a company in Sunsari for selling chewing gums that looked exactly like Centre Fresh and Mentos produced by Italian Company PVM. After PVM found out about it, it had filed a violation of trademark complaint against the Nepali company. The case, according to the department, is currently on trial at the Supreme Court.
Fake water
Aqua Hundred has been selling mineral water in Nepal for the past 29 years. Recently, however, a lot of similar-looking mineral water bottles have been seen in the market.
According to the company's manager Chandra Mani Ghimire, he has been asking the department to take action against companies that are imitating Aqua Hundred.
"We've already taken action against a few, but these water bottles keep popping up," he says.
Shiva Raj Sedhai, the spokesperson of the Department of Commerce, Supplies and Consumer Protection says that these things are quite common.
"Patanjali recently launched its water. But, people have already started to copy it," he says.
Oli's financial advisor also caught cheating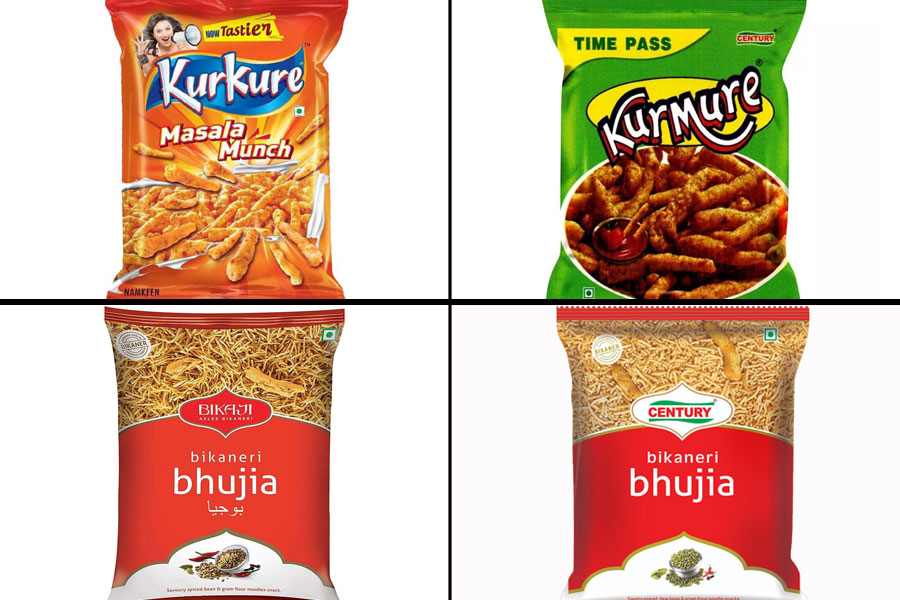 Many argue that these fake items are made in Nepal by people who have political backing and influence. A good example is Century Spice and Snacks owned by Dugar Group which has been producing Kurmure and Bikaneri bhujia. The company that produces these snacks is owned by Moti Lal Dugar, former state minister and PM KP Sharma Oli's financial advisor.
Two separate complaints have been filed against Dugar accusing him of stealing someone else's trademark without seeking permission. The first is by Pepsi Co which has accused Dugar of producing Kurmure and Bikaneri bhujia copying its brand names. Another complaint was filed by the Bawa Masala Company (BMC) that accuses Dugar of copying its spice names. The cases against Dugar are still on trial, but the items are still easily available in the market.
Dugar, on the other hand, says that the cases are baseless and have been filed to defame him. He says that his brands (Kurmure and Century Masala) are Nepali and have always been Nepali as he says he has been able to provide jobs to over 1,000 people.
"Kurmure is a Nepali brand. I don't understand why they are calling it a stolen product," says Dugar.
He even says the cases were already won even though they are still sub-judice.
Intellectual property theft cases galore
According to the Department of Industry, there are 900 pending cases against trademark fraud in Nepal. Out of them, 536 cases from last year are yet to be settled while a further 364 cases have been registered at the department in the ongoing fiscal year.
This year, due to Covid-19, only 70 cases were settled, according to the department's spokesperson Gyanendra Parajuli.
He says Royal Stag, Golden Oak and Blue Riband had filed complaints at the department claiming their trademarks had been stolen. But, using packaging of known brands to sell local products is a common affair, says undersecretary Ghimire.
He says that a case has also been filed against the KKFC by the KFC as the latter claims that the former has copied it entirely.
Unaware industrialists
Every product has its own unique identity and it makes the product a global product, the one known by people all over the world. There are hundreds of cold beverages available in the world, but brands like Coca-Cola, Pepsi, Mirinda and 7 Up have their own uniqueness. These products look different, have different bottle designs and a unique taste. These companies register these drinks and obtain a patent so that no other company can replicate them without their permission. If found copying, the companies can face damage claims of millions of dollars.
But, things are different in Nepal. Binda Acharya, the director at the Industrial Property Section of the department, says there are numerous cases of Nepali companies copying international companies. She says that Nepali businesspersons are not aware that they have to register their products.
"People are ignorant in Nepal and things are not going to change anytime soon," says Acharya.
Cases closing at snail's pace
Italian company PVM filed a case against Nepali companies for copying its product over five years ago. The case has now reached the Supreme Court through the department and the high court. When a decision will be made is still unsure.
"Both real and fake products are in the market. The company's goodwill and revenue are both at a loss. We don't know when a decision will be made," says advocate Janak Bhandari who is fighting the case on behalf of the Italian company.
The role of monitoring and managing patent, trademark and design are up to the department. But, it says that it does not have the human resources to do all of that. Hence, it admits that cases are being heard at a very slow pace.
"We are busy with administrative work and have to set aside a fixed time to tend to these cases," says Ghimire. "This year, due to Covid-19, we haven't been able to call all parties to discuss the issue further as well."
A reason why verdicts are slow, according to the department, is that the case goes through many layers. The complaint is first seen by the department itself, after which it goes to the district and then the Supreme Court. That causes a lot of delays, say officials from the department.
"Nepal's laws are archaic and due to that, it might take a decade for a verdict to come out. No wonder foreign companies are reluctant to do business here," says an official from one of these companies.
Scattered laws and little punishment
To manage patents, trademarks and design, the Patent, Design and Trade Mark Act was drafted in 1965. But, officials from the department say the act is archaic and ineffective.
Ghimire says the punishment is not strict enough as the law also does not talk about harsh compensation as the only punishment that people producing these fake items face is a fine of Rs 100,000 and confiscation of all items.
"In 1965, that amount was a lot. But right now, it isn't and we need to amend it," says Ghimire.
—
From the archive