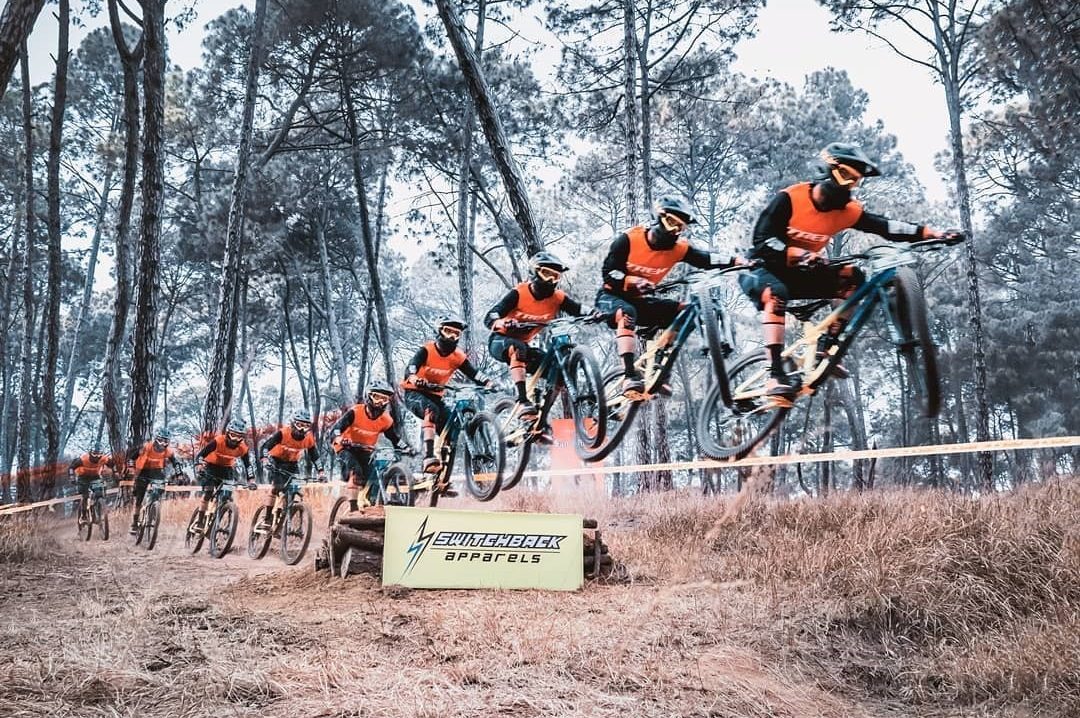 He sets his fans on fire when he is out on his Trek Remedy-8. As it were to flaunt his charisma, he punches down on the leading pedal, lifts the front wheel, and glides by doing a wheelie (riding on rear-wheel with the front airborne). Fair and stunningly good-looking, small wonder, pretty girls fall head over heels to watch him.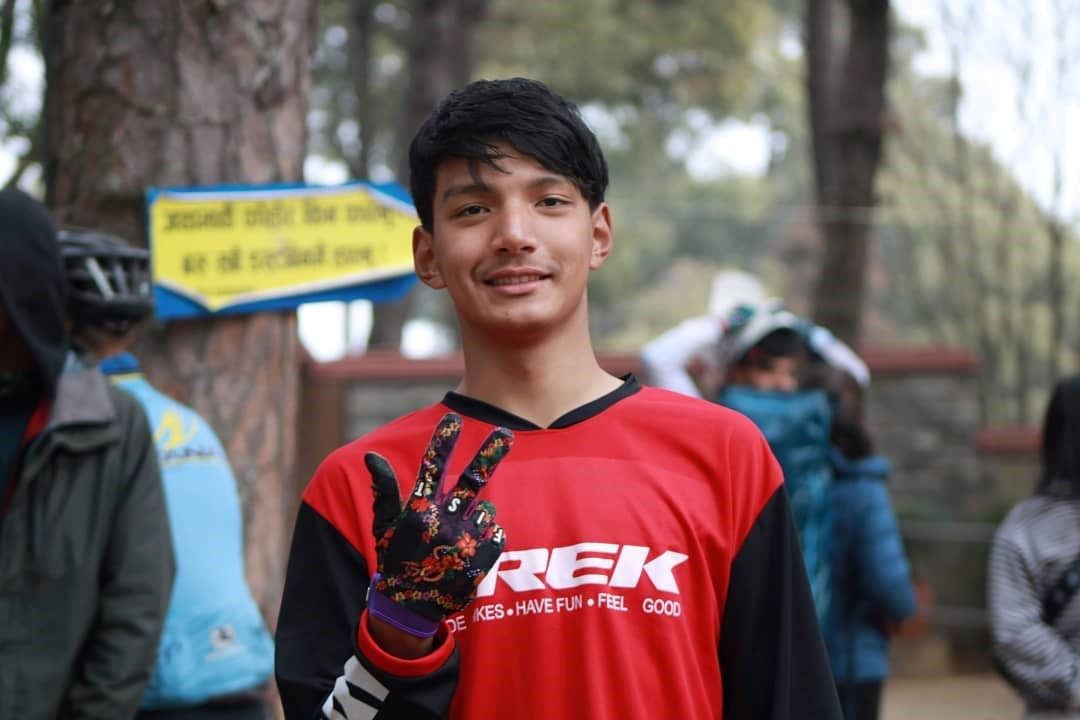 That is not just about the young lad, Samir Tamang. Let's check out what the torchbearers of this adventure sports have to say about this upcoming mountain biker.
"Samir has what it takes to be a DH (downhill ) champ, and I'm secure in my belief, granting that he pursues his determination, works hard, and sticks to an intensive training regimen," said Prayash Tamang, CEO, Kathmandu Bike Station. Prayash is a well-known face among the mountain biking fraternity as a one-time racer and Nepal's national coach for the XC (cross-country) genre for well over one-half decade.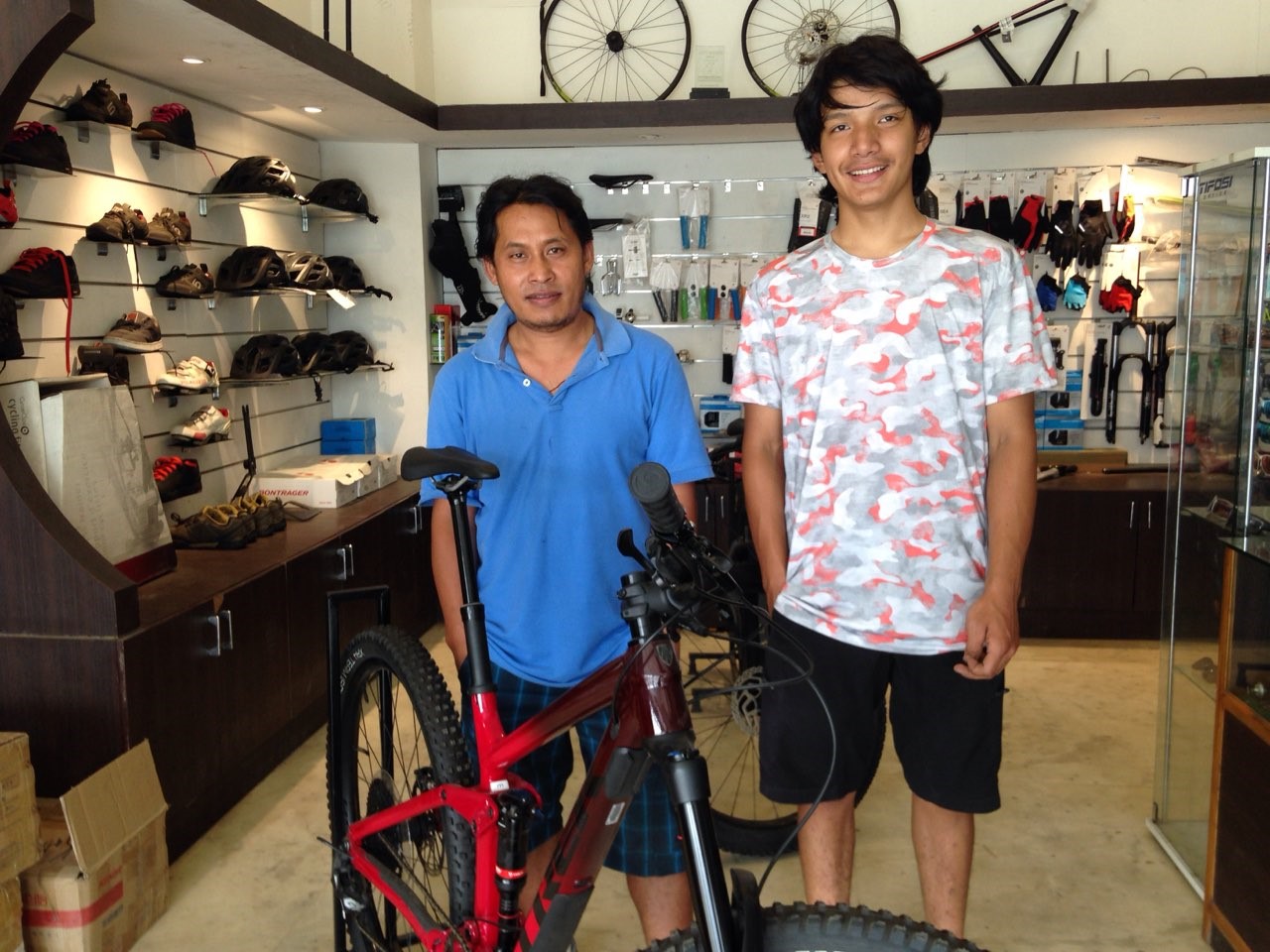 Downhill mountain biking and enduro riding are Samir's passion and forte. First, it was the XC or cross-country riding. The later years saw him switch on to DH and enduro. Let's get to know where DH/ enduro riding stands on the mountain biking footing.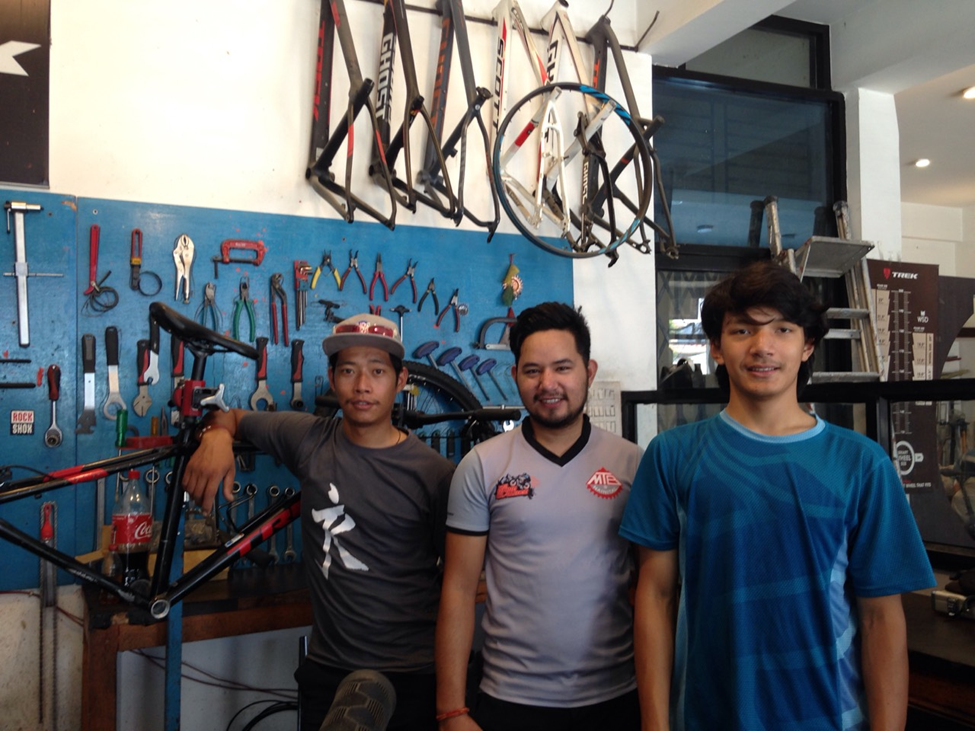 Understanding DH discipline
Mountain biking in recent years in Nepal seems to have drawn a tremendous fan following. Among several styles of mountain biking depending on the skill level, the three disciplines, namely the cross-country (XC), downhill (DH), and enduro/all-mountain, are the most common. Every beginner gets the ball rolling with XC riding, though, which requires only rudimentary skill, casual fitness and is by far the least extreme.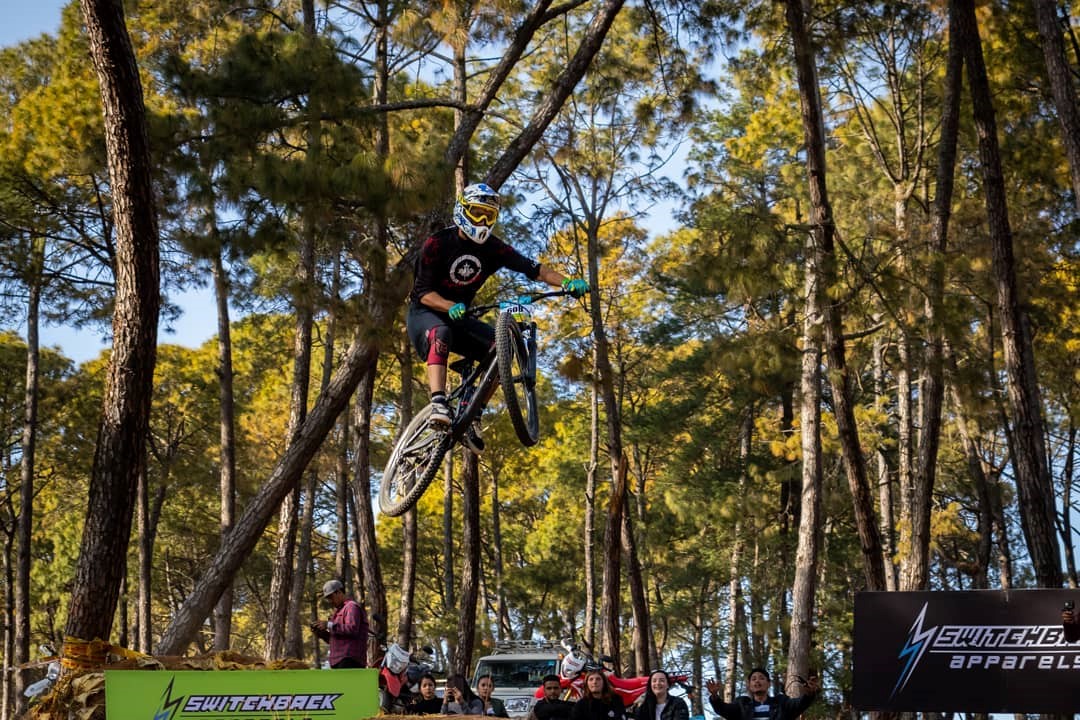 DH riding/racing, on the other hand, is another tune altogether from XC . . . like chalk and cheese. It is categorised as an extreme sport as the risk of injury is way higher than XC riding. Although the DH race track is a fiddling one/two km max, speeds between 100 to 120 km/h are not uncommon. It is outright demanding and calls for athletic litheness, third-level skills, and perfect health, to say nothing of—sheer guts.
It differs from XC on all counts—built of bikes, burliness, frame-geometry, suspensions, riding styles, and tracks. Aesthetically, too! The XC riding is no match for that pumping and surging peak adrenalin rush down to nanoseconds as the rider blasts down, followed by acrobatic jumps that catapult him into midair.
The DH discipline is virtually defying gravity and racing against the clock by blazing down near-vertical single-tracks tackling rock gardens, massive drops, gnarly root sections, and rock-drops. The riders manoeuvre as high as 20-foot gap-jumps (watch the video below, which also contains the MTB Freeride style) shredding down the trail, which takes a bystander's breath away. It is every inch a sport no way cut out for the faint-hearted. For a casual observer, DH races can look anything but plain madness.
A DH race (staged with a single competing rider) is ludicrously short (a maximum of five minutes) as opposed to XC (1.5 hours). The winner is declared based on the fastest time logged in completing the race track.
Dangers and Injuries infinite                                                              
Small wonder, in this extreme sport, the risks run sky-high, and it invites multiple injuries. Broken bones, ruptured discs, smashed collar bones, and concussions are on the cards. The injury stats for another gravity-supported extreme sport, downhill skiing, often compared to DH, stands at one injury to every 1,000 skiers to one injury for every 10 DH bikers.
For this reason alone, body armours, the likes of knee guards, elbow pads, shin guards, neck brace, chest/back plates, and, by far a full-face helmet with chin guard, similar to that used in motocross, are "mandatory" for a pro-DH racer.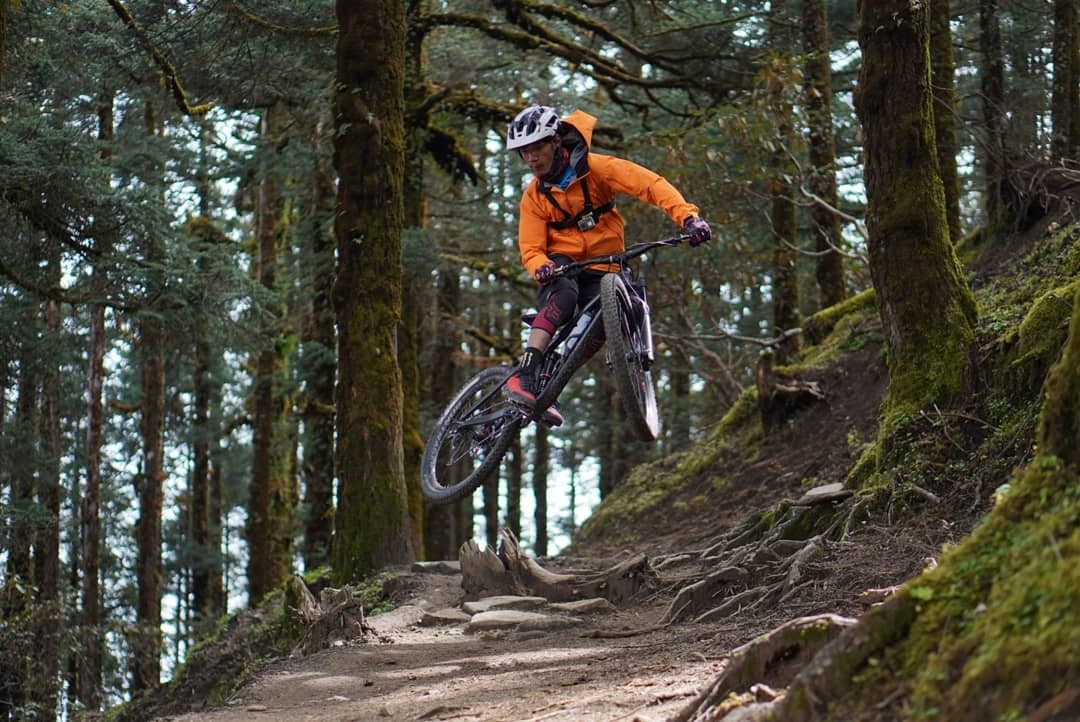 Enduro/all-mountain explained
If DH riding saw its birth in the 1970s and got its full recognition from the UCI, the first UCI Mountain Bike World Championships took place in Durango, Colorado, the USA in 1990 and featured only XC and DH events.
The concept of enduro/all-mountain riding got underway later than the DH genre in the closing years of the 90s. Enduro riding/racing is more or less similar to DH on downhill sections, but this discipline also combines a big slice of XC style—gnarlier, more technical, and extreme from it, though. The enduro race finishes in stages, which could last over a few days and involve steep climbs and "timed" descents with "neutral transfer stages."
No two minds, enduro riding is, by far, more adventurous than the DH. Both DH and enduro bikes, too, differ in their geometry, weight, tyre width, suspension travel, and frames. This riding style is also fraught with risk injuries similar to DH, and selected body armours and full-face helmets for them are mandatory, too.
DH/enduro scenario in Nepal
The history of mountain biking in Nepal (Part II) surprisingly, began a little over three decades ago. The year 1993 was the crowning moment for mountain biking in Nepal, still in its infancy, then. The first-ever epic 32-km Kakani-Budhanilakantha race included as many as 45 foreigners (including world-class riders) and 27 Nepali racers including the best there were:  Sonam Gurung, Chimmi Gurung, and Shajjan Rajbanshi.
And, what's more, Prime Sport covered the entire event by live aerial coverage from a chopper—an unprecedented feat in Nepal's mountain biking history.
As the DH style caught on in the international field, underrated as a lesser breed in Nepal, it gradually started pulling downhill aficionados but not until early 2000. In 2008, the sport took to new heights as Nepal hosted the first of its kind the 14th Asian Mountain Bike Championship at Chobhar, in Kathmandu, which included along with the XC, the DH category, too.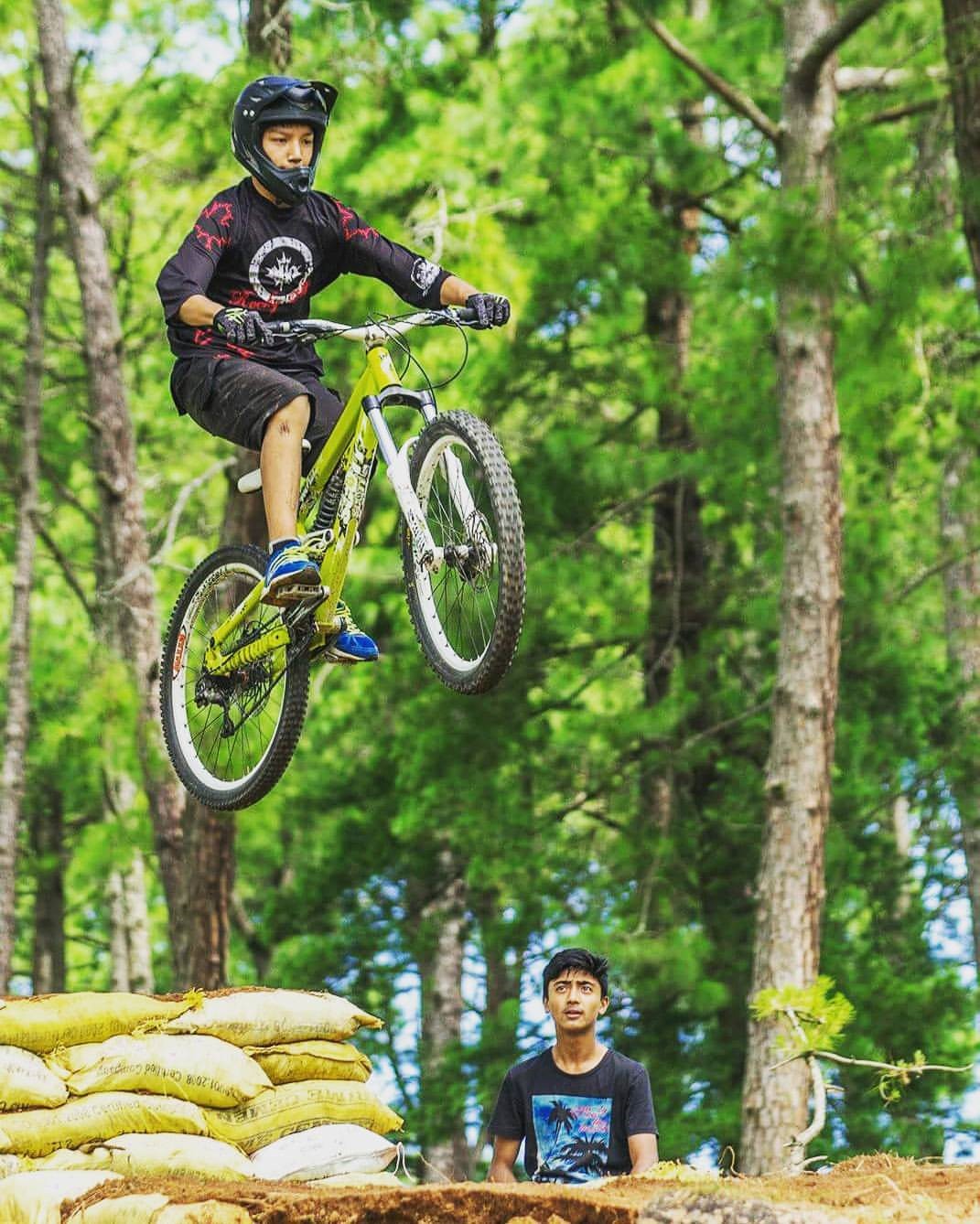 The Nepali riders got the opportunity to pitch themselves against the very best of Asia. "But, it was only in 2011 when NCA initiated into the MTB National Championship races, the DH discipline," explained Umang Shrestha, the incumbent national coach for DH division.
Past and the present
"Among the early architects of DH riders, the crème de la crème included Sajjan Rajbanshi, Buntay (Suraj Pandey), Praysh Tamang, Rupesh Man Shrestha, Kumar Pun, Nirakar Yakthumba, Tenzing Gurung, Santosh Rai (Enduro), " said  Umang Shrestha. "I fell into that group, too," he added further a little bashfully. Sajjan, considered the first Nepali DH racer to have participated overseas, was tagged 'the Himalayan Hurricane' in the US.
"In the good old days, Buntay dai (bro), Kumar Pun, Tenzing Gurung and myself often took upon exploring the hills around Kathmandu and went to great lengths, to build jumps and trails," reminisced Umang. "Time and again, we ran into miserably frustrating moments, but we all stood our ground and stuck together through thick and thin," he wound up.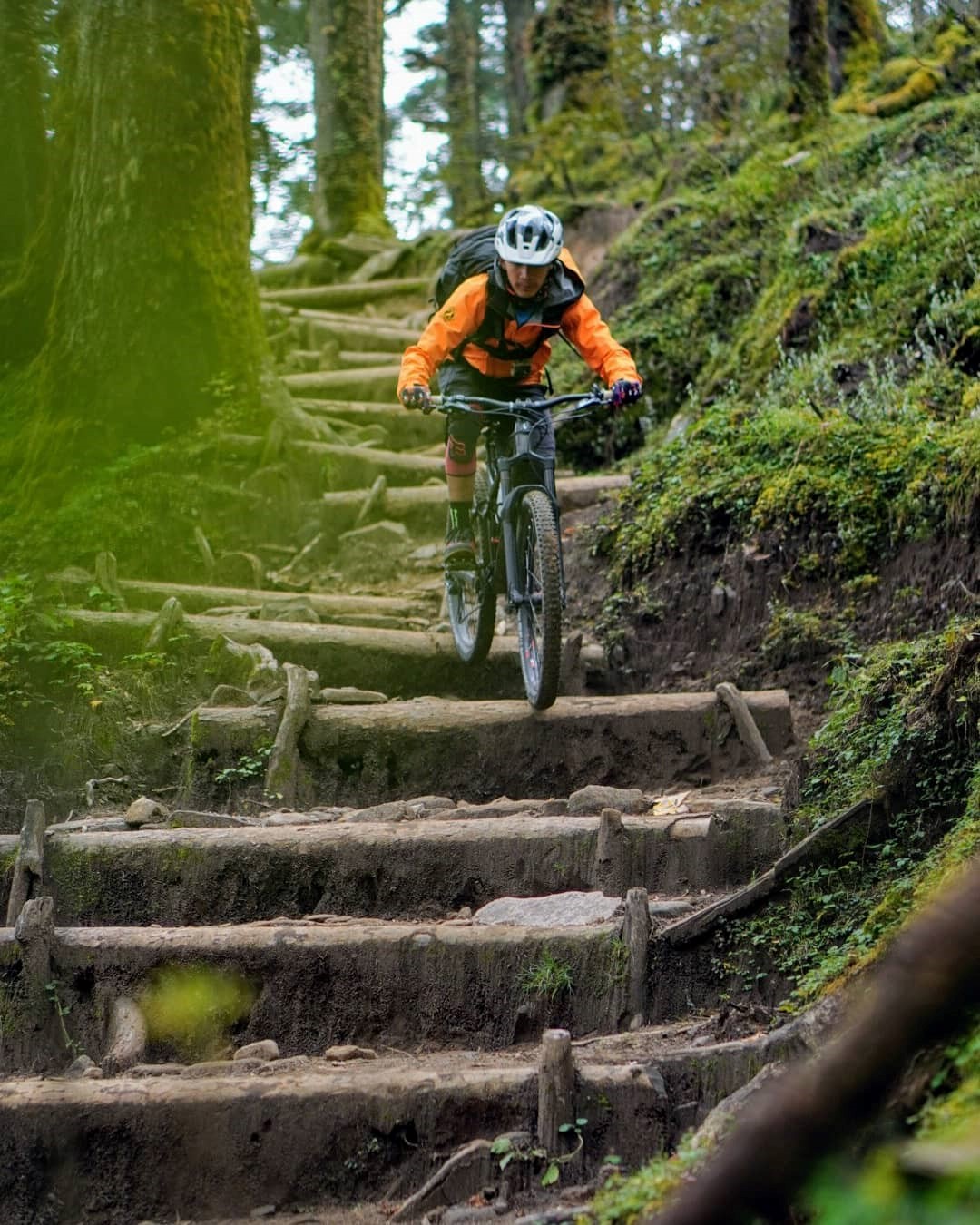 Promising male DH riders in the elite class today include Rajesh Magar, Nirav Shrestha, Prachit Thapa Magar, Suman Tamang, Roan (Buddhi) Tamang, Chris Keeling, Naman Agrawal, Deepak Jimme and Samir Tamang.  But newfound young and upcoming talents are surfacing on the DH scenario. Among the women DH category, only two riders, Nishma Shrestha and Jamuna Thapa, seem to spearhead the DH banner in Nepal.  The DH platform thus begs for more female riders.  Nishma is the reigning national champion.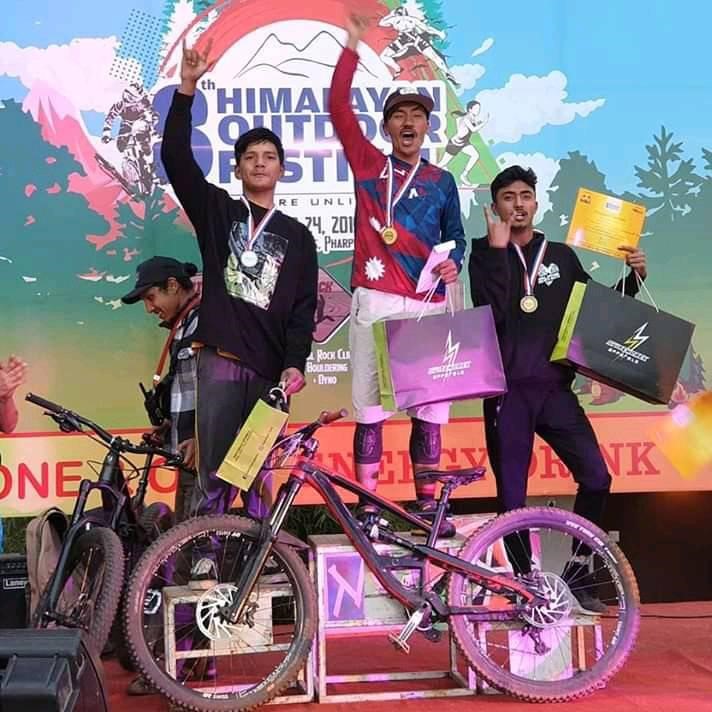 Podium finishes and trophies
In a relatively short career-riding, Samir, without the shadow of a doubt, has shown immense promise and sophistication. He secured the third position in the 7th Junior National DH Championship 2016. He was only 15 years old then. Then followed: gold in the Under-18 Second Inter-school MTB Prodigy Race 2017, silver in the 6th Himalayan Outdoor Festival 2017: Junior Category, runner-up in the 8th Himalayan Outdoor Festival, Elite-2019, and 8th in the Under-18 Asian Enduro Series Nepal 2017.
MTB gurus speak
Let's see what our DH coach Umang Shrestha has got to say about the burgeoning rider, Samir Tamang. To quote in his own words, "Samir Tamang as a young and passionate rider has a lot of potentials to excel in the DH category. If he does continue the sports and stays in that discipline, I can say, he can revamp the DH scenario in Nepal and the next few years vie for the Asian Games, too."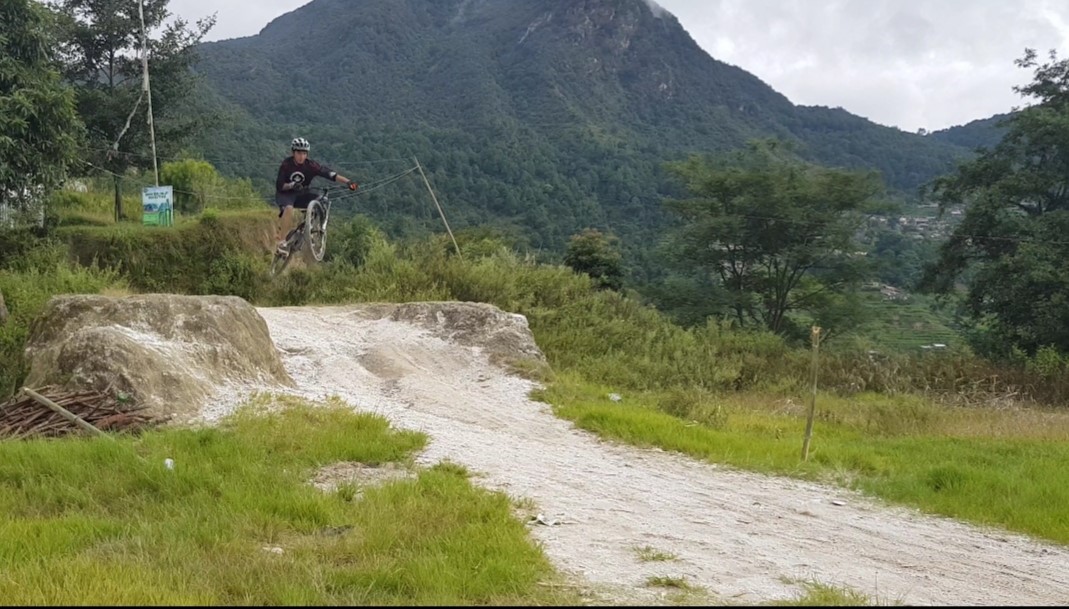 No flattery, Umang Shrestha (at 28)  was designated the national coach by the joint committee of the National Sports Council, Nepal Olympic Committee and Nepal Cycling Association for the DH (downhill) category for the 13th SAG (South Asian Games) 2019 held in Kathmandu.
"For Nepal, it was a moment of great honour and glory as the Nepali riders swept away all the podium standings: gold, silver, and bronze in men's category and gold and silver in the women's," Umang sounded excited when he told me that.
Now, let's mark those words from none other than the legend–the four-time and reigning National Downhill Champion, and the National Geographic 2018 Adventurer of the Year, Rajesh Magar, aka RJ Ripper. He took DH racing to the next level and made Nepal proud by clinching international medals (Mad Enduro 2018, Malaysia-Silver, and SAG 2019-Gold).
"I've known Samir Tamang for over a year and watched his performance in the junior category. The boy has enormous talent and the making to stand out in the DH/enduro discipline—no two minds about it," shared the Champ his impression with this scribe.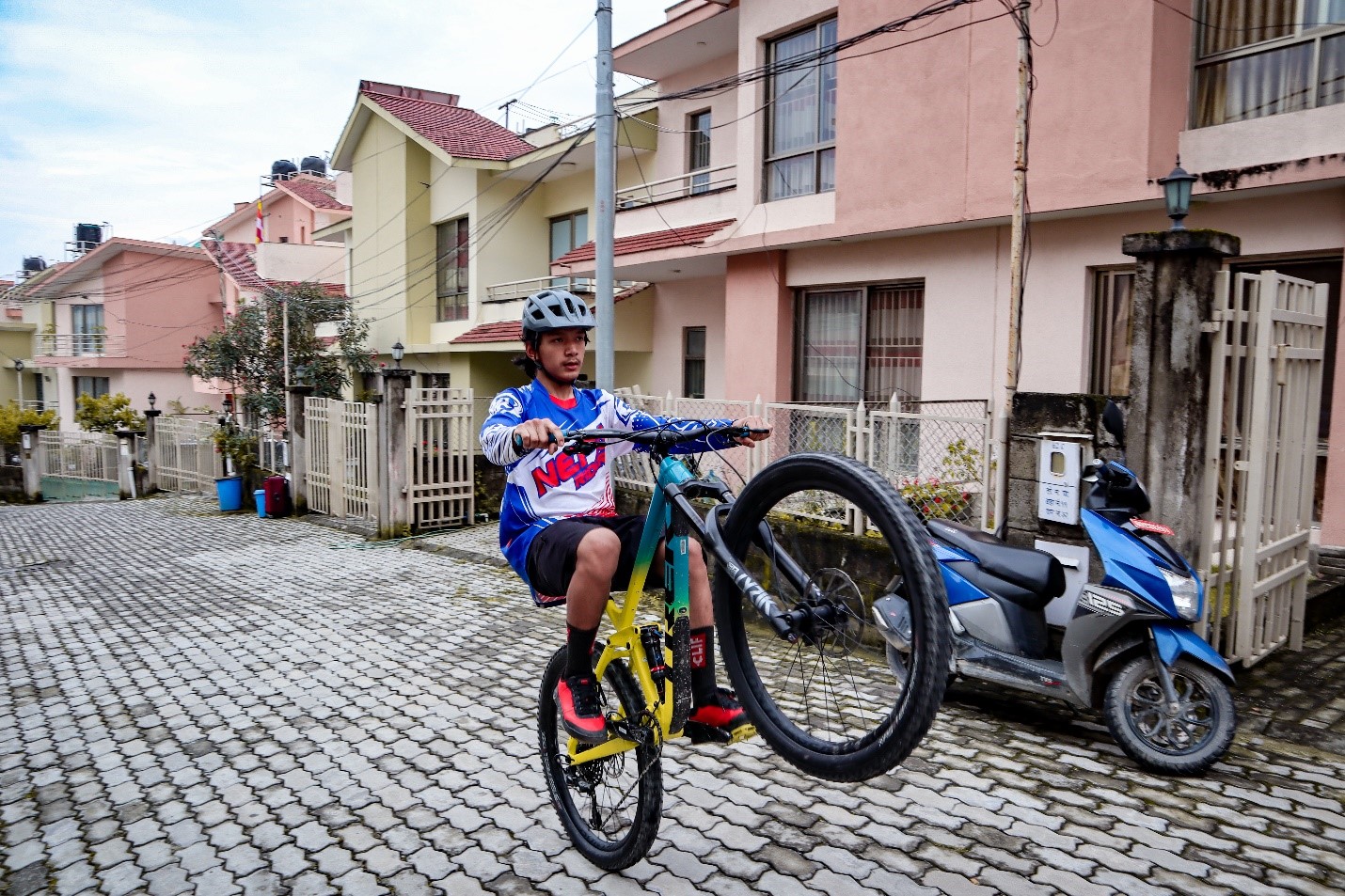 "The only downside to his headway, I've observed of late," Rajesh seemed to pause and resumed, "Seems his inclination towards spending more time on 'tricks', more akin to the freeride discipline. He has what it takes to become a future champ, but it's time he trained hard and focused on the technicalities of DH and enduro riding." Rajesh almost sounded a little reprimanding.
It then crossed my mind maybe I should get in touch with Nishma Shrestha, the four-time National Women DH Champ, the SAG gold medalist, and the reigning national titleholder, to know what she had to say about Samir. We were introduced to each other about a couple of years ago in Jomsom, Mustang when I was on a mountain biking tour of Upper Mustang.
"Samir Tamang is a talented DH rider and has a flair for good tricks, and a flamboyant style while riding the trail. With professional training, he can be a great DH racer. He has a promising future if he continues his riding and training, which will make him go the distance," summed up Nishma. Story continues.
Photos: Courtesy Samir Tamang and the author