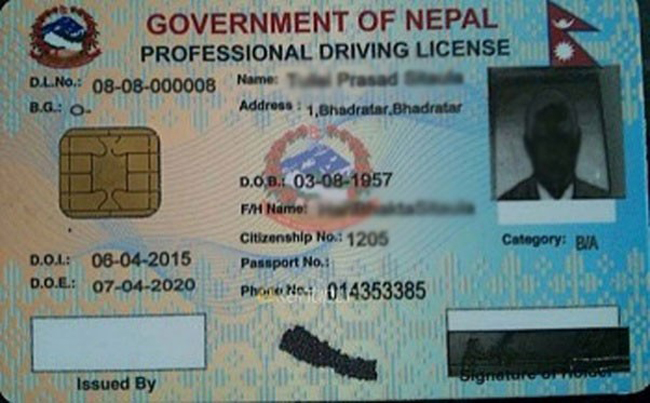 Kathmandu, April 19
Smart licences that Nepal's Department of Transport Management distributed are not smart enough, it appears.
So far, the department has issued 15,000 smart licences. And so far, a spectrum of technical glitches associated with its software system, including migration mismatch and total failure, remain, affecting the distribution of these licences from the department's Ekantakuna-based Bagmati zonal office. So much so, the department stopped issuance of these licences, citing technical problems, on Monday. Chandra Man Shrestha, the department's director-general, told Onlinekhabar: Efforts are on to solve the problems.
This is not the first time the software has failed the department. This has happened on repeated occasions, but the company tasked with production and management of the software (Madras Printers) has not bothered to act promptly and solve the problems, a high official at the department said. Before the resolution of earlier problems, other problems emerge, said the official.
This is possibly because the department started smart licence distribution without adequate preparations and without conducting trials.
Shrestha said: We are facing different types of technical problems. It's a new software and glitches may be natural. We will solve the problems gradually.
In the meantime, high officials from the Indian company — company chief Raja and senior officer Gopinath — have arrived in Kathmandu to look into the problems. They discussed the glitches with a technical team and director-general Shrestha.
The two officials have pledged to send a programmer and a developer to Kathmandu sooner than later, according to the department.
Rajkumar Shrestha, the department's computer engineer, said: Now on, there will be a quick response to software-related glitches. We will be able to remove technical errors quickly.
He expressed hope that the communication gap persisting between the department and the Indian company will become a thing of the past.