(Read the first and second parts of the story.)
"Adventure never ends. There is a lot of adventures out there, waiting for us to live them!"
 In Kyanjin Gompa village, a cluster of what looked like more than 30 blue-roofed houses—some as tall as four-storied, standing almost nose to nose in the sweeping valley, was not something the group had looked forward.   "Man, the place looks booming, it's more like a town than a village," said Diwash aloud.
And to round off the amazing sight, Mount Langtang Lirung, in all its grandeur, peered over the valley from the northern horizon while a row of snow-capped peaks rose and fell in a ripple from right to left. After checking into a guesthouse, the group strangely looked anything but tired. Maybe, it'd to do with their having made it to their destination without any hiccups.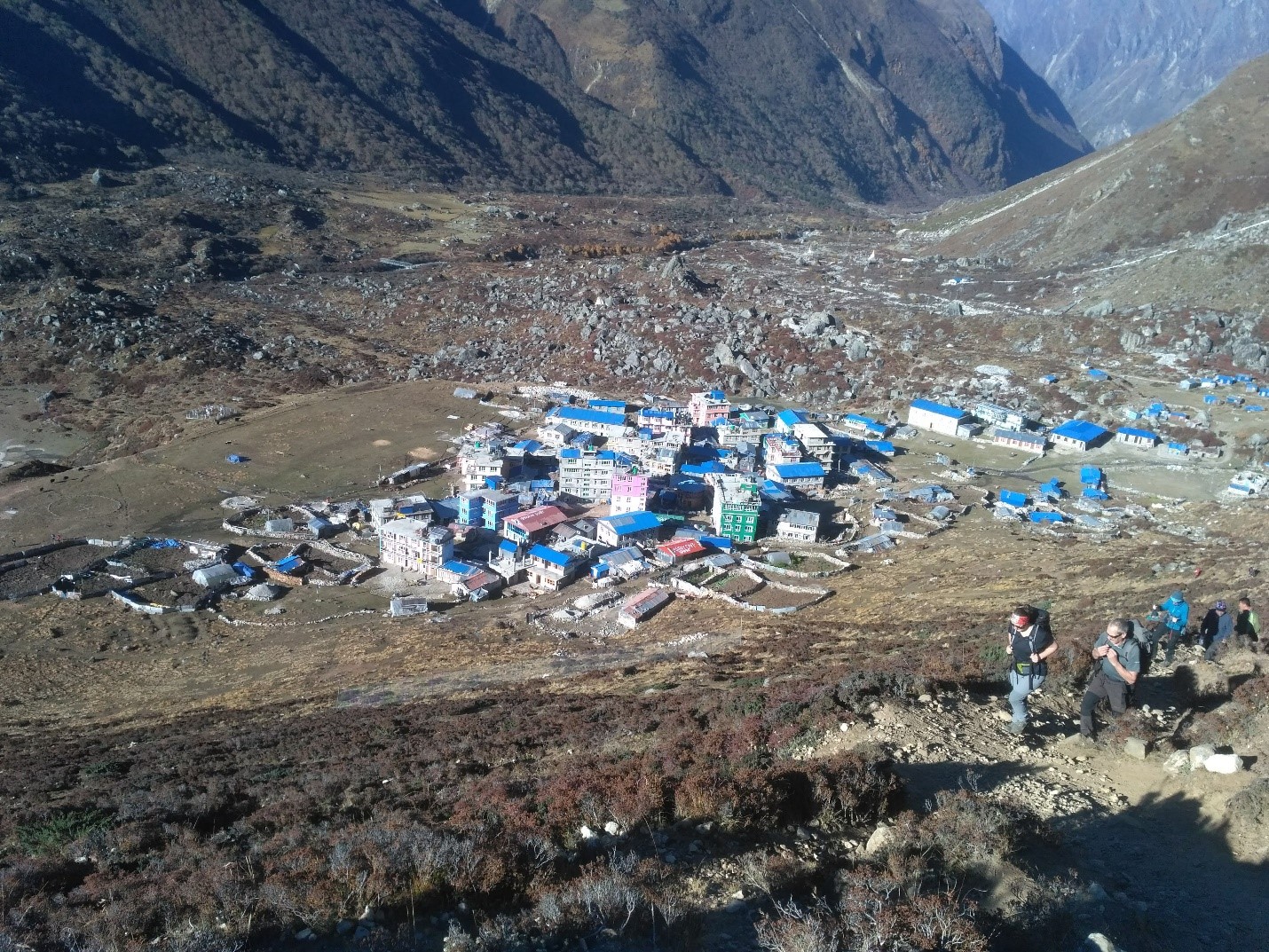 Curiously, there seemed no fuss and bother about finding a hotel although they arrived late in the afternoon. They checked into a modest-looking Hotel Tibet on a street called Padma Marga with decent rooms and fair enough price, nothing to grumble about. 
Celebration time
The dining room of the hotel wore a festive ambiance that evening. And what better way could there be for them to rejoice the moment than guzzle a bottle of beer and let off a hearty belch. The group restricted themselves to just a glass or two, though, because a bottle of beer up there was three times the price of Kathmandu.
Shishir went for a mug of sea buckthorn (tora in Tibetan and dale chuk in Nepali), instead, which cost him Rs 200.00. Sea buckthorn is a native wild bush that distributes in arid highlands of Nepal and produces orange-red berries that are said to have medicinal properties including cancer-fighting agents. I recall seeing those wild thorny shrubs during my cycling ride to Upper Mustang (chichi in Thakali dialect in Mustang and tora in Upper Mustang). Curiously, every single hotel in the Khumbu region (also Everest Region) has sea buckthorn juice on its menu.
The riders were not the only ones in the dining room, schmoozing about their victory. Small groups of foreign trekkers huddled together, talking animatedly. It seemed the crowds in the hall were revelling in their triumph as if they had won a soccer match.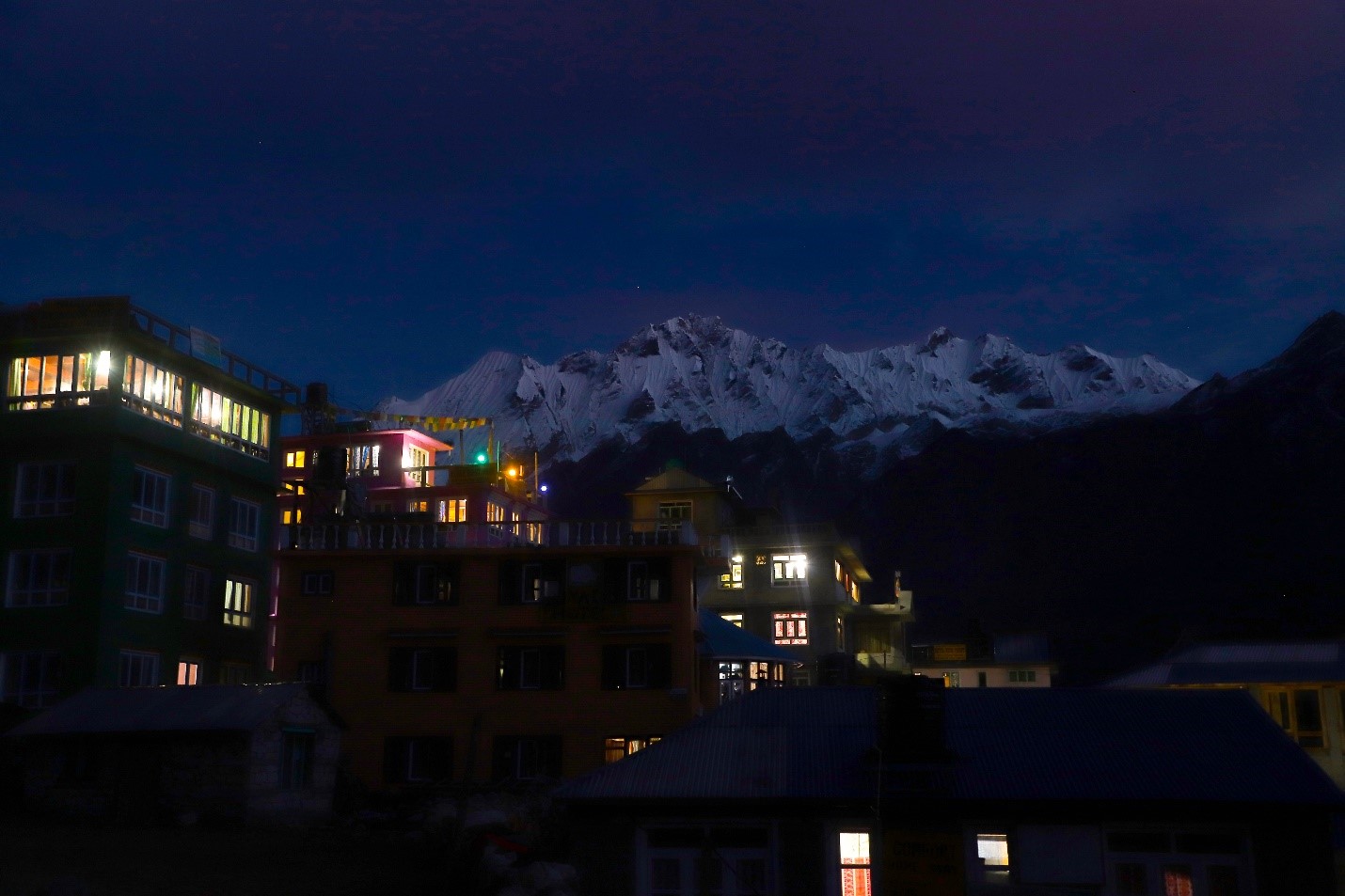 Relaxed, everyone wished, they spent at least two days, hanging around Kyanjin village, but they were running short of time as they had to get back to Kathmandu in three days.  Khashing told the team that they had just one day to spare.
"I think we should go to Kyanjin Ri Viewpoint, the best-bit or the icing on the cake for every trekker to Lantang Valley trek. It is situated at 4,773 m, northeast of Kyanjin Gompa, the highest elevation we'll have done this far. What Kala Patthar is to Everest Base Camp, Kyanjin Ri is to the Langtang trek, the highest point the trekkers attempt," Khashing proposed. "Yippee," bellowed Diwash.
The trail was not rideable. And none fancied the idea of lugging the bike again for hours, as they had had enough of it. Anyways, they recalled those admonitory words of the military officer and decided to hike instead.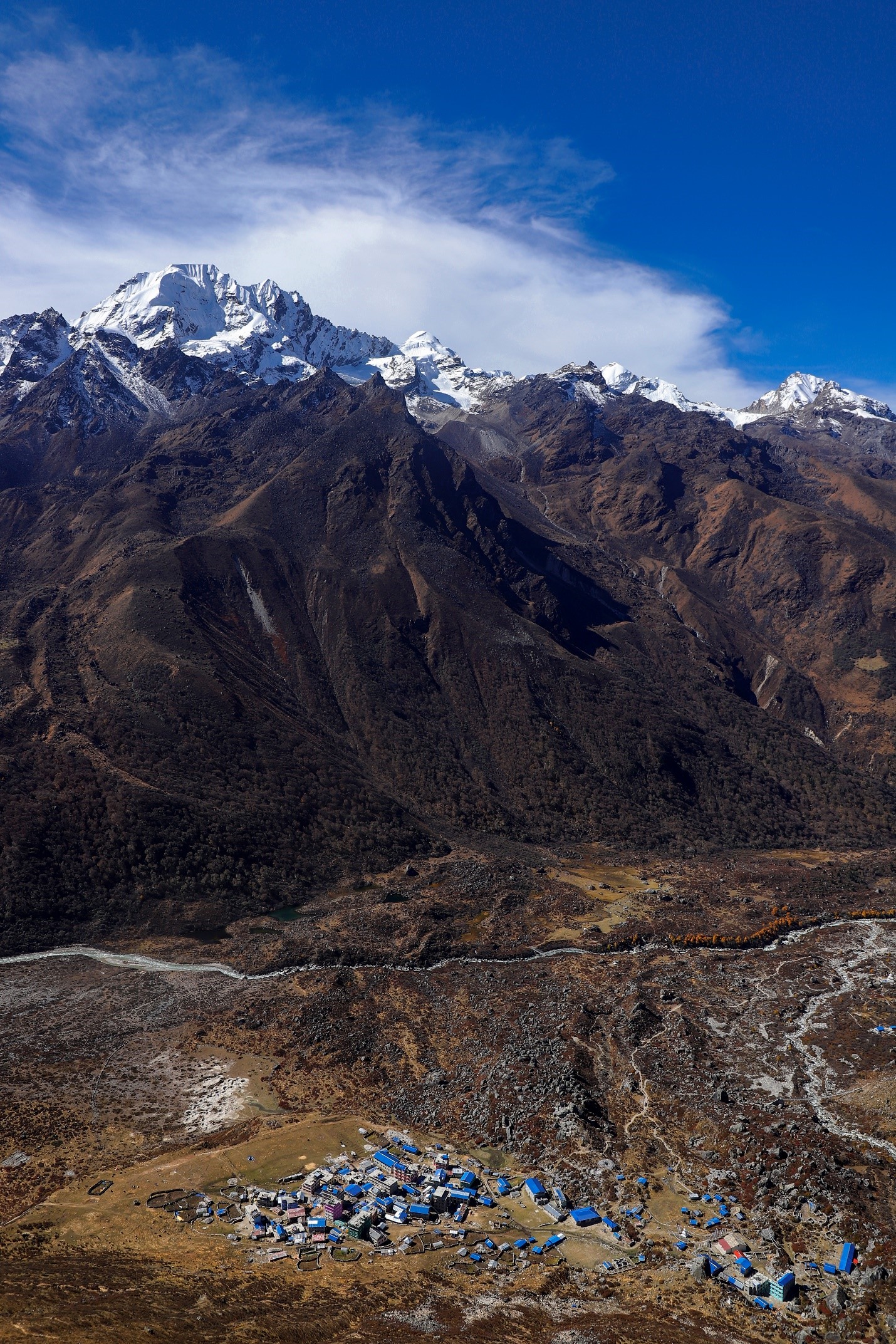 To Kyanjin Ri 
The team started early after a hasty breakfast, as it would take almost four hours to the viewpoint, something like 1,000 m straight up from Kyanjin Gompa village. The group later admitted that it was worth spending one day on the round-hike to Kyanjin Ri as the high point afforded a mind-boggling view of soaring cliffs, sharp pinnacles, and by far the massive Langtang Range in a panoramic sweep with glaciers into the bargain.
As they climbed up the narrow trail for two hours something, it looked they had made it to the summit, which was marked by fluttering prayer flags. As it turned, they still had to do twice that distance to reach the top. It took them almost three and a half hours from Kyanjin village to crest the ridge.
Strangely, the rock-strewn cliff tapered sharply to look like a needle-point from a distance. The wind was pretty strong at the peak and nippy, too. Contrary to their expectation, the viewpoint was not isolated. Several foreign trekkers seemed busy enjoying the scenery around and clicking on their cameras hungrily. After a customary hi-hello and Namaste, the group also joined the bandwagon.
Kyanjin Ri Viewpoint
Everyone looked ecstatic once on the crest, and it seemed there was no time for small talk. Wide-eyed, the group ran their eyes around in a frenzy, some busy taking pictures, others selfies with their cell-phones, vying for the perfect shot. From the northwest, the entire face of Langtang Lirung seemed to gaze back at them. And at its base rested the awesome Langtang Lirung Glacier, with the lateral moraines covered by thick debris.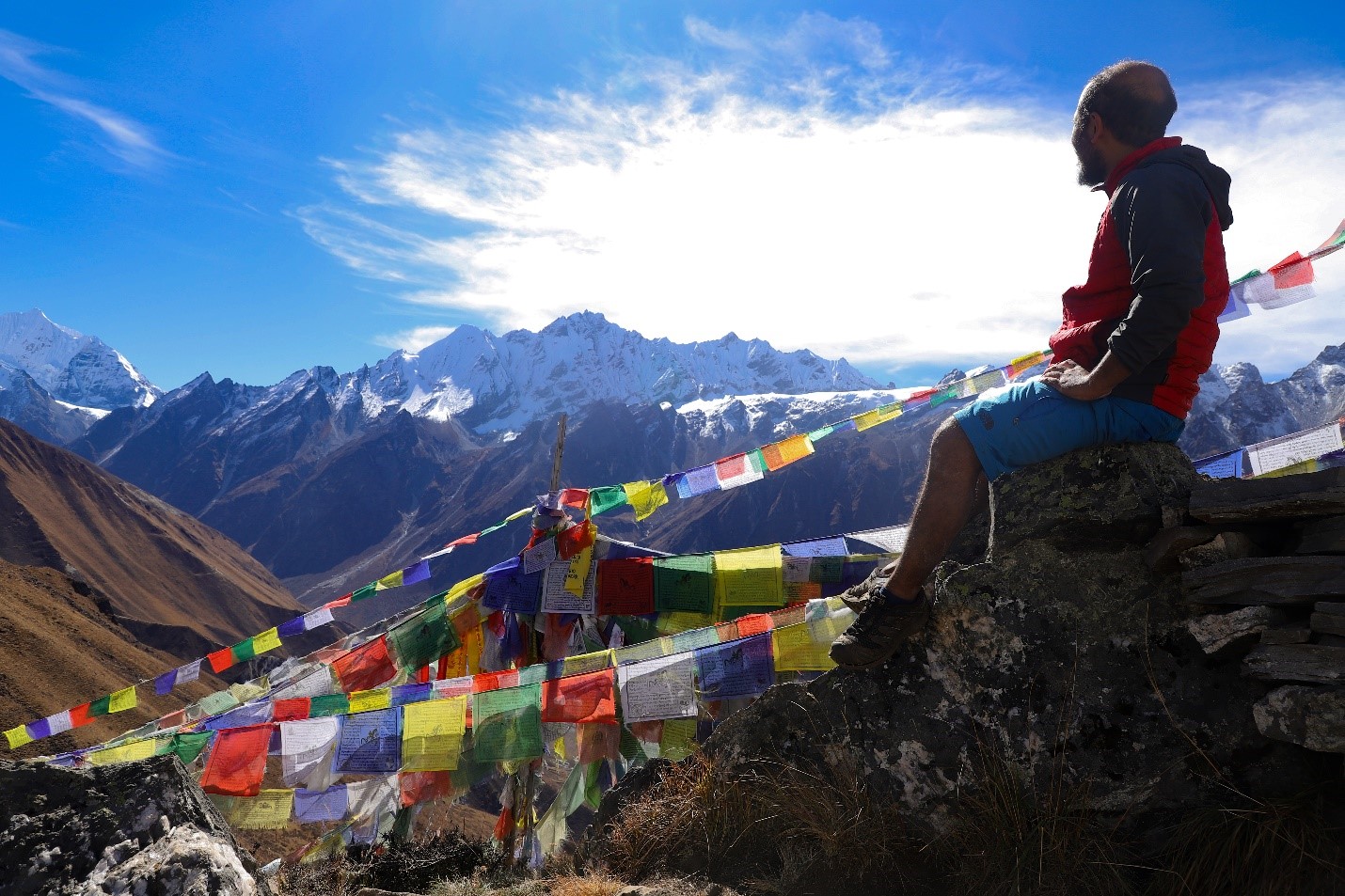 At a closer look, the glaciers seemed to separate the lofty peaks, the likes of the Changbu Himal (6,251 m), Yuba (6,264 m), and to the northeast, the Yalla Peak (5,500 m).To the southwest, Tsergo Ri Peak stood conspicuous. The Tsergo Ri also offers another challenging climb for the trekkers. The South, across the valley, commanded the view of Naya Kanga (5,844 m).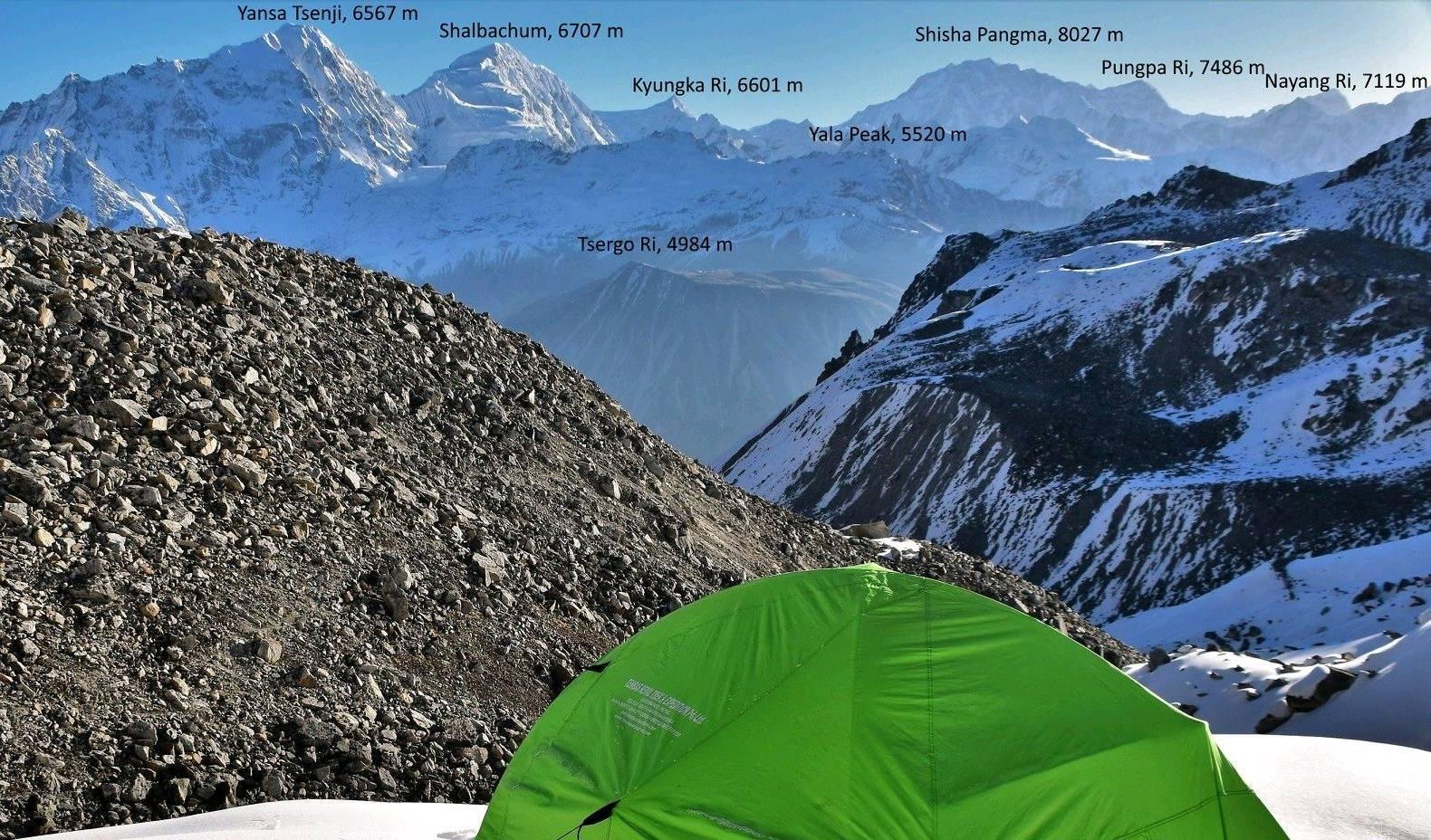 The Langtang Range of mountains includes other prominent peaks such as Dorje Lakpa (6,966 m), Yubra Himal (6,035 m), Loenpo Gang (6,979 m), Kyunga Ri (6,601 m), Dogpache (6,562 m), Shelbachum (6,707), Langshisha Ri (6,427m), Ganchempo (6,387 m), and Jugal Himal (6,151 m), among many others. If you are hung up on viewing the Himalayan Range with a minimum of time spent on traveling, Langtang should go into your bucket list as it is the closest to Kathmandu Valley.
Shishir tried to locate the Ganjala Pass but failed. He had called off his plan to trek to Ganjala Pass, almost three days from Kyanjin Gompa. The reason was simple; he was not adequately outfitted and lacked the essentials needed for the trek.
He regretted having taken the matter lightly when he first planned the trek to the pass. The rest of the group could easily see his crestfallen face. "Don't worry, Shishir. There is always a next time," consoled Diwash, but that did not seem to amuse him. Little surprise, though, if you hear about Shishir, trail-blazing it, solo, to the Ganjala Pass, nay beyond, no sooner the trip was over.
End of journey
The group made a hasty retreat back to Kyanjin Gompa to make it before dark. Nobody fancied stumbling in the dark on that treacherous path.  Everyone looked worn-down and sad that they had to leave, the very next day. "Ke garne," (what to do), as they say it in Nepali.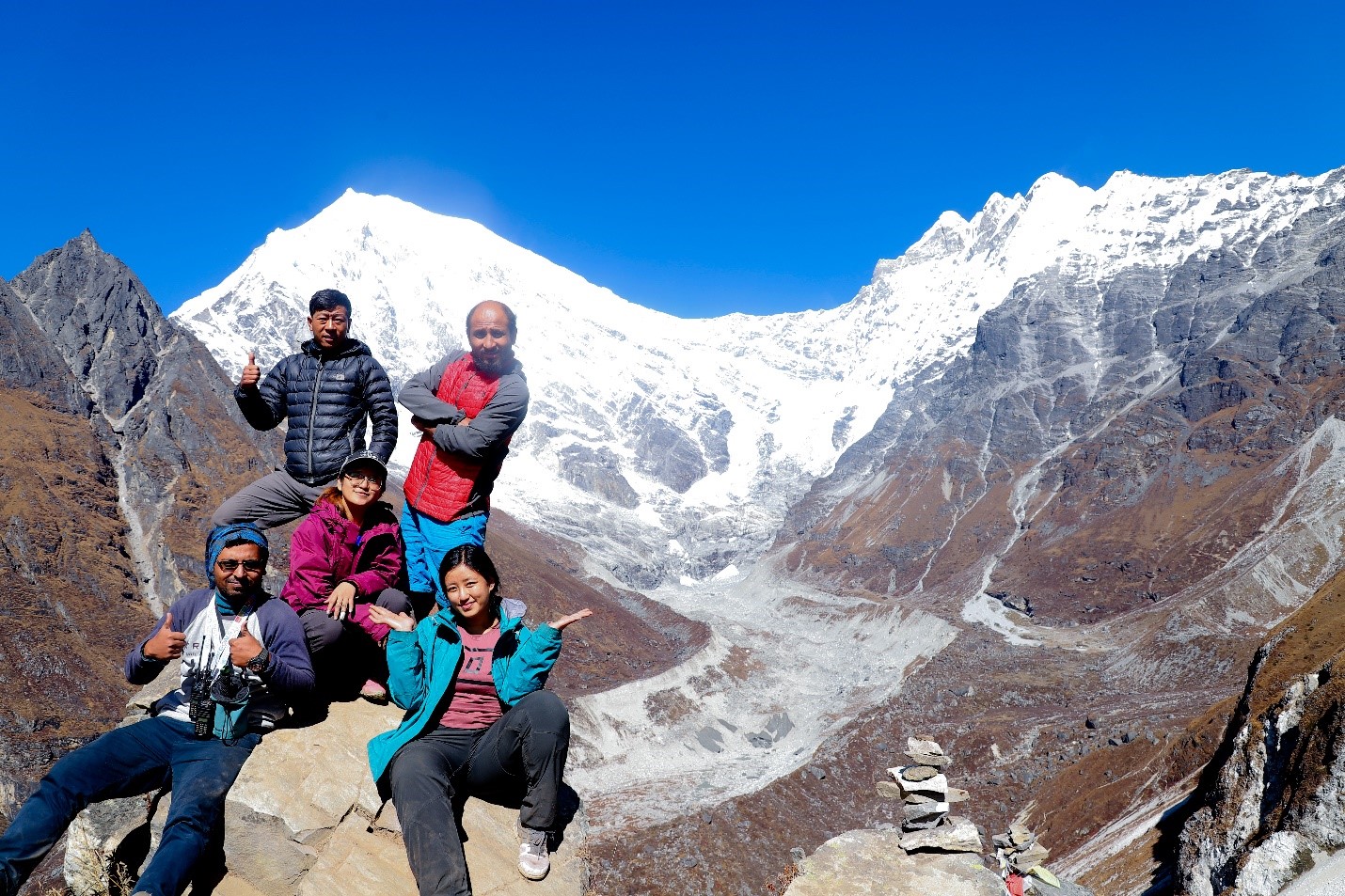 Fond memories
All good things must come to an end, as they say. For the team, only haunting memories lingered to take back home. But, everyone enjoyed it hands down, hardships aside. It seemed the group not only enjoyed the ride braving the challenging terrain but felt blessed with happy and hilarious times, too. Let's share those priceless moments the group enjoyed.
On their way back to Lama Hotel, a local guy watched Anamica and Rojisha walking their bikes down on the stone stairs (he'd missed out on Khashing and Diwash riding down the steps). He sounded contemptuous and sneering when he addressed the group, "Is that how you came back from Kyanjin Gompa, walking and pushing your bikes?" Outraged, Khashing and Diwash pushed their bikes up the stairs (some 200 of them) and came hurtling down, riding. That demo, eventually, made the local bloke's trap shut.
At the Langtang village's relocated site, Khashing and Diwash suddenly stopped their bikes as they heard a yelling from Anamica followed by hooting and high-pitched wolf-whistling. As it turned out, she was startled by a mule that suddenly seemed to appear from nowhere on the track before her.
The local blokes were, in fact, not directing their jeering at her, but trying to shoo the 'beast of burden' away. It made Khashing and Diwash slap their sides and double over with laughter. But seeing Anamica and Rojisha on bicycles, on the entire trail, did make the locals stop in their track open-mouthed, surprised, and amused.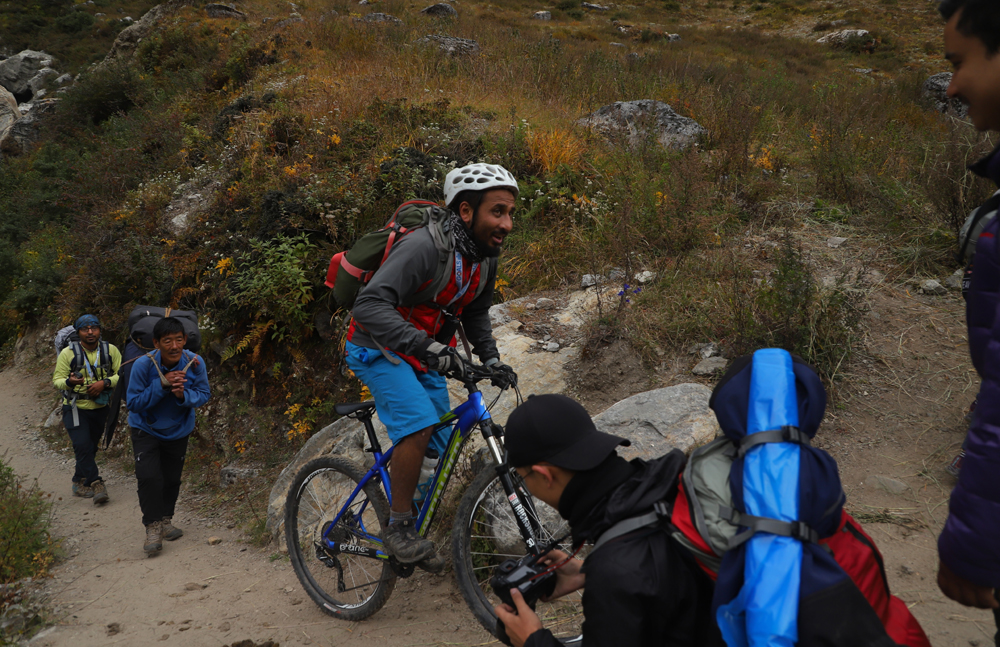 At Mundu, tired of eating dal-bhat, Anamica craved for something to tickle her tastebuds. When they stopped for tea, she suddenly saw WaiWai noodles on display in the shop. Her mouth watered, as she recalled, her days at school when she used to devour an entire packet dry, by crushing it and spicing it with the condiments that came with the noodles.
Anamica asked the small girl at the teashop about the price. Rupees fifty, she said. She asked for a packet, and without a second thought, tore it open. Scarcely had she crumpled up the packet than the girl who'd gone to confirm the price with her mom busy washing clothes came running back, and said, it was Rs 200.00 and not Rs 50.00.
Rojisha, too, gathered some fond memories to cherish back home. In Khangshyap, she was approached by a young boy who asked her to let him ride her bike. The 13-year-old boy seemed to ride well, although the bike was way too big for him.  His excitement was something to watch as his ruddy face flushed a flaming red. She just adored those blessed moments.
On their way back to Shyaphru Besi, Rojisha had another exciting time. While pedalling across a wooded stretch, she had to stop as a pair of barking deer stood smack-dab in the middle of the track, some 10 yards away. The beautiful animals with their shiny tan-coat looked at her, and did not spook, just casually crossed the track, and entered the nearby brush.
Lo and behold, moments later, as Diwash arrived from behind, they reappeared, looked at them for a few seconds, and then sauntered back into the woods. "I'd never seen deer in the wild before. It was not like seeing them in the zoo with their dusty coat and frail sickly look. They, on the contrary, looked so full of life," Rojisha sounded very excited when she said that.
Another remarkable thing about the trip was that Shishir made sure they did not litter the place, every time they stopped. It looked that bordered a little on obsession as he picked up the filth like tobacco wrappers, plastic bags, and the like thrown around by others.
On their way back, the gang stopped to rest and sip water from their bottles by the track, a little further from Sherpa Gaun.  Rojisha was sitting on the left while the rest were sprawled out on the right. Suddenly, Rojisha rummaged out three packets of biscuits from her backpack and, to her bemused buddies, started gorging on them. It appeared she was not eating but stuffing herself. Before long, she had two packets devoured. She handed over the only packet left to her befuddled buddies.
"When we stopped to rest, I happened to look ahead and saw the steep hill in the distance, which made me so overwhelmed that I suddenly felt faint from hunger. Blocked-off from the view of the steep hill from their side, the rest of my partners were watching me curiously," Rojisha burst into a peal of laughter as she shared the funny incident with me.
No sooner the group rose to their feet and prepared to hit the trail than they knew why Rojisha had acted that way. The group poked fun at her the rest of the way to Shyaphru Besi. And the journey ended, on that feeling-good upbeat note.
The skipper
Khashing, the skipper, seemed happy to answer my question when I asked him about the trip. "It was one of my toughest rides ever since we did a track that was meant exclusively for trekking.  I was weighed down not only by a hefty backpack (almost 11 kg) but the primary responsibility of the ladies too, rested heavy on my mind," admitted Khashing to me.
The team leader then went on to relate one funnier incident. "On our way back from Kyanjin Ri, Diwash asked me to pose for a shot and took the camera. I chose a huge boulder and stood on it for the shot. Rojisha joined me and sat on her haunches next to me. She folded her legs and stretched her arms out into a meditative 'janana mudra.'
"I don't know what got into me that I leaped into the air in a flash, and in mid-air folded my legs and then my hands into a Namaste. Luckily, I landed safely on my feet." A group of foreign trekkers watched the stupid act, dumbstruck.
"Later," he continued, "I realised my mistake for having done that dumb prank because right behind, the boulder fell to a sheer drop, hundreds of metres down. In hindsight, though, I think the act put a lot of spice, or 'oomph' into the photo, didn't it?" he finished with a sheepish smile.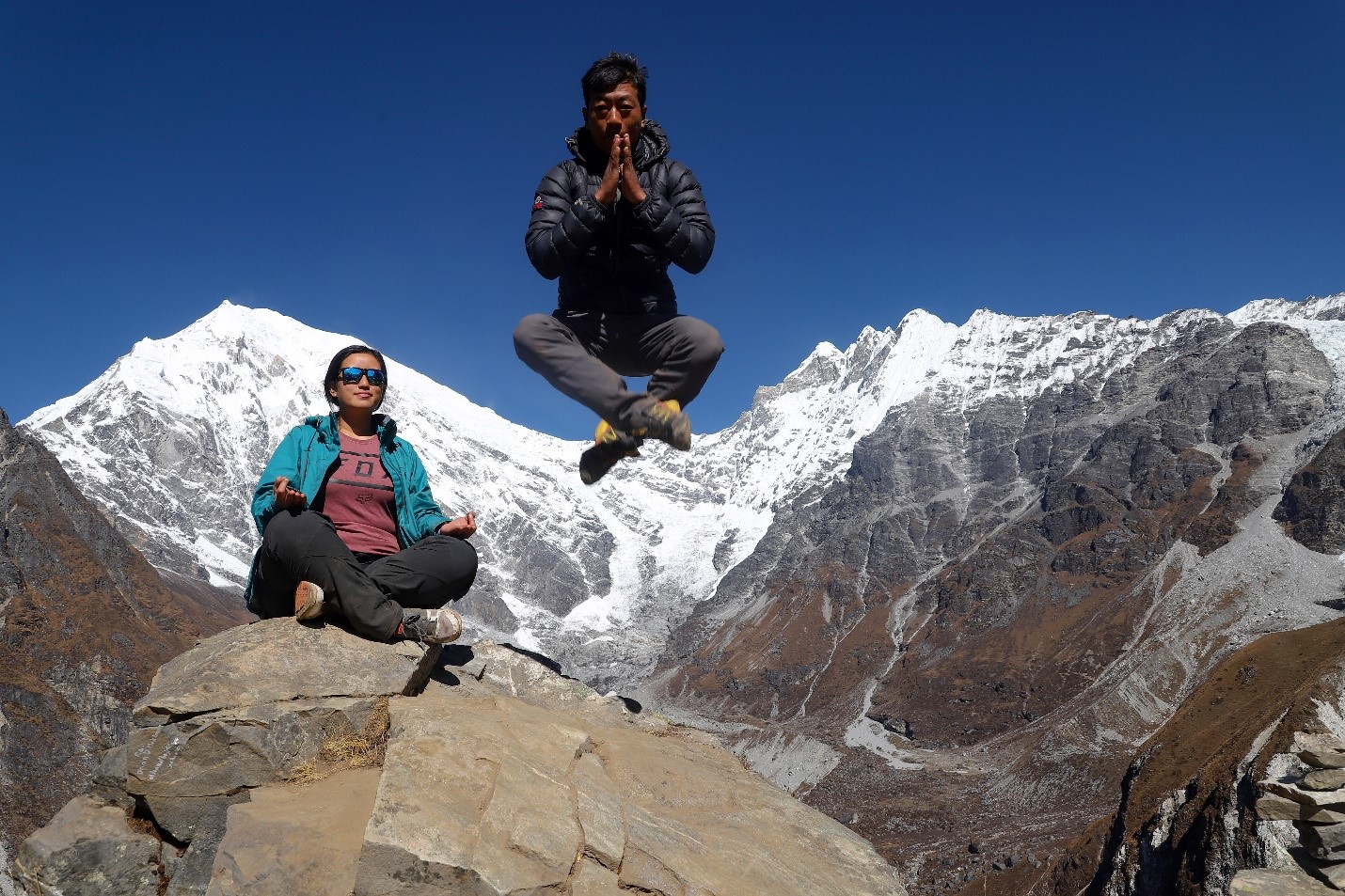 For Rojisha and Anamica, it was an epic journey on wheels, but it looked that was just the beginning. "There was never a moment, I felt like giving up, or regretted going on the trip," said Anamica, sharing her feelings with me. It appeared there was no looking back for both the ladies as they told me they would soon love to hit the trail again, no matter how tough.
"Adventure never ends. There is a lot of adventures out there, waiting for us to live them!"
Appeal:  *Do not litter, let's keep our natural environment clean.
*When inside a national park, respect and obey the park rules.
Caveat:   *Always wear a helmet when riding your mountain bike.
* Ride safe. Do not try to prove yourself on technically extreme tracks.
The end of the final part
*The adventure quote is derived from hostelgeeks.com.
Images by: Khashing Rai