Sweta Shrestha, upon crossing the Mahakali bridge in far-western Nepal on December 16, burst into tears. Her two-year-old dream of cycling from the eastern to western points of Nepal had finally come true. After 22 days and over 1,200 kilometres, riding through multiple towns, unpaved roads and highways, it was over. And, when it did sink in, she could not control her emotions as she felt liberated.
"I never thought that I would get as emotional as I did," she says. "But, when you are on the road for so long, things like these happen. It was such a magical feeling."
Her aim through this journey was simple. She wanted more women like her to travel. She wanted to break the stereotype that women should not be travelling alone and, in turn, empower them. The journey also coincided with the 16 Days of Activism against Gender-based Violence.
Long-awaited dream
Her journey started from Nepal's 'first' municipality in Mechinagar on November 25, but mentally, it was two years in the making. Like any cycling enthusiast, pedalling from east to west had always been in the back of her mind. But, due to other obligations, she had to put it on hold.
"When I went on my first solo journey after winning Swoyatra in 2018, I got hooked. I cycled from my house in Chitwan to Attariya in Kailali, from where I trekked to Khaptad National Park. That journey gave me the confidence that I could do it again if I wanted to," she says.
Ever since she did that, she started planning this journey. After graduating and becoming financially stable, she decided it was time. Her plan was to do it in March, but due to the Covid-19 pandemic, she could not. She felt Dashain time would be ideal and started preparing for it with a friend of hers. But after her friend decided not to go, Shrestha decided that she could do it all on her own.
"Having done solo travel before, I knew that I could do it again," she said. "It was tough convincing my parents again, but after a while, they understood why I was doing it."
Adversities and affections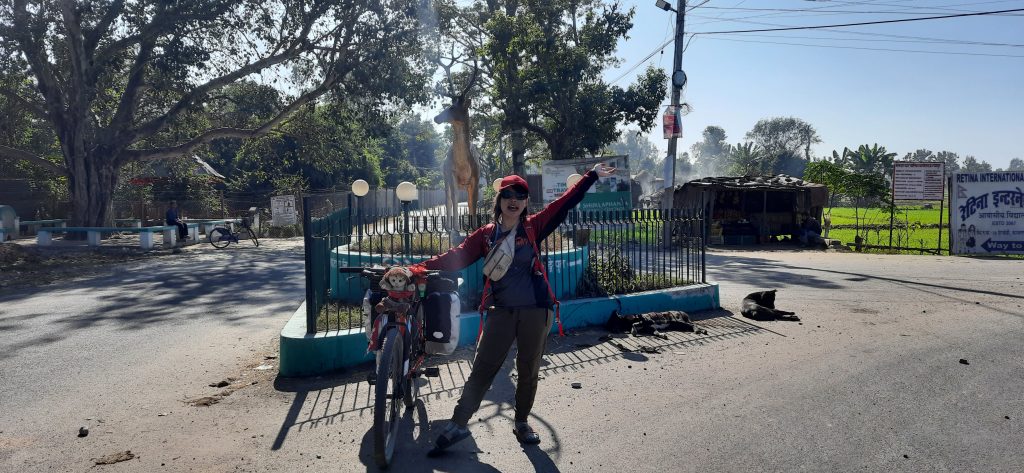 With the title of empowering women to travel, Shrestha prepared her backpack, readied her cycle and set off to Mechi.
While planning, she knew how tough the journey was going to be. But, in reality, she realised that it was going to be a lot tougher. She was carrying over 40 kilograms with her which included a tent, a sleeping bag, cooking items and clothes. Pushing that up the Postal Highway in Province 1, she ways, was the toughest.
"The road was a mess. Parts of it didn't even have bridges, so had to cross on foot pushing the bicycle. The story was similar for most days," she says.
Even though she had carried a tent with her, she hardly had to use it. Thanks to the cycling community across the country, she says, she stayed at homes of people from the community. She says that the community was extremely helpful and encouraging and managed a place to sleep and food.
"I hardly knew them, but everyone was welcoming and encouraging," she says. 
An example of the community's encouragement came in Itahari. The Rotary Club of Itahari gave her a welcome that she had not dreamt of. It was her third day on the road. She was travelling to Dharan from Biratnagar. They had told her to look for a flag on the road. What she saw made her proud and emotional.
"I was expecting a small flag on a bike. But it was huge. They escorted me from Itahari to Dharan. The Nepali flag was fluttering the way. When we reached Dharan, I needed a moment because I was emotional. It was an extremely proud moment."
She also got a hero's welcome in Hetaunda and Nawalpur.
"Every day I was being joined for around 15 kilometres by people who I didn't even know. That was a great feeling."
Pushing oneself towards a benchmark
But, her mother, who was worried about her safety, did ask her to stop it when she reached Chitwan. But, when her cousin Divya Raj Shrestha joined her from Chitwan, she said her family was relieved.
"I had met him in Biratnagar and he had told me how he wanted to join me," she says. "He did so after 10 days and that helped my parents calm down a bit."
She also said that there were times where she would question why she was doing it. Tired and exhausted, she even wished that her bicycle would break down so she would get to rest. But, sadly, it did not happen.
"How would it break down when every morning I maintained it," she says. "Every day the thought about giving up would come to mind, but then I was on this journey for myself. Remembering that, I always carried on."
She had also hung a teddy bear on the front of her bicycle. She called her 'Kanchhi'. She hung the doll to spread a message, she says.
"A girl plays with a doll when she is a child and often leaves it at home in a cupboard when she grows old. It's like it represents a woman," she explains, "Women, when they grow matured, are often constrained by societal pressure and they don't get to travel. By taking Kanchhi along, I wanted to spread the message that women can and should travel," she says.
After 22 days and 1,245 kilometres, she finished her journey. But, she says this would not be her last because she wants to set a benchmark that women can and should travel alone.