When Shree 3 got on stage at Beers N Cheers in October 2021, it was a special moment. The trio had just finished their album and were on the verge of recording it. But, what made the night special was the return of their bassist Rozet Gurung who had spent much of 2021 in bed, suffering from a rare pancreatic disease.
"You guys don't know how happy I am to see my friend back," said Sarad Shrestha, the band's frontman before singing Existence in Uncertainty, a song that was written with Gurung in mind.
The song is a part of the band's new album, Rust in Dust, which was released in January. The band, after working two years on it, have produced something they can truly call their own. The album is quite unique for Nepal as in the album, Shree 3 talk about fantasy, cosmos and death as they aim to spread a message that a new beginning only starts after the end of a journey.
The album has a rawness that is a treat to people who love hard rock as the band aim to introduce stoner metal into the country. The album is full of melodic riffs and a hard bassline that makes any metal lover drool.
A dream come true
"It's an album where all three of us have blown our socks off. I feel the album will showcase the teamwork of all three of us. Everyone had their part to play," says Shrestha.
Shrestha's riff and Gurungs' bassline steal the show, but it is equally supported by Robin Neupane's drum and Shresta's vocals which might be overshadowed by his guitar work.
Now, that they have created something they truly wanted to. Shree 3 now want to take their music to an international audience and play in festivals abroad as they had always dreamed of.
"It's a plan because we know that our music is tight and of international standards. Let's see what can happen," says Shrestha.
Quest for newness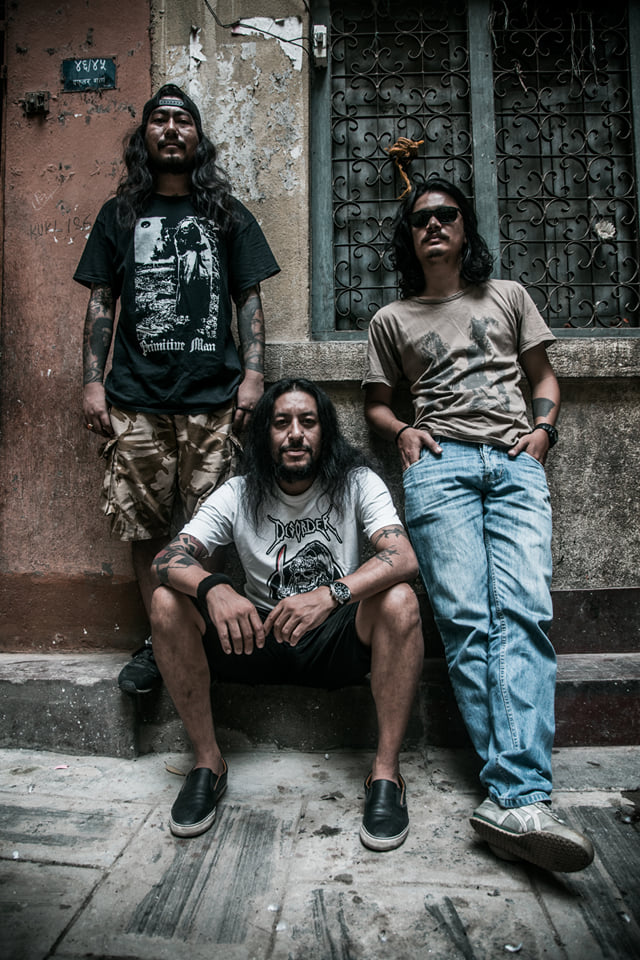 Shree 3 as a band were formed in 2016 when they met during a grunge tribute show. The trio hit it off immediately and decided to start a rock band unlike any rock band in the country.
"It's been an honour to play with Sarad dai. He gave us a chance to play with a senior artist like himself and I will never take this for granted," says Gurung, who has been a part of Nepal's underground music scene for a while.
Taking inspiration from stoner metal bands like Sleep, High and Fire and Kyuss, Shree 3 started experimenting with the genre which only had a niche audience in the country. When people started to like it, they decided it was time to release their own music. They came out with their first album Drabya Dharma in 2019.
"That was an introduction to stoner rock, but now as I look back, maybe it was a bit too mainstream but still was a fun recording," Shrestha says, "But, since the release of that album, we wanted to do something tighter."
And, they have that in their new album which is a joy for people who love rock and roll. The first track, Riffland, is an example of that. The track starts off clean then takes you on a journey into the unknown thanks to Shrestha's melodic riffs, Gurung's clanky bass and Robin Neupane's bustling drums. Demon's Lullaby is dark, but the riffs are mindblowing. Kings of Horns starts off soft but then transcends into a track that has hints of doom metal. Drift is the longest track in the album, but at no time does it feel like it drags on for too long. Existence in Uncertainty is a work of art as it has already been hailed as one of Shree 3's best songs by their fans. Pandaemonium is a track that is similar to old-age rock and roll that is full of power while the final song Trigger/Awake closes off the album with a drum and bass dominated song that is ideal for people who love speeding on their motorbikes or cars.
"This is an album that has sounds that we wanted to bring out," says Gurung. "We've put in a lot of hard work on it."
Coping with challenges
Shree 3 say that this is different from their debut album Drabya Dharma because the latter had hints of mainstream music in it. Wanting to sound original, and true to its genre, they decided to not have any generic rock song.
"If you listen to the album, you'll sense a certain rawness that you don't really get in rock music. As someone who grew up idolising these rock bands, I feel great to have done something similar," says Shrestha.
The entire album was created during the pandemic where lockdowns, Gurung's health and various other uncertainty posed challenges for Shree 3. They did not let these problems affect them as they continued to meet at practice rooms whenever possible and created songs for the album.
"The first album had songs which Sarad dai had pretty much finished. But in this, all three of us worked equally to create something which we are proud of," says Gurung.
Gurung adds that despite Shrestha being a senior musician, he still treats them like friends as the band have left a room open for everyone to bring new things to the table. That is how the name came too. 'Shree 3' means nothing but three people doing music the love together.
"Nothing will stop us to do what we want to do," says Gurung. "Robin's going to the UK to study, but the band will still go on; that is what all of us had talked about before beginning our journey. Shree 3 will go on for a long time."
Now, the band want to try their hand playing in festivals abroad. Having seen bands like Underside and UgraKarma play in festivals abroad, they feel they also have what it takes to impress the international audience.
"It's something that has been on our mind for quite some time. We will be applying to go to these festivals. Even we aren't invited, I want to go regardless, by other means like crowdfunding or self-funding. But, we want to go."