Shobha Shrestha loved teaching, but most often she used to be late for her classes. For this woman with a physical disability in her right leg, getting to the workplace in Maharajgunj from the Padma Kanya Campus, where she was doing a BA course, would be a Herculean task given the unfriendly public transport system in the capital.
At the school, she had to hear a lot of complaints from administrators; some of them would be mean and demotivating.
However, the story has changed since 2016 when she began riding a scooter with two additional wheels.
This is not the only story of her life. Today, Shrestha is seen helping several people who call themselves able and others like her disabled reach their college, workplace or home on time, as a rider for Pathao, a ride-sharing company.
And now, she has never been late again as she thinks her journey to independence was also not late either. In this world full of complaints, this lady's journey into a fierce, confident, and independent person is interesting although it was fraught with a lot of challenges.
Challenging childhood
As her father Kamal Narayan, a native of Tanahun of western Nepal, used to usually live in Faridabad of India for his work, the infant Shrestha was taken to India a few months after her birth in the late 1980s.
Shrestha does not know what happened there, but as she has been told, she says she could not learn crawling like other children. "When I was in my ninth month, my parents also noticed that my right leg was swollen," she says, "Then, they took me to different hospitals there. However, I was not diagnosed."
As they could not find out what actually the problem was, they returned to Tanahun of Nepal and tried many hospitals and health centres seeking some cure. But, all went in vain.
"Though the disorder was not diagnosed at the time, it was clear that I was born with a disability."
It made her journey to education difficult. "Walking to the school was a distant thing, I couldn't even stand on my own. I was growing up, but my leg kept on shrinking."
Then, she began using crutches.
According to Shrestha, her school was not so far from her house. While others used to reach the school in 20 minutes from her village, it would take more than an hour for her. Therefore, after she passed the fifth grade, her parents arranged that she would stay in a relative's house near the school.
Between these years, many people suggested that her parents make efforts for her treatment. "However, I, as well as my family, was not much aware."
"Nevertheless, while I was in grade 10, I was informed by the school about a Krishna Pranami organisation that said it would provide possible treatment to the polio patient."
She narrates, "I just wanted to stand and walk without using the crutches as that was so painful. Most of my dresses used to be torn by crutches."
Walking used to be troublesome especially during the rainy season. "Seeing others using umbrellas, I used to think if only I could also use them."
Rays of hope
A hopeful Shrestha decided to give the new treatment suggestion a try. Hence, a couple of months before her final 10th-grade examinations, the teenager came to Kathmandu for treatment. She stayed with her elder sister and her husband in Kathmandu during treatment.
Just before the treatment, the healthworkers checked whether her leg could be treated. "They found it could be operated," Shrestha shares, smiling, "Accordingly, they performed two surgeries on my right leg. Then, it felt like I have got a new life."
Even after the operations, it took a while for Shrestha to completely avoid using crutches and callipers. "Though the doctors had told me not to use crutches for walking, I could only leave one crutch. Gradually, I left using them and began walking on my own."
Then, she went back to Tanahun for the exams but soon returned to pursue higher studies in the capital. She stayed with her sister's family again. After a few years, she also began teaching.
The new 'leg' of life
Owing to difficulties on public buses and the employers' repeated complaints about punctuality, Shrestha lost hope if there would be happy days in her life.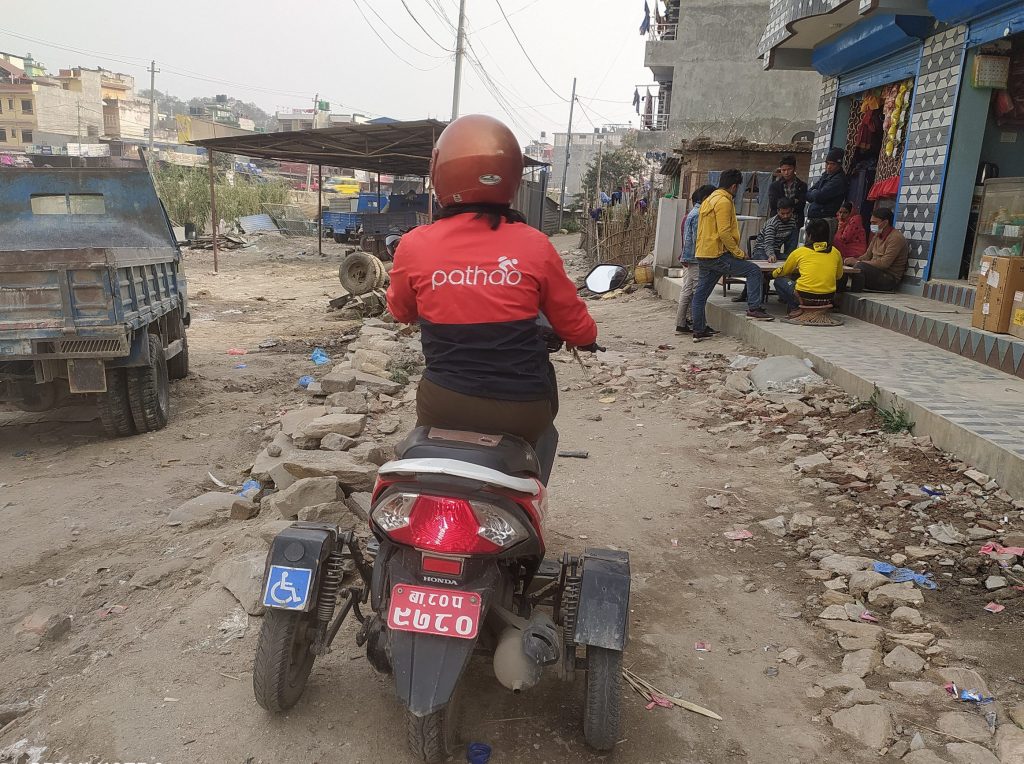 But, one day, she saw someone like her ride a four-wheeled scooter. "Then, I inquired about the scooter to different people. Then, I brought a scooter in 2016."
Shrestha learnt to ride a scooter within a week. And, she says, "It became like my legs."
Shrestha says she spent around 13 years in the teaching profession. Except for a couple of years in the beginning, she lived alone by rending a room.
To follow her dream to become a civil servant, she left teaching in 2018 and began preparing for the Public Service Commission exams. She attended the exams once, but could not.
In the meantime, she got an opportunity to take personality development training for free by an organisation, and she joined it.
Confidence on the rise
The three-month training programme gave her ideas on how to find a job, how to prepare and present herself, and how to deal with job interviews. "This training boosted my confidence. Through the very institute, I also attended a job interview and landed a job."
Meanwhile, she gave the public service dream.
Soon, the Covid-19 pandemic hit the country and her work was shut. She then went back to her home in Tanahun. After the lockdown was over, she came back and is now working for an NGO working for people with disabilities.
Along with this full-time job, she has been working as a part-time Pathao rider for two years. She says, "I joined Pathao on the recommendation of my friends who are also people with disabilities as they have also joined earlier."
She further adds, "It is better to carry someone with you than to travel alone. This way, I can also manage my petrol expenses and the other person gets to their destination."
She says she has got mixed reactions from the customers. "Some say they are inspired by me and some even cancel the ride seeing the four-wheelers."
But, Shrestha would not mind them because her confidence and independence have already achieved a level higher than those comments.