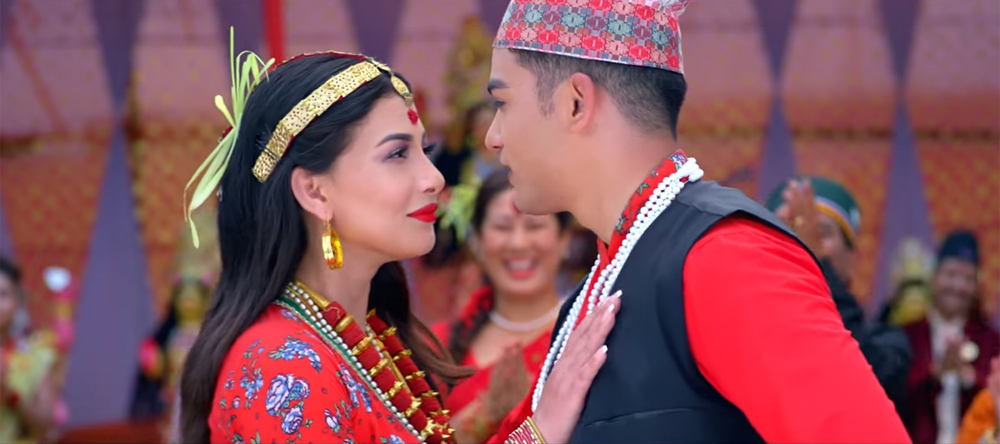 Ashok Sharma has failed again. After a remarkable career in the Nepali cinema industry and disappearing for a long time, the veteran actor-producer has been trying hard to make a comeback. While his Jai Bhole released around Dashain, last year, was accused of jeopardising the career of creative artist Khagendra Lamichhane, Sharma's recent Rato Tika Nidharma is not much different. Besides the movie's failure to appeal to the critics and the audience, the Nepali cinema history in the future will only remember this week's release as Sharma's unsuccessful attempt to introduce his son Ankit as a 'hero'.
Lack of focus yet again
Sharma's Jai Bhole was marred by its divided focus; the audience was left torn between a comic love story and a culture conservation campaign. One year after that, the director is in front of us again, ready to confuse as effectively as he did last year. He appeals to you to go watch the movie as the trailer shows the replay of the timeless Rato Tika Nidharma song accompanied by a dance. But, you will find yourself disappointed as soon as the movie begins.
Frankly, the first 30 minutes of the movie has a lot to confuse you. You see two wayward lovers, Aakash (Ankit) and Dristi (Samragyee Shah) accompanied by two middle-aged friends. They have their own jobs but are also involved in deceiving people (though the movie does not clearly tell you how the four collectively deceive people). On the other hand, you see a group of people, led by a leader (Raja Ram Paudel) staging a fast-unto-death. While the hunger strike scenes occupy around 10 minutes of the movie's first half (remember 10 minutes mean a lot in a carefully planned movie), you will never know the strikers' purpose.
The movie strives to make the audience laugh, but that is more forceful than spontaneous. Between two friends of Aakash and Dristi, Mohit (Rabindra Jha) looks a bit human and realistic, but Ganesh (Buddhi Tamang) is totally a fictional character. He has a unique 'ailment': whenever he sneezes, he loses his memory and does not recognise anyone, including his wife and daughter. After a few minutes, he's fine. Whereas human beings are prone to various mental diseases such as Alzheimer's and schizophrenia that could make them forget the reality, the characterisation of Ganesh ridicules this fragility of human nature and limits survivors of such diseases to mere laughing stocks. This is offensive and inhumane.
The movie has a lot of lame jokes. We have a minor character named Simple (Neeta Dhungana) who does not understand even simple things around her. On the day she elopes with Mohit, she feels nauseous and fears that she is pregnant. When Mohit tells her that they are just married, Simple in her fake innocence says, "No one has ever told me that you need to get married before you become pregnant." We have yet another character who walks miles without realising where he is, just because a doctor prescribed him regular walks.
Artless moral preaching
A few minutes before the intermission, the movie evolves into a moral lesson and it continues throughout the movie. In fact, the comic and love story dimensions of the movie are overshadowed by the moral preaching in the second half.
To highlight the patriotic and progressive agenda that the youth should modernise agriculture in Nepal instead of going abroad, the movie turns the lovers into foes now; Dristi becomes an agriculture modernisation and women empowerment campaigner whereas Aakash becomes an agent of a foreign employment recruiter. To give more power to the conflict, the writer cum director Sharma does not only make Dristi marry a green card-holder guy, he kills her husband in the story and makes Dristi return home.
The way that Dristi and Aakash meet again is also equally dramatic. Before their meeting, you are not told that Dristi's husband and Aakash belong to the same village. Hence, the movie's moral preaching is also forceful and invented than spontaneous.
There is nothing wrong for an art project to teach moral lessons; a lot of fictions and films do that. In fact, almost all works of literature and art have some moral lessons; but they are all covert. Rato Tika Nidharma is problematic because the moral lesson it has is so overt that it subdues the artistic dimension of the movie. The movie, at the end, turns out to be an agenda-setting video work instead of a commercial movie.
Acting and cinematography
Mediocre acting and cinematography are okay because they frequently remind the audience that they should not expect much from the movie. Debutante Ankit Sharma needs a lot of training in acting and dialogue delivery if he really wants to develop a career in the industry. Shah does justice to the role of a widowed semi-rural woman. While her acting has significantly improved from her past appearances, her dialogue delivery, at times, sounds artificial. In her next productions, she needs to go the setting and get accustomed to the life of the character she plays so that she can do it as lively and naturally as possible.
It is worthless to comment on other actors because the story does not give them any significant role. However, Aruna Karki and Arjun Shrestha make an impression. Rabindra Jha, Buddhi Tamang, Jaya Nanda Lama and Raja Ram Paudel look boring as they do not offer anything new.
The camerawork is okay, but it does not have any close-up shot which could give different effects to the audience. Background sounds are loud and disturbing. Overall, the movie is poorly produced and edited. The Rato Tika Nidharma dance that is shown a few minutes before the curtains fall is a great relief that could help you forget all the gaps that you noticed in the movie.
Verdict
Ashok Sharma has promised to release his next project 'Allare 2' around Dashain the next year. Before that, he needs to learn lessons from the responses he earned from Jai Bhole and Rato Tika Nidharma. In particular, the veteran director now needs to realise that a focus matters a lot in a commercial movie. After all, a single project cannot give everything from a moral lesson to love story and comedy.
—
Rato Tika Nidharma
Runtime: 115 minutes
Genre: Drama, comedy
Screenwriter/Director: Ashok Sharma
Cast: Ankit Sharma, Samragyee Shah, Neeta Dhungana, Buddhi Tamang, Rabindra Jha, Shiva Hari Poudel, Khusbu Khadka, Laxmi Giri, Aruna Karki, Basundhara Bhusal, Jaya Nanda Lama, Rajaram Poudel
1.5/5