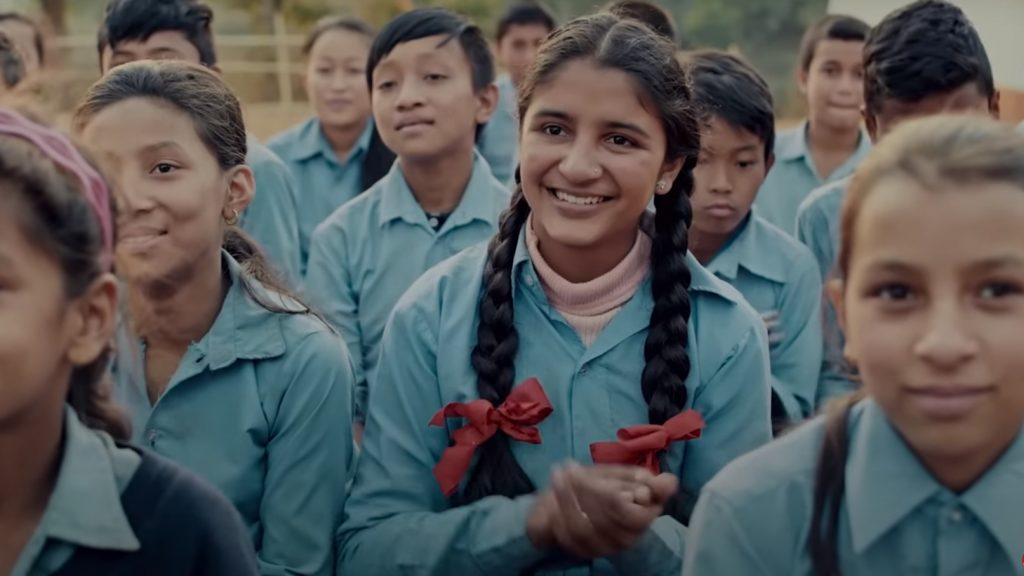 Ainaa Jhyal Ko Putali (Butterfly on a Windowpane) is different from most films made in Nepal. It does not have star actors or even actors to lead the plot, and neither are the makers commercially hit producers. Then, the film does not have any songs, and it does not have any fights. Even films of other genres also tend to include some pinch of romance or comedy to spice up their projects these days, but Ainaa Jhyal Ko Putali refrains from that.
Yet, the film grips your attention as long as you are inside the cinema hall (nearly two hours including the intermission), and for many, the impressions–many positive and some negative–might last for the next few hours after that.
The film may falter commercially as it has been many months since film halls in Kathmandu witnessed a houseful of spectators for the last time. Moreover, Ainaa Jhyal Ko Putali is released in difficult times. Yet, it has been successful to consider that such "different films" are essentially desirable in the Nepali film industry as they compel film professionals and audiences to explore new possibilities in the industry in terms of both content and format.
A remoteness within the industry
Ainaa Jhyal Ko Putali has become probably the first film in recent years that does not have any mainstream actors yet got shown in the theatres. It has even completed the first week of shows–receiving rave comments from people who have the name and fame in their sectors (on their social media).
The film revolves around the story of two children–Bidya and Basanta (acted by Kanchan Chimariya and Dinesh Khatri respectively)–from a remote village. This is where the film stands out at first because Nepali filmmakers are least concerned about telling the stories of children, that too from the countryside.
The story triggers many thoughts about childhood dreams, sibling love-hate relationships, teenage psychology and personality development, child labour, and quality education (these themes, of course, are relatable to urban children also). Covering all these issues in one project could have cost the film its focus, but thanks to the skilful handling of the team, Ainaa Jhyal Ko Putali has ended up being a cute movie.
Although there have been some films about early marriage, another major and perhaps the most important theme of Ainaa Jhyal Ko Putali (sorry for the spoiler), the way the story has been woven to represent that is quite different; it gets manifested quite slow. And, this difference is something that the industry was long waiting for.
Without any known poster boy or girl, writer and director Sujit Bidari and his team of producers–Prabin Syangbo, Akash Poudel and Ram Krishna Pokharel–have indeed risked their money, time and effort in deciding to show their film in the theatres. But, they must be happy with the comments they have seen on social media and mainstream media now.
Non-stars steal the show
The film has less than one dozen actors, and except for a few, most of them are non-actors. As reported, three major characters–Chimariya, Khatri and Umesh Shrestha (in the role of Basanta's best friend)–had not seen any film before Ainaa Jhyal Ko Putali's shooting four years ago. Yet, their acting is not less impressive than any actor trained for years. Perhaps because they were not skilled in acting, their performance looks more like reality than acting. Director Bidari as well as casting directors Kedar Shrestha and Akash Magar deserve compliments for their job.
Among them too, Khatri leaves his peers behind with his curious eyes, innocent behaviour, and rural intonation. Chimariya's face also honestly reflects the aspirations the character has. Umesh Shrestha does not look innocent in his acting, but given that his character does not demand so, he also looks natural.
Besides them, the actor that the audience remembers is Siru Bista (acting Bidya's mother) who has carried a burdensome role of a woman whose life has been a misery yet has to inspire her children to study hard and learn life skills. Acting as the wife of an irresponsible drunkard (acted by Ashok Siwakoti), Bista has successfully presented herself as a woman who can smile and cry at the same time.
Raj Thapa Kaucha's acting is okay as a supporting character, but Bisha Chamling Rai, Mallika Shrestha and Padam Prasad Paudel do not impress.
Reality check
The actors' realistic acting in Ainaa Jhyal Ko Putali is backed by realistic settings. Visually, this has been a praiseworthy project with a proper balance between wide and closeup shots. Wide shots showing pristine agricultural farms, thatched houses, wide school grounds and the river without a bridge together take you to the remote village, but at the same time, closeup shots help you focus on your characters.
Although shot four years ago, the film has tried and been successful to tell the audience that the film tells a wartime story as radio news is overheard many times. But, this is quite strange that besides the radio news, the film does not have any reference to the armed conflict that the country witnessed for a decade (1996-2006). For critical audiences, the missing connection is apparent.
It means Ainaa Jhyal Ko Putali is not free from flaws. Some shots look too long as they delay the progress of the plot. The runtime is just one hour and 36 minutes, yet at some moments, the audience feels it is longer than necessary. By avoiding such shots, the makers instead could have lengthened the plot to show what Baange (Umesh Shrestha) does after leaving the village.
Also, they could further elaborate on the butterfly metaphor that beautifully unifies the plot – at the beginning and the end.
Verdict
Apparently, Ainaa Jhyal Ko Putali does not have any big political or social agenda, but it is also not for hollow entertainment. It is a treat for your eyes, but it also evokes deep thoughts in you.
Even if this has apparent flaws and fails commercially, stakeholders of the Nepali film industry, the audience included, need to give it a sincere look and think about the different messages the film imparts – for both content and presentation.
---
Ainaa Jhyal Ko Putali
Screenwriter/director: Sujit Bidari
Actors: Kanchan Chimariya, Dinesh Khatri, Siru Bista, Ashok Siwakoti, Bisha Chamling Rai, Umesh Shrestha, Mallika Shrestha, Raj Thapa, Padam Prasad Poudel
Casting directors: Kedar Shrestha and Akash Magar
Producers: Prabin Syangbo Aakash Poudel Sujit Bidari Ram Krishna Pokharel
4/5