Kathmandu, November 19
Doctors involved in the treatment of Prakash Dahal, the son of former Prime Minister Pushpa Kamal Dahal, say Prakash was pronounced dead at 6 am on Sunday morning.
The official announcement was made after his father Prachanda arrived at the hospital. According to Dr Yadav Bhatta, who attended to Dahal, Prakash was brought to the hospital at 5 am. He did not have pulse and his hands were already cold, Dr Yadav said. Doctors believe that Prakash had a sudden cardiac arrest at around 2 am on Sunday.
He was cremated at the Pashupati Aryaghat on Sunday afternoon.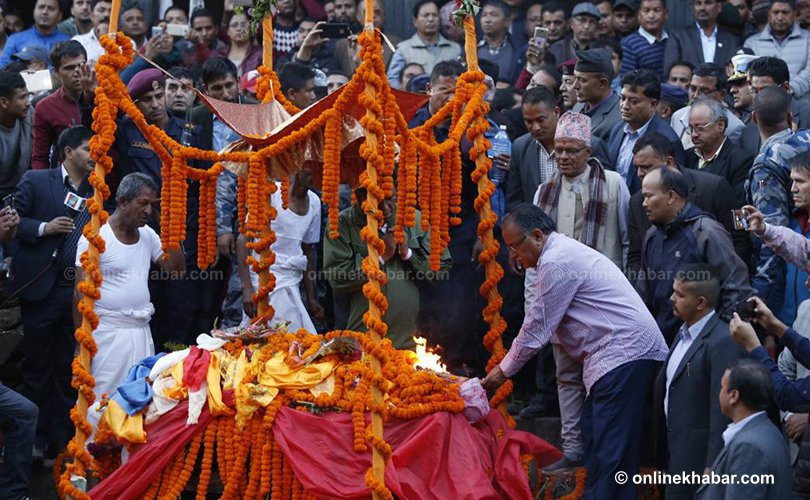 *****
Former Prime Minister and CPN-Maoist Centre Chairman Pushpa Kamal Dahal's son Prakash died of heart attack in Kathmandu on Sunday. He was 36.
A family source says Dahal breathed his last at the Norvic International Hospital in Thapathali of Kathmandu at 5 am today.
The hospital, however, is yet to formally make any announcement. Preparations are underway to organise a press meet to make the announcement, the hospital says.
Former Prime Minister Dahal, who was in Jhapa of eastern Nepal for electioneering, is coming to Kathmandu after learning about his son's death. Prakash' sister Renu, the Mayor of Bharatpur Metropolitan City in Bharatpur district, and other family members are also coming to Kathmandu.
Prakash, who worked as the personal secretary for his father for a long time, had not gone to Jhapa with the father citing some health reasons. He was taken to the hospital unconscious in wee hours today.