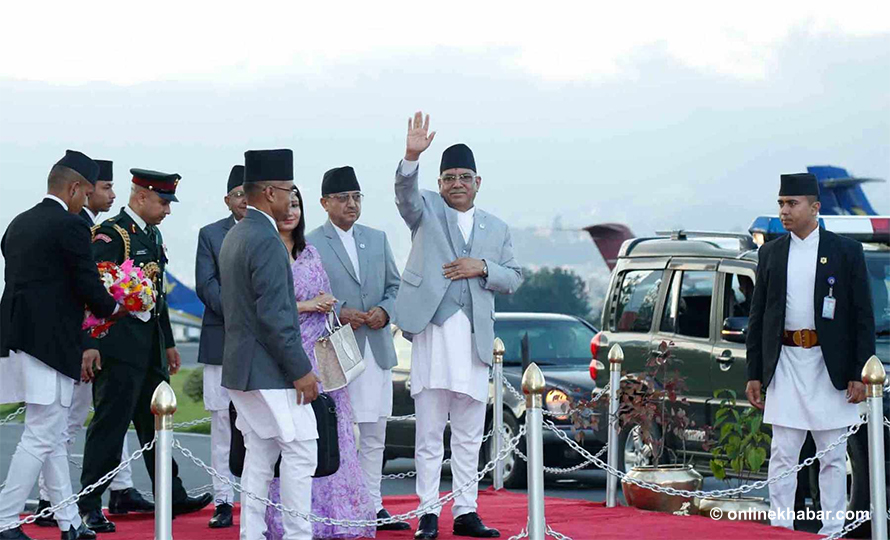 Kathmandu, September 17
Prime Minister Pushpa Kamal Dahal left for New York on Saturday to take part in the 78th Session of the United Nations General Assembly (UNGA) being held at the UN Headquarters in New York.
Speaker Devraj Ghimire, Deputy Prime Minister and Defence Minister Purna Bahadur Khadka, ministers and high-ranking officials of the government bid farewell to the PM at the Tribhuvan International Airport.
The Prime Minister is scheduled to address the United Nations General Assembly and put forth the concerns and interests of Nepal before the international community on September 21.
According to the Ministry of Foreign Affairs, the theme of the General Debate of the 78th UNGA has been chosen as "Rebuilding Trust and Reigniting Global Solidarity: Accelerating Action on the 2030 Agenda and its Sustainable Development Goals towards Peace, Prosperity, Progress and Sustainability for All".
Likewise, the PM is scheduled to address the UN Sustainable Development Goals Summit and Climate Ambition Summit, among others, on the sidelines of the UNGA.
Prime Minister Prachanda will also have a meeting with the United Nations Secretary-General Antonio Guterres and hold bilateral meetings with his counterparts from various countries.
In New York, the Prime Minister is scheduled to attend the reception being hosted by the President of the United States Joe Biden on 19 September.
Addressing the House of Representatives (HoR) meeting on Friday, the Prime Minister stated that his visit would help garner international cooperation and goodwill for Nepal in the areas of peace, sustainable development and climate change.
Nepal, Chairing the Global Coordination Bureau of the Least Developed Countries (LDC), would present the common concerns and agendas of 47 LDCs.
After addressing the high-level session of the 78th session of the UNGA, the PM would directly travel to Hangzhou in China on September 22.