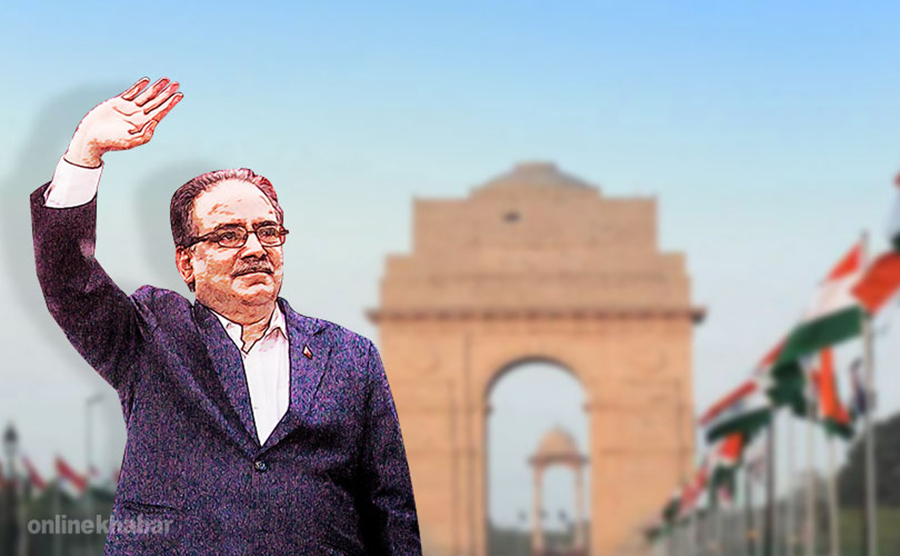 Kathmandu, May 31
Prime Minister Pushpa Kamal Dahal is visiting New Delhi for a four-day official visit.
Dahal and his team will depart for India on a regular flight of national flag carrier, Nepal Airlines, at 1 pm.
Before leaving for India, Dahal will hold a press conference at Tribhuvan International Airport at 12:25 pm.
In New Delhi, Dahal and his delegation will stay at Hotel Maurya on Sardar Patel Marg as arranged by the Government of India.
There he will meet Indian Foreign Secretary Vinay Mohan Kwatra and India's National Security Adviser Ajit Kumar Doval in two separate meetings.
On June 1, Dahal will visit the Mahatma Gandhi memorial at Rajghat and pay tribute to the great Indian leader. Following that, he is scheduled to go to Hyderabad House, the state guesthouse of the Prime Minister of India where he will meet Indian Prime Minister Narendra Modi.
Following their meeting, Dahal and Modi will participate in the delegation-level meeting after which the two will hold a joint press conference.
Indian PM Modi is also hosting a lunch for Dahal and his delegation on Thursday.
Dahal will also meet Indian President Droupadi Murmu and Vice President Jagdeep Dhankhar on Thursday.
After that, PM Dahal will address the Nepal-India Business Summit jointly organised by the Federation of Nepal Chamber of Commerce and Industry (FNCCI) and Confederation of Indian Industry (CII) and interact with businesspersons from both countries.
Likewise, PM Dahal is scheduled to meet with the Nepali community in India at a reception organised by Shankar Prasad Sharma, the Nepali ambassador to India.
It is unclear if Pushpa Kamal Dahal will meet leaders from the Indian National Congress and other parties or not.
On June 2, Dahal will visit Ujjain and Indore in Madhya Pradesh. On June 3, Dahal will return to New Delhi after visiting the waste management plant and Special Economic Zone in Indore. He will return to Nepal on the 4:20 pm Nepal Airlines flight from New Delhi.
Prime Minister Pushpa Kamal Dahal's India visit team approved by the Council of Ministers includes Minister of Physical Infrastructure Prakash Jwala, Minister of Energy, Water Resources and Irrigation Shakti Bahadur Basnet, Minister of Foreign Affairs NP Saud, Minister of Finance Prakash Sharan Mahat, Minister of Industry Ramesh Risal, Dahal's daughter Ganga Dahal and others.