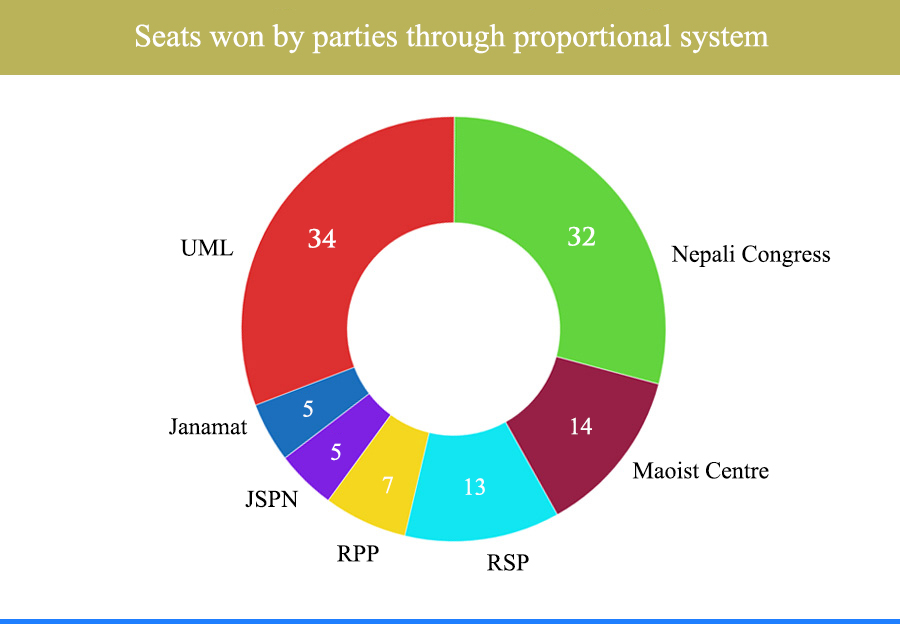 Kathmandu, December 7
The count of the proportional representation votes of the House of Representatives has been completed.
According to the officials at the Election Commission, the numbers have come from all constituencies as it has determined the number of proportional system seats for each party.
Out of the total 10,560,067 valid votes, the UML received 2,845,641 votes, which will give the party 34 proportional seats in the parliament. This will take its total seats to 78.
Nepali Congress received 2,715,255 proportional votes, which gives the party 32 seats, taking its total to 89.
The Maoist Centre received the third most proportional votes as it received 1,175,684 votes, winning 14 more seats taking its total to 32.
Rastriya Swatantra Party and Rastriya Prajatantra Party are next in line winning 13 and 7 seats via the proportional system, taking their total to 20 and 14 seats respectively.
The last two parties that got seats through the three per cent threshold to get the proportional system seats are Janata Samajbadi Party and Janamat Party as they won five seats each, taking their total to 12 and 6 respectively. The seven parties mentioned above became national parties.
The CPN-Unified Socialist, that won 10 seats through the FPTP system, failed to cross the 3 per cent threshold as it failed to become a national party along with Loktantrik Samajbadi Party, Nagarik Unmukti Party, Rastriya Janamorcha and Nepal Workers and Peasants Party.