Plastic is harmful; burning plastic is harmful; plastic is this; plastic is that.
The negative impacts of plastics and their use have been advertised and talked about a lot in Nepal in recent years. But, a group of people is now trying to change the misunderstood notion, by burning them, in the form of plastic briquettes. Crazy one might say, but these environment enthusiasts claim burning plastics is exactly the solution the Kathmandu city, which is suffering from huge solid waste management and disposal problems, needs.
But, do not jump the gun just yet. These researchers associated with the Centre for Energy and Environment Nepal (CEEN) under the leadership of Ramesh Man Singh, a chemical engineer, are not supporting the haphazard burning of plastics rather a selective range of plastics, in a smart and eco-friendly way.
Briquettes in Nepal: Past and present
Briquetting in Nepal was first introduced in the early 1980s when they were made with charcoal from rice husk and molasses binder. The trend saw a spike in the next few years as a few industries were registered but fell rather quickly. Another rise was in the blockade of 1989 with different types of briquettes, but the trend again collapsed in less than 10 years. At the same time, CEEN President Krishna Raj Shrestha started his organisation and introduced the biomass briquetting technique. However, the feat was all being conducted in a hush-hush.
After the blockade in 2015 too, the importance of briquettes was realised again. Among different types of briquettes, beehive briquettes of coal are more commonly known and used today.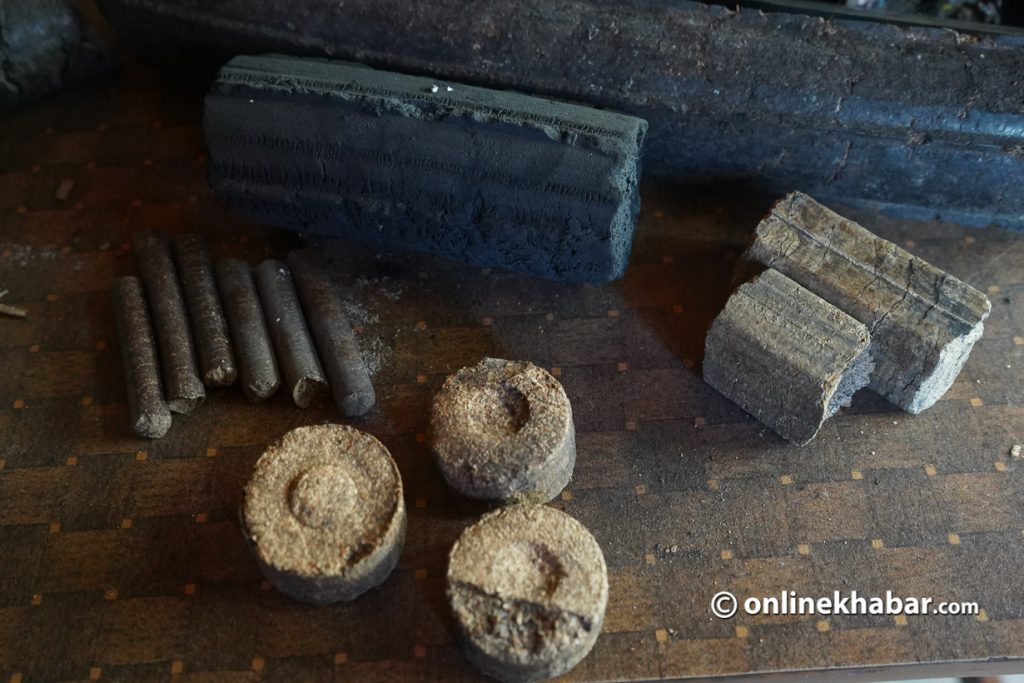 But, the briquettes being discussed here are made of plastics, mixed in equal ratio with paper. As of now, CEEN has been trying to make plastic briquettes out of discarded noodle and cheese ball packets, following efforts of over two years. This is also called refuse-derived fuel, he says.
CEEN Secretary Deepesh Raj Sharma explains, "We are in the final stage of our research and testing. A factory helped us in gathering the unused and damaged noodle packets that would have been a 100 per cent waste. After collection, we shredded the plastics. And keeping the weight ratio of 1:1, we shredded the paper and then mixed the two. The mixture then goes straight to the screw extruder briquetting units where the mixture is compressed and moulded into a cylindrical shape, in the temperature ranging from 150 °C to 350 °C."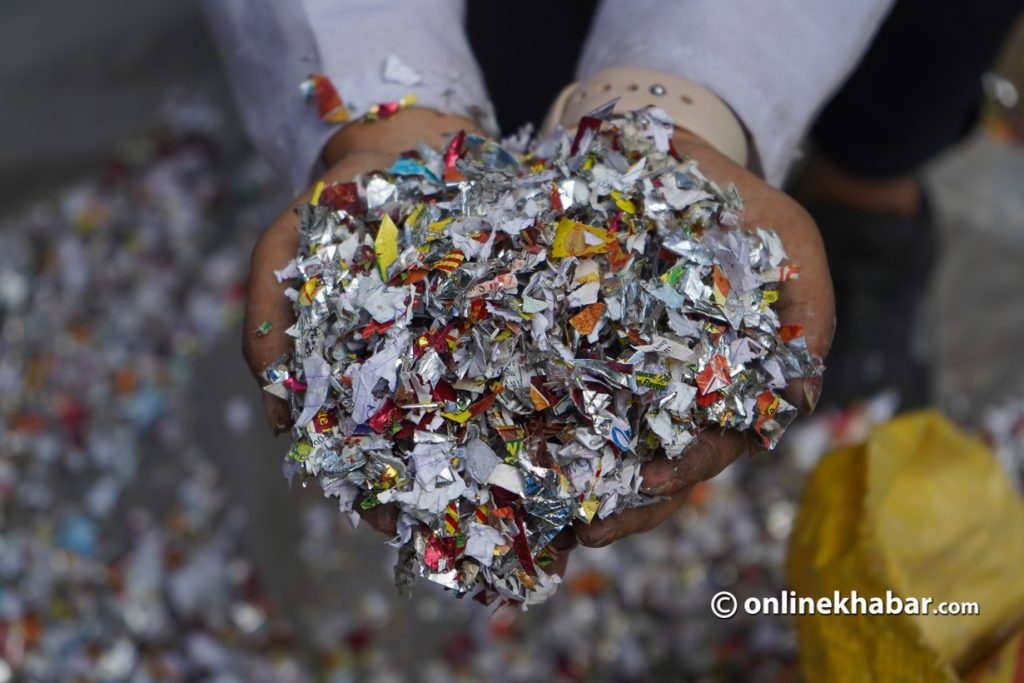 From this process, they can ready about a foot-long briquette within some five minutes. Depending on the range of temperatures, the output varies in outlook and burning time, but the density remains the same, Singh explains.
They are also experimenting with the mixture in a 3:2 ratio of plastic and paper as well as 100 per cent plastic and 100 per cent paper. This, they hope, will help them cater to a range of users and also give them the right solution for proper management and disposal of plastics within the valley.
Nevertheless, their primary target consumers are factories, big or small, for commercial use. "It is not for household use. Our target is to replace the bulky, commercial use of firewood in the industries or factories, with a collateral benefit of getting rid of the non-biodegradable solid waste in Kathmandu."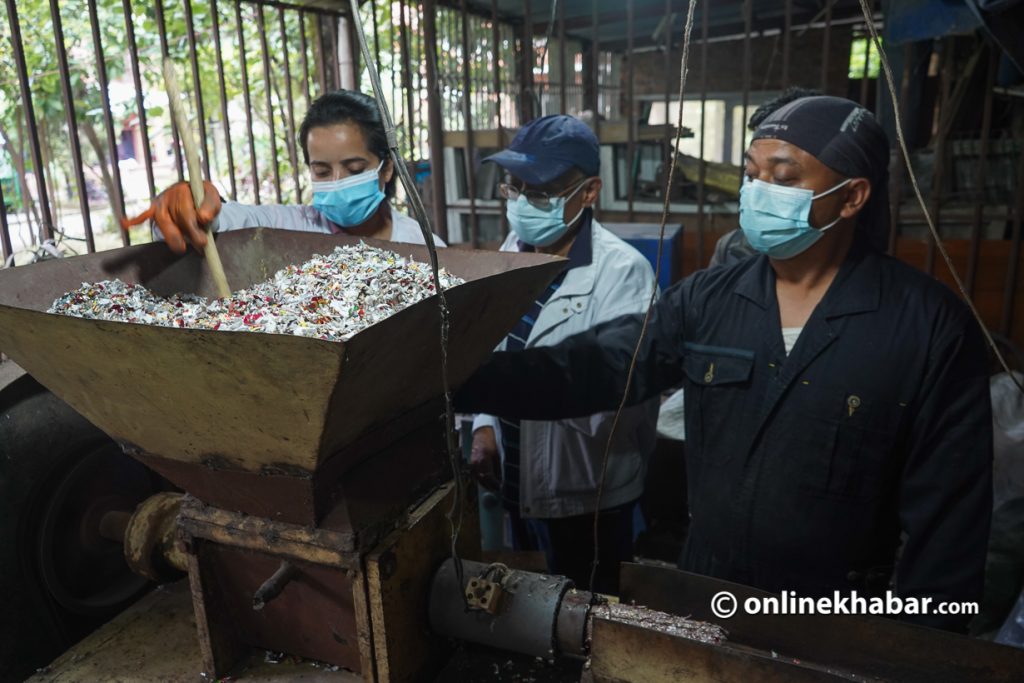 Behind this alternative thought
The research began some two years ago when the team started testing its theories. But, Singh, who previously worked in the Nepal Academy of Science and Technology (NAST), says he had tried to turn the idea into reality some 20 years ago. "Even with multiple attempts, there were close to no support for the idea. There was budget; there were equipment and people, but no support," shares Singh, who is glad the idea is now here, better late than never.
"If you see the plastic consumption by humankind across the world, Nepali people consume about 1 kg per capita annually whereas, in developed countries, it has gone up to 120 kg per capita. Yet, we are the ones struggling to keep the solid waste in check. We lack efficiency in segregation and management of the solid waste produced here, and it is pretty evident to all," adds Singh.
It is also beneficial because, he adds, of its calorific value. "The plastic briquettes are denser in nature; they release heat slowly but are intense. In comparison to firewood [with the calorific value of 3,700 Kcal/kg], our briquettes have the calorific value of 5,700 Kcal/kg, making them efficient. Hence, plastic briquettes can be a great alternative for firewood."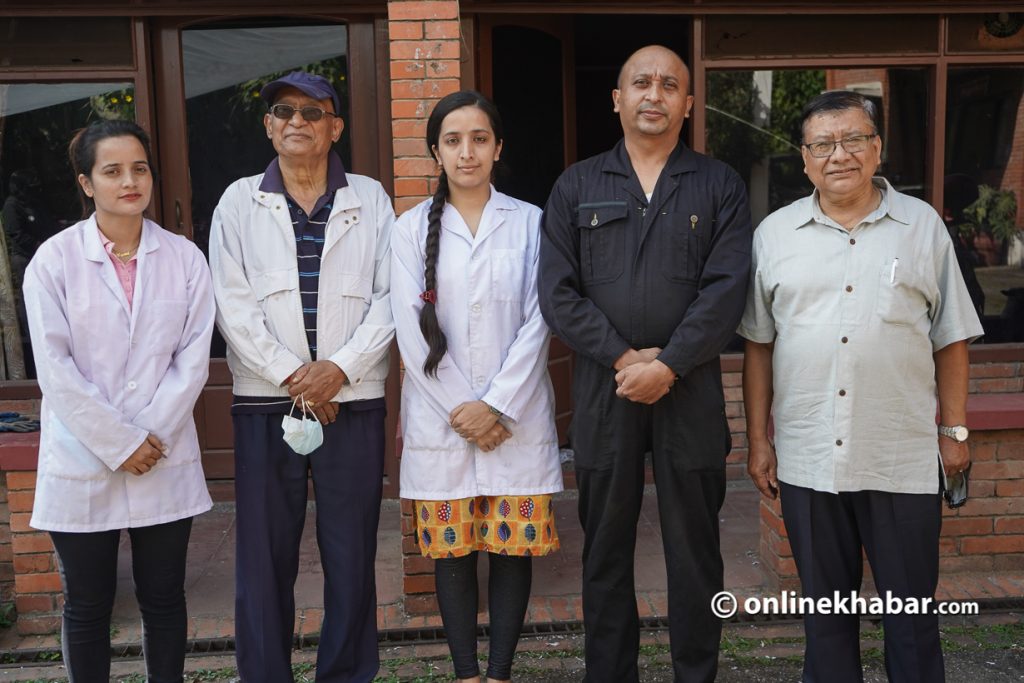 "The Nepal government has also tried banning plastic use within the Kathmandu valley. Among many other attempts to make use of plastics, we have come up with a sustainable solution. We are yet to confirm results for mixed plastics, 100 per cent plastic briquettes and paper briquettes, but the research is going strong simultaneously," assures Singh.
How does it work?
The very first thought that strikes one's mind is whether the briquettes are safe, environmentally, regardless of the researchers' claims. This is obvious, they say, as media, activists and environment enthusiasts have always advertised that burning plastic is harmful. "We have tested the plastic briquettes, side by side with the firewood, and we can confirm they are absolutely safe to use," confirms Singh. But, there is a need for ample air supply for combustion.
There are basically seven types of plastics in use. According to Singh, "The kind of plastic that has been deemed harmful is the PVC plastic as it has high emission rate and its smoke is harmful to inhale. But, the plastics we are burning is the PE, PET, PP and PS kinds. They are broken down into the smallest pieces and burned in high heat. The compact nature of the plastic briquettes and the high heat environment result in the lowest [carbon] emission. In our months of test, we have found that the emission is even less than that from the firewoods."
Adding, he says, even PVC plastics can be turned to RDF provided that some slaked lime is added to capture the harmful emissions.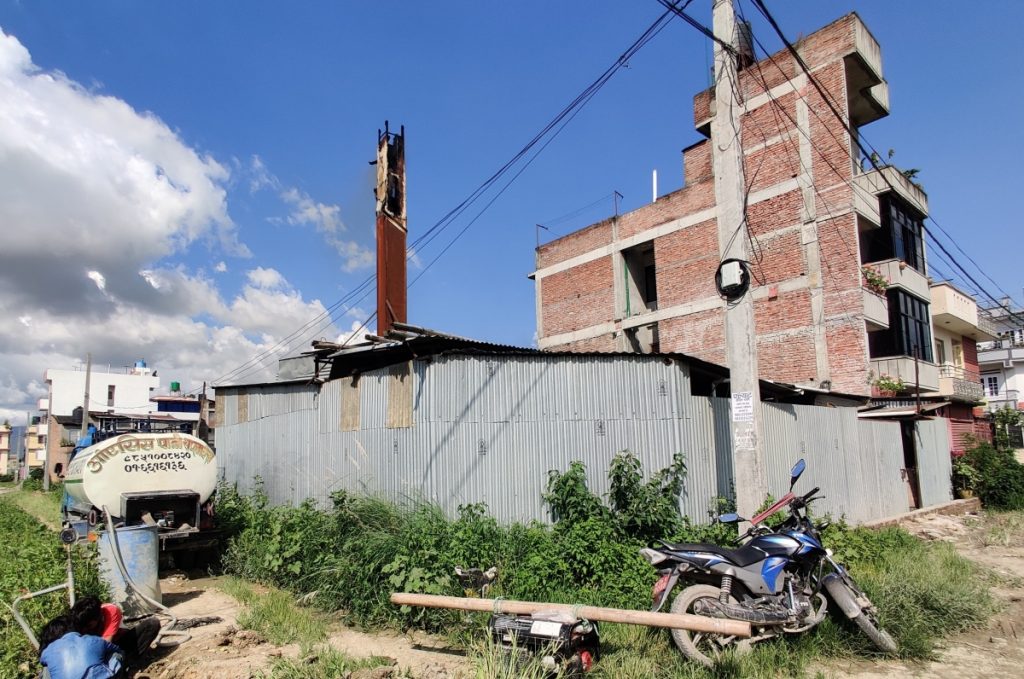 They are testing their products in a ceramic factory in Madhyapur Thimi. The team has been working with a local ceramist, Hari Govinda Prajapati there. Prajapati says, "Previously when I used firewood, I needed about 80 kg of firewood per month while the same work is being done in just about 32 kg briquette per month."
Not just the quantity, it has been cost-effective too. "Firewood costs about Rs 25-50 per kg depending on the type of wood while the plastic briquettes cost only about Rs 10-15 per kg," says Prajapati.