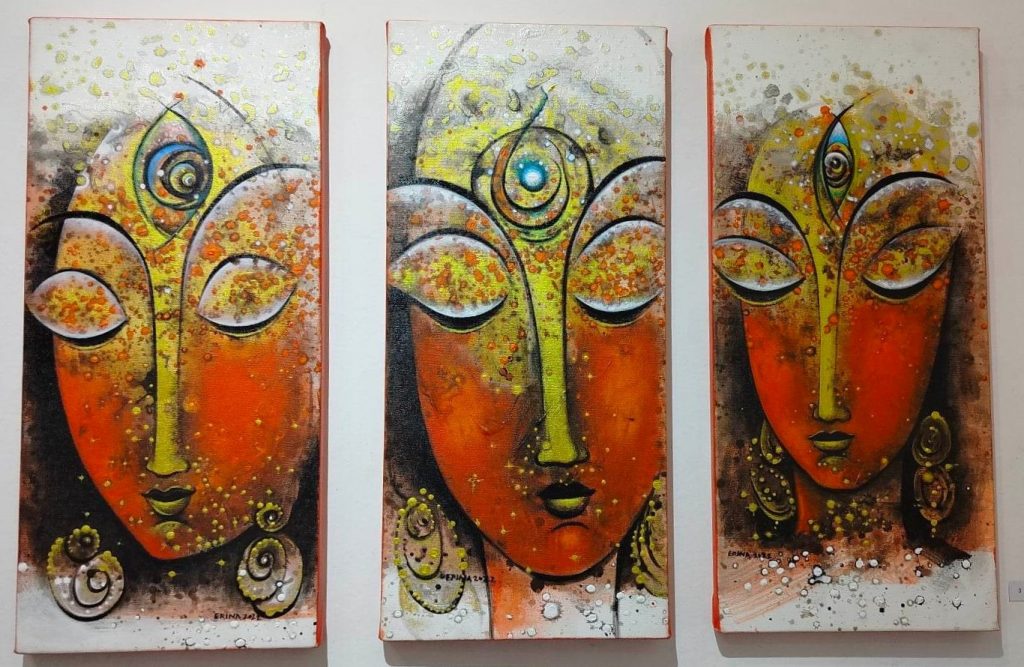 It is the month of February and, no doubt, there is love in the air. And, cashing in on the romantic atmosphere, artist duo—Erina Tamrakar and Asha Dangol—are exhibiting a painting exhibition, Parallel Journey, at MCube Gallery, Chakupat, Patan.
This exhibition, curated by artist Manish Shrestha, is their fourth exhibition together as a couple.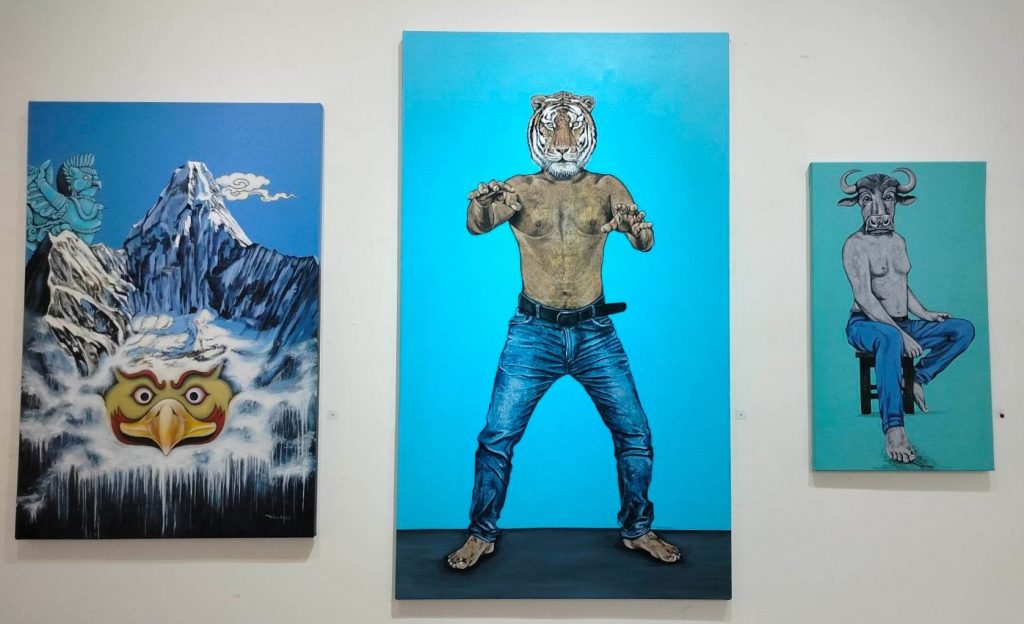 According to Shrestha, Parallel Journey was planned for February two years ago as a tribute to their working together for the last three decades.
Hues like red, gold, grey, white and black dominate the paintings of Tamrakar and she depicts females in her figurative paintings. Likewise, the human figure (portraying self) is one of the repetitive motifs of Dangol along with various animals. Meanwhile, the colours tale blue, tale green, black and more have been used in his paintings.
The exhibition
There are 36 paintings, using acrylic on canvas, displayed on the ground and first floors of the gallery. The exhibition is a visual treat with vibrant colours and motifs used by them.
Tamrakar's paintings suggest her inner psyche of transformation of a woman—from innocent and vulnerable to a powerful, knowledgeable and expressive person— as female figures dominate her painting along with the colour red.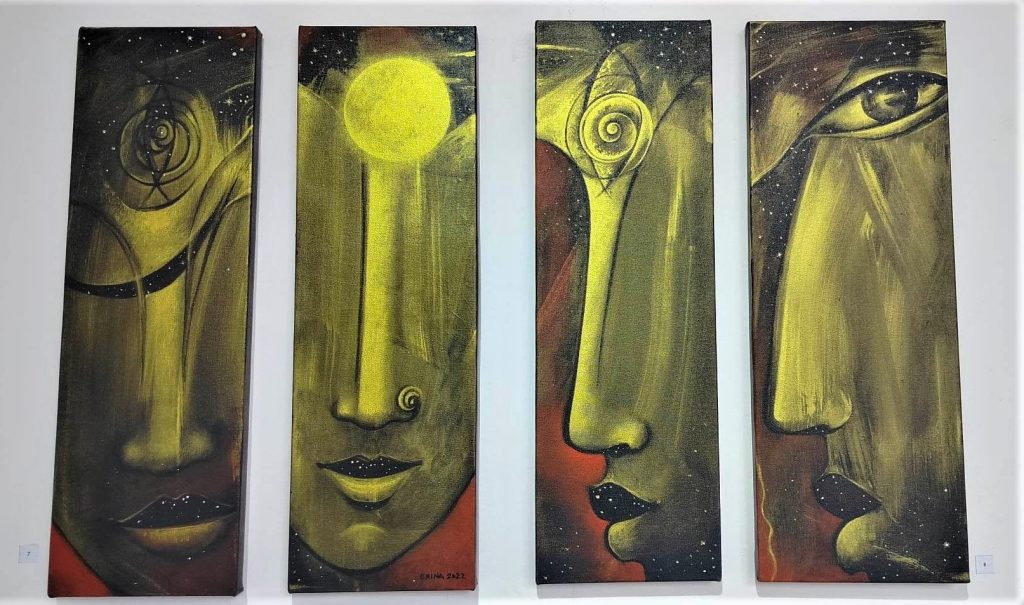 Her paintings portray a sense of meditation and uplifting the power of women as most of the eyes of the figure are closed, but some figures have opened their third eyes.
Meanwhile, Dangol has raised the question about humanity, ecology and the well-being of the earth. This vegetarian artist has emphasised to the importance of the lives of the animals for a balanced environment.
Along with that, he focuses on their protection to save the world from various disasters, which are occurring due to the unbalance of lives of humans and animals in nature.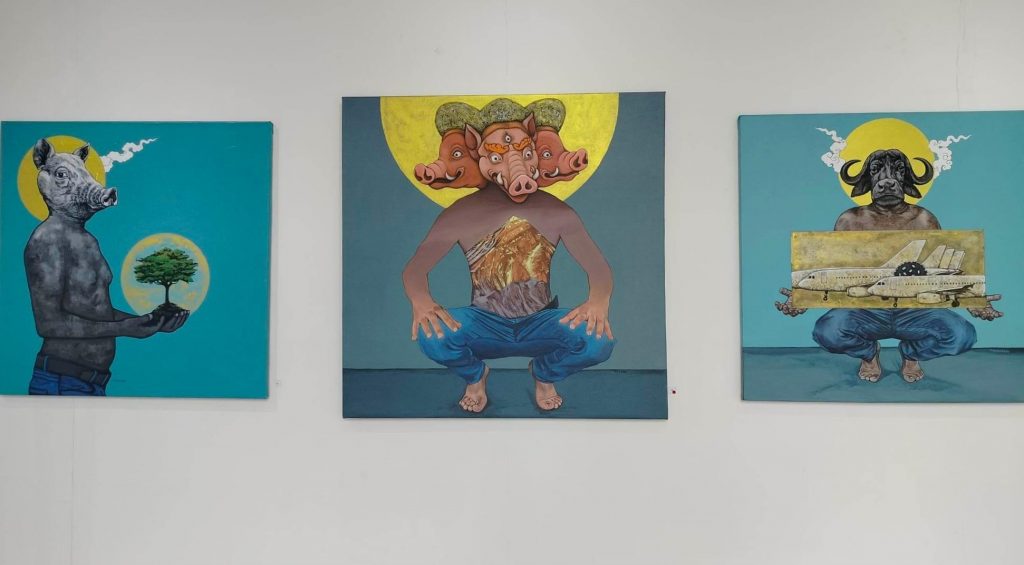 The exhibition began on February 3. On February 14, on the occasion of Valentine's Day, the gallery organised a talk programme with the artists.
The exhibition continues till February 17.
The couples' artistic journey
This husband and wife duo have been together since their initial days as artists. Their bond became stronger when along with five other artists, they formed the group Kasthamandap in the 90s. Since then, these two have been the most prominent voices of the group.
Now, they are also the co-founders of e-arts Nepal, which is a digital platform for artists. They have also been active in organising and managing different art events and The Himalayan Art Festival is one of the notable art festivals of Nepal organised by e-arts.
They are not only limited to paintings. Since 2000, they have been exploring new media in their art practice. Along with that, they are also seen doing performance arts and installation arts. And this duo seem to be unstoppable in terms of exploring their artistic horizon.