Ripple effects of the leftist alliance between the CPN-UML and the CPN-Maoist Centre continue to be featured in opinion pages of Nepali and English broadsheet dailies published from Kathmandu on Sunday as well. Likewise, as elections to House of Representatives and provincial assemblies are coming closer, articles about the elections and possible implications of poll results have also been prioritised. Few articles have also discussed contemporary social and economic issues.
Elections and propaganda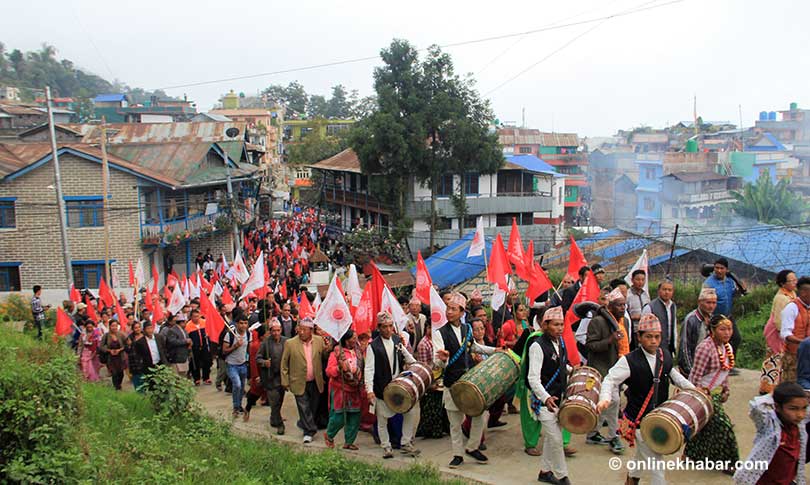 Political analyst Krishna Khanal in his lead article for Kantipur has discussed rumours spread by the opposition alliance that the government is preparing to postpone the elections. Khanal views that these rumours are just a part of propaganda created to solicit more votes for their parties and they do not have solid foundations.
Khanal claims that the UML had been rumouring that elections would not be held on time since the toppling of the government led by its Chairman KP Sharma Oli. He informs Maoist Centre Chairman Pushpa Kamal Dahal was defending the government against such rumours till a month ago, but now he has also partnered with Oli. He uses these examples to assert his point that any party can promote such rumours and propaganda in the run-up to elections and hence the people need not take them seriously.
Meanwhile, Khanal also discusses implications of a recent Supreme Court order about using different ballot papers for House of Representatives and provincial assemblies as it has been presented as a ground of fear about delays in elections. Though he supports the court order in principle that different ballot papers are needed for different legislative bodies, he also maintains that given the time we have before the polls, the court does not have any option than to issue an order to guide the future course of action so that its order cannot be used to spread baseless rumours against timely polls.
Meanwhile, Narayan Paudel in Rajdhani also discusses suspicions raised against timely elections and concludes that there is no point in doubting the polls as nominations have already been filed for the first phase of polls. Paudel also takes the opportunity to crticise policies and priorities of political parties claiming they have not been able to lead the country towards development and prosperity.
Costs of power-centric politics
Dilliram Mishran in Nepal Samacharpatra discusses malpractices existing in multiparty democratic system that is in practice in the country since 1990. He begins his article explaining why the party-less Panchayat system was a "golden era" for good governance and infrastructural development, adding in the multiparty era, parties have shown too much lust for power and it has cost good governance and development.
He says Nepal was the 134th richest county of the world in 1990 but it has been fallen down to the 158th position now to argue that Prime Minister Sher Bahadur Deuba's jumbo Cabinet is another example of power games that the political parties are playing at the cost of development and prosperity. "There is no vision and purpose of expanding the Cabinet. Taking out an ugly rally of ministers at Singhdarbar shows the downfall of Sher Bahadur."
He presents a hopeless picture of future as the country fully adopts federal system as there will be more lawmakers and they will also continue to indulge in abuse of national resources for personal benefits, concluding with the suggestion that politicians need to maintain their dignity in order to ensure implementation of laws.
Secular state against secularism?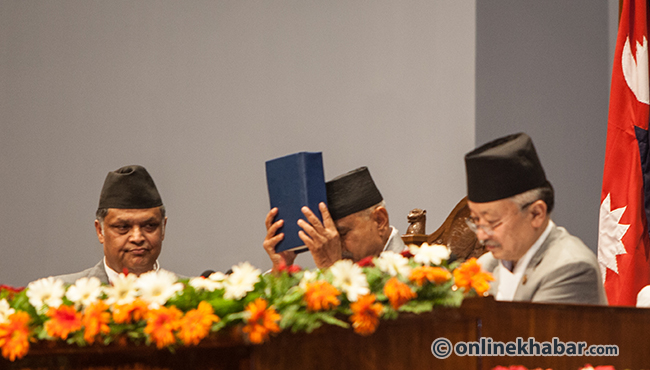 Nepal's former lawmaker Lokmani Dhakal and the Chairman of International Panel of Parliamentaries for Freedom of Religion and Belief David Anderson, who is also a Canadian lawmaker, have co-authored an article in The Kathmandu Post today arguing though the new constitution has established Nepal as a secular state, its key provisions are not secular.
"International parliamentarians were shocked to find that… there are certain constitutional provisions that infringe upon freedom of religion or belief in the country. Of particular concern is Article 26(3), which jeopardaises the fundamental right of every individual to follow a religion of his or her own choice and to manifest that religion in word and action," they write adding that the recently passed Criminal Code Bill also has some provisions about religion that are poorly defined and hence liable to be widely misused.