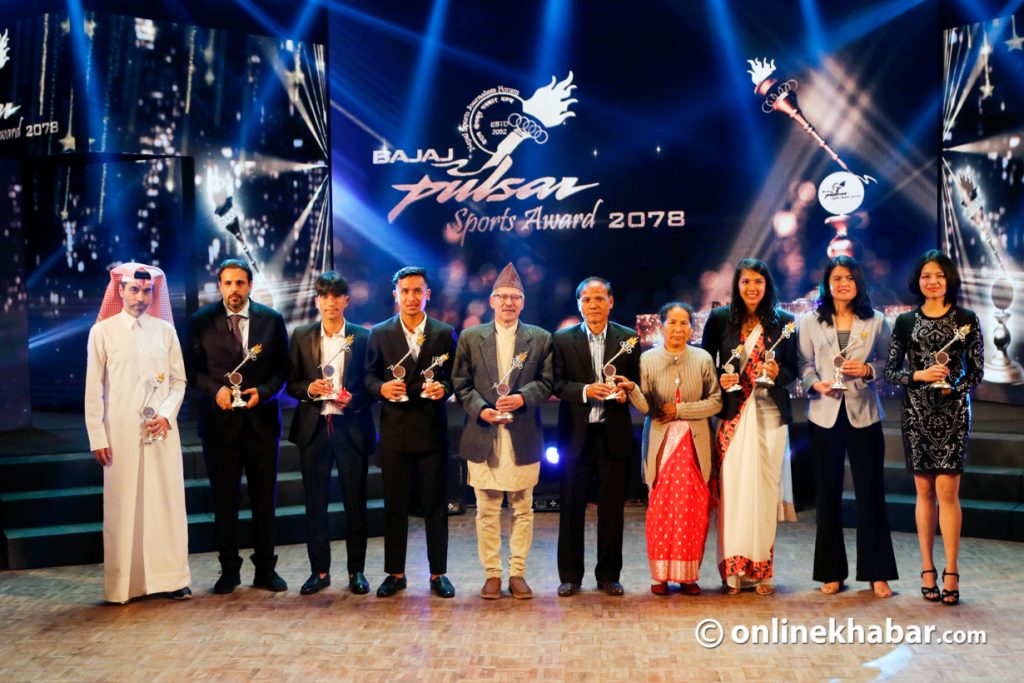 Kathmandu, March 7
Football dominated the 19th Pulsar Sports Award which was held in Kathmandu on Wednesday. This year, the awards were distributed in nine categories.
Nepal had reached the third round of Asia Cup Qualifiers and the final of the SAFF Championship for the first time during the award's reference period (mid-April 2021-mid-April 2022).
Footballer Anjan Bista won player of the year in the men's category while volleyball player Aruna Shahi won player of the year in the women's category.
Abdullah Al Mutairi, who was shrouded in controversy during his time as the head coach of the national team, won the coach of the year while Manish Dangi won the young player of the year award.
Volleyball player Usha Bhandari won the people's choice award and taekwondoin Palesha Govardan was announced as the para-athlete of the year.
Sprinter and seven-time national champion Raghu Raj Wanta was given a lifetime achievement award thanks to his contribution to Nepali athletics.
A special award was given to Dan Bahadur Tamang and Maya Devi Moktan for nurturing three badminton players – Ranjit, Sara Devi and Nangsal Devi Tamang.
Qatari journalist Mohammed Al Hiji was given the Asian journalist award by NSJF.
The award, offered by the Nepal Sports Journalists Forum, an umbrella organisation of Nepali sports journalists, is the most coveted sports award in the country.