The future of Nepali football will be determined on Monday as the members of the All Nepal Football Association (ANFA) will decide who will lead the Nepali football governing body for the next four years. The first job of the person who wins the elections will be to decide what to do with Nepali national team coach Abdullah Al Mutairi.
But, regardless of who will win the elections, it is likely that the controversial coach will not find any favour for him.
All eyes on the election
Al Mutairi has been a controversial figure ever since he has taken the hot seat of Nepali football. Recently, he took an under-strength football team to the AFC Asian Cup Qualifiers in Kuwait. He decided to omit 10 key players due to his differences with them and took Nepal to the qualifiers where the team lost all three games, capping it off with an embarrassing 7-0 defeat against Indonesia.
The players have returned to Nepal, but Abdullah Al Mutairi has not as he has taken a medical leave.
"He had taken a medical leave before we left for Kuwait. He has to undergo some tests and treatment; that will take some time," informs ANFA's general secretary Indra Man Tuladhar.
Abdullah Al Mutairi has been suffering from heart-related illness for quite some time. He has repeatedly told the media how he had to quit playing football due to this. The situation got worse during the game against Kuwait when he collapsed during the match. He was immediately rushed to the hospital.
But, there are people who argue that Abdullah Al Mutairi has not returned with the team as he is waiting for ANFA election results as he feels his future hinges on the who becomes the president of the governing body.
Already at bay
Why? There are two reasons.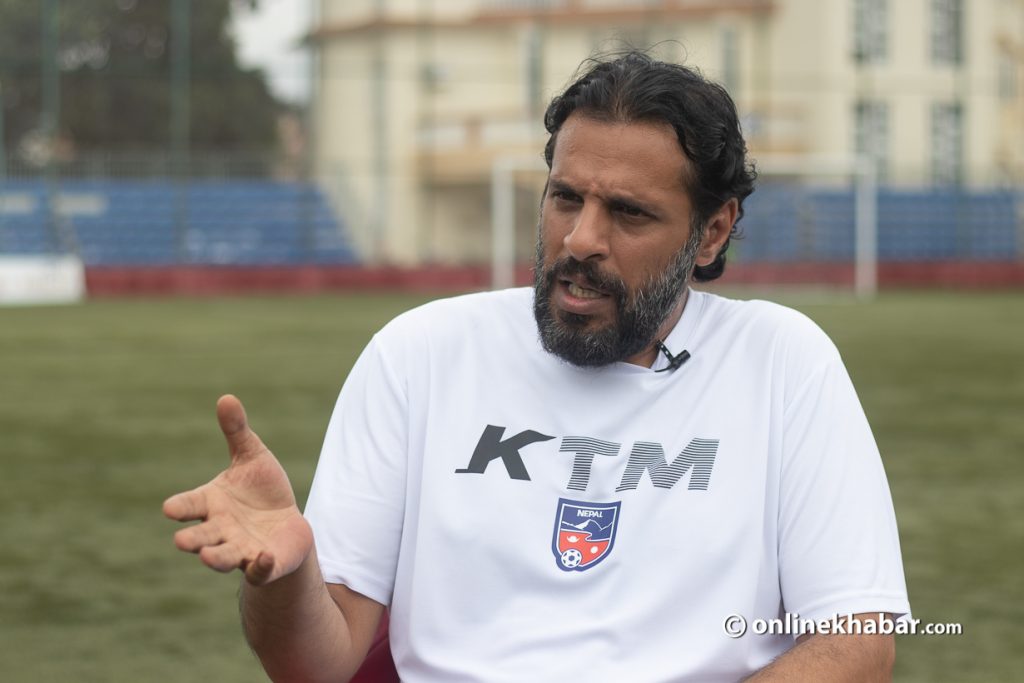 The first is his dispute with the senior players who left camp on April 25 after having a dispute with Abdullah Al Mutairi. The panel formed by ANFA to investigate the case had asked the governing body to find an alternative to Al Mutairi, after the Asian Cup Qualifier. ANFA officials have continuously said that the new president of ANFA will make the decision on his future.
Secondly, Al Mutairi's relationship with presidential candidate Pankaj Nembang has not been that great. He even said he was resigning, as he could no longer work with a person like Nembang.
And with Nembang and Karma Tsering Sherpa locking horns for the ANFA presidency, it will be interesting to see what the elected president will do with Al Mutairi. It is almost certain that Nembang will heed the advice given by the ANFA panel and sack Al Mutairi.
Even if Sherpa is elected, it is likely that he too will seek an alternative to Abdullah Al Mutairi. The 10 players who left the team are also likely to make a comeback and it would be hard for them to work with a coach with whom they have had a dispute. So, if Sherpa wants the team to do well, he will have to change the coach.
ANFA's former president Narendra Shrestha believes that it was best that ANFA found an alternative to Al Mutairi.
"How can they play for a coach they don't respect? It won't be good for the team," says Shrestha. "The panel has also recommended that ANFA find an alternative so I think whoever wins the election, Al Mutairi will be removed."
A quick review
Al Mutairi was sent by the Qatar Football Association under a grant to coach the Nepal national football team. The QFA bears all his expenses. Initially, he had signed a one-year contract with ANFA in April 2021. He signed a three-year extension after taking Nepal to the finals of the SAFF Championship in October 2021.
Since his appointment, Al Mutairi has taken charge of 20 matches. He has taken leadership in trying to improve the team, playing many friendly matches with better opposition.
"He's done a lot of good for Nepali football too," says football analyst Sanjeev Mishra.
He has also given chance to a lot of young players. A total of 15 players made their debut under Al Mutairi. This is double the number of players who made their debut under Bal Gopal Maharjan.
---
This story was translated from the original Nepali version and edited for clarity and length.