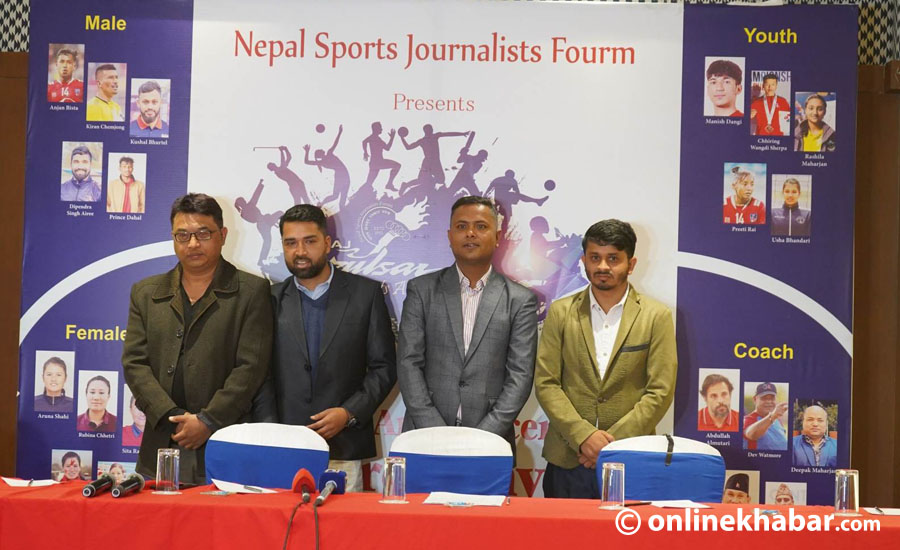 Kathmandu, February 28
The Nepal Sports Journalists Forum (NJSF) has made public nominations for four categories of the NSJF Pulsar Sports Award to be announced in Kathmandu on March 7.
The forum announced the list of nominees for the Men's Player of the Year, Women's Player of the Year, Young Player of the Year and Coach of the Year.
The NSJF Pulsar Sports Award, to be announced every year in general, is the country's biggest sports award in terms of prize money and categories. This year, the awards will be announced in nine categories. Winners in five categories–four announced today and the People's Choice Award announced a month ago–will receive a motorbike each.
Here is the list of nominees announced today, based on their performance in 2078 BS (Mid-April 2021 to mid-April 2022).
Men's Player of the Year
Anjan Bista (Football)
Kiran Chemjong (Football)
Kushal Bhurtel (Cricket)
Dipendra Singh Airee (Cricket)
Prince Dahal (Badminton)
Women's Player of the Year
Sita Rana Magar (Cricket)
Rubina Chhetri (Cricket)
Punam Rawal (Boxing)
Aruna Shahi (Volleyball)
Pushpa Bhandari (Athletics)
Young Player of the Year
Preeti Rai (Football)
Rashila Maharjan (Badminton)
Chhiring Wangdi Sherpa (Boxing)
Usha Bhandari (Volleyball)
Manish Dangi (Football)
Coach of the Year
Abdullah Al Mutairi (Football)
Dav Whatmore (Cricket)
Deepak Maharjan (Boxing)
Kaviraj Negi Lama (Taekwondo)
Jagadish Bhatta (Volleyball)