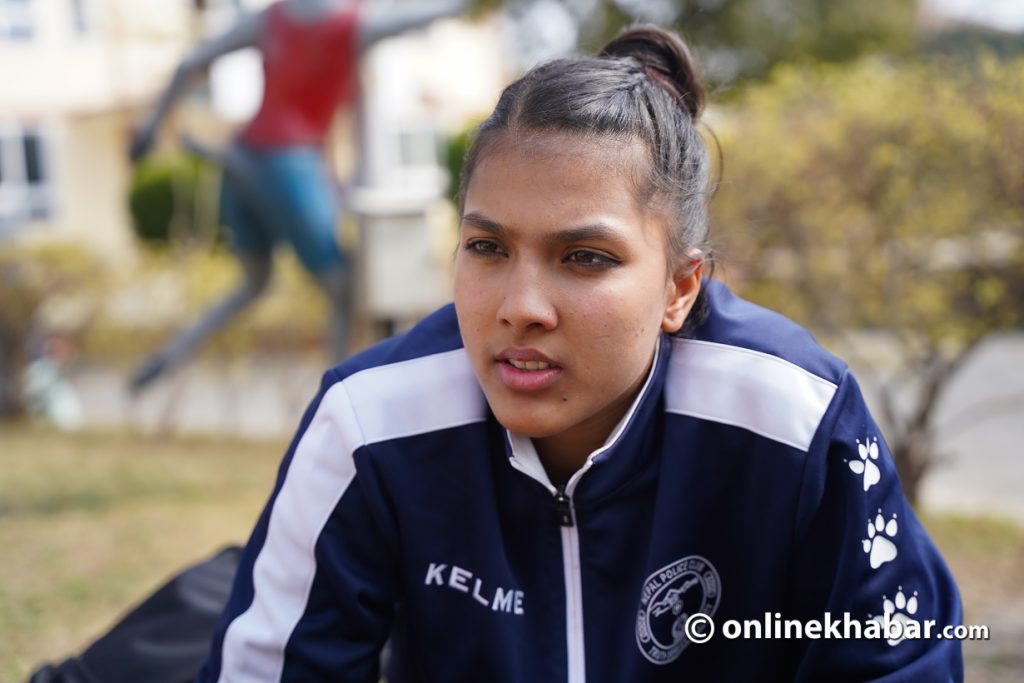 It was her father's dream that drew Usha Bhandari, a native of Tanahun in central Nepal, towards volleyball, Nepal's national game.
In 2014, her father Gajendra Bhandari, who was once a local volleyball player, went to the covered hall of the Dasharath Stadium with a friend to watch international women's volleyball match that was between Nepal and Sri Lanka.
In that match, a Sri Lankan player with the number 7 jersey grabbed Gajendra's attention. He still does not know the name of that player, but at that time he saw an image of his daughter in that Sri Lankan player.
This made him think of making Usha Bhandari a volleyball player. Immediately after reaching home, Gajendra asked Usha whether she wanted to join a volleyball team. Without any second thought Usha, who then was a captain of the school's football team, agreed to her father's decision. In retrospect, today, she believes it was the best decision of her life as her father takes pride in her achievements in her nine-year-old career.
Her achievements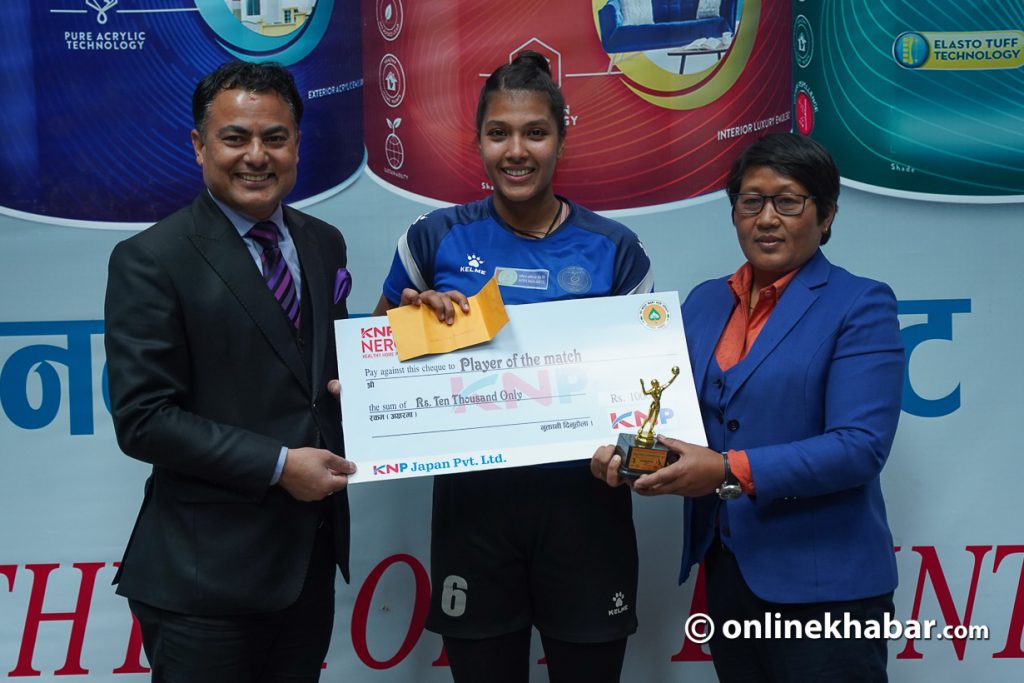 The 18-year-old national volleyball player has accomplished a lot of things that a few sportspeople will ever dare to accomplish, despite playing for a very long time.
Usha Bhandari became the winner of Central Zone Volleyball Champion in 2019 and 2021 then runner-up in the 2019 South Asian Games as a member of the Nepal women's volleyball team. She has also been a player in international clubs such as Maldives National Defence Force (MNDF), Falcon Club, Vashafaru Club, and Eagle Club. She was also awarded the best player in the NVA National Women's and Men's Volleyball Championship.
Just recently, she has become a nominee for the People's Choice Award under the NSJF Pulsar Sports Award 2078.
At the age of 12, Usha Bhandari played her first volleyball championship at the NVA Cup, representing Nepal Police Club. Two years later, she made her debut in the national team during the 13th South Asian Games 2019, organised in Nepal.
Through her progress, she has already proved that age is just a number, but she still has a long way to go.
The family support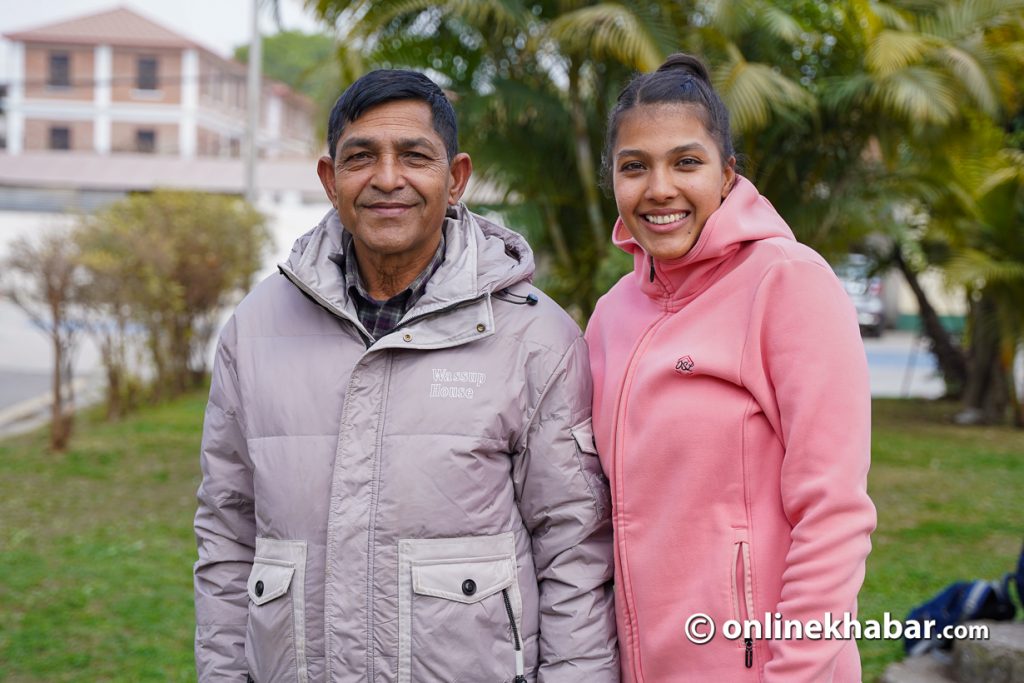 Usha Bhandari says it is not merely her hard work and dedication that made her an established volleyball player at such a young age. The support from her family has an equal role in making it happen.
"My family has always been my driving force; they just want me to study and focus on volleyball," the player says.
Bhandari's father tries as far as possible to attend every match played by her. She says that the presence of her father gives her extra energy during the match and she also feels safe having her father around during the matches.
The dad, who claims himself as the biggest fan of Usha Bhandari, says, "Watching her playing on the court every time makes me proud and blessed."
Not even the matches, but the proud father also does not want to miss her training.
The young force taking the game ahead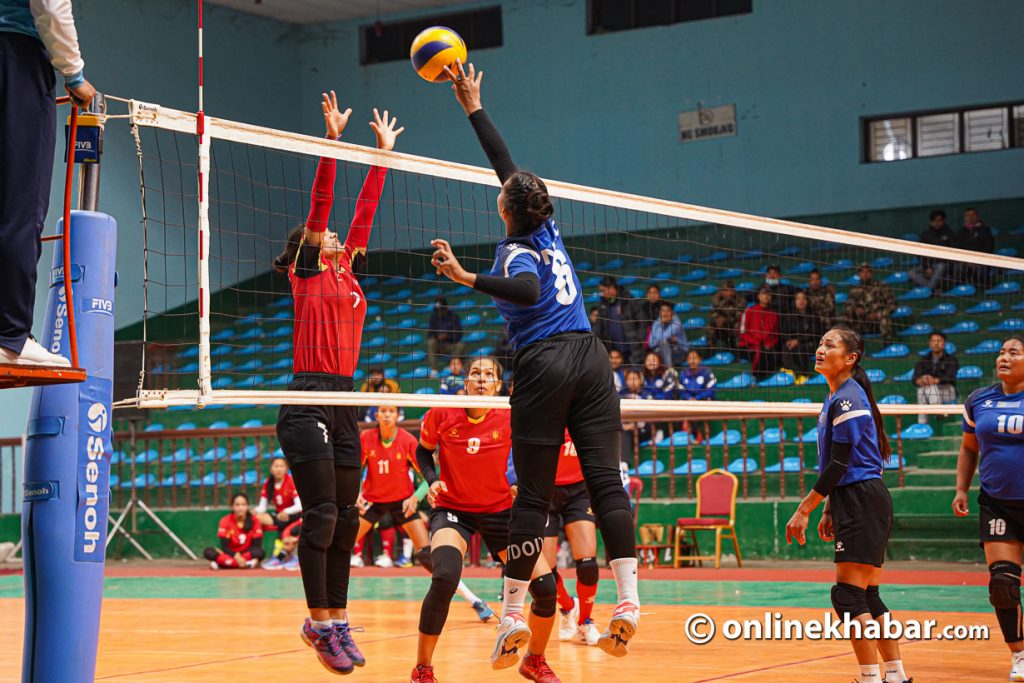 She is the youngest player in Nepal's national women's volleyball team. But, becoming the youngest player in the team has its own challenges despite being loved by all.
"Everyone in the team has high expectations from the young players, and failure to meet those expectations makes you nervous," says Usha Bhandari.
In addition, she says the young players also mount pressure on the seniors to improve their games. If seniors do not play well, they will be replaced by the young ones. So in this regard, for the betterment of volleyball, Bhandari sees a great need for young and talented volleyball players. She expects a good number of young players in volleyball in the coming days.
Since volleyball as a sport is relatively growing in recent times, Bhandari sees a plethora of opportunities in it. "One can even be able to sustain their life through it," she says.