The government has appointed Sushil Bhattarai as the new Executive Director of Nepal Oil Corporation after it decided to transfer incumbent Gopal Bahadur Khadka to the Ministry for investigation into alleged irregularities in purchasing land to build petroleum storage facility in various parts of the country. Bhattarai is also accused of being involved in the irregularities at the policy level and a parliamentary probe committee has recommended action against him too.
However, in an conversation with Onlinekhabar's Binod Ghimire, Bhattarai says he carried out his duty as demanded by the position and he will not make any comment over the issue as investigations are underway.
Excerpts: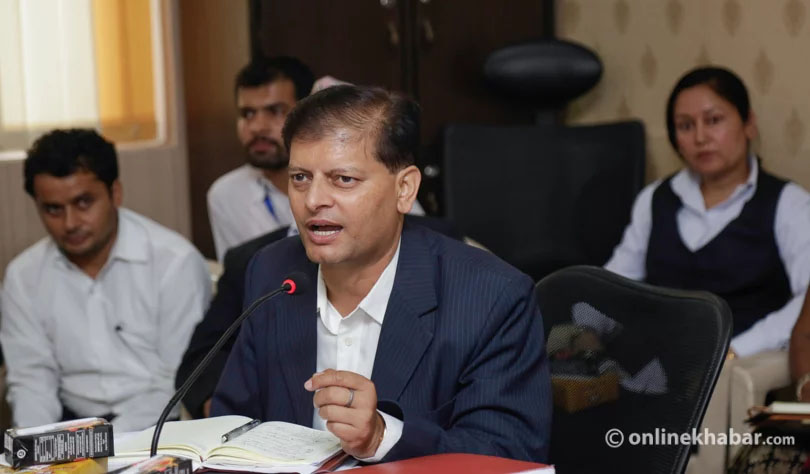 It is said that you were also involved in irregularities during the purchase of land for the Oil Corporation…
No. When you are in a position, you have to perform your duties. I think there are such rumours due to lack of understanding about who has what role and how he is playing that role. We have clearly presented our idea that our current storage capacity is insufficient and it should be increased. We have done everything as per directives from the government. Let's not comment further about it as investigations are underway.
Does that suggest the halted land purchase process will move ahead?
We are faced with a challenge to increase the storage capacity. If we cannot develop infrastructures to store fuel in next five years, it will be very difficult to ensure sufficient supply. It means we need more land to increase the storage capacity. The Ministry is discussing the issue. We have the new minister and he has been briefed about the problem. Now, we will move ahead as per the decision of government and Nepal Oil Corporation Board of Directors.
You have allocated some money to distribute bonus to NOC staff. When will you distribute them?
We have been working as per decisions and directives of the Ministry and the Board of Directors. We have allocated bonus following the due accounting procedures approved by the government. But, we do not have any plan to distribute bonus immediately. The issue has been taken to the court and we are not in the position to make any immediate decision about this controversial issue.
What are your priorities as the new chief of NOC?
Our focus is to ensure that there will not be any obstruction in the supply of petroleum products during elections scheduled for November and December. It is our priority for now. The winter is here and the demand for fuel has gone up. Our responsibility is to ease the supply system.
What challenges are there in your journey at NOC ahead?
The major challenge is making sure that the supply is smooth. There are problems in supply due to insufficient storage because the demand has increased unprecedentedly. After the formation of new local bodies, they are running various infrastructural development projects and they need more fuel.
Likewise, the number of vehicles is increasing ever and they need more fuel. People have almost stopped using firewood for cooking and hence the demand of liquefied petroleum gas has surged. These changes are so puzzling…
Today, there are more development and construction projects and the number will increase further. People have a lust for luxurious and easy life. These all demand fuel and hence we need to increase our storage capacity and ensure smooth supply.
The fortnightly adjustment in the price of petroleum products has been stopped now. Why?
The price is increasing in the international market today, but the changes are not much significant for us. The regular adjustment has been stopped due to recent big festivals and it will resume soon.
Meanwhile, fuel transporters and dealers have warned of protest. Don't you think it will create any problem?
They have been regularly warning of protest and it is not surprising that they are doing it now. But, we will continue our job. Their demands are directly related to the government.
Can you please inform us about the progress made so far for India-Nepal cross-border petroleum pipeline?
The pipes required for the project will be imported in November and they will be stored at the Birgunj Sugar Factory. We have already rented the land with an approval from the Ministry of Finance. Other preparations are also underway. The Indian Oil Corporation is also working for this grant project.
What are challenges in this project?
There are no challenges about land acquisition as the government land will be used in most places. But, we need to remove some electricity utility poles beside roads. Our local offices are working on it.
The IOC is installing the single pipeline from Motihari to Amlekhgunj. Earlier, the plan was to extend it upto Raxaul only, but the IOC's Raxaul depot has been relocated in Motihari, which is 35 km farther. The IOC has divided this stretch into two segments: in India and in Nepal. Different tender notices have been issued for these segments.
Now, our responsibility is to provide them with land to install pipes, facilitate administrative procedures required and remove necessary trees.
The Department of Roads has already allowed us to install pipelines on both sides of the roads within 22 metres from the central point. We have already conducted the environment impact assessment for cutting down trees by the road and submitted our report to the Ministry of Environment. The Ministry of Environment will forward the file to the Ministry of Forest Conservation and decide how many trees will be chopped where. Then, we will begin our job.