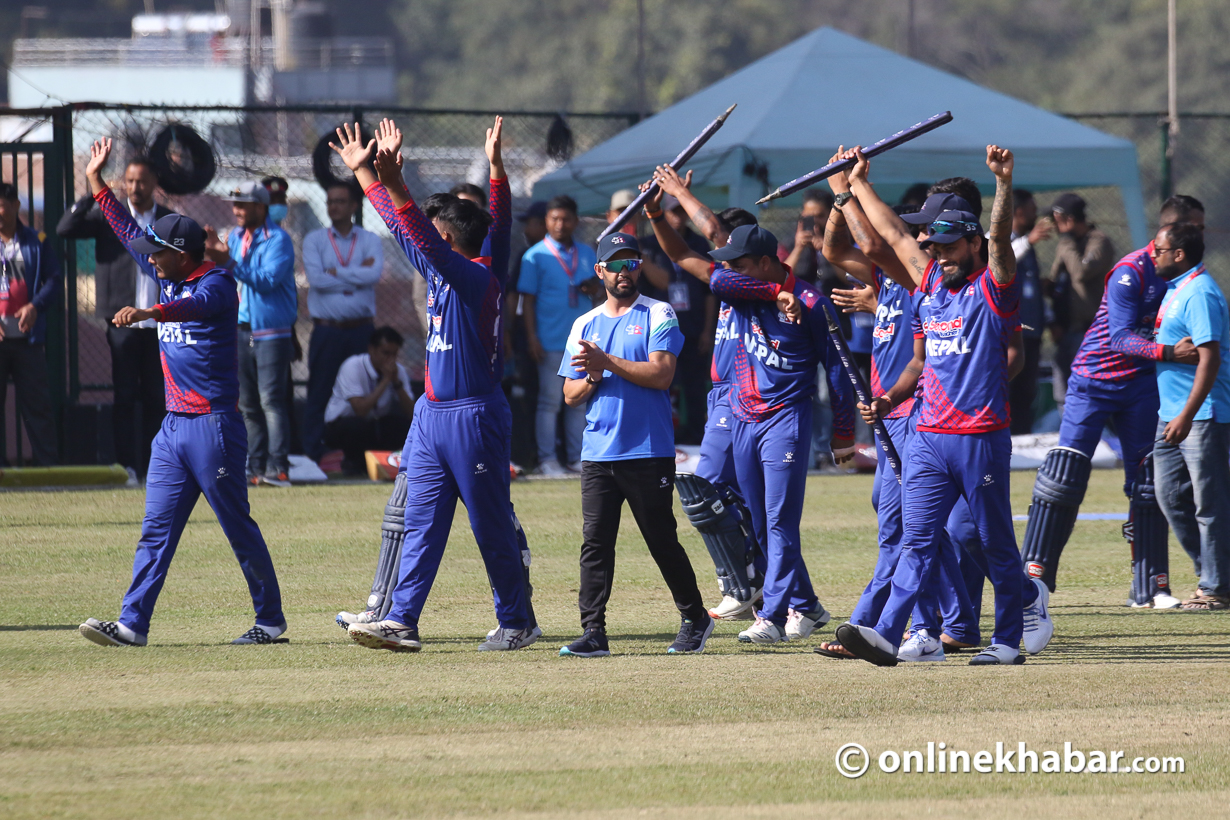 Kathmandu, November 7
In 2023, Nepali cricket has experienced a significant surge. Both the senior and U19 teams have successfully qualified for their respective World Cups. The senior team has secured a berth in the T20 World Cup, while the U19 team has earned a spot in the U19 ODI World Cup.
The senior team secured their spot in the T20 World Cup, which is scheduled to take place in the US and the West Indies, by clinching second place in the Asia Qualifier. This marks Nepal's return to the T20 World Cup after a decade.
Similarly, the U19 team is set to make a comeback to the U19 World Cup after an eight-year hiatus. With a victory over the UAE in the qualifier final, the team led by Dev Khanal is poised to make history once again in January 2024.
Over the years, Nepal's cricket journey has seen significant milestones. The senior team participated in the ICC T20 World Cup in Bangladesh in 2014, while the U19 team had already made their mark in World Cup events. Since their debut in the U19 World Cup in Sri Lanka in 2000, Nepal consistently qualified for subsequent tournaments until 2008. Although they missed out in 2010 and 2014, they did take part in the 2012 edition. A highlight was Nepal's U19 team reaching the quarter-finals in 2016.
During their debut in the T20 World Cup, Nepal competed in the first round and faced hosts Bangladesh, Hong Kong and Afghanistan. The team did well as they beat Hong Kong and Afghanistan but lost to Bangladesh who qualified for the second round on a better net run-rate.
The upcoming T20 World Cup will feature a new format, with 20 countries participating for the first time. This expansion allows for more associate countries to be part of the event. The 20 teams will be divided into four groups, each consisting of five teams. This means Nepal will have the opportunity to compete against at least two major cricketing nations, providing them with valuable exposure and experience against higher-ranked teams.
According to former cricketer Sharad Vesawkar, who participated in the 2014 edition, bigger teams will now approach matches against Nepal with greater caution.
"We played well in the Asia Cup and Asian Games. Winning the qualifier semi-final convincingly showcases our capabilities," said Vesawkar.
The U19 team will also test themselves against the future stars of cricket.
It is safe to say that 2024 is poised to be another monumental year for Nepali cricket. It will be a year of celebration for Nepal's cricket teams. Fans will be glued to their TVs, cheering on both squads as they face off against some of the world's best teams.