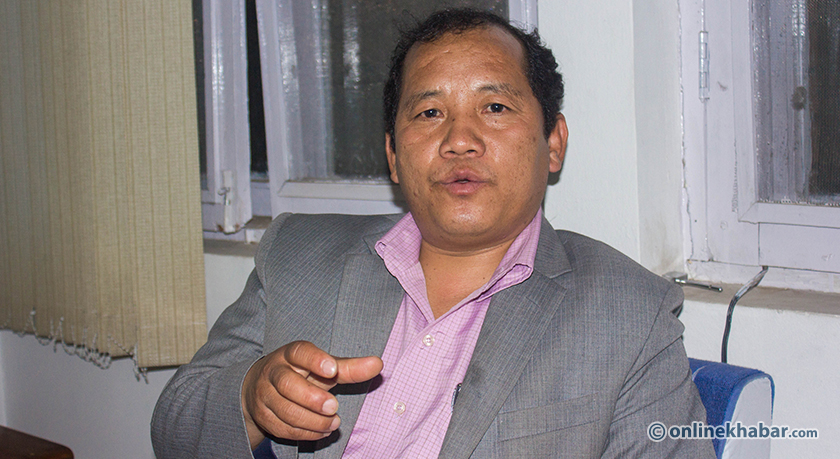 Nepal-China trade and transit treaty, oil import deal will materialise during PM Oli's visit: Minister Pun
Onlinekhabar caught up with Minister for Supplies Ganesh Man Pun to talk about Prime Minister KP Sharma Oli's upcoming visit to China. Excerpts from the interview:
Homework, homework
We will definitely sign a trade and transit treaty and an oil import deal. And we (Nepal and China) have already exchanged papers for a free trade agreement. I do not know much about other ministries' preparations. The main agenda of my ministry is turning the memorandum of understanding on import of petroleum products from China into a deal. During PM's China visit, we will sign a concrete deal on importing petroleum products from China.
Northern oil or mirage
Can't tell you the exact day and date. But the thing to note is that the road for bringing oil from China is already open (literally).  We have a theoretical understanding with China on bringing one-third of oil that Nepal requires from China. The government is serious about bringing Chinese oil to Nepal at the earliest. Our aim is to bring Chinese oil to Nepal within 2072 BS.
On big talk, no action
During the blockade, we reached a theoretical understanding on bringing oil from China, driven by a sense of expediency. But fulfilling the due processes took time. Oil is not something that China experts, that China too had to make certain arrangements for exporting oil to Nepal. But I can say this to you with confidence — Chinese oil will arrive in Nepal, no matter what.
Ill-maintained road
We have raised this issue (with China) to make way for oil import from China. During PM Oli's China visit, there will be concrete decisions on buying oil and developing infrastructure for import of oil from China. On the Chinese side, there are no serious problems (the roads are okay). On the Nepali side, the road is in bad shape. Tankers and gas bullets cannot pass through our road, so we are undertaking the road construction and expansion work with a sense of urgency.
Indian oil v Chinese oil
The international price is just the same. We have raised the issue of tax and price stability (to make sure that the oil brought from China does not cost more than the oil brought from India). We are discussing issues like risk control and the import procedure seriously.
Petro pipeline
Once we reach a deal on bringing oil from China, avenues open for importing oil through various means. At that time, we will use all possible means and infrastructure. But right now, signing an oil import deal is the most important issue.
Cooking gas too?
We can definitely import gas from China. And we have reached a theoretical understanding for the same. Yes, we are yet to hold discussions on the volume of gas to be brought from China. We are demanding certain tax concessions from China to facilitate gas import.
Storage facilities
We are going to ask China for the construction of oil storage facilities in Panchkhal of Kavre, Battar of Nuwakot and other places to ensure a smooth supply of oil to the national capital. The idea is to have, at all times, an oil reserve that lasts at least 90 days. We have proposed constructing an oil storage facility in Khairenitar to ensure a steady supply of oil to Pokhara.