Pyuthan, July 5
Landslides triggered by incessant rains killed eight people in different parts of Pyuthan on Monday.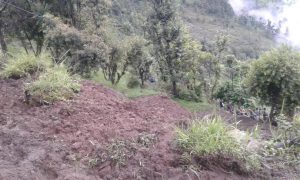 Durga Bahadur Malla, his wife Sita and their daughters Sushila, Lekha and Sirjana died in a landslip at Neta, Rajwara VDC ward number 3.
Mahabir Rana, a Rajwara local and secretary of the Federation of Nepali Journalists (Pyuthan), informed that Malla couple's two children — a son and a daughter — managed to survive as they were in their neighbour's place.
In Waglihang of Punja VDC-3, Hum Bahadur Sunar, his wife and their seven-year-old daughter died in a mudslide, Pyuthan police said.
A team comprising Pyuthan chief district officer Janak Raj Panta, Pyuthan police Chief Ranjit Singh Rathore and Nepal Red Cross Society representatives visited the incident site in Rajwara on Tuesday morning.