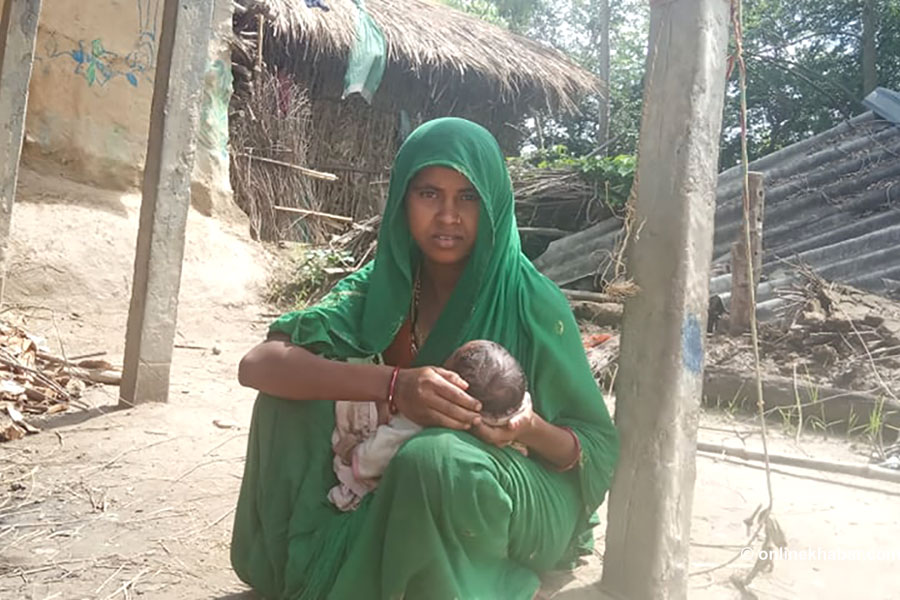 The Musahar community of Bhaluwaha of Kamala municipality-5 of Sindhuli district survives on daily wages. Now, its members are at a high risk of famine due to lockdown restrictions.
Mukta Devi, who became a mother a fortnight ago, has been going to bed hungry every night.
Similarly, Rajani Devi Sada, a member of the community, says the people of Bhaluwaha are yet to receive any relief support initiated by the municipality. She says the people are surviving on the insects they collect from the riverbanks. "There are around 10 pregnant women in our community now," she says, "They are all dependent on the insects for nutrition."
Jivachhi Devi Das of Dhanusha's Bisanbhora, Sahid municipality-8, returned home 15 days ago after giving birth at the provincial hospital in Janakpur. She has not received adequate nutritious food. Her mother-in-law Ashadevi says that she was saving her pregnant daughter-in-law by asking for food materials from neighbourhood. No relief team has reached Bisanbhora yet.
The government data shows that 48 per cent of the people in Province 2 are living with 'multidimensional poverty'. Most of the Dalits and Muslims, who make up around 70 per cent of the population, are living with poverty. There is an immediate need of relief in almost all of these communities.
The worsening condition of the poor
In Province 2, most of the new mothers have not been able to get enough to eat. They have complained that food materials distributed by the provincial and local governments have not reached the impoverished settlements. Pregnant women needing nutritious food have not been able to eat normal food supplements. Adequate milk and vaccinations for newborns have not been provided.
According to experts, the lack of nutritious food and vaccines is one of the main causes of maternal and infant mortality. Children who have grown up with a lack of nutrition and vaccines are more likely to have anemia and disability. Province 2 is still the second most malnourished region in Nepal after Karnali. According to government data, 59 per cent of children between the ages of six months and 59 months are anemic.
Similarly, 58 per cent of women aged 15-49 years have anemia and 36.8 per cent of children have low birth weight. The worse can be feared for the marginalised community as the condition of malnutrition will automatically increase if proper care is not given to the baby born during the lockdown and nutritious food is not provided to the pregnant and child up to five years of age.
The Secretary at the Provincial Ministry of Social Development, Ram Prasad Ghimire, says while fighting against Covid-19, attention could not be given on the new mothers in the marginalised areas. He says, "Even though attention has been paid to the quarantine sites and women coming to the hospitals, no attention has been paid to those of the communities."
Malnutrition vulnerability spiking: Public health experts
The ongoing lockdown in Nepal has the left wage earners and the extremely poor in a state of famine. Public health expert Raj Kumar Mahato says pregnant women, newly mothers, and children under the age of five are at a high risk of malnutrition.
He is of the opinion that the lockdown adopted to avoid one pandemic has increased the risk of other epidemics such as hunger and malnutrition. He says that this situation came about due to the inability to manage the food materials required during the lockdown. "For this, the government at all three levels has to make the relief distribution very effective," says Mahato.
---
Published on April 27th, Monday, 2020 9:57 AM
---
Download Onlinekhabar App. Android click here & IOS click here . Keep in touch with us on Facebook, Twitter & YouTube.