"That's one small step for man, one giant leap for mankind."
When Neil Armstrong took his first historic step on the moon on July 20, 1969, his words inspired the entire world for space research and exploration. It made what humankind hitherto thought was impossible possible, and let many young people dream of the stars.
Young people in Nepal are not alien to the thought although Nepal's presence in space has not been recorded so far. For example, Dipesh Poudel always thought of space exploration to be something "very cool and exciting" when he saw it in movies. "I dreamt of being an astronaut, to reach the dark side of the moon." With Curiosity and SpaceX's mission to Mars, his desire to be an astronaut grew bigger.
Though not an astronaut yet, Poudel today is working at Nepalese Space Research Association (NESRA) as the head of IT and design. "NESRA is giving out information about space research, satellites and careers in the field. What we need is to first inform people, where we have a lot of gaps in, and then can Nepal take the leap in space exploration."
According to Poudel and others involved in the field, other forms of space research, though limited, have been practised in Nepal for a long time, and hence the field offers a lot of hopes to them. Yet, the practitioners say they have a lot of problems to move ahead from a general misunderstanding to other policy-level gaps.
Misunderstood sector
"When one hears the term 'space research', they relate it to astronauts, rockets, planetary and interstellar explorations. But, it is not limited to that. Space research also includes satellites," says Jiten Thapa, a research and development engineer at Orion Space.
Meanwhile, Nanda Bikram Adhikari, an associate professor at the Pulchowok Engineering College under Tribhuvan University, adds, it also includes radar technology, weather satellites, navigation technology, aerial survey, communication and internet services as well as data centres.
Thapa and Poudel, who jointly organised Space Meet in July 2019 to introduce the field to the public, both agree that the common understanding of space research, and the realisation afterwards, makes it difficult for Nepal to get the human resources that it needs.
"One of the major realisations in the event was that people are excited about space; they come with the expectation and hype of international outer space missions. But, their excitement and expectation died down when they realised that we were talking about satellites and research, based in Nepal, rather than space missions to Mars or international space stations," shares Thapa.
Stakeholders unanimously agree that there is a need for awareness and advocacy regarding space research in Nepal as well as the production of skilled human resources in the field.
The Pulchowk Campus is currently teaching Bachelor's in Aerospace Engineering with its first batch in the third year. "The course is also misunderstood. What the course does is give theoretical knowledge to the students, but it does not make them astronauts. The maximum we can expect from the course is to have skilled aeronautical engineers, who can contribute in research and design," explains Adhikari.
Problems in the field
Hence, even though Nepal wants to, space exploration from and in Nepal is difficult.
Adhikari says, "For Nepal to have its own launchpad and embark on flights and space mission is rather difficult. First of all, the launchpad is built geographically close to seas and oceans. This is for safety purposes as rockets, when their missions fail, can be redirected or fall into the water bodies to avoid loss of lives and properties."
Hence, for obvious reasons, Nepal does not have its own launchpad, and he says it is not that essential. "Even the largest of the countries who are active in space exploration are renting the already existing launchpads. There are other ways we can make contributions."
Nepal space research, particularly space exploration, has not bloomed because it neither gets enough budget for the research and infrastructure nor is it the priority of the government, says Adhikari. He adds that there is a need for a dedicated space research agency in Nepal.
"The Nepal Academy of Science and Technology (NAST), the Nepal Astronomical Society (NASO) and NESRA have been doing their part to encourage people to involve in science and space research. But, that is not enough. We need a separate independent agency dedicated to space research."
Adhikari, who was one of the first radar engineers to work at the Tribhuvan International Airport, says the lack of national policy has also discouraged Nepal's progress. "Last year, the government drafted and made public the National Satellite Policy. But that does not justify or support the progress we want to make in space research."
Though Nepal's position in space research is nowhere near satisfactory, many from Nepal such as Lujendra Ojha, Surendra Adhikari, Abhas Maskey, and Hariram Shrestha have worked in and with NASA to make important contributions to space research and exploration, giving Nepal hopes.
Bigger hopes from satellite communication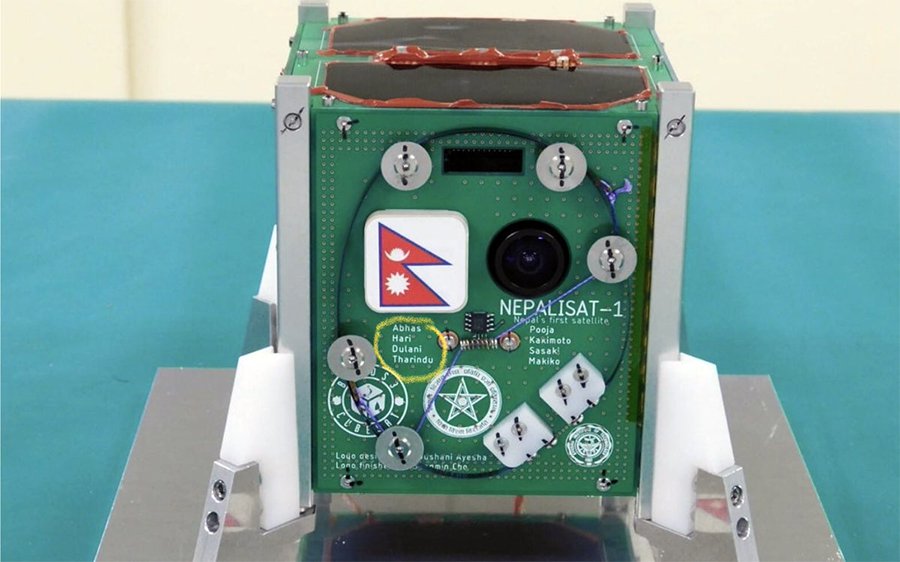 Nonetheless, Thapa says that Nepal can make progress in terms of software design and applications, hardware designs and satellites. In fact, there have already been some developments in satellite technology in Nepal.
The National Remote Sensing Centre (NRSC) was established in 1981 and a year later, Sagarmatha Satellite Earth Station was installed at Balambu, for telecommunication services.
However, it has been only a couple of years that Nepal took the next step and made some notable progress in terms of satellites. It includes NepaliSat-1 (made by Maskey and Shrestha) launched from the United States in April 2019 which was equipped to gather information on Nepal's topography and earth's magnetic field. Then, a team of students launched GARUDA, a 90-inch tall rocket made in Nepal, in New Mexico (USA) in March 2021.
Orion Space is working on its own picosatellite, Nepal PQ-1 or SanoSat, to send into space. It will soon be launched from the USA this year. "The smaller satellite can be helpful to collect the minute details. For the best results, you send the satellites and form them into a constellation to coordinate and monitor the data regularly," Thapa explains.
Meanwhile, Nepal has two geostationary satellite spots that the International Telecommunication Union allotted in 1984, which have gone unused so far. "The two spots are not exactly above Nepal; one is in Pakistan and another in Madagascar. But, one geostationary satellite above Nepal with other international satellites will be enough for the country," says Adhikari.
"We have an indispensable resource at our disposal, that is Mount Everest and its height. For satellites to function properly, it is calibrated with the closest station. Since we have Mount Everest, we can set up the most accurately calibrated satellites and even rent the station on an international scale," explains Adhikari.
Space research can be a backbone for Nepal's development. Such an imperative tool at hand, coupled with the properly made satellite policy, has diverse possibilities and will be fruitful, the researchers view.
What does it need then?
But, Adhikari laments the government's telecommunication policy has been made in haste and hence not supportive of the implications of what satellite or space research has in store for Nepal. "It was just enough to save the spot. We have to first invest in footprint analysis and get the data right on a national scale."
Thapa also says the role of the government is crucial for the development of space research in Nepal. "Satellites are very expensive to make. They also need a great deal of time, at least two years. Without the government's support, the journey will be long and slow."
"Nepal has not been able to conduct its own research regarding space, collect primary data or make the framework necessary, and one of the reasons is the lack of government involvement or priorities," says Adhikari.
But, there is hope and it can be done by making the people aware of the importance of space research and get them involved.
Poudel, who attended Asia-Pacific Regional Space Agency Forum (AP SGW-24) organised by SGAC in 2017 from Nepal, says the event highlighted a huge gap in Nepali space research. "In the event, they asked what policies Nepal has had regarding space research, and we just stayed there without an answer because Nepal did not have any."
Those who want to contribute can start by being a member of the Space Generation Advisory Council (UN Office of Outer Space Affairs). "It is not necessary that you are a science student or particularly interested in space research. It welcomes people from all walks of life to diversify and make it inclusive."
Poudel, who is currently pursuing an MBA at the Asian Institute of Technology, Thailand, plans to come back and work here in Nepal as he says there is a future for Nepal in space research.