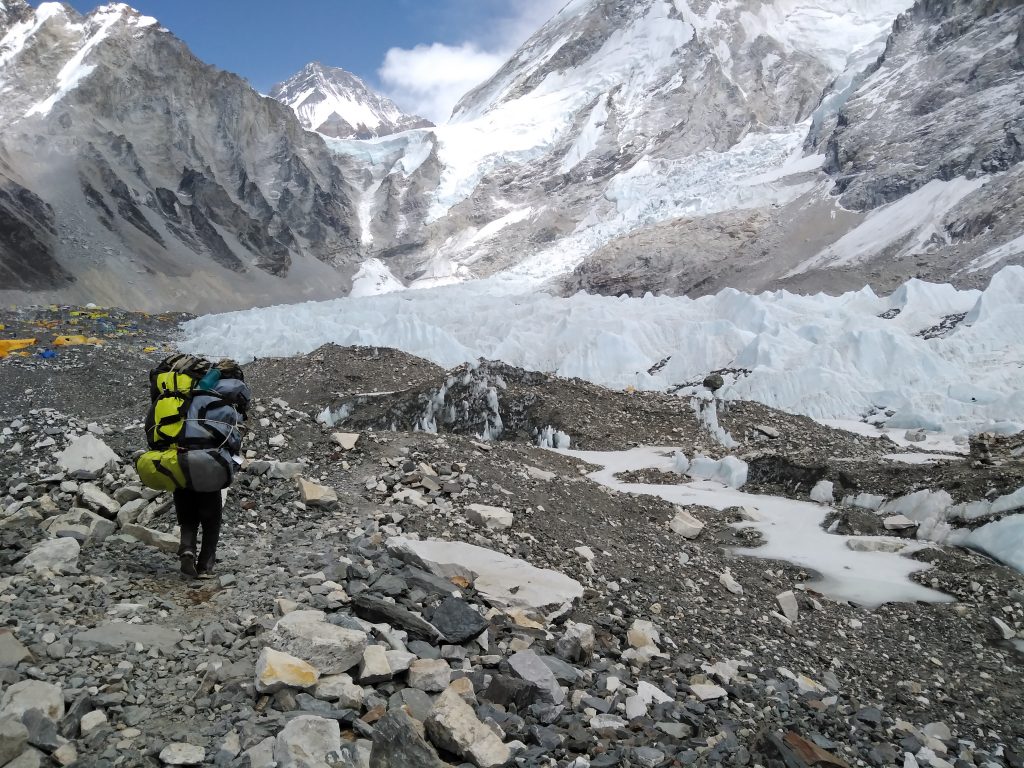 In the spring of 2016, Furdiki Sherpa, a widow, climbed Everest.
With the slogan Hami Pani Sakchhaun (we can also do it), Furdiki and Nima Doma Sherpa, also a widow, did the mountaineering expedition together. Both of them lost their husbands on Everest and the two, tired of crying, wanted to move on. The only way for that was to do something their husbands did for a living, mountaineering, they thought.
In 2016, Furdiki was obsessed with Everest. She wanted to see for herself what the fuss was all about and why people went to the mountain despite all the risks. Fast forward to 2022, Furdiki now has become more conscious about Everest and other mountains.
Speaking at the Seventh International Mountain Festival held in Pokhara on December 10, she said people do not respect the mountains anymore.
Other participants of the session including author Lukpa Futi Sherpa, trekker Funjo Lama and mountaineer and photojournalist Purnima Shrestha also discussed changes that are occurring recently in the mountains. 
Unwelcome changes
Although Furdiki climbed a mountain, representing widows, she is not happy. Why? Because everything in the mountains has changed, she says.
"It's not just the snow that's disappearing, culture and traditions are there too," says Furdiki.
Furdiki says that the Everest she saw in her childhood when her father, an icefall doctor, took her to base camp, and the Everest of the current time has drastically changed.
"The mountain has changed. Even the base camp has changed. The effects of global warming on the icefall are clear, yet no one from the mountaineering world is doing anything," says Furdiki.
Furdiki believes the mountaineers and mountaineering expedition companies are the major cause of declining snow in the Khumbu region. Due to their negligence, the snow and culture of the Khumbu region are at risk, she says. 
"I believe, it's the fault of big tour and expedition companies. They provide luxurious mountaineering expeditions to tourists, which are actually affecting the mountain environments. Their activities are doing a lot of harm to both the culture and environment," says Furdiki.
For example, instead of setting up four to five tents, they fix one single big tent, occupying a large amount of area. To set up that big tent, the companies appoint the Sherpas to dig the glacier for a month to create space for them and their clients.
Furdiki says she has observed a lot of differences between going to Everest in 2019 and at the end of November 2022. Currently, it is hard to recognise Everest Base Camp.
"I wish the big companies would change their attitude on the mountain," she says.
The chopper challenge
Many initiatives to clean the mountains have been initiated, but none have been successful on Everest. Mountaineering expeditions leave all their waste in the mountain and as a result, the mountain environment has remained excessively polluted. 
"I think the mountains have never been cleaned," says Furdiki. "Our cultures can only be preserved if the mountains are preserved."
Furdiki also complains about the helicopters that travel around mountain regions. Helicopters have caused destruction rather than development, she says. According to her, the transportation of goods on helicopters has affected the life of the people in mountains. 
To provide luxury for their clients on the Everest expedition, big mountaineering companies transport goods by helicopters. These goods include gas heaters and gas geysers and now they even transport coffee machines and ovens. Even the goods that humans can carry are transported by helicopters. Tents, plywood and steel everything is transported to base camp by helicopter, she says.
She also argues that helicopters have created noise pollution in the mountains. It has made life hard there. The helicopters fly more than birds there, laments Furdiki.
"Flying helicopters in the mountain region is not in the interest of foreigners but of Nepali tour and expedition companies. They earn a lot of money through it," says Furdiki.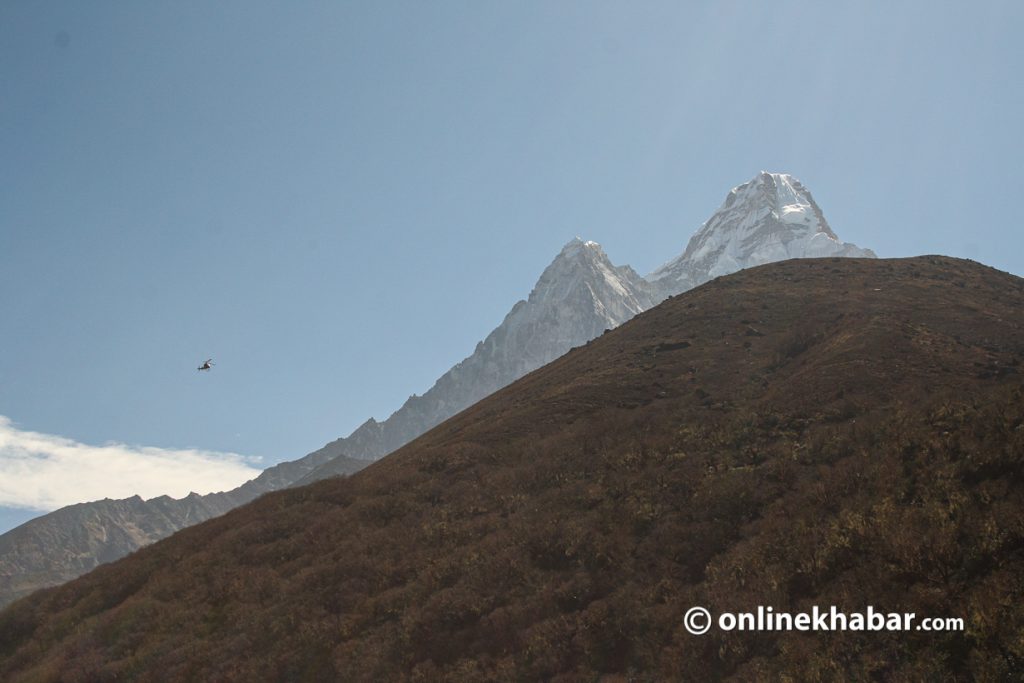 For commercial purposes under the pretext of emergency rescue, Nepali businesses are flying helicopters around mountains in big numbers.  
Trekker Funjo Lama also agrees that the mountains are turning snowless. He also echoes Furdiki adding that luxurious expeditions are affecting mountain environments.
Like Furdiki, Lama, who is born and raised in mountains, has also observed many changes in the mountains along with the popularity of mountaineering. While growing up, he experienced heavy snowfall during December and January. But now, it rarely happens as it rains a lot in the mountains.
"In a bid to provide luxury, we have forgotten who we are and what our culture is," he says.
Lama also narrates how the negligence in mountains has caused natural disasters and impacted the locals. Just a few months back, an avalanche hit Manaslu. This was caused due to recklessness in mountaineering expeditions. The mountaineers returned from helicopters but the locals are still suffering from the roadblocks caused by natural disasters. 
Mountaineer Lakpa Futi Sherpa urges concerned bodies to make effective policies for conserving mountains.  
---
This story was translated from the original Nepali version and edited for clarity and length.