In mid-January, Sudhir Chaudhary, an Indian journalist, flew to Everest Base Camp and Kala Patthar on a Simrik Air helicopter. To many, his visit was seen as an excursion of Nepali tourism's USP, the Khumbu valley. As Chaudhary is the Editor-in-Chief of Zee News, there were no further questions to him regarding the purpose of his visit; he went and came back without much trouble.
But, a few days later, on his prime-time programme, Chaudhary released a sensational piece in which he stated India also had the right to claim Everest as theirs. While Chaudhary and the piece even made it to the front page of a national daily in Nepal, yet another controversy surrounded his visit.
In order to film at Everest Base Camp or Kala Patthar, both of which fall under Sagarmatha National Park, a separate permit must have been obtained. According to Nepali officials, Chaudhary obtained no such permit.
Now, to make sure such things do not happen anymore, the park authorities are bringing a new rule to bar any helicopters, which are not transferring goods or are there for rescue, from landing or hovering above Syangboche. On February 17, it issued a circular to all helicopter companies stating that landing was allowed only at Lukla, Namche and Syangboche.
With the tourist and mountaineering season on the horizon, tourism entrepreneurs and helicopter operators, however, have called this decision ludicrous, made without proper planning, as it would have a direct impact on helicopter companies, high-end tourism and the mountaineering industry which was hoping to recover after a lean season in 2020. However, the government has its own defence.
Rights and wrongs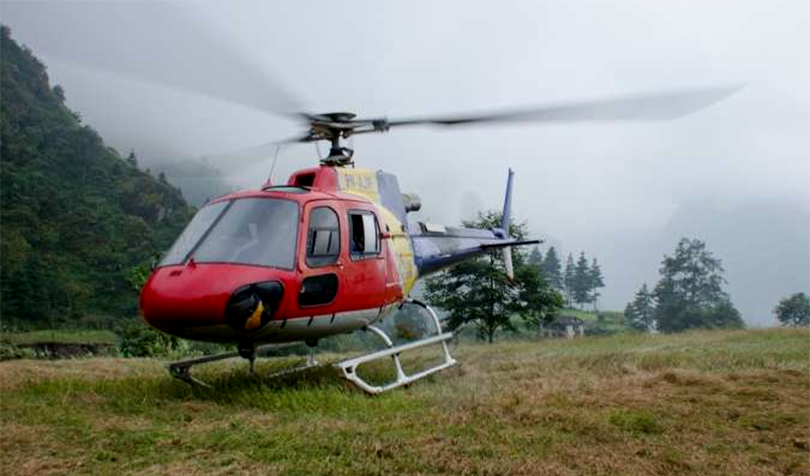 "The decision to us seems stupid," says Pratap Pandey, the managing director at Kailash Helicopter. "People come here to see Everest. It has and will always be Nepal's USP when it comes to tourism. To take that away from people willing to spend to get there is kicking ourselves."
Pandey says the decision has been made by low-level employees without considering the impact it will have on the industry or the economy in general.
However, the chief conservation officer at Sagarmatha National Park, Bhumiraj Upadhaya, says the decision was made by the national park in coordination with the Wildlife Crime Control Bureau of Nepal with two things in mind – control wildlife smuggling and protect the area from pollution caused by helicopters.
"This is a protected area which has a lot of wildlife. It's also a UNESCO World Heritage site. We have to try to protect it the best we can," says Upadhaya.
He says that in recent years, the helicopter movement in the area was increasing incessantly, which is why such a decision was made. Chaudhary's stunt, which put a dent in Nepali nationalism, also played a part, he says.
"All sorts of people come and go from the national park. We hardly have details as the helicopters didn't need to take permissions from us. We now want them to do so which will help us monitor and regulate people coming and going out of the national park," he adds.
But, Pandey says that the national park, in trying to hide its flaws, has come up with a ludicrous rule.
"If they want to monitor people coming and going, they can do so at Lukla where every helicopter has to land. How can they say that its hard to monitor when they can't even put an officer at Lukla to check on things," says Pandey.
Security concerns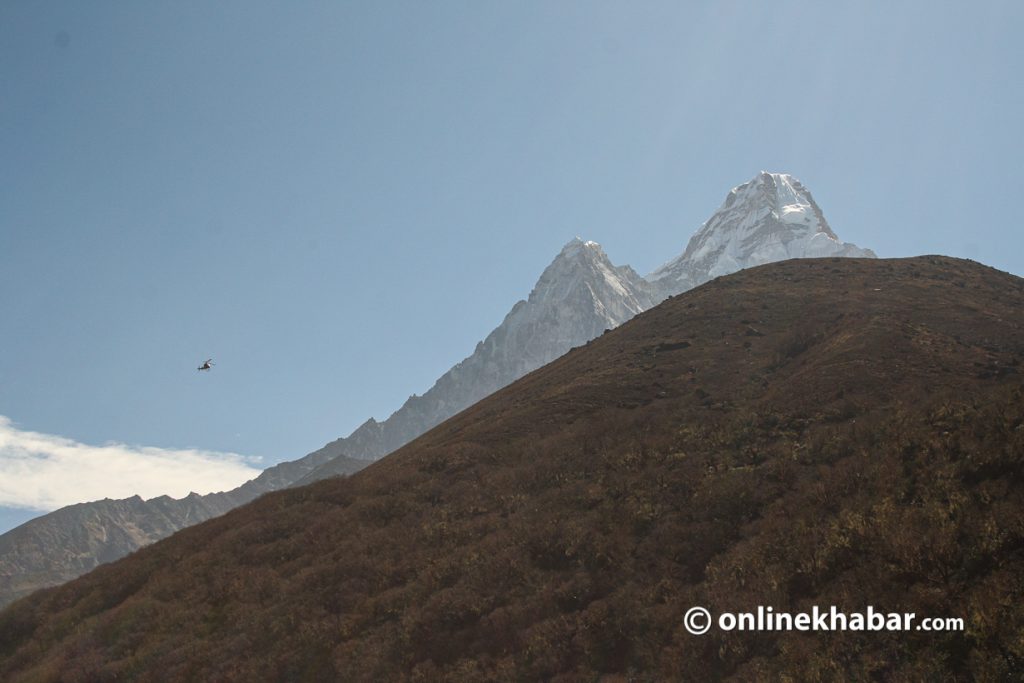 However, Pemba Sherpa, the assistant conservation officer at the national park, says this is due to a lack of resources. But apart from that, this rule has been imposed in order to stop wildlife contraband smuggling.
"We've heard about how helicopters in various parts of the country have been involved in the smuggling of wildlife contraband. There have been cases in Dolpa and Humla. Who says it can't happen here in the Everest region?" says Sherpa.
But, Suman Pandey, a tourism entrepreneur and the CEO of Fishtail Air, says just saying there are chances of wildlife contraband smuggling is not enough.
"When has such an incident happened in Khumbu?" he questions. "If they can say for certain, then it's fine. But it just seems like a hypothesis."
He further adds that if such a rule is implemented, the government needs to bring out an exit plan for helicopters companies that have spent a fortune and planned for 10 years in advance. The reason he says there are 35 helicopters in Nepal is the demand created by flyng high-profile tourists to these high mountains.
"Imagine what will happen to the investments made by entrepreneurs. I am all for conservation, but we need to also do a detailed study. Else, we are just missing out on high-end tourists," says Suman Pandey.
Sudip Thakuri, a professor at the Central Department of Environmental Sciences at Tribhuvan University, says that helicopters flying in the area might cause avalanches, but till now, there has not been a significant one to report on.
"There are fears that the sound of the helicopter may cause avalanches, but nothing like that has happened yet. That said, there is no saying it won't happen so we have to be careful about this," says Thakuri.
But, for Bijaya Amatya, the CEO or Kora Tours, a travel agency that caters to high-end tourists, this rule is pointless. One of his packages includes a tour of Everest Base Camp and Kala Patthar after which the visitors land at Kongde for breakfast before flying back to Kathmandu. Around 200 people a year come for that, he says.
But, this new rule, he fears, will be sending a negative message to prospective tourists. He also calls on the government to take action on specific helicopter companies which do not abide by government rules and regulations.
"Why should the entire tourism industry suffer due to a mistake by a few people," he says.
Even the mountaineering sector is set to suffer if this rule is imposed. Mingma Sherpa, the chairman of Seven Summit Treks and the vice-chairman at Heli Everest, says these are regressive rules which will affect mountaineering deeply as many use helicopter service.
"This rule will break our back. But, we have hope that the government will not let that happen," he says.