With the recent spike in air pollution, people are demanding that the greenery of trees and plants is a must to decorate and make the city livable. However, in the cities, as well as some villages, of Nepal, a new trend has developed: the trend of installing concrete and fibre structures in the open areas including junctions and parks.
Cities are already dubbed a 'concrete jungle'. And, with this trend to install concrete structures instead of trees, that too citing investment to 'increase' tourism activities, is only adding to the environmental woes the cities are already facing. Even though it is not possible to create an open park, experts opine that trees and plants could have been planted or relocated to the roadsides and intersections to promote greenery.
Environmentalist Bhushan Tuladhar says such a trend has limited benefits and unlimited losses. "It is a matter of grave concern that the use of concrete and fibre, instead of natural ecosystems, to beautify the city is on the rise."
He is of the view that this is a result of people not realising that greenery in the city offers many benefits to human health including pollution control. There is a lack of awareness, commitment and skill to properly beautify the open spaces of villages, settlements and cities, says Tuladhar.
From east to west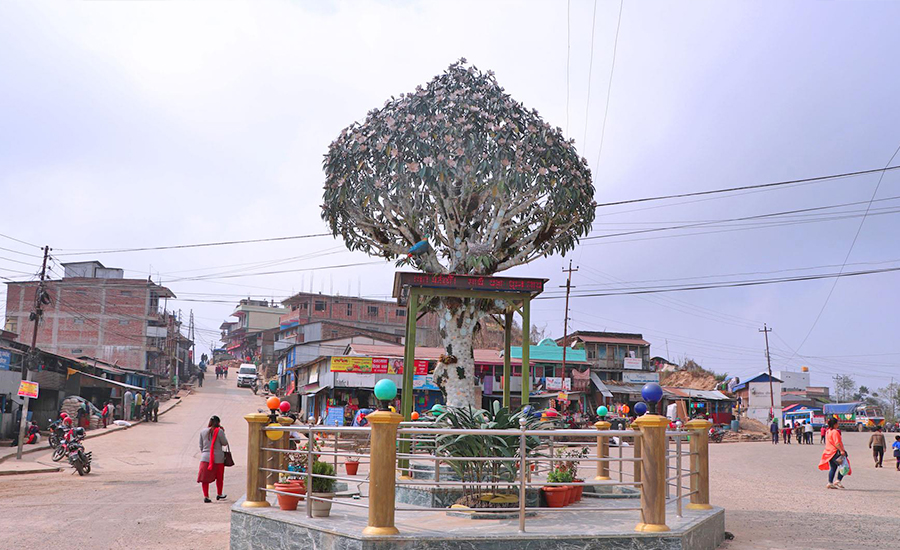 The trend is spreading very widely from Mechi in the east to Mahakali in the west. It is the government bodies and the local authorities that are "promoting tourism" by placing expensive concrete and fibre replicas at junctions and parks.
The latest buzz on social media is regarding a concrete tree that was recently built in the Mude Bazaar of Mude municipality (Sankhuwasabha) by spending Rs 3.2 million. The chaap (Magnolia champaca) tree that stands tall at the intersection neither provides shade in summer nor greenery; rather it only spoils the environment.
Saying that there is no sakhuwa/saal (Shorea robusta) tree at Sakhuwagachhi Chok of Inaruwa (Sunsari), the ward office installed a fibre sakhuwa tree three years ago. Unsatisfied, the local youth are planting and growing a real sakhuwa sapling next to the fibre sakhuwa.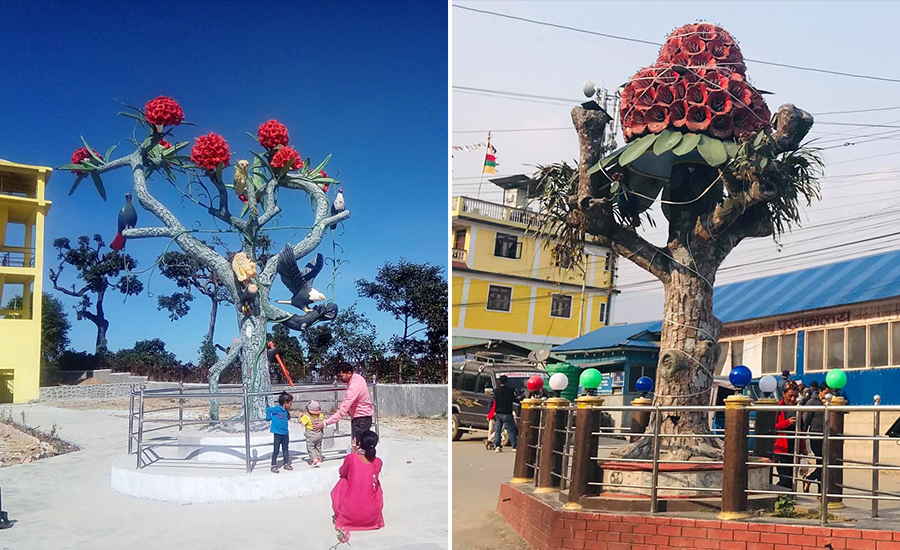 If the youth there had been alerted earlier, there would have been real gurans (Rhododendron arboreum) flowers blooming in the park of Gurans rural municipality in Dailekh. However, the municipality stated it wanted to create an identity for itself and made the concrete view tower.
Similarly, the Laligurans municipality of Tehrathum has also installed concrete gurans flower in Basantapur Bazaar, for similar reasons. The municipality also installed a concrete garlic bulb in Lasune (named after garlic) Bazaar.
In Beltar of Chaudandigaghi municipality-6 (Udayapur), the officials have set up a park at Pushpalal Chok, with a fountain and a concrete bel (wood apple or Limonia acidissima). The park was built with an investment of Rs two million from Member of Parliament Bimal Karki's Parliamentary Development Fund and local labour contribution worth Rs 500,000.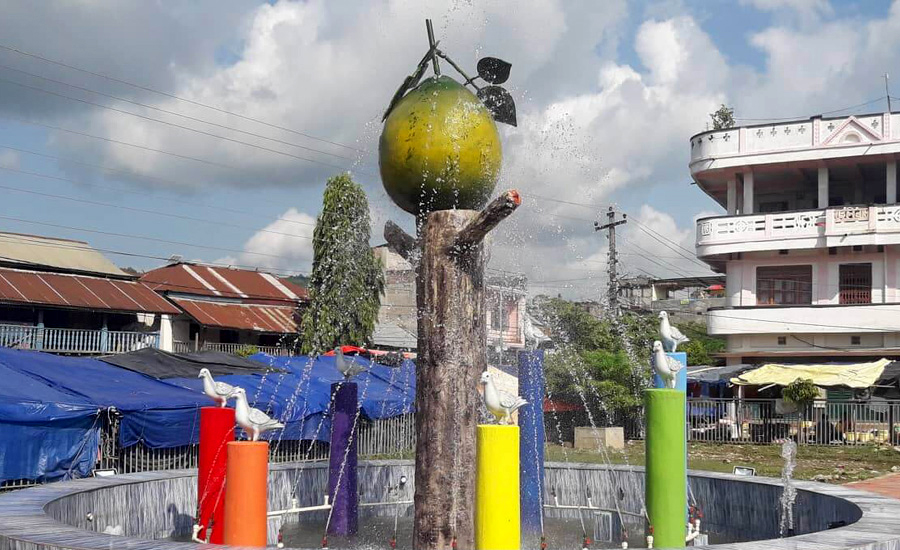 Meanwhile, in eastern Nepal, many junctions and parks have been installed with concrete replicas of vegetables, fruits and other things to 'complement' the place, based on their identity and specialities.
The Mahalakshmi municipality of Dhankuta has made a concrete rudraksha seed in Jitpur Bazaar. The municipality invested Rs 800,000 to up tourism in their area. The Dhankuta market also has a concrete avocado installed whereas the Kaagate has a concrete lemon, and Sindhuwa a concrete cauliflower. Chhintang Shahidbhoomi rural municipality has cemented orange trees and a cement shape representing the pot of tongba (millet-based alcoholic beverage) in Hile Bazaar of Dhankuta.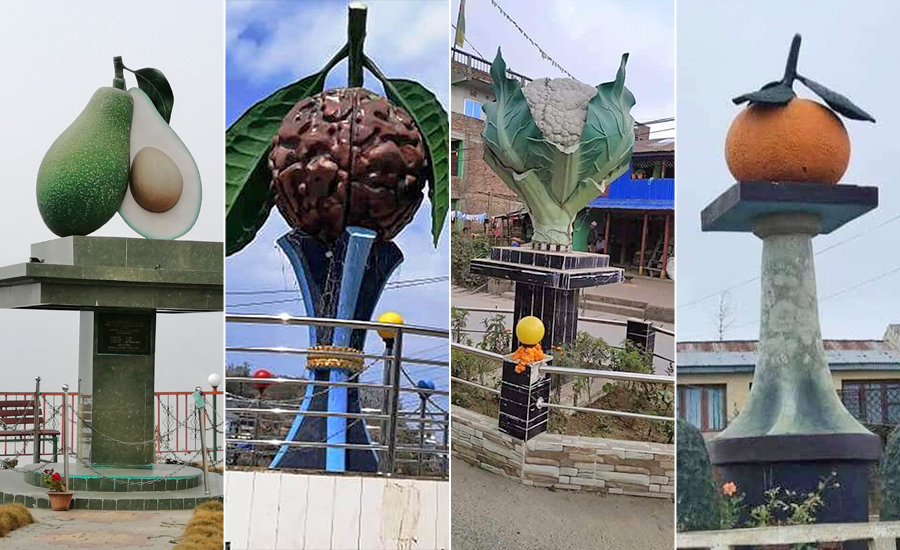 A concrete junar (a kind of orange) was installed in place of the gulmohar plant in Sindhulimadhi, Sindhuli's district headquarters. The sapling sowed after the success of the people's movement 2006 had already bloomed, with a patio around it. But, the tree was uprooted to install the concrete fruit later.
Neither art nor use
Such large-scale structures are often covered with dust; they have not been cleaned, painted or protected with little to no possibility of them remaining as heritage in the future.
Urban infrastructure expert Kishore Thapa does not consider it wise to keep concrete plants at junctions and parks. "If tourism promotion is the objective, a separate park can be set up with a variety of statues. But, we need to plant a variety of trees for people to get shade."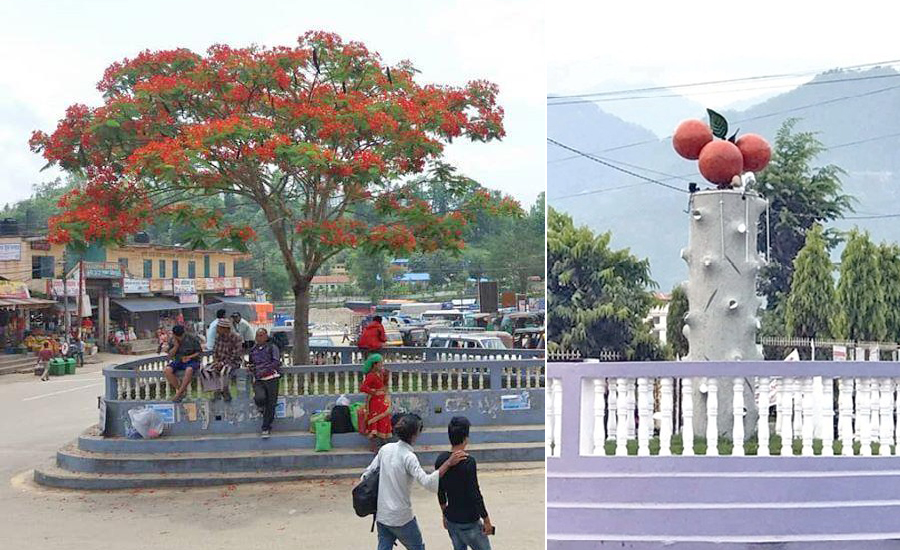 According to Thapa, who was also the former secretary at the Ministry of Urban Development, those who keep concrete structures in open spaces are not paying attention to the artistic aspect or durability.
Same is true in Kathmandu
There is a similar tendency in the parks of the capital city, from Shankhamul Park to Balaju Udyan, to install concrete structures instead of trees in public places, and that is unfavourable to the environment.
At Kamalpokhari, the authorities are planning to install a big lotus made of fibre where real lotus could have been easily grown at a minimal cost. Similarly, in the gardens of Kathmandu valley, there is a trend going on to install concrete planks and patios instead of planting trees, resulting in the destruction of everything.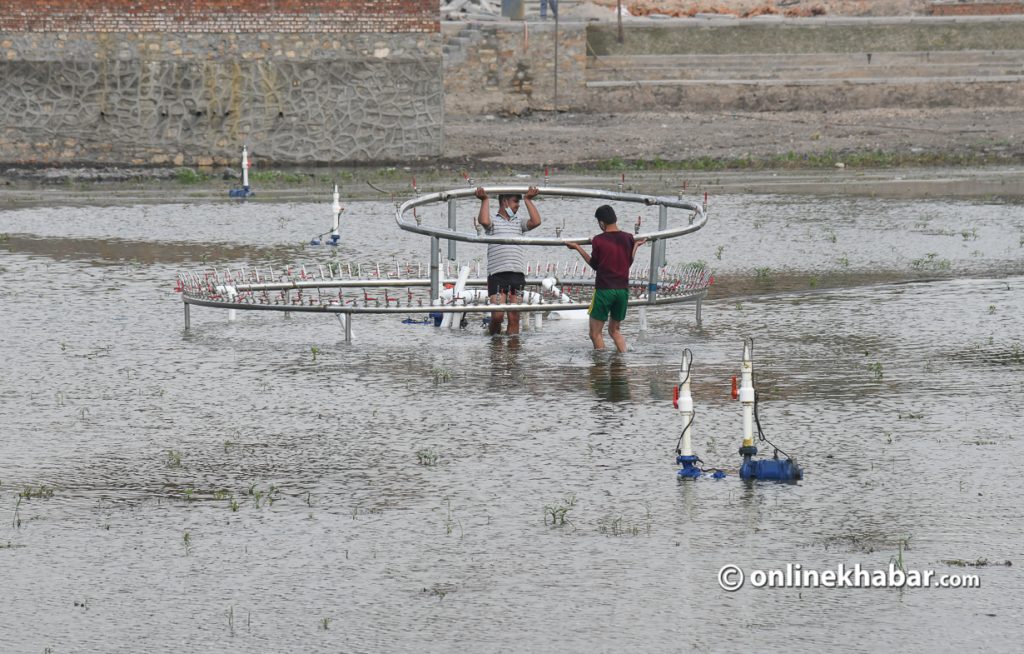 Following pressure from heritage conservationists, the Department of Archaeology had directed to demolish the concrete structure in the park and change its name from 'Kripalu Udyan' to 'Bankaali'. However, the Pashupati Area Development Trust has not implemented the directive.
The trust gave permission to build a park to be named after Kripaluji of India within the Bankaali forest. According to heritage experts, the park's mythological significance will diminish with the use of materials such as cement and iron.
Time to rethink
Thapa says it would be wrong to give importance to artificial attractions in a place with mythological importance.
Environmentalists also say that if the concrete culture continues to flourish, new cities will no longer have anything natural. According to Tuladhar, trees and ponds are part of the city's environment. Increasing the use of concrete will also increase the problem from air pollution to underground water storage.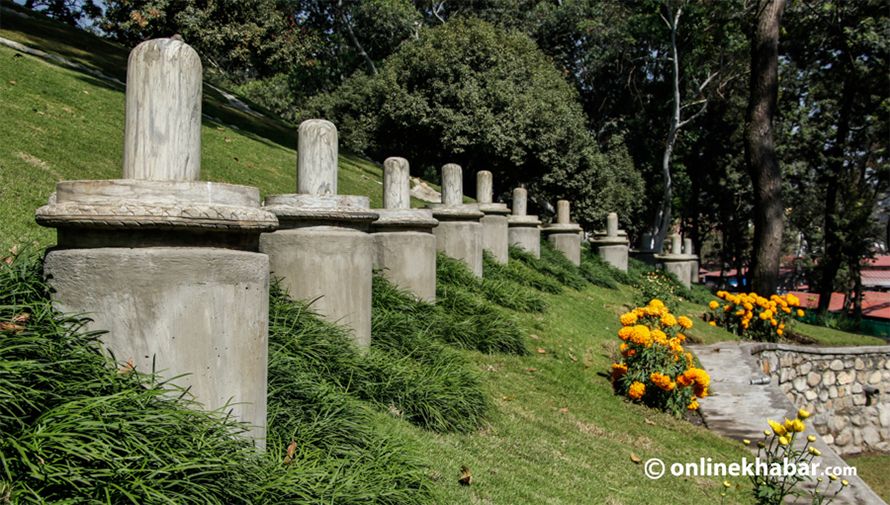 Tuladhar questions, "Who will be responsible for the damage to the city's ecosystem and how to compensate for it?" It is high time people thought about it, he adds.
Infrastructure experts say that in order to make the city clean and beautiful, it is necessary to grow abundant trees and plants. He says if concrete and fibre structures continue to be installed in the few remaining open spaces, the cities would no longer be suitable for habitation.
Thapa emphasises the need to establish the city's remaining public places as a place to get fresh air. "Concrete trees make the hot air even hotter and more toxic," he says, adding, "The tendency to choose concrete trees over the real ones must be discouraged."