I was eight when a roaring excavator opened the first motorable track to connect us to the national road network. It was a big day for the whole village and the operator of the machine was toured around by carrying him on the shoulders with garlands and tika.
After a few years, the first bus reached the village. With that, local markets boomed, commodities were no longer to be carried through the trails, medical supplies became convenient, travelling to and from the capital became convenient and a lot of people migrated to cities for seasonal employment. About a decade later, the village was electrified.
Now, in my early 30s, a proper health post is being constructed. Ironically, it took 22 years for a health post to reach the village. Roads are regarded as a trailblazer for development work to begin in any location although development in my village has been slow, gradual, and visibly unsatisfactory.
Overall, accessibility has been the primary factor behind all the other aspects of development; however, road construction has done more harm than good. Therefore, it is high time the country revived old trails to save the planet.
Implication of road networks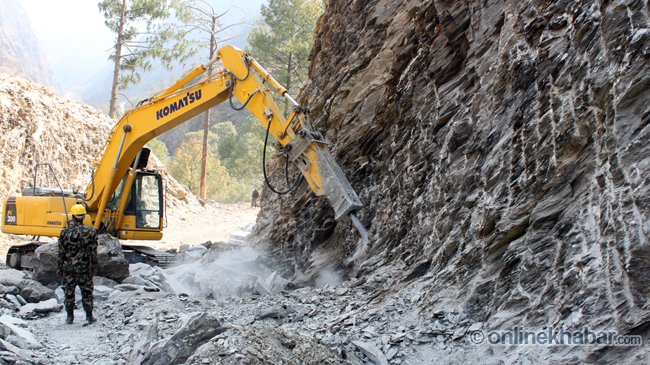 It would have been nearly impossible to carry those electric poles to each settlement and every effort of progress would have been costly. Thanks to the dusty rural roads, infinite opportunities have opened up. Despite the countrywide road networks rampantly tearing apart the earth, accessibility is still a far-fetched ambition to a lot of geographies especially in the upper parts of Sudurpaschim and Karnali provinces. However, one who is rejoicing the road network has no relief equally. Non-engineered road networks are leading to massive landslides in the country. From June 12 to October 16, a total of 475 events of landslides was recorded in the country.
These events resulted in 293 deaths, 46 disappearances, 222 serious injuries, 66 partially damaged house, 385 fully destroyed houses, 91 cattle shelter loss and the loss of 432 livestock's (10). About 751 families have been affected by these events and the total loss is estimated at Rs 50 million for a single monsoon season.
Experts are clearly indicating the landslides are due to faulty road construction. The loss of lives and property are leaving people homeless and propertyless trapping people into the cycle of poverty. Furthermore, such development is incurring billions of losses to the state every year. Also, a high rate of migration from hills to the cities and plains has been observed. The Migrant population is subjected to live in the informal settlement often in a geologically vulnerable zone, yet again increasing the vulnerability towards the disaster.
With all this drawback offered by road networks, it has to be carefully analysed where road networks need to be developed or some kind of alternative has to be thought of.
Significance of trails


Firstly, trails are not just reminiscences of the past but carry information about the ancient world. They can depict the geographic setup for social, economic, and cultural activities of rural Nepal. Trails also reflect the science of ancient times that should have some rationale behind how trails cross rivers and ridges or how to make sure that drinking water sources and safe resting spots are available on the trails. Trails carry the opportunities for researchers to dig deep into anthropology, ancient livelihoods and the socio-economic history of the country.
Secondly, trail networks spread like a cobweb in rural areas connect villages in the most time-effective manner. Unlike vehicular roads, trails do not have to take long turns or maintain grades. These are thus diagonal short-cuts. Walking through trails can often take the same time as driving through the tracks in the hills.
Thirdly, it will be a cost-effective alternative. Even though there are very few alternatives to vehicular roads for the transportation of goods, trails can still be the alternatives for travel. Ropeways and trains may be the future, but trails are still going to be relevant because they will be free, fast, and terrestrial alternatives. In the transitional period when we are on the verge of switching completely to travel-on-wheels from travel-by-foot, we are faced with some serious chaos. It is primarily because the new tracks have not stabilised in the terrain due to the constant occurrence of landslides and flash floods (induced by the construction activities). Hence, our new routes of travel are seasonal and riskier. Most of the hilly roads are not operational during the monsoon season and require a lot of time and cost for maintenance every year. Trails are the alternatives being used, and they can be the alternatives during inevitable disturbances in road networks in the future as well.
Fourthly, the trails' resilience to natural disasters is higher than that of roads. This is again subject to various other factors like geography, quality of construction, and measures taken to avoid damage. But, fine trails that have existed for centuries have adapted to nature, especially flow directions in the watershed. Constructed roads change how water flows in the terrain, often leading to damage on the terrain where water in the side canal is let out. In the rural tracks that have been opened everywhere, landslides induced by changed water flow channels are frequent. We have seen these damages in recent years. Additionally, trails have existed for a long time in harmony with nature. They have adapted with nature, or perhaps nature has moulded trails within itself. This harmony is what makes trails resilient and sustainable.
Vanishing trails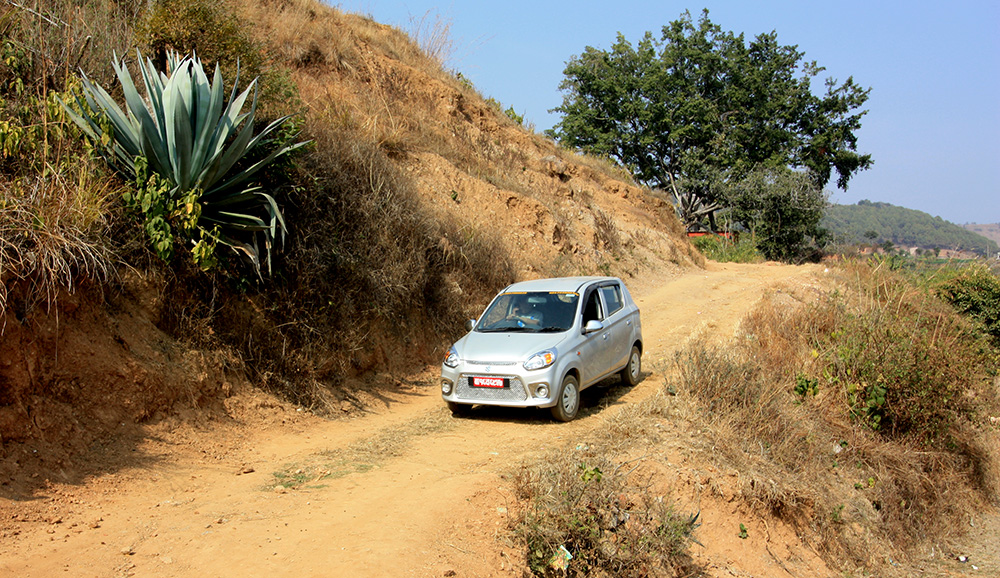 Most of these trails are likely to become vestigial soon. When motorable roads become available, trails will be less preferable, it is definitely not going to be practical any more in using trails when convenient alternatives are available. With modern motorable roads connecting all corners of the country, trails will start becoming useless. Let us predict what might happen when people stop using trails.
Trails exist because of the feet that walk them. With footmarks, traces of where trails existed will also be gone. Soon, grasses start covering the trails, and bushes hide them ultimately. Since we do not have signs or marks to guide through trails, no evidence will remain that trails used to exist there except the minds that remember them and the cadastral maps that may contain the information. While the reality of our maps cannot give us confidence that the information can actually be derived out, the minds that remember the trails will also be gone someday. Decades later, we will most probably have no clue where the lifelines of our rural geographies exist. With that, we will lose the alternative, efficient, and resilient routes that backed our ancient livelihoods. Our history will be gone by with the loss of trails and the opportunities to utilise these trails in the modern context will also be gone.