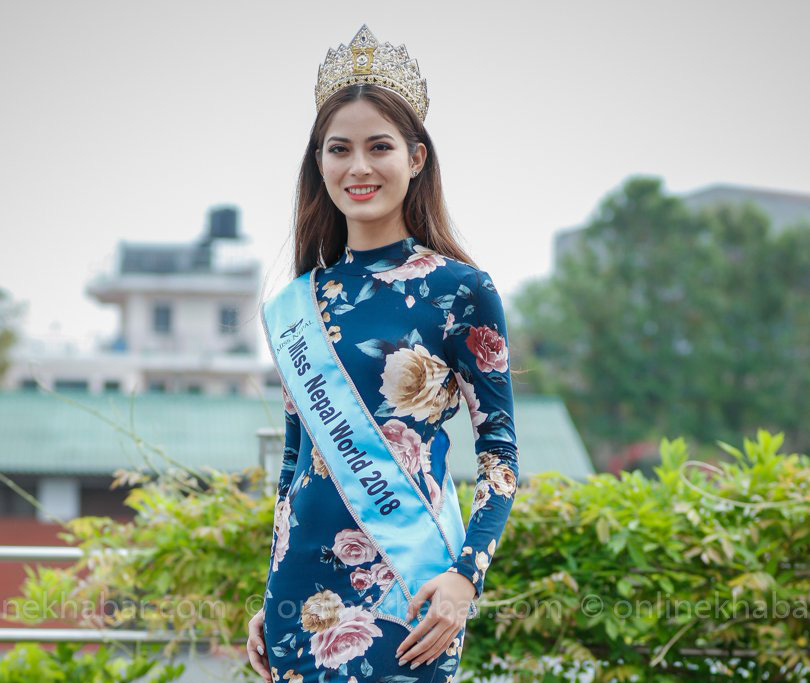 After seven weeks of training, 25 girls from different parts of Nepal took part in this year's Miss Nepal competition held at Annapurna Hotel on Wednesday. It was a fierce competition between the them out of which one girl's dream of becoming Miss Nepal came true.
Shrinkhala Khatiwada won the prestigious title of Miss World Nepal whereas Manita Devkota was announced Miss Universe Nepal. Along with the two, Ronali Amatya was declared Miss Nepal International and Priya Sigdel won the title of Miss Nepal Earth. All the winners will represent Nepal in international events this year and their lives will forever change.
All four pledged to honour and respect the title they have been given and have promised to work hard to fly Nepal's flag high when taking part in international competitions.
Khatiwada, from Hetaunda, also won two more titles — Miss Beautiful Hair and Yamaha Miss Fascino.
When asked about what she dreamt about before going to bed last night she says he doesn't dream with her eyes closed. "I believe in dreaming with my eyes open and I dreamt of winning this crown with my eyes open and to win it I think I worked really hard," she says.
She further added that she and all the winners would be representing Nepali women. She thinks that she won the crown because of the work she plans to do. She's an architect by profession and feels that the judges were convinced about what she would do after winning the title.
Khatiwada is the daughter of a communist Minister and when asked what she felt about communist's opinion having changed against the pageant. She calmly says, "I feel it's a positive thing. People have a wrong impression that Miss Nepal objectifies women but I feel it empowers them. A lot of people know us because of this competition and it gives us a platform to do good in the society."
But how has the competition impacted her as a person?
She says that before taking part in this competition, she was just an ordinary girl but now she's got a new identity. "I am Miss Nepal now. I will be representing Nepal at the international stage. I think its a huge achievement on my part."
But Nepal hasn't won any international pageants it has taken part in. The best was to reach the top five in Miss World.
She thinks it's not because the contestants are weak. "It's a tough competition and Nepal I feel in the shadows. Our passport isn't very strong either and I think these small things play an important part. Plus the government doesn't support us as much as they should. We are ambassadors who represent Nepal in the world stage maybe if we had proper support I think we would have won by now."
She has promised to give it her all and work very hard to win the title. For her future plans, she's got it all planned. Even though she comes from a political family she has no intentions to join politics. "I'm an architect and in the future, I want to be a world renowned architect but before that wants to work here in Nepal and help the people in need especially those affected by the earthquake."