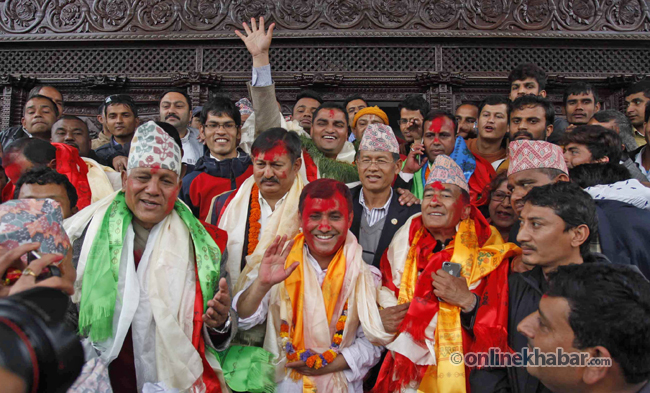 Kathmandu, March 14
Nepali Congress leader Shekhar Koirala has polled maximum number of votes in the race (open category) for 25 positions in the central working committee during the 13th general convention of the party. The vote count ended on Monday with Koirala bagging 1,848 votes in a race that saw old faces securing their berths in the party's apex committee.
The new faces that won the race are Pradip Poudel (1,709 votes), Bishwa Prakash Sharma (1,690 votes) and Badri Pande (1,485 votes).
Other members making it to the Congress apex body include Khum Bahadur Khadka (1,846 votes),  Prakash Man Singh (1,795 votes), KB Gurung (1,773 votes), Pradip Giri (1,725 votes), Balkrishna Khand (1,704 votes), Dhan Raj Gurung (1,697 votes), Ramesh Lekhak (1,689 votes), Purna Bahadur Khadka (1,686 votes) and Bimalendra Nidhi (1,680 votes).
Bal Bahadur KC (1,674 votes), Mahesh Acharya (1,669 votes), Narayan Khadka (1,664 votes), Sujata Koirala (1,619 votes), Ram Sharan Mahat (1,611 votes), Shankar Bhandari (1,547 votes), NP Saud (1,547 votes), Gyanendra Bahadur Karki (1,502 votes), Gopal Man Shrestha (1,499 votes), Chandra Bhandari (1,492 votes), Prakash Sharan Mahat (1, 491 votes) and Minendra Rijal (1,420 votes) also won.