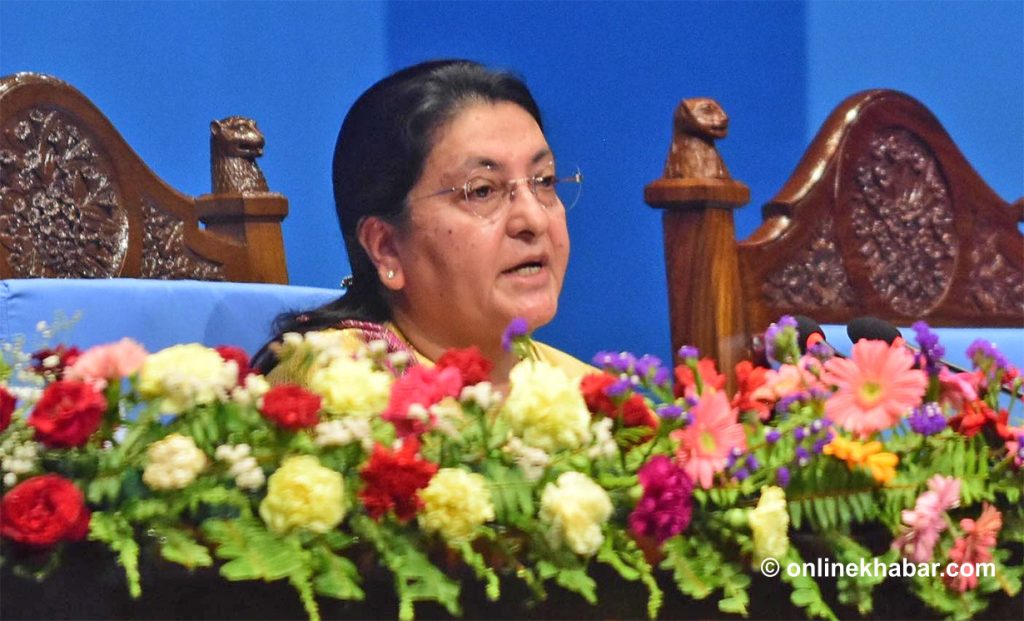 Kathmandu, August 25
Prime Minister Sher Bahadur Deuba has reportedly told his party leaders that President Bidya Devi Bhandari is in the mood of resigning after the House of Representatives re-endorsed the controversial citizenship bill without any change as she had suggested.
While some stakeholders have expressed concerns that it could result in a constitutional vacuum as the country does not have sufficient time to elect the new president ahead of the scheduled House of Representatives elections, some doubt it could be just her tactic to put pressure on the National Assembly to consider her suggestions.
The House of Representatives has already approved the bill and forwarded it to the National Assembly. The ruling alliance that commands a majority in the Upper House also plans to endorse the bill as it is.
The constitution has it that the president does not have any alternative to assenting the bill forwarded to her for the second time after approving it from both houses within 15 days. However, the charter is not clear what happens if the president chooses not to abide by the constitution and resigns from the position in an effort to rescue herself morally if she does not agree with the provisions.
In that case, Bidya Devi Bhandari's possible decision to quit is considered a political, rather than a constitutional, decision.
Analysts believe if the president resigns over the citizenship bill row, the CPN-UML, Bhandari's former party, will interpret its strong opposition to the new bill and try to get benefits in the next elections.
The second amendment to the Citizenship Act was aimed at addressing concerns of the Madhesh-centric parties and the Non-resident Nepali Association. However, it was drawn into controversy citing the citizenship bill did not bar foreign women marrying Nepali men from getting citizenship easily.
Self-claimed nationalist activists have expressed concerns that loose citizenship provisions in Nepal could give the dominating India to gradually push its citizens to Nepal and perpetuate its control over the small county.
Consequently, President Bidya Devi Bhandari returned the bill to the parliament, suggesting a reconsideration, bringing herself into a conflict with the executive.