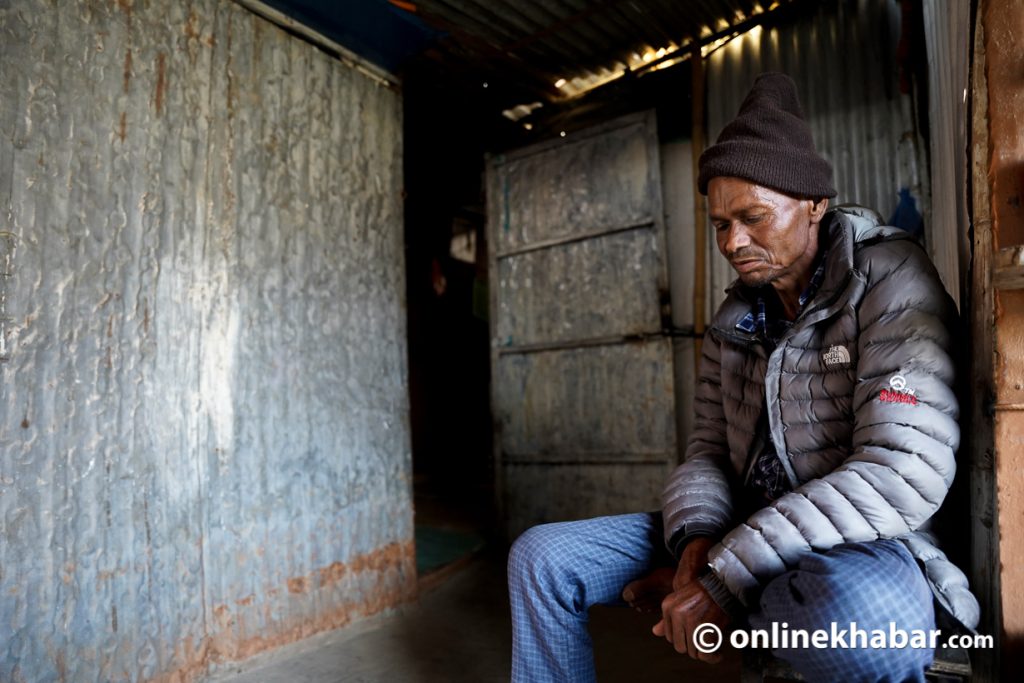 Indra Senchury (55) is a resident of Safredhunga, Kapan. He came to Kathmandu from Tadi rural municipality in Nuwakot 10 years ago with the hope of a better lifestyle. But life had something else planned for him as he lived most of his life in Kathmandu as a squatter.
His life has been full of trial and trepidation. Around 25 years ago, his wife was diagnosed with kidney failure. He spent a fortune on her treatment but she died in 1997 and he was left with nothing; no wife, and no money.
"After my wife passed away, I took out a loan and bought land in the village to provide for my children," says Senchury.
He got married again but after a few months, his house in the village caught fire which increased the debts he had taken for his children's upbringing. It became hard for him to stay in the village. Senchury paid the debt of the land by selling it and with a dream to earn money and provide for his family, he set off to Kathmandu.
Bitter life experiences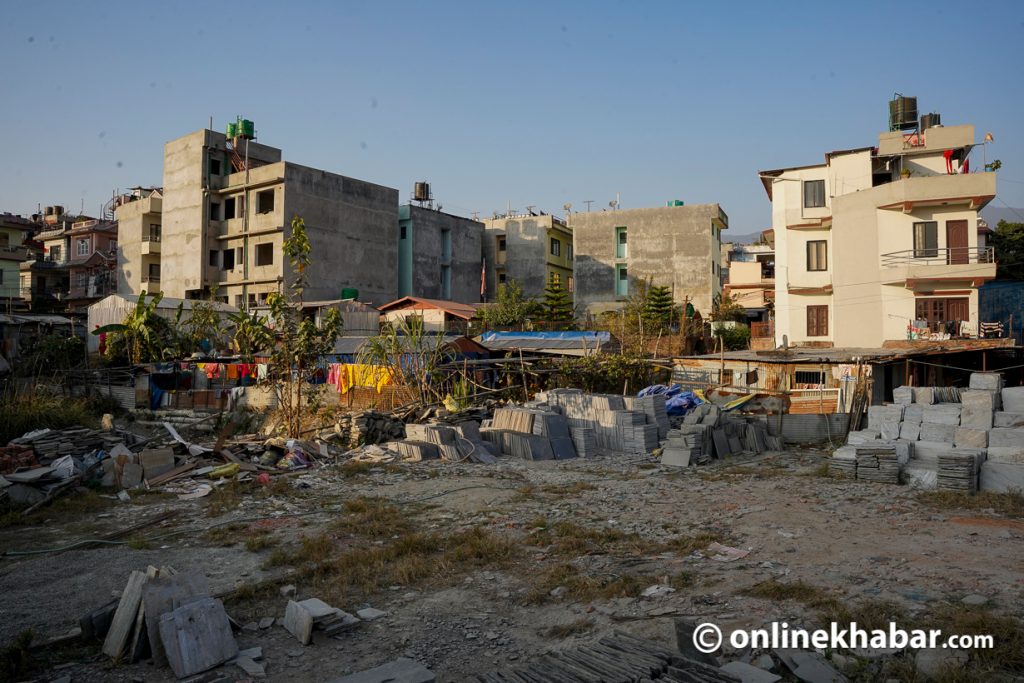 Senchury rented a room in Budhanilkantha municipality-9, where he had to pay Rs 100 per month. He got a job in a metal and steel workshop and his salary was Rs 2,500 per month.
He was a relieved man. But that relief didn't last for long as he stopped getting his salary on time. Unable to pay rent, he was evicted by his landlord who also disliked the number of people that occupied his room, without pay.
As this was happening, he was looking for an affordable school for his children. And he got to know about Anita Milan School at Kapan, which would provide free education for students with a poor economical background.
He went there and admitted the children. But he did not have a shelter. Then Shishir Adhikari, the principal of the school told Senchury to build a temporary shelter on his land nearby Dhobi Khola, and live there. Like Senchury, seven other families currently reside in this place.
"No one here has land or a house," says Adhikari. "Only the ones who can't pay the rent are living here."
Anita Milan School runs classes only up to eighth grade. Thankfully the school managed a scholarship for his son to complete his secondary education. However, Sechury's dream to educate his son remains unfulfilled. Last year, his son who was studying in grade 10 committed suicide.
"I could not pay Rs 12,000 per year", laments Senchury.
His son's teacher says, "He had a hard time to cope-up with other students because they belong to a family that was relatively rich."
Senchury's daughter is studying in a college and Anita Milan School is helping with the fees. The two sons of the second wife are labourers. His wife works in a paper factory, part-time. She works as an on-call employee.
Five years ago, Senchury had an accident while working in the workshop. A steel gate dropped and hit him giving him injuries. The doctor told him that he had injured his ribs. After two weeks of injury, he coughed up blood and was diagnosed with tuberculosis. It has been two years that he has been taking medicines. "It costs at least a thousand rupees to visit the hospital," says Senchury.
Selfish political leaders and hopelessness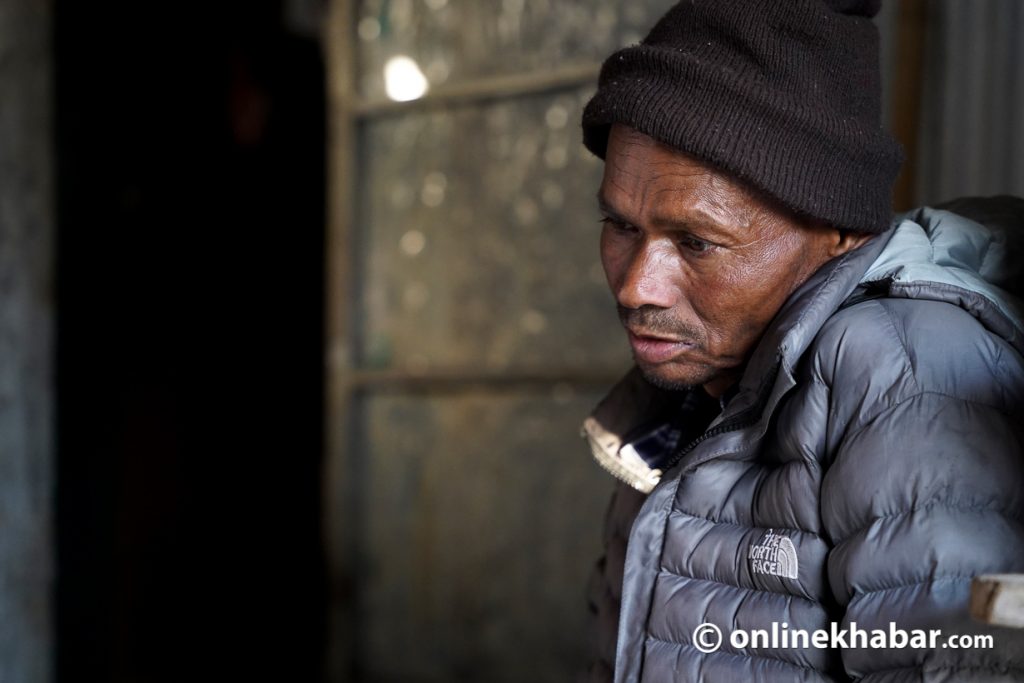 For him, the elections do not matter anymore. In the local elections held this year, a reserved vehicle came to pick up his family members. Then, they went to cast their vote in the reserved vehicle. The one he voted for even won the election.
"I had expected help from the one whom we voted for, but now he does not answer my calls."
Senchury has written a poem for those leaders who become indifferent to the public after receiving votes.
All leaders came to appeal the vote
The leader convinced me
Don't worry, we'll come back again
They appeal to vote for their selfishness
Then they did not come, even after waiting for ages.
He composed this poem while staying in the hospital for treatment. Senchury was preparing to build a shack in the squatter town of Bhangal, Kapan. But somebody already captured that land.
I haven't been able to pay the rent for the past year, he says. He wouldn't have to constantly worry about the rent if only he got the land in Bhangal.
Kishor Khanal, a researcher on the lifestyle of squatters says that mostly those who come to a city from a village seeking a job and when they get nothing turn out as squatters. He further says those people in the city cannot afford the rent and face difficulties to provide food and shelter for themselves. Thus, they chose to become squatters.
According to government data, there are currently around 3,500 squatter households in Kathmandu, Lalitpur and Bhaktapur. But the people like Senchury are not included in the data because they have not encroached on riversides or stayed on government-owned land.
Squatters like him are paying their rent. But Senchury is worried because, currently, he is not in the state to pay the rent. There is no place that would give him shelter for free. Tuberculosis has even caused him to suffer from pneumonia.
"Now I can't work," says Senchury. "How will I feed myself ?"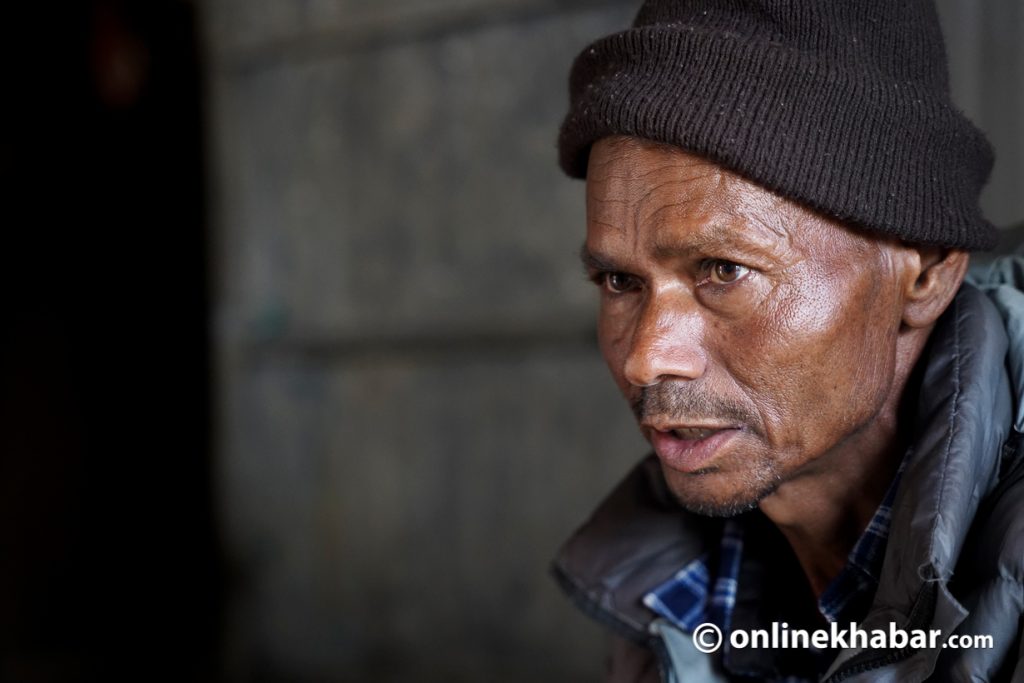 For now, his only wish is, "I want to go back to the village but there also I do not have anything that would give me food and shelter."
There are thousands like Senchury who enter the city for better opportunities, get nothing and are compelled to become squatters.
Ramchandra Shrestha, an expert on squatter issues, considers squatter settlements as a co-product of the city.
"Such settlements play a role in keeping the city alive. Therefore, by reaching out to the legitimacy of these settlements, the city should be built as a common settlement for all types of people," Shrestha writes in the book Paidal Anusandhan Prayog Ra Upalabdhi, published by Martin Chautari.
---
This story was translated from the original Nepali version and edited for clarity and length.