The government, in the annual budget plan for the next fiscal year 2021/22, announced that it would be setting aside funds for mining of rocks, gravels, sand and other aggregates in order to export these items to neighbouring countries. This decision drew widespread criticism as environmentalists claimed that the government was trying to destroy Nepal's rivers and hills for short term profits.
Last week, the Supreme Court also ordered the government to not implement the plan until the court will have its final say on the issue.
Despite environmentalists warning all three levels of the government, mining has continued to happen in various areas of the country. Even though 600 crusher and mining plants have been denied a licence by the government for not fulfilling various terms and conditions, many such plants continue to run as more are popping up along the banks of various rivers across the country.
With the government turning a blind eye to this, various people have started to question if the government is protecting these plants for financial benefits during elections. The reason people are questioning is these plants are hardly transparent about their earnings. Further, they are mostly run by people affiliated with political parties and hence work outside the government control.
Free ride over rocks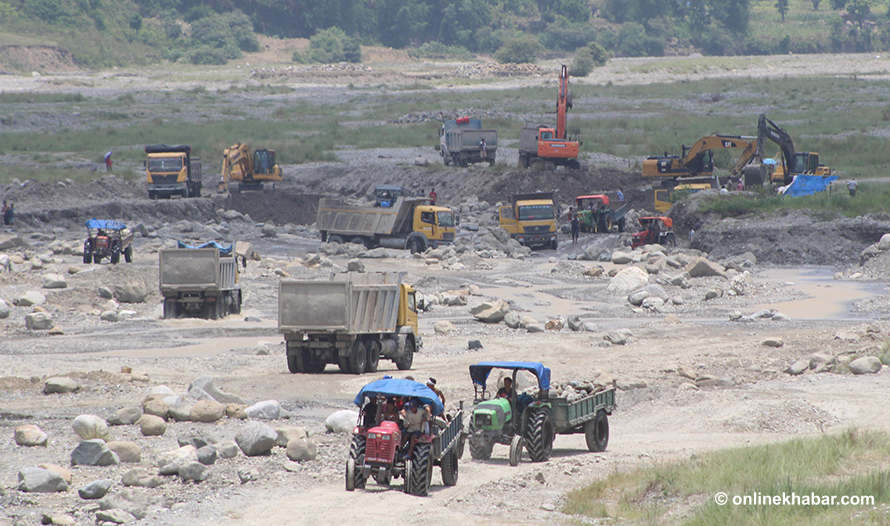 "Due to the government's ridiculous rules, many have left the business, paving the way for people with deep pockets and black money to enter the market. If this continues, we can no longer control or regulate mining," says Purushottam Regmi, the general secretary of the Federation of Nepalese Crusher and Mines Entrepreneurs' Association.
Even government officials refuse to speak about these issues officially as they fear that they will not be able to rely on these plants when they have the need to. Many also argue that these plants are run by families, friends or close cadres of politicians. With the backing, they feel that they are untouchable, which is why many hardly care when news reports emerge about their plants.
The reason why politicians are interested in mining is the industry's yearly turnover that is around Rs 20 billion. The Department of Roads, which oversees mining, says that the industry is controlled by invisible elements.
"The availability is questionable, the price is too high, and everything else is happening very secretively," says Shiva Prasad Nepal, the deputy director-general of the department. "From what we've understood, these are run by goons and we need to find a way to regulate this industry."
Political morals crushed into pieces
Locals of Singati in the Kalinchok rural municipality of Dolakha often complain about the problems they face due to the extraction of a river there. The locals have complained to the local ward offices and even the District Administration Office. After such complaints, often, a monitoring team comes to the area and shuts down the plant. But after a week, the plant opens again.
Once the plant was shut for a longer time following a letter from the Commission for the Investigation of Abuse of Authority, but locals got soon amused that the plant reopened again.
The plant, according to locals is owned by Yudhishthir Khadka, the chairperson of Bigu rural municipality, in the district. In operation since around one decade ago, this is not registered with any government agency.
Himal Gurung, a brother of former communications minister Parbat Gurung, is one of the partners of Khadka.
Likewise, Birendra Bhusal, the son of Dilli Raj Bhusal, the mayor of Resunga municipality in Gulmi, and Narayan Pokharel, a CPN-UML district committee member, operate a crusher plan in Panaha, Isma rural municipality-2 of the district. The plant was constructed when the Tamghas-Simaltari-Pyuthan road section was being constructed by Kalika Construction. But, Bhusal and Pandey took over the plant which has not even been registered.
A similar example can be found in far-western Nepal as well. In the Bedkot municipality in Kanchanpur, a crusher plant is owned by Bhim Saud, the mayor of Parshuram municipality in Dadeldhura. No rules and regulations were followed while constructing the plant and the locals have filed a complaint. But to date, no action has been taken.
Saud, who also owns a construction company, has won a contract to construct five bridges in Bedkot and a part of the postal highway. Bedkot Mayor Ashok Chand says the local government has not done anything in response to the locals' complaint because it's a 'mobile crusher' and they want to make things easy for Saud and his company as they have a lot of contracts to complete in the area.
"They have a lot of work here, that is why they have had a leeway. We've not allowed anyone to do this without proper reasoning," says Chand, adding Saud and his company have around 25 construction contracts in the region.
Helpless local governments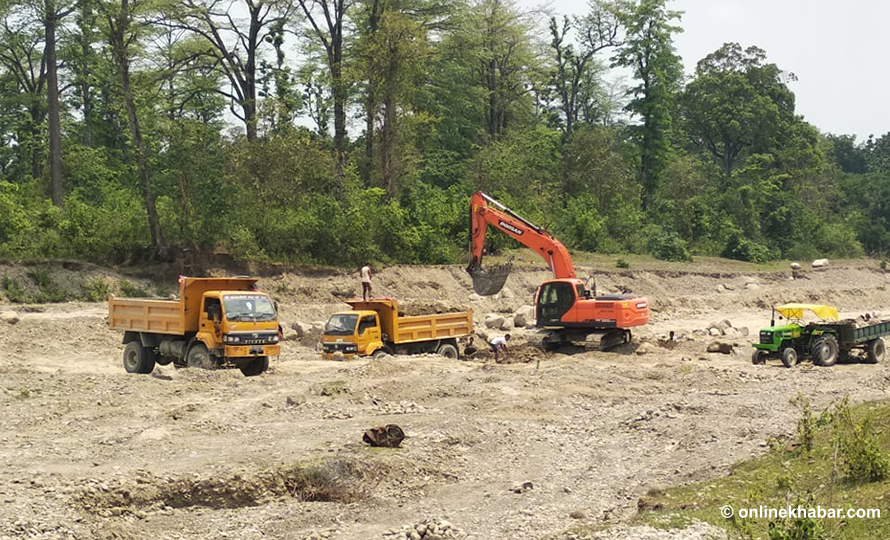 Buttabari Chiya Bagan, a tea garden in Birtamod, Jhapa, is home to Kanchenjunga Crusher Industry. The place is owned by Nepali Congress cadre Kedar Giri. The plant has been made operation disregarding rules and regulations and is operating along the highway.
Another district-level leader of the same party, Sher Bahadur Thapa, also operates a crusher plant in Arjundhara. This too has been operated without following rules and regulations. There are loads of examples like this, but the local governments have remained mum as they say they cannot do anything.
Hari Kumar Rana, Arjundhara mayor, says he is helpless as he cannot do much to control these crushers.
"We go look at what is happening and give permission because they need to extract gravel and sand for construction purposes. But, when they overstay and not shut it down, we cannot do anything," says Rana, who says the provincial and central governments need to start telling their close aides to stop doing this.
He says that with political power, more and more temporary crushers are being made permanent. He fears that these crusher plants which have been made to support certain construction projects will outlive them.
"A project has a deadline of three years. After that, they'll show that they have incomplete projects around the area and refuse to demolish it," says Rana. "These crushers apparently don't have to follow any rules and regulations."
Shankar Rai, the mayor of Letang municipality in Jhapa's neighbouring district Morang, echoes Rana and says that when the centre protects these crushers and their owners, they can do nothing.
"We shut down a crusher after we got a letter from the CIAA. But, after a few days, we received a letter asking us to let them operate," says Rai. "It's clear they have influence."
The rest of the country is full of examples like these.
Potential wrongdoer given monitoring role
Bishnu Man Maharjan, the ward 6 chairman of Godawari municipality in Lalitpur, operates two crusher plants on the bank of Nallu Khola. He also owns a mine in Jure Danda. Another ward chair from the same municipal government, this time from ward number 6, Suk Bahadur Lama, also own a crusher plant in Dhukuchhap.
Interestingly, Maharjan is the coordinator of a committee formed by the municipality to monitor crushers and mines while Lama is one of the members of the committee. In defence, the municipality's deputy mayor Muna Adhikari says Maharjan has been made the coordinator because he is an expert in the field.
"The plant is not registered in his name," says Adhikari. "We've also received no complaints regarding that plant so we've not done anything so far."
Similar stories in Kavre and Sindhupalchok
Meanwhile, almost all crusher plant and mines in Kavre and Sindhupalchok are owned by politicians. Some have claimed it publically while some have decided to remain mum about it.
Congress leader Tirtha Lama owns a crusher plant which at times obstructs the BP Highway at Kharpachok. Former forest minister Shankar Bhandari also has an investment in this plant. Another congress leader Kunsang Lama owns a crusher in Namobuddha-6 as does notorious gangster-turned-leader Ganesh Lama.
Raj Kumar Paudel, the chairman of Bhotekoshi rural municipality, and local Nepali Congress leader Nabin Raut own separate crusher plants in Sindhupalchok.
Resistance
The crusher and mining industry is full of politicians and elected representatives from local wards to the House of Representatives. This has resulted in the culprits going unpunished as the government turns a blind eye.
There are 21 people in provincial assemblies across the country who are contractors or owners of mines and crushers. Around 165 have been elected in various local units, according to a survey done by the Federation of Contractors. Out of them, 22 have become local government chiefs and two deputies.
In their defence, the elected officials say that they got involved in the industry as they feel that that is what they needed to do to develop their constituency.
"I own a plant to help my people. We've been able to good work. I don't understand the fuss," says Yudhisthir Khadka, the chair of Bigu rural municipality in Dolakha who owns a crusher plant in the district.